I got another treat recently when my friend, Rachel from the historic Trammell House, who I featured last year took us over to another neighbor, the Goodman's to tour their beautiful historic home, Oakton.  Oakton is the oldest continuously occupied home in Marietta, built in 1838.  If you do the math, this home is 175 years old!  Incredible, isn't it?  Touring historical homes like this is just so fun for me and I enjoyed every bit of the visit.  The owners, Michelle and Will, were happy to show us around their stately home and share stories and what all they do with this property that's been in the family for many years.  Major General Loring was headquartered at Oakton during the 1864 Battle of Kennesaw Mountain.  The original barn, milk house, smoke house and well still stand on the remaining five acre property.
Oakton is a residence, first and foremost still, but they also host certain weddings and events at their home. Michelle, with 30 years experience in floral design, does events and teaches classes and makes products to sell through Oakton as well and it was a treat to see it all.  I want to thank them for opening up their beautiful home so that I could share it with all of you. There are some gorgeous photos on their website of Oakton in the Spring and it is glorious!  You can see all the information on their website at the link above.  Michelle sells handmade cutting boards made from the old oak at Oakton, as well as a few other products, including heirloom seeds that she collects and sells.
I loved hearing about Will's grandparents being in the house when he was young and he and his parents living across the street.  What fun that must have been to have this house in the family!  They've done a wonderful job of restoring it, while adding some modern conveniences.
My two new friends and I:  Leslie Anne and Rachel.  Rachel and Leslie Anne have been friends for years and Leslie Anne, who now lives in Fairhope, AL, reads my blog and is also a blogger and we became online friends. She put me in touch with Rachel for us to meet and for me to take pics of Rachel and Doug's Trammell house and we've been buddies ever since. This was my first time getting to meet Leslie Anne in person and it was so fun to hang out with these Southern girls.  We talked nonstop!  Rachel also has her own business of making sweets and other treats and selling them locally and she's about to expand with an online presence too, so I can't wait to see her grow.  I love meeting new friends, especially in my hometown of Marietta.
If you have not toured Rachel's home on my blog post, you have to see The Trammell House. It's absolutely gorgeous!
And, Leslie Anne is also doing a recap post of our Oakton tour too, so click over to her blog and check it out!
Oakton sits up on a hill and I've passed this stately house many times, never dreaming I'd be touring it one day.  It pays to have connections!  We enjoyed our leisurely Sunday afternoon visit.
So much detail to see, so I took plenty of pics of the front of the house.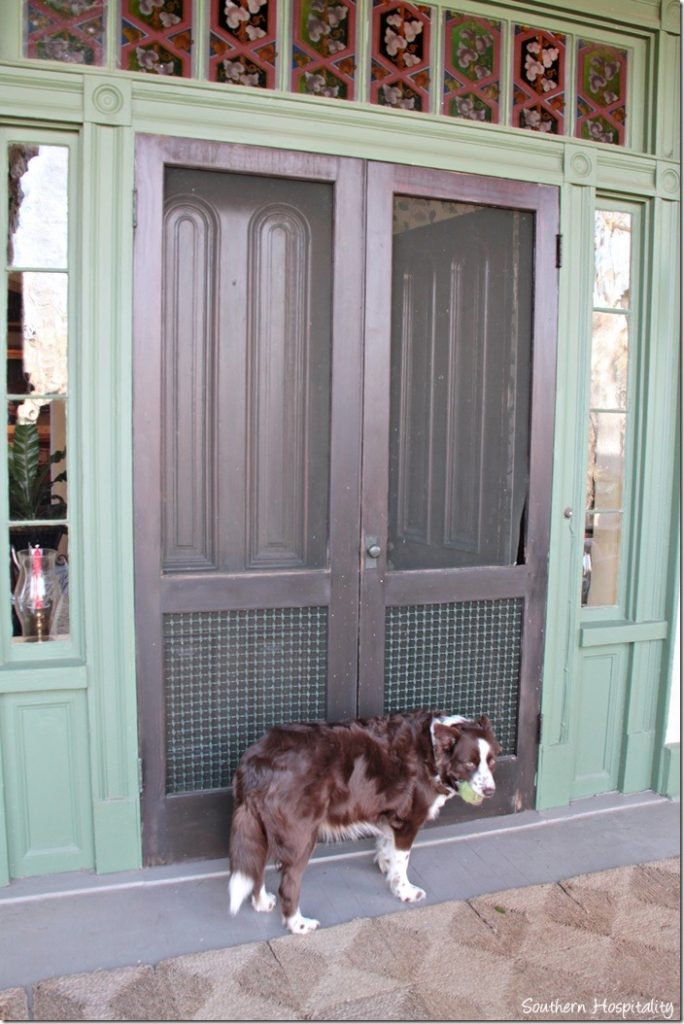 Someone was ready to go in with his ball.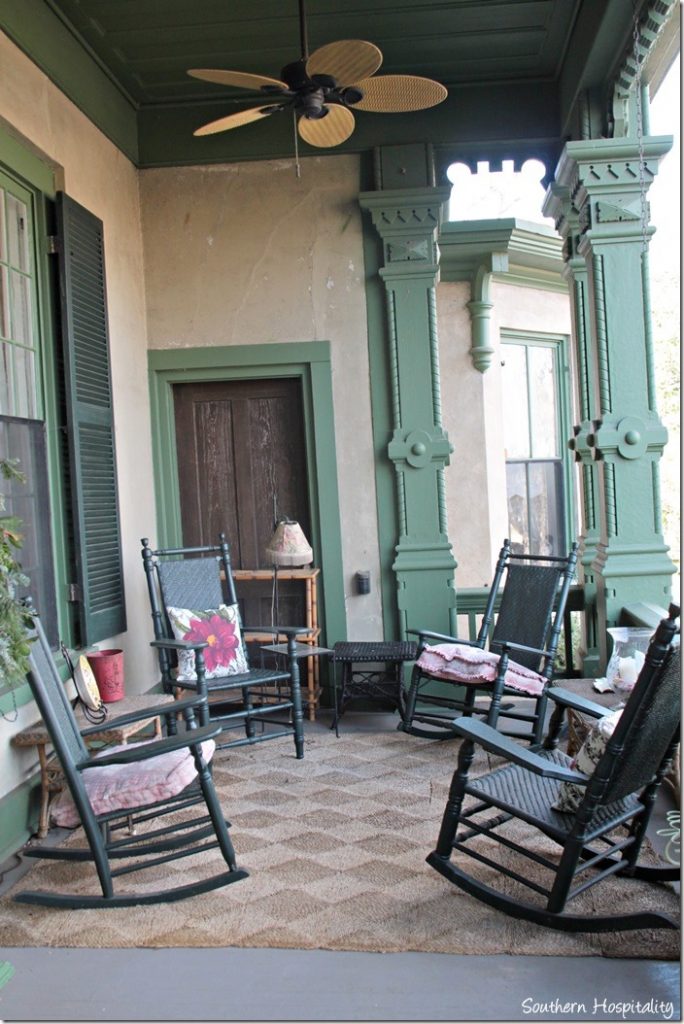 Two sides to the front porch, isn't this cozy with all the rocking chairs?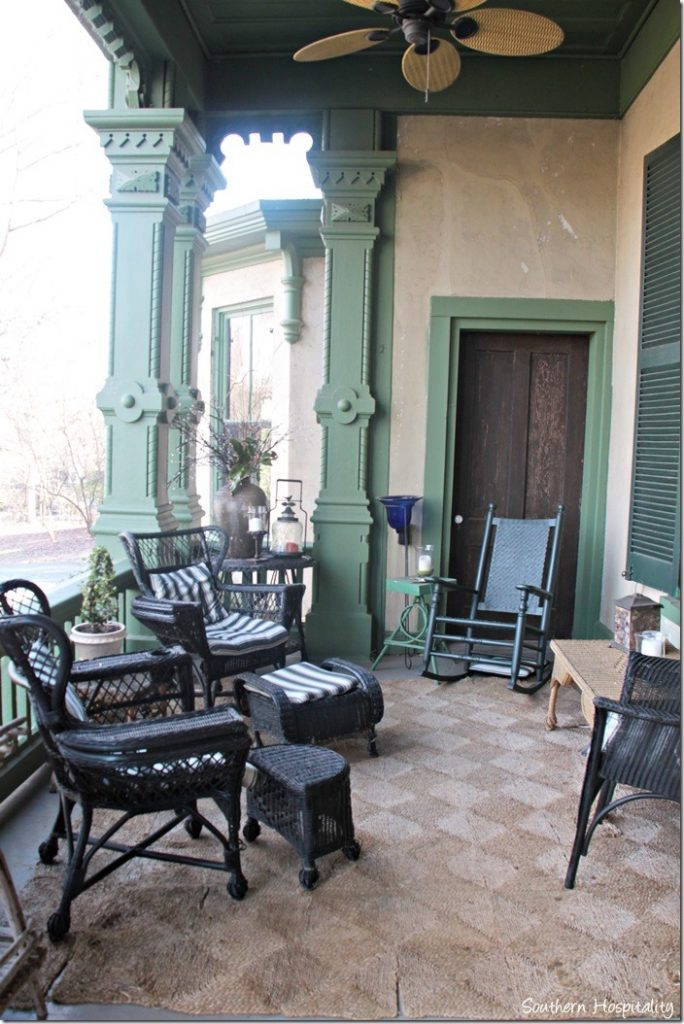 And the other side is equally fun.  Can't you imagine sitting out here and waving to neighbors down on the street back in the day.
Inside the front entry is oak leaf wallpaper, very fitting for this house.
The impressive double front doors.
Sitting room with huge fireplace.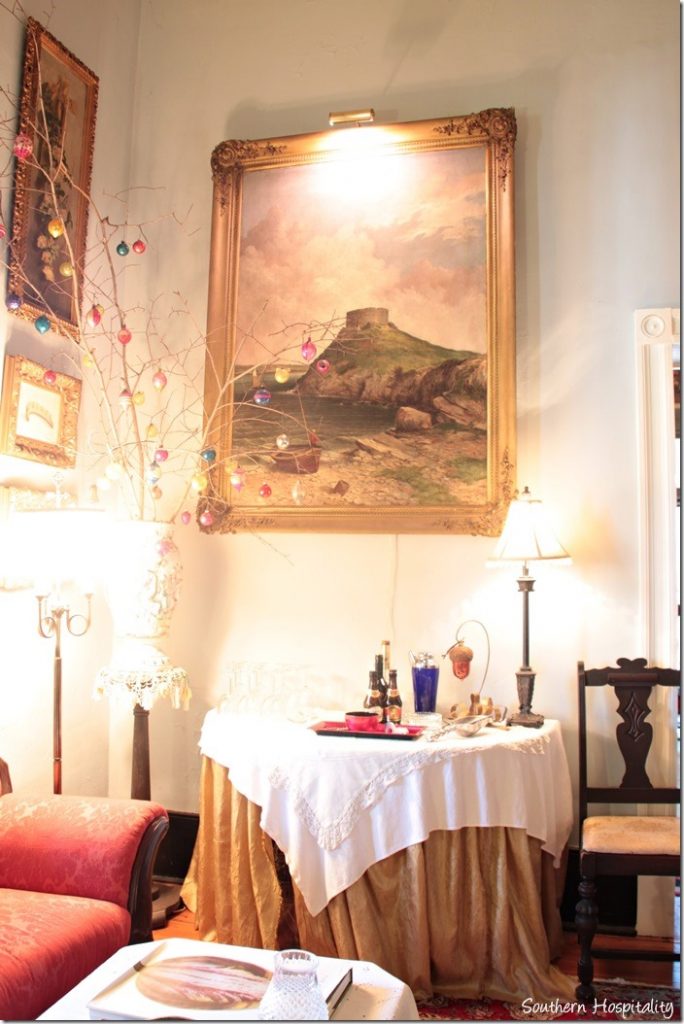 Corner of the sitting room or perhaps parlor.
Table and chairs in front of the fireplace.
Looking right over to the right is the formal dining area.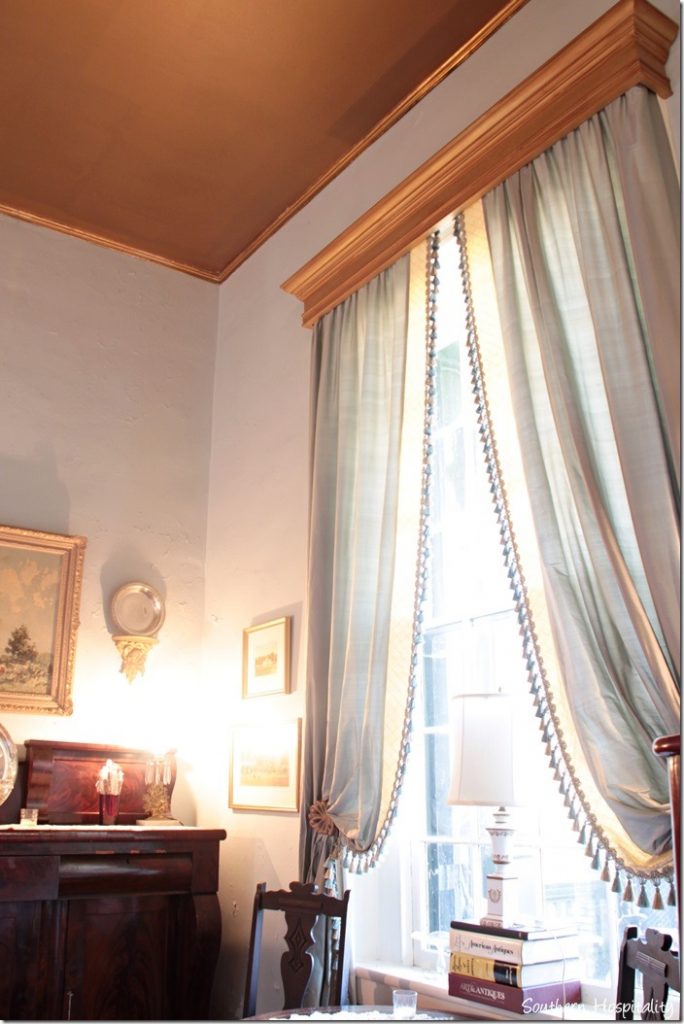 Check out those huge windows and drapery treatments, along with the gold ceiling.
There was so much to see and take in.
Another fireplace in the dining room.
A peek into another dining area that we'll see in a minute.
Looking back towards the sitting area and entry way.  This house has been in Will Goodman's home for a long, long time and it was fun to hear him talk of the history.
Red walls in the library with lots of bookshelves and surprise, books!
This room had lots of fun memorabilia.
Right next to the library is a guest room with 2 twin beds.
Very cozy and comfortable in feel.
The window blew out with the sun coming in, but that bay window was neat.
A small bath with shower is nearby.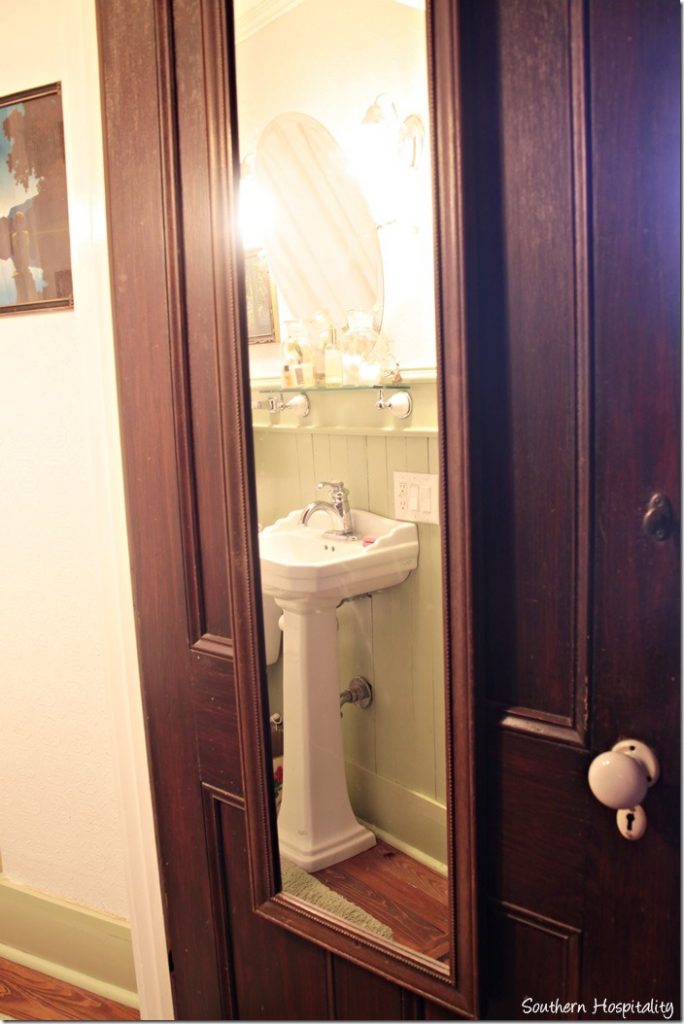 I can't get over how cool these old doors are in older homes.  They just don't make them like this anymore.
Framed newspaper clippings from the Marietta Journal.
Looking back towards the dining area.
Across the sitting room on the other side of the house is this family room with lots of American Indian memorabilia.
Very masculine in feel.
Deer head and lots of collected objects.
Even a buffalo head above the fireplace mantel.
These old pocketdoors were off when they moved in the house, but they found them stored and added them back in.  Aren't they amazing?  Open those doors and here's the master bedroom.
A very large and beautiful room with a huge wall of bay windows. Check out the ceiling height.
Stately bed
The master bedroom is just off the bedroom, complete with everything needed for a modern bathroom.
Including a clawfoot tub.
Across the hallway from here is another dining area painted green.
With lots of pretty things to see in here too, a beautiful china collection.
She told us that a neighbor had made this hooked rug and gave it to them later as a gift, which is a wonderful piece of art representing Oakton.
Behind that doorway is the kitchen which has been modernized along with a family room and I'll show you all of that, along with the outdoor spaces tomorrow.
Hallway going up to more bedrooms, which we didn't see.
I'll take you behind this pretty door tomorrow, so come back for Part 2! Wasn't that a fun tour of historic Oakton, in Marietta, GA?  I love my hometown!
Don't Miss a Post, join my list!