Yesterday, we started Feature Friday early with a beautiful tour of a historic Marietta home.  I know you're enjoying the tour of Oakton, aren't you?  I shared Part 1 yesterday, so go back and catch up if you haven't already.  Oakton is a beautiful place!
So, we stepped through that door and here's what awaited, a beautiful wood beamed kitchen with lots of bright colors.
Michelle collects folk art and this space feels homey and casual, with greens, reds, and yellows.  I imagine a lot of TV watching goes on here.
This is where the family spends most of their time.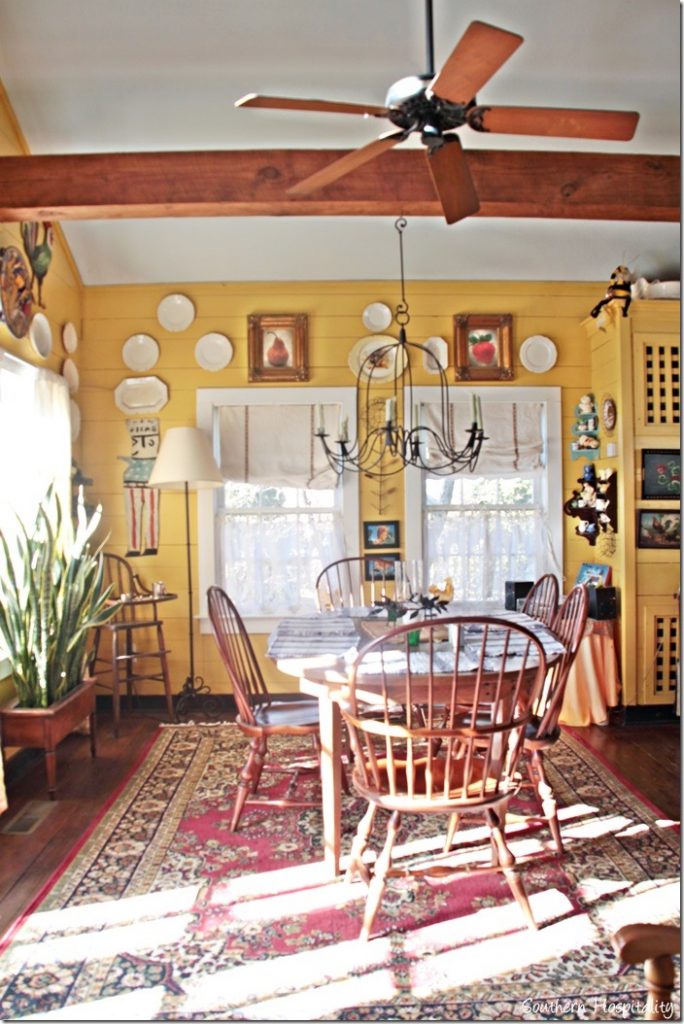 Breakfast eating area.
Entertainment center area.
Yellow walls and accessories.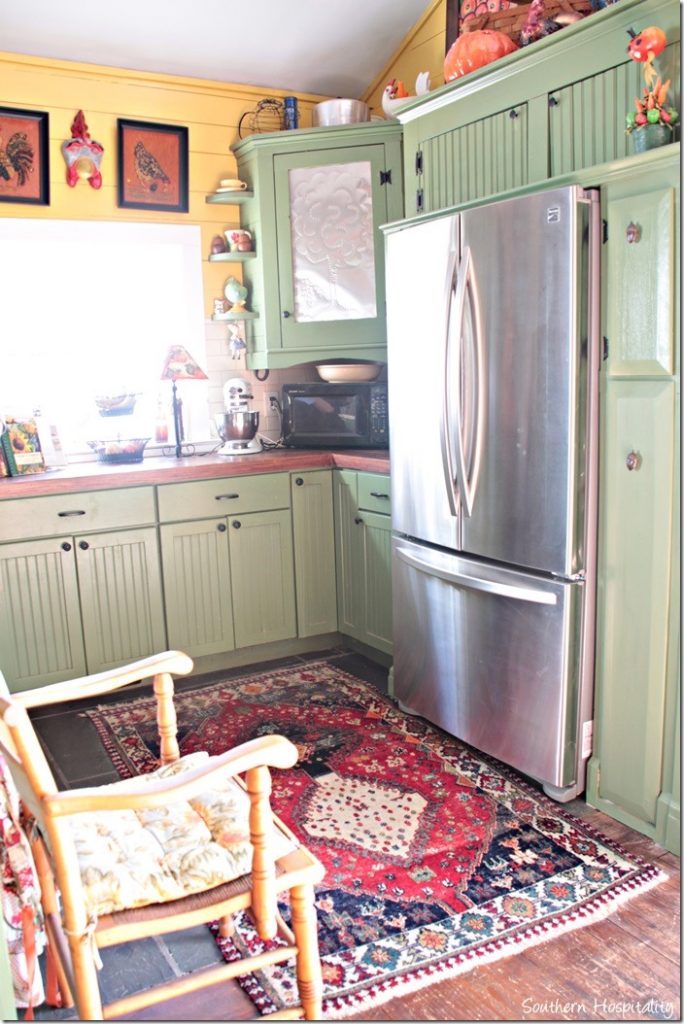 Pretty sage green kitchen cabinets.  Don't miss the old pine floors.
This is a very comforting kitchen with lots of light coming in.
Sitting area off to the side of the kitchen.
One of the family dogs taking a break on the old woods floors.
Farmhouse sink.
Next we went out the back door to see the outside structures, like this old well.
There's a kitchen garden out the back door.  Of course, it's winter now, so I can imagine how pretty all of this will be come spring.
It was a beautiful sunny day we had for strolling.
Kitchen garden
Backyard dining area.
Potting shed
Back of the house. That's the kitchen there with the Juliet balcony.
With ironwork of oak leaves and acorns, loved this feature!
Backyard planted birdbath.
Twig gate
Tree with ivy growing up it.  They have many acres of property here to take care of.
The gardens are old too, I read.  This is a beautiful fountain in the backyard and they grow vegetables back here too.
A pretty sidewalk of stone.
Not to mention a huge pool and poolhouse.
The husband works on the top floor of this beautiful barn.
And does woodworking in this space.
Here's the upstairs office. He has his own landscape design business.
Beautiful oak botanicals.
The side yard, where events and weddings are held.
Complete with a stacked stone fireplace.  Gorgeous setting!
Michelle makes these beautiful oak cutting boards from wood on the property.
Love these!
And she collects heirloom seeds that she sells too.  I love this family business they have going.
Side porch of the house.
How about a sweet tea on the porch.
I hope you enjoyed touring Oakton with me.  It's such a beautiful place and I'm grateful to the Goodman's for letting us come look around at this fabulous historical home.  It would be easy to think about how it would have been 100 years ago.
Today, Marty from A Stroll Through Lifeis featuring me and my home, so I hope you'll stop over and read!  Thank you, Marty!
Don't Miss a Post, join my list!