Today's Feature Friday is a little different from the norm, in that it is going to be a tour of the outside of a house and not the inside.  But, wait til you see the outside and the view!  It's to die for.
I met a new friend up in TN when I was there for Bella Rustica in October.  She reads my blog and it just so happens she is undergoing a renovation of her own at her farmhouse in TN that she and her hubby have lived in for many years.  It's a gorgeous Southern Living plan and a wonderful location.   We met up at Bella Rustica and immediately hit it off.  You know those people whom you meet and feel  like you've known forever? Yep, that was Shannon.
She picked me up one afternoon and offered to show me around the town, so I jumped at the chance.  And she wanted me to see her farmhouse too.  We made a quick stop by the Milky Way manor house on the way out to the countryside of Lynnville,TN.  Shannon's on the left and she is a doll.
We drove to downtown Lynville, TN, a quaint and oh-so-Southern little town that was cute as a button.  The downtown area was actually bustling that weekend with all the traffic in for the antiques market.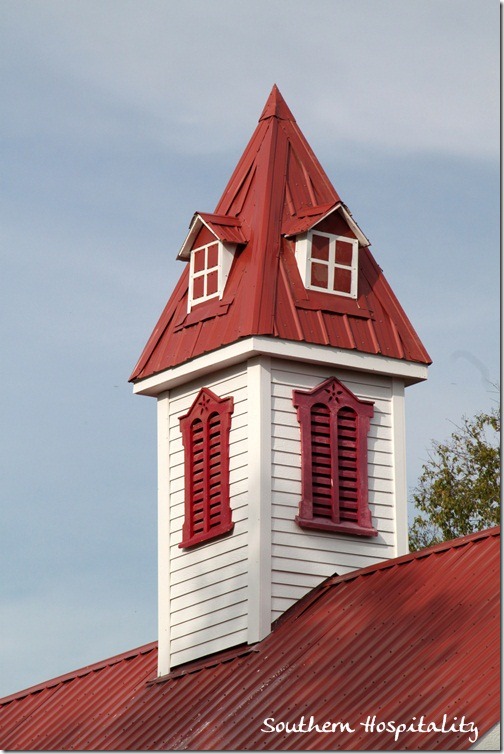 Driving through the countryside was such a treat, with views like this.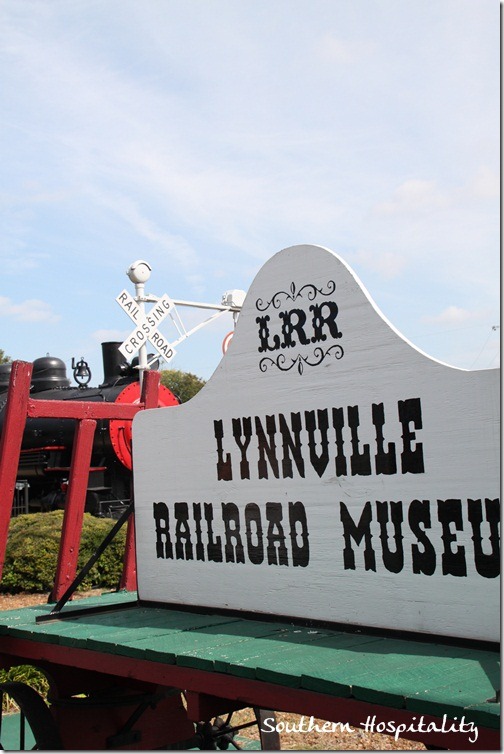 Downtown Lynnville has a railroad museum.
We tried to get into Soda Pop Junction, but it was a long wait for a table.
We popped into Col. Littleton's, a men's haberdasher, which is a throwback to the good old days.
Showing off men's attire like this.  Isn't that gorgeous?
Since we missed lunch at the café, we opted for a country ham sandwich out of a local food truck.
Salty country ham, nothing better.  My daddy's been eating this my whole life and I acquired a taste for it too.
A little chocolate pie for dessert.   Then it was time to head to Shannon's farmhouse, which she had already been telling me about.  And boy, it didn't disappoint.
That's it up at the top of the hill with the pretty red roof.
From the front, this beautiful country farmhouse sits like a beacon on the hill.
The front porch is so welcoming too.
With a row of rocking chairs like this, you know you're in the South.
With views like this, I can see why they chose this spot.  Isn't this stunning?
The spacious courtyard with flagstone is a wonderful place for outdoor gatherings.
Potted plants and all.
It was such a treat to visit this quaint town and get to meet a reader and now friend, Shannon.  She showed me all the things that they are doing in their farmhouse and I hope to be able to feature inside one day when everything is finished.  It is truly gorgeous and I love all the updates that Shannon had planned.
I didn't want to miss showing you this beautiful farmhouse in TN, even though it's an outside tour and not an inside one.  Hope you enjoyed!
Don't Miss a Post, join my list!