Last year, I had so much fun hanging out with Layla and Kevin as they filmed a pilot HGTV show.  Sadly, the show wasn't picked up and they found that out in February (HGTV doesn't know what they are missing!).  I had taken some nice After shots of the room they did and I'm finally getting around to showing them to you.  It had been so long, I almost forgot about them, but I know you'll all love these pics.
One of the things they did in the makeover was to change up the existing fireplace mantel.  I loved that they added a box to cover the old red brick and added molding to really bring it up to a modern version, as well as added a beautiful rustic mantel on top.
That's on my list of things to do with my stone fireplace too.  Now, I just have to find someone who can execute my plan.  The rocks on my fireplace are not flat in the front, they are all kinds of uneven, so it might be a bit more of a challenge for me to get a rustic mantel in place, but I will be pondering on that one.
For now, it looks like this, but one day I hope to get a pretty mantel up there and maybe even add a bit of wood to the front of it too. We'll see how it evolves.
Here's where the Morrison's house started before Layla and Kevin got ahold of it.  They had just closed on this foreclosure house (boy, do I know how THAT feels!) and were eager to start ripping out and making it better. The house has great bones and I'm sure they are doing some fantastic things with it after getting a major head start with their living room. Wait til you see the afters!
I know! You are scrolling back and forth right now, cause you can hardly believe this is the same room, right?  It is amazing what paint, flooring, revamped fireplace and beautiful furniture and accessories can do for a room.  Astounds me every time!
I do believe the color is Oyster Bay by Sherwin Williams, a gorgeous soft gray-blue.  I used the lighter version, Comfort Gray, on this strip in my den.
The red color on the table and French doors is Heirloom Red by Valspar.  You can find lots more details on the room at Layla's!

Hard to believe the fireplace is the same. They added glass tile and a wooden surround to the existing brick and installed that beautiful rustic mantel. Oh, how I love that.
With the flat screen above, this is a great family room now for watching TV.  Love, love the changes in the mantel.
This pretty mantel really makes it too.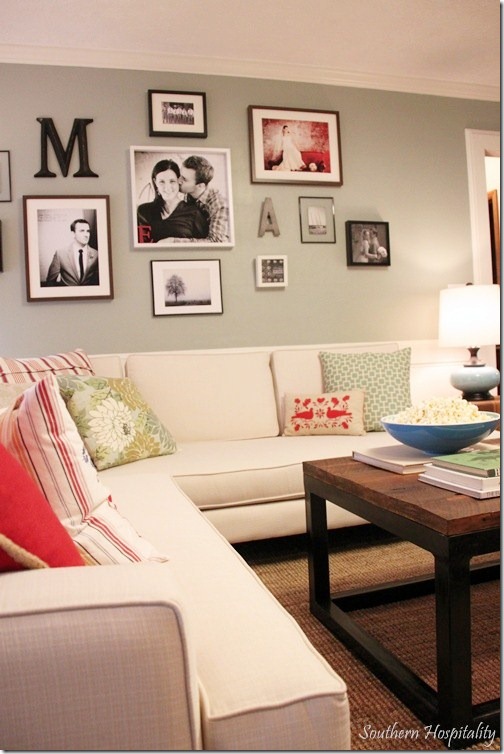 A sectional sofa fills in the space nicely without taking up a lot of room.
They did the Billy bookcases from Ikea built-in on either side of the French doors and that really brought the room to life.
Perfect idea!  And those red doors rock.
These bookcases look like they've been here forever, you would never know they are put together bookcases from Ikea with molding added.  I just might have to find a place to do this in my new house, I love it so much.
This pair of flea market chairs got a new slipcover.
Layla's shopping expertise shines in her choice of suitcase side table and flea market accessories.
Love the mix of pillows too.
An old leaded glass screen in the corner, along with a live plant adds a nice mood in the room.
These simple drapes with the same fabric as on the chairs pulls the colors and fabrics all together.
Another shot of the side table and chair/ottoman in front of the Billy's.
Painting this table red was one of the jobs I helped with.  It really adds a nice punch of color to the room, same color as the French doors.  I've got some furniture painting to be done for my new house.
Another shot of the room.  Isn't it just lovely?
Other side looking towards the front door.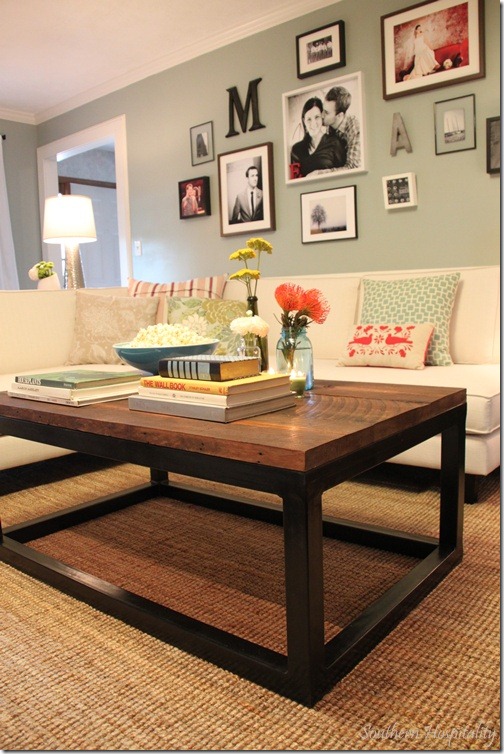 They got this rustic coffee table at Southern Accents in Cullman, AL.  Great place for vintage finds.
Here's talented Layla, with the homeowner, Emily.
I know they are enjoying this room and last I heard, it looks just the same, they haven't changed a thing.  Now, I'm wondering what other rooms they have done since this one.  You can see Layla's post back in April with her Before and After pics as well as lots more details on the room (and sources for all!).  Their pics are much better than mine too!
Hope you enjoyed this beautiful room makeover. I get so inspired when I see rooms like this come alive with paint, flooring, furniture, and accessories.  My fixer-upper is coming alive too and I can't wait to get to the decorating point.
Don't Miss a Post, join my list!