You may remember that a couple of months ago I shared a change in rugs in my living room and mentioned that I had made changes in the guest room, which necessitated changes in the living room. So today, I'm sharing the guest room updates and the changes in there. I'm finally able to share the new rug I got.
I'm fortunate to get to work with brands and this was a fun one this summer, when Ruggables reached out to me for a campaign on a new rug collection from Iris Apfel, the iconic designer you've probably seen over the decades. She has a bold style and they spotted my guest room and thought it would be a good place to show off Birds of a Feather rug, a new rug from Iris Apfel. They told me about the rug, but I had no idea what it looked like until it arrived at my house and I unboxed it. This was a sponsored collaboration, but they didn't ask me to write a blog post or anything, they are advertising it on my Facebook and Instagram pages so I don't have to do anything else for them, but of course I wanted to share all this with y'all!
It's the rug I never even knew I needed!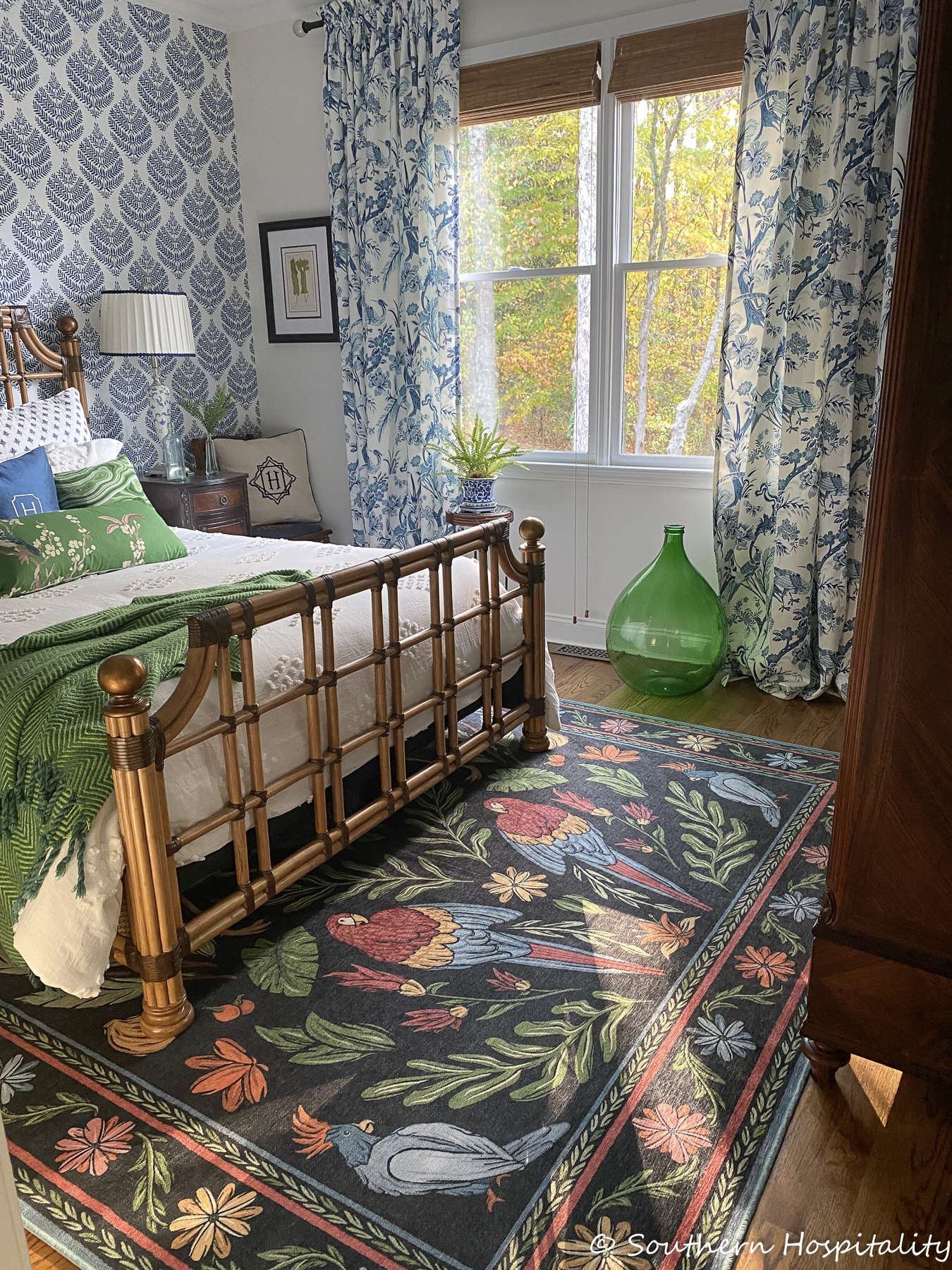 It's a very colorful rug and at first, I wasn't totally sure about it, but as soon as we got it in place, I really loved it and so did Mark. So the striped Dash and Albert rug went to the living room (and I'm liking it there) and this one will stay here. They were right, it's a wonderful complement to my guest room motif.
You should have seen Mark and me getting the rug pad and this rug in place under the bed without unloading the mattress. He picked up the bed (and it's heavy!) as I scooted and moved the rug pad and then the rug in place. We were sweating bullets by this time since this was back in the summer when it came in. It was quite the feat to get it under that bed, but we did it! And it's straight!
It does look fabulous with the bamboo bed and antiques in here and I love all the color.
I had never tried a Ruggable rug before, but I have to say, it's a great concept. It has a nice thick rug pad with a velcro type adhesion and the rug stays in place very well. Then you can remove the rug and wash it in the washing machine which is a big plus. I doubt I'll wash this one since it won't get much wear.
The colors are so vibrant and pretty so I styled the bed with all of the pink toned pillows I have on the upstairs daybed.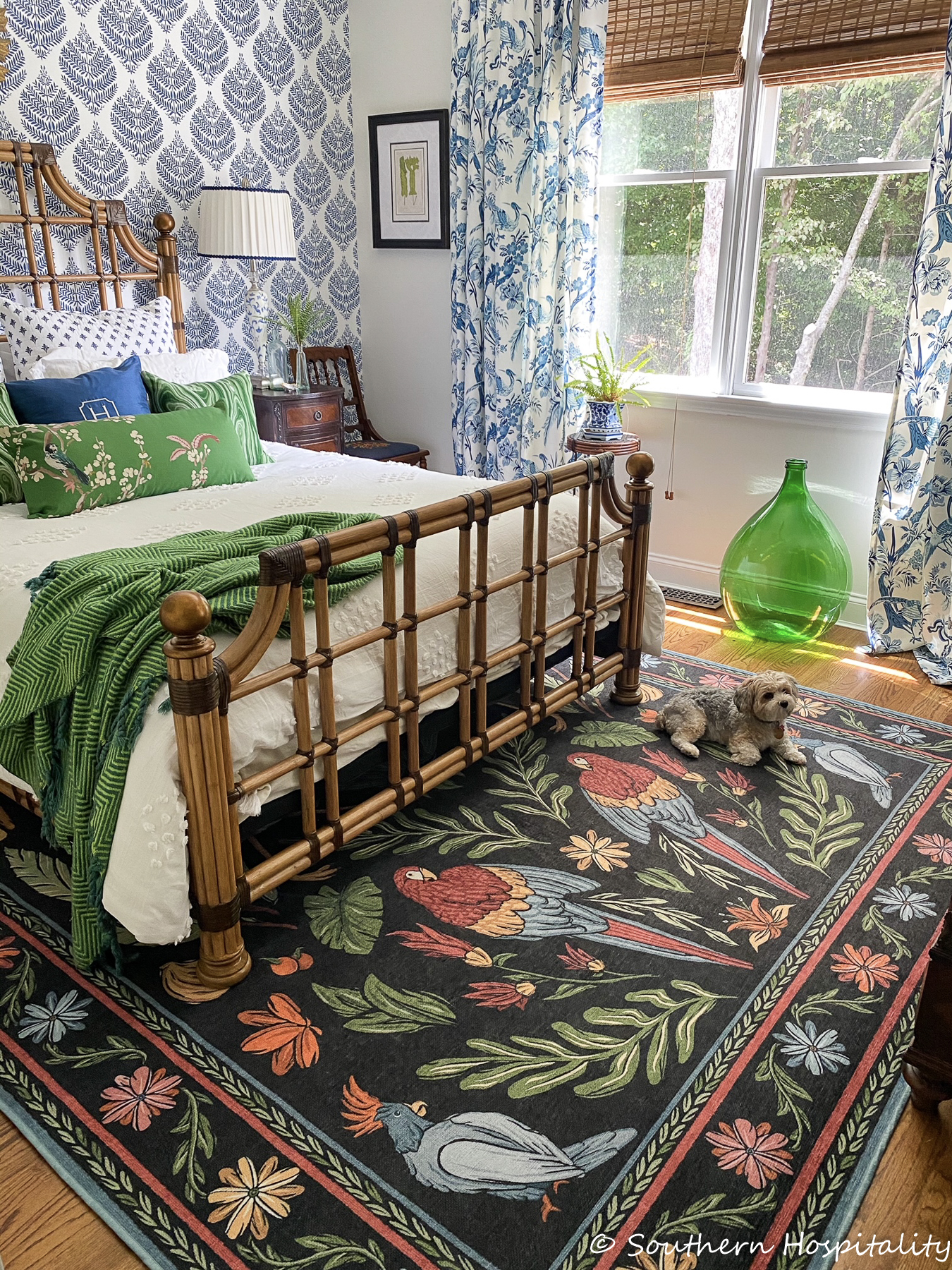 Daisy kept running in there on the rug, she liked it and loves to be in the middle of everything. The more I stared at it, the more I liked it. Mark really bragged on it too, so it's definitely staying.
It's a beautiful addition to the guest room, don't you think?
The pink pillows are fun too, but I'm keeping the green in there for long term.
They really bring out the pink in the rug.
Here's the whole Birds of a Feather rug, it's really sort of a shame that a big part of the rug is hidden underneath the bed, but I can see those gorgeous parrots. The flamingos and toucans are hidden sadly. The rug is so fun though!
Check out all their rugs if you like the idea of washing your rugs and having a rug pad built in.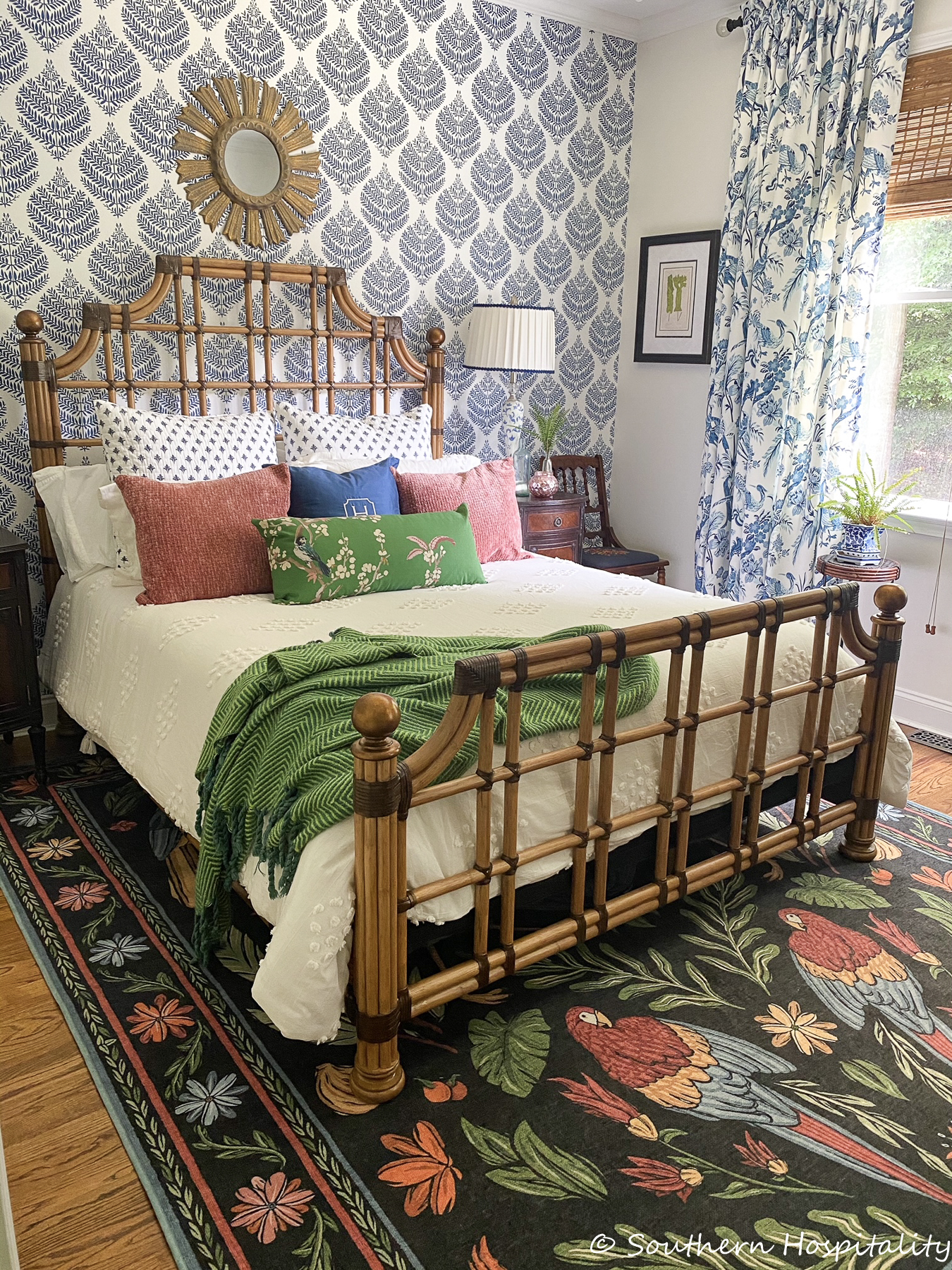 I'm very happy to add it to our guest room for a fun surprise.
And Daisy agrees 100% too! What do you think? Fun rug and a fun addition?!
If you've never tried a Ruggable rug, I am impressed with this one and they sent me another smaller rug for the kitchen so I'll share that with you too. This is called Camelia Midnight and I love it! That one will be nice to wash since it gets a lot of wear in the kitchen. It blends in so well with all my other rugs too.
Don't Miss a Post, join my list!