I'm back today to share Part 3 of the High Point spring market 2022. It was such a fun experience and I'm so glad I was able to participate this year. We sure saw a lot of great inspiration and memorable home furnishings. I have 4 more brands to share today and this post is very picture heavy so get ready to be inspired. I came way with a deeper appreciation for some of the brands that I knew and a delight in finding new ones I didn't know before.
Thank you to Esteem Media for hosting this tour along with the sponsors at High Point this year. It was such a wonderful group to spend a couple of days with.
If you missed Part 1 and Part 2, go back and catch up. There's so much to see.
Universal Furniture is a well respected and long known brand in the home furnishings industry. I visited this showroom last time I was in High Point and this visit inspired and gave me even more of a scope of vision into Universal. Mark and I have some Universal pieces in our master bedroom and love them.
We first stepped into the Coastal Living outdoor furnishings area of Universal and wow, was it a delight for the eyes.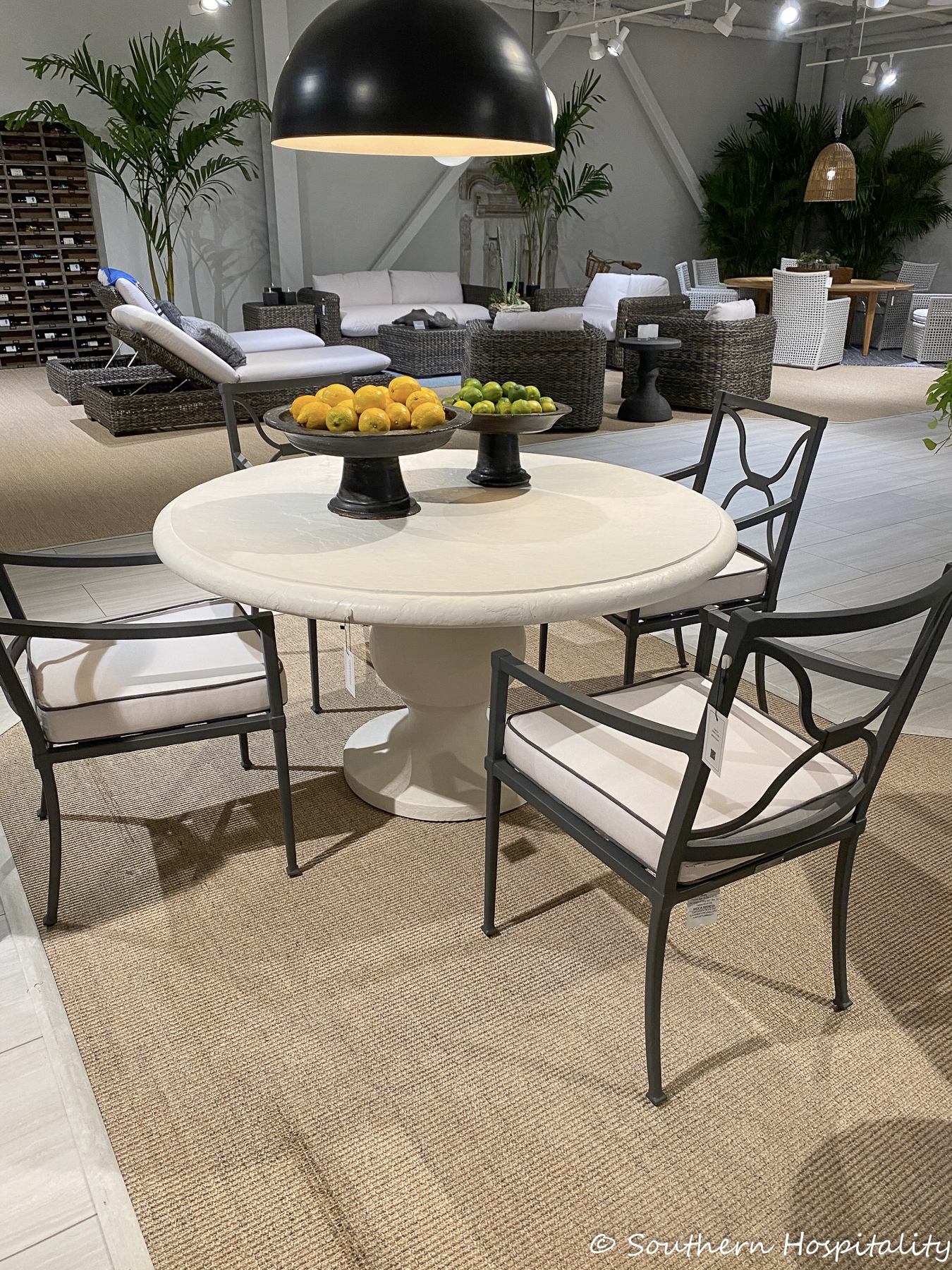 There were so many beautiful pieces, styles and textures.
Remember when I mentioned the style trend of wicker, rattan, caning and more texture? It's really exploded in the outdoor furniture area and there is so much beauty to take in. Most of these are faux textures to hold up to the elements, but it's so stylish and beautiful.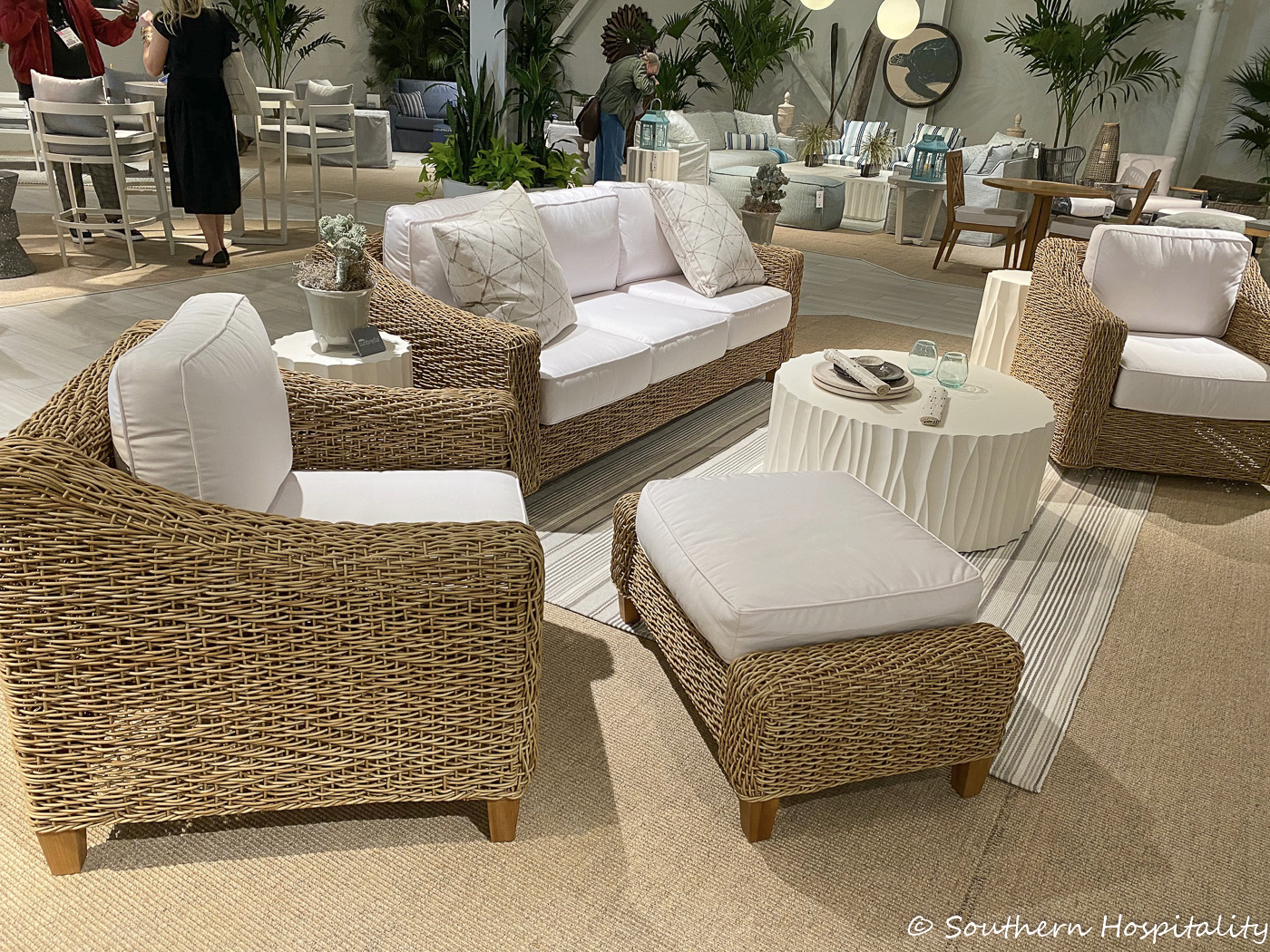 LA based interior designer, Erinn Valencich has debuted a partnership with Universal this spring and her brand was displayed at the market. She gave us a welcome presentation about her designs, inspired by casual CA living. She says that all of her pieces need to work in modern and contemporary homes and if it can do both of those, it's a good design.
She designed a lot of neutral, yet interesting and modern pieces for market.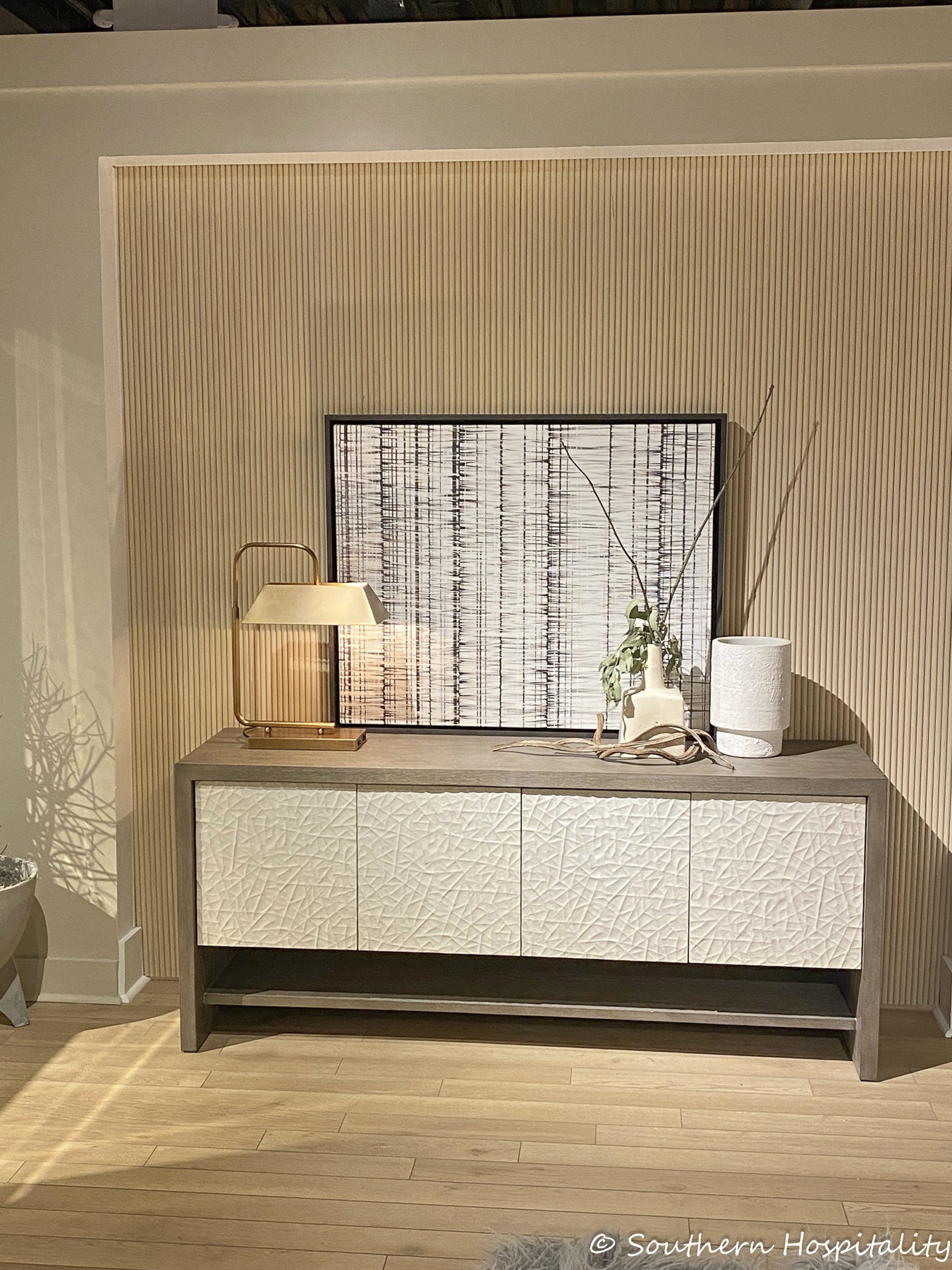 Their Coastal Living area was especially inspiring. Who doesn't dream of living by the water?!
So many things to love about coastal inspired furniture and as you will see, the rattan and wicker is abundant.
So many beautiful pieces to choose from.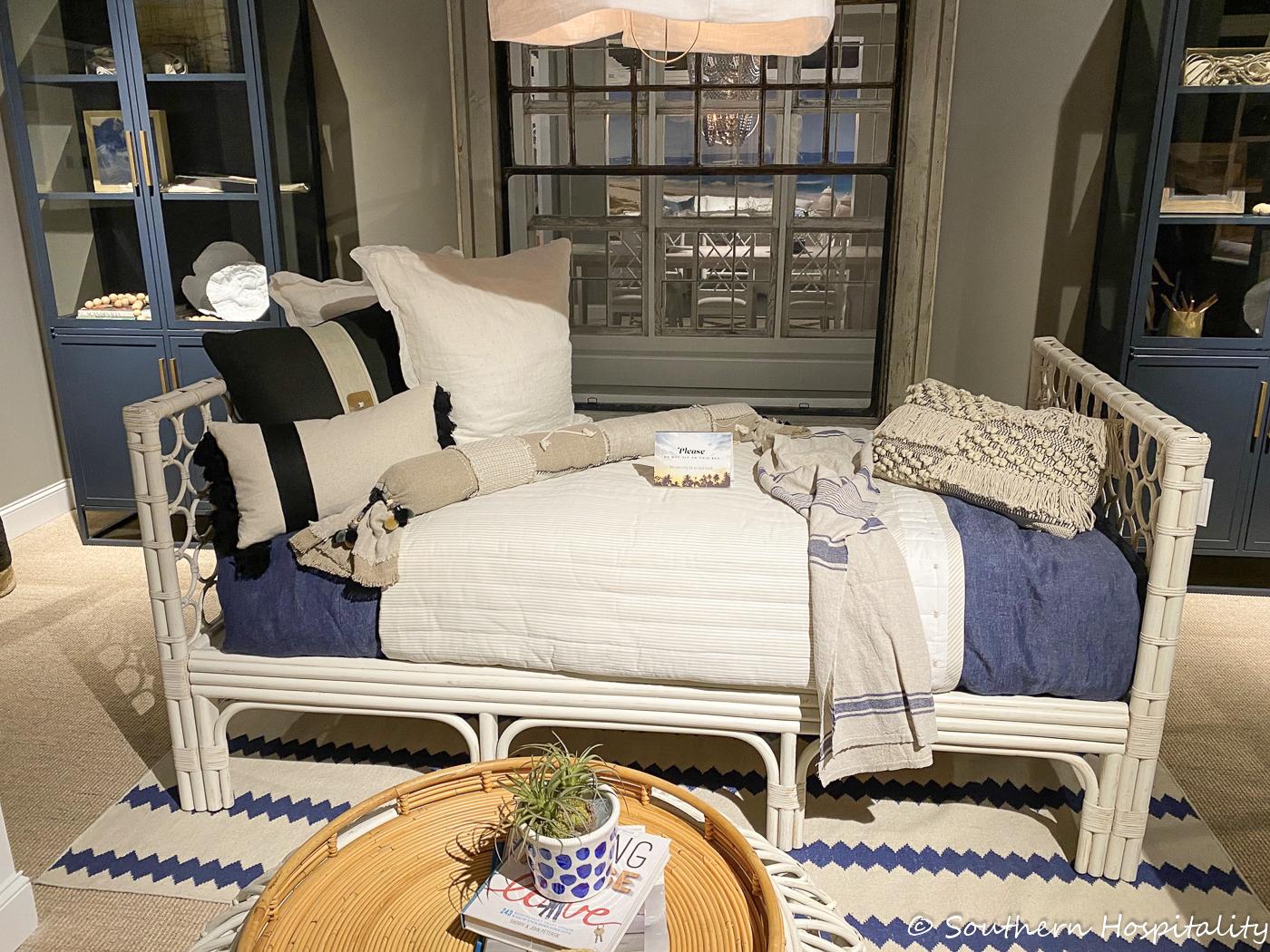 This rattan daybed was extra fun!
Miranda Kerr designs was displayed in another area of Universal. Her modern chic designs were so glam and elegant.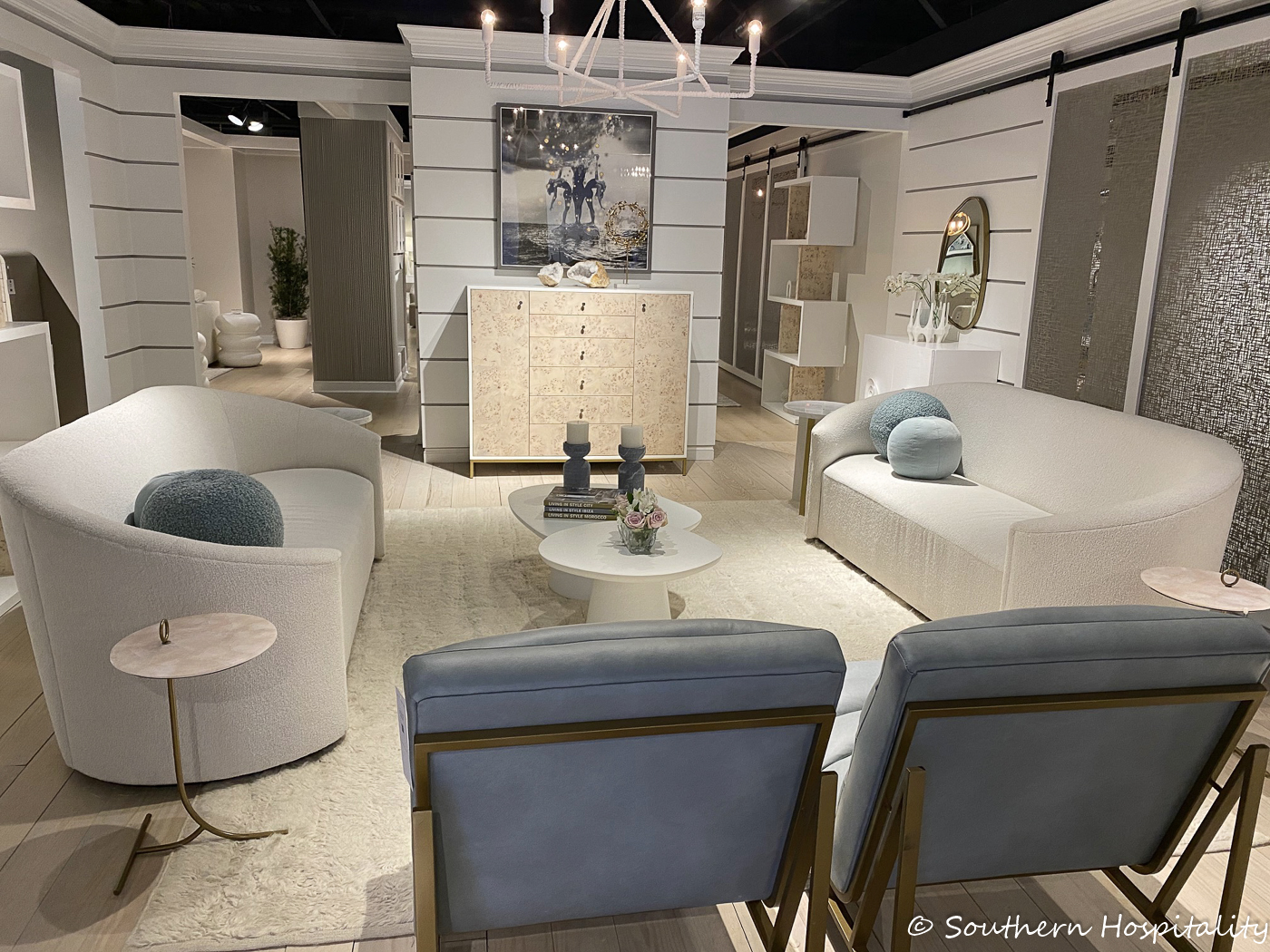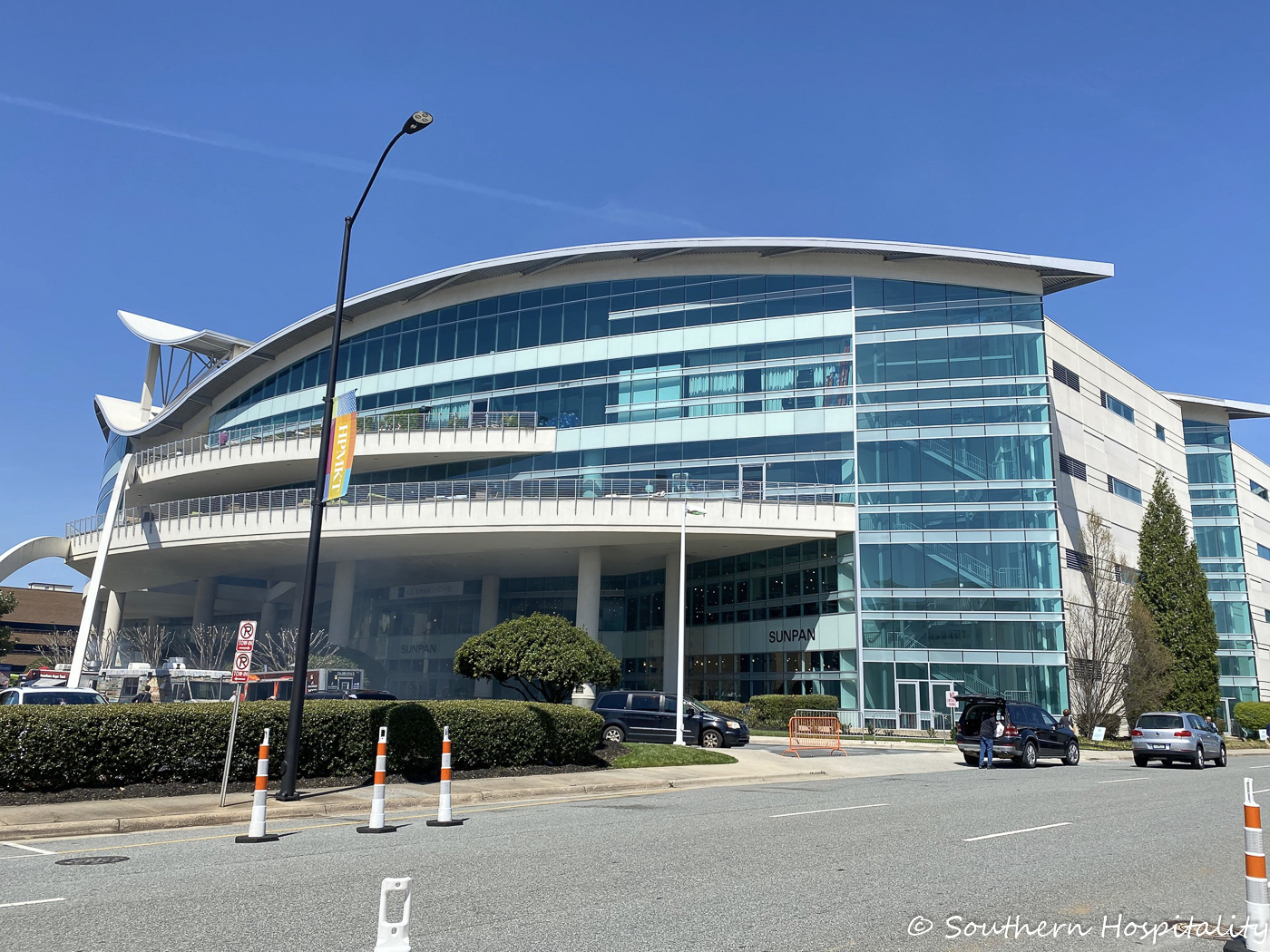 We got in a lot of steps on our 2 days at High Point. Many brands were inside the main building below, but others were down the street in free standing buildings.
It's a beautiful town with so much going on during the markets.
Our next stop brought us to Kalco Lighting, a lighting store out of NY, handcrafted since 1980. You can order directly from their website.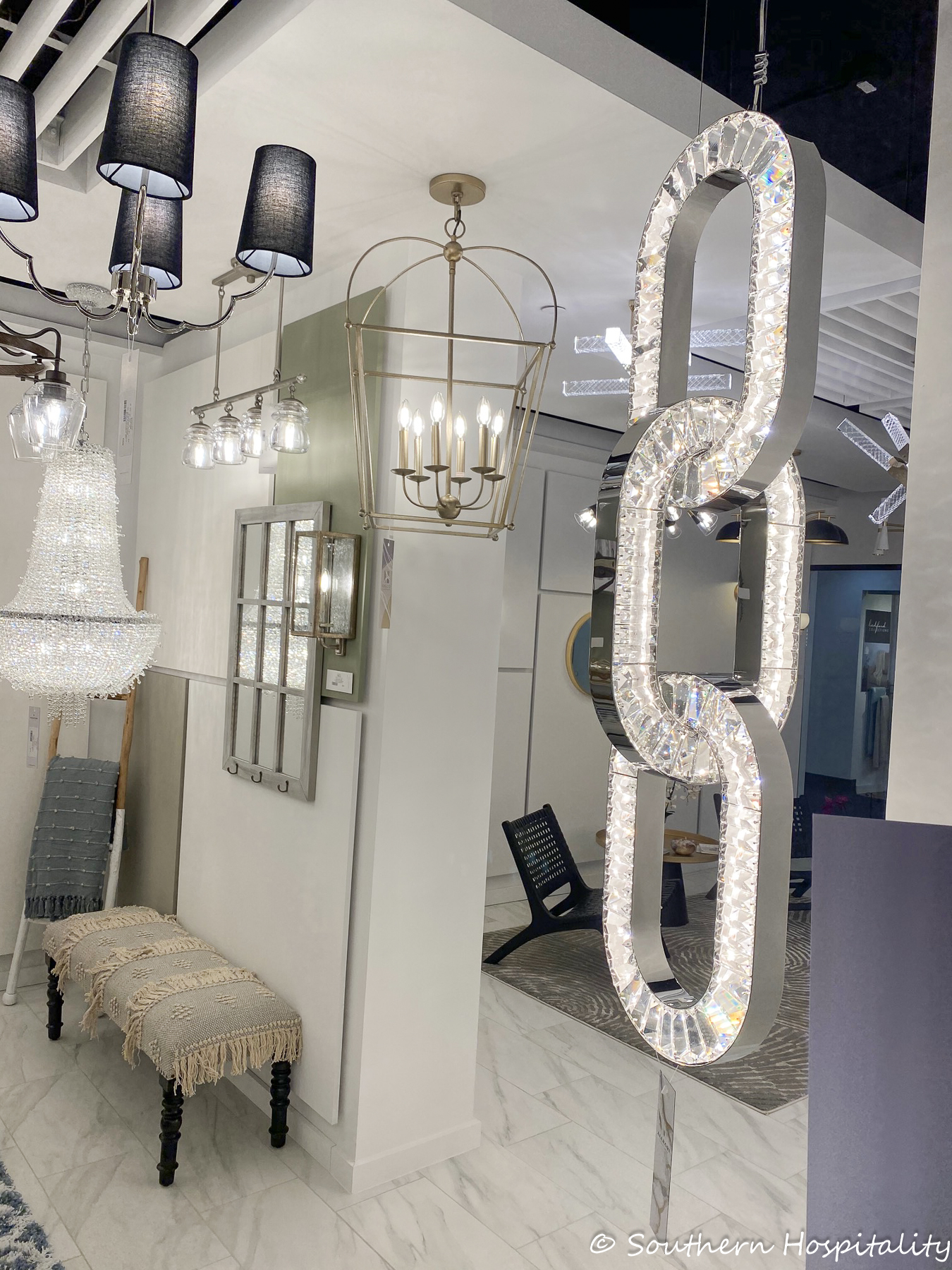 They  had some of the prettiest and most unique lighting I've ever seen. Look at this chain link hanging fixture! Truly unique and one of a kind.
These outdoor fixtures were so elegant and sparkly.
Kalco hosted us for a delicious lunch that day and we all enjoyed seeing these beautiful light fixtures up close.
I loved this capiz shell fixture, very elegant.
We met designer Vanessa DeLeon who introduced a new line with Allegri and Kalco Lighting, Ilumine, a collection of pendants, sconces, and chandeliers showing the designer's modern stylish designs. She has a love of Art Deco and uses Firenze crystal with accents of brass, black and polished chrome.
This top fixture you see, which my photo doesn't do justice, was inspired by the NY skyline.
She had some very unique designs like this extended hand holding a golden arc of crystals. Kalco Lighting was full of eye candy for the home, we all enjoyed this stop so much.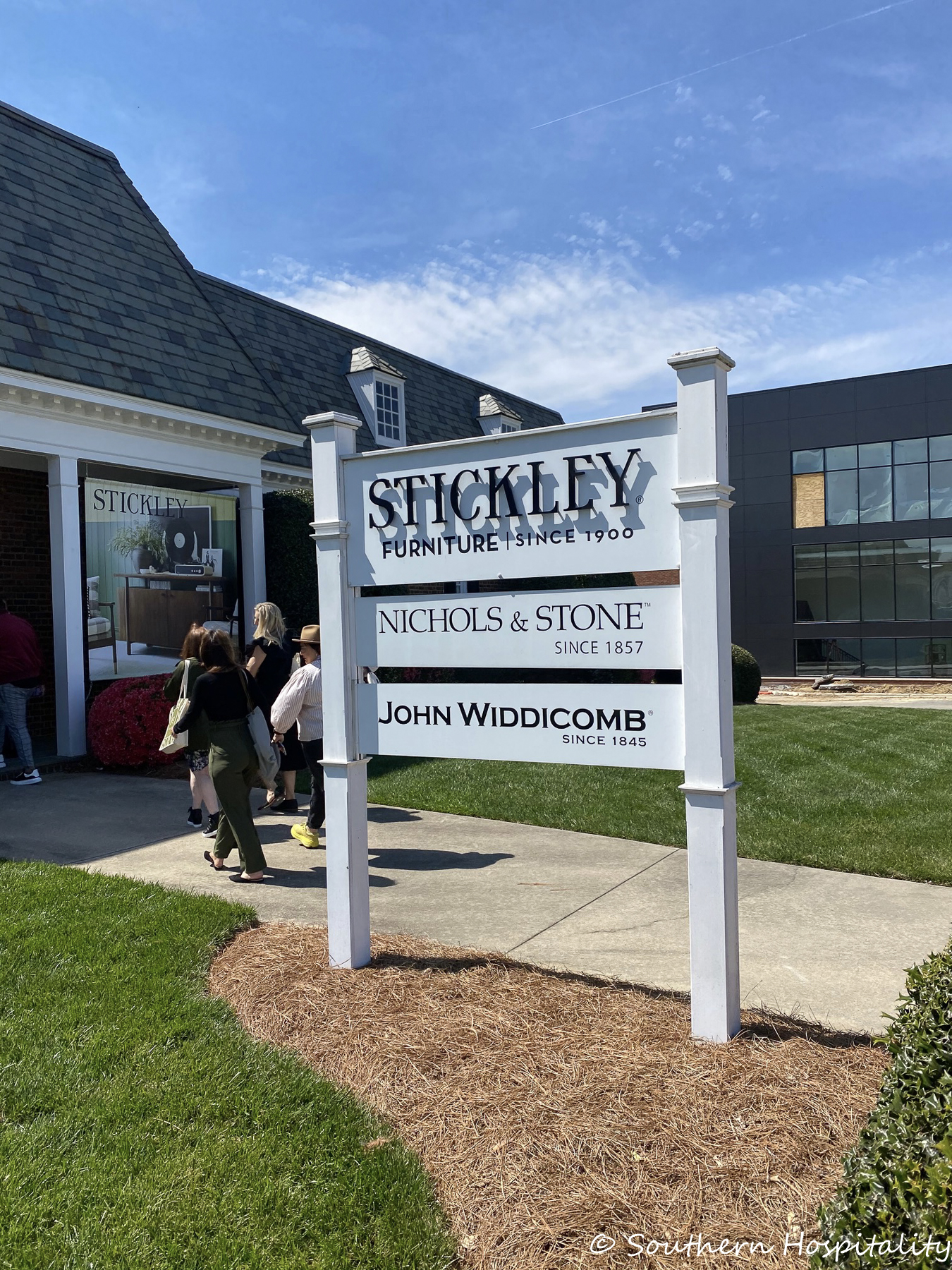 Next stop is Stickley, which I'm sure as you read that you immediately had a vision of what you think Stickley furniture is all about. Right? Well, stay tuned because you will probably change your vision of Stickley, like I did after I toured their showroom.
Yes, Stickley Furniture is anchored in solid wood furniture and with a prestigious beginning in Arts & Crafts and Mission designs. This is what you think of when you hear Stickley, but they've evolved way beyond those boxes. Started by the Stickley Brothers in the early 20th century, they burst on the scene with their Mission Oak furniture. After the Stickley brothers passed away, the company was revitalized by the Audi family, and the wife, Aminy still heads it today.
Stickley today is still beautifully crafted in America using American hardwoods.
Their philosophy: Enduring tradition, superior craftsmanship, an unshakeable philosophy of excellence—these are the bedrock of the Stickley ethic and the reason that Stickley produces America's premium hardwood furniture. 
You'll notice superb crafsmanship and beautiful details all through the Stickley showroom.
It was a delight to see this furniture up close and personal. As you can see, modern meets practical in this solid hardwood furniture.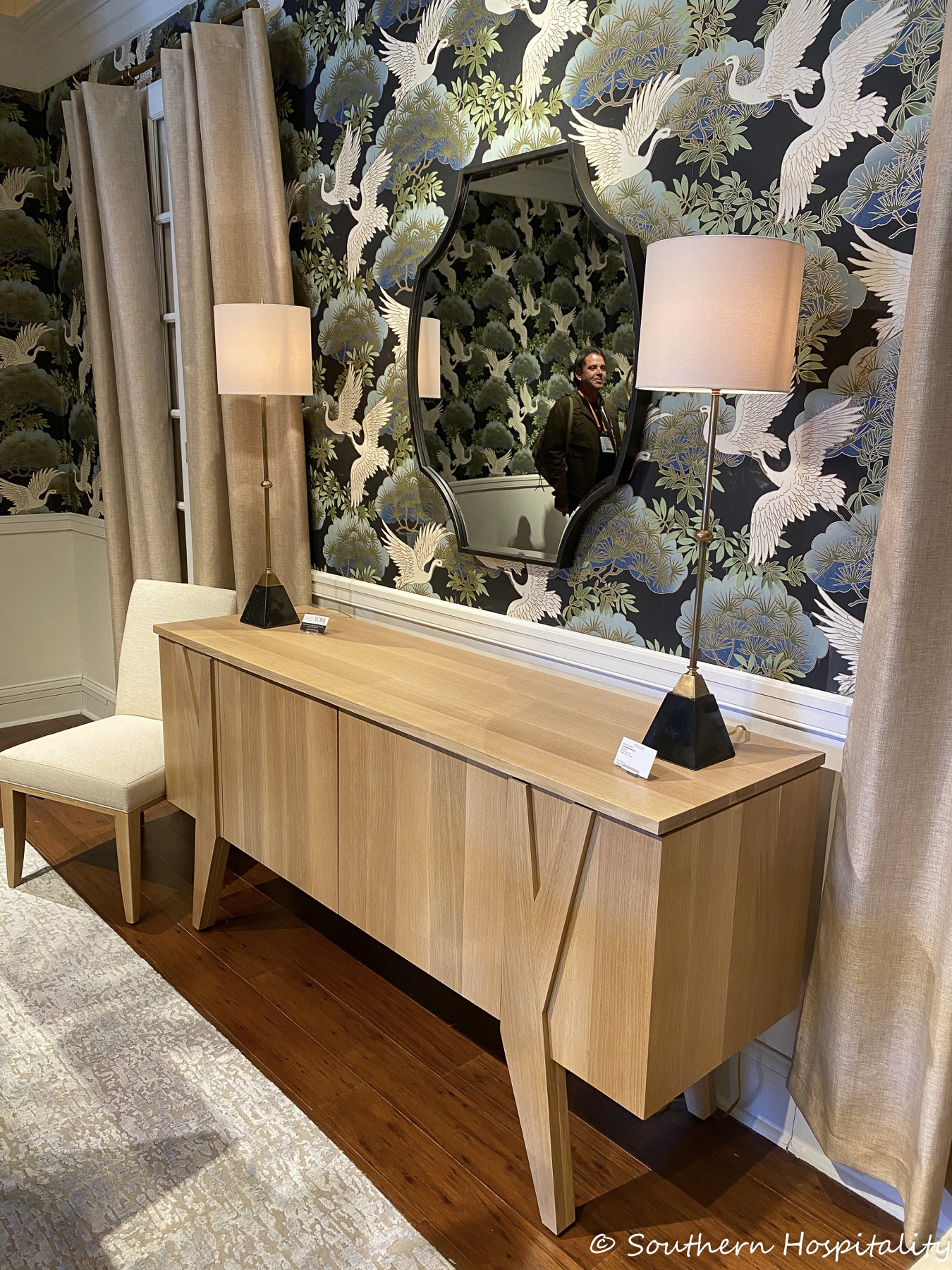 This dining room design was gorgeous with this York wallpaper as the background.
Beautiful details on so many pieces.
You can still see the Mission style designs are going strong as well.
The wood grains and details are impeccable.
Remember my Style Trend of arched cabinets? Yet another one in the Stickley showroom.
This desk was quite unique with a pullout drawer on each end.
They even have some painted furniture.
These pieces have a mid-century modern feel to me and I loved the drawer details.
These bookcases wer eso beautiful and stylishly unique.
They had something I've never seen before in this behind the sofa console table/bar with bar stools. They said they have this patented. It's very useful and pretty.
Here's another bar set up with stools.
As you can see, Stickley may not be all you thought it was. Did some of these pieces change your thinking on what Stickley is all about? It sure did for me when I took the tour. There pieces are gorgeous and no doubt heirloom quality furniture. Solid, well built furniture made in America. I like the sound of that!
Our last stop of the tour was Cisco Home, housed in an old mill in High Point. It was the perfect spot for them to highlight their modern industrial, CA casual style. The Cisco Home story is very interesting. Cisco grew up in a small 20-family village in Mexico. In 1975, Cisco moved from his small village to South Central Los Angeles. He worked for awhile in a small Makers shop, eventually opening his own, where he had the freedom to create what we now know as the Cisco Standard: handmade pieces of furniture using repurposed materials with little waste.
From their website:
For nearly three decades, Cisco Home has been a Los Angeles-based haven for handcrafted ingenuity. Driven by our passion for elegant design, thoughtful sustainability, and community building, our family of designers, makers, and activists work side-by-side to create one-of-a-kind, eco-friendly pieces that transform your house into a home with your health in mind.
The showroom was a vintage delight to the eyes, with the crusty backdrop of vintage brick, concrete floors, and beamed wooden ceilings, the furniture was perfectly showcased.
There's more green, a trendy color as evidenced by all we saw at High Point.
It was inspiring to just walk around and take it all in, with this old mill holding it all in place.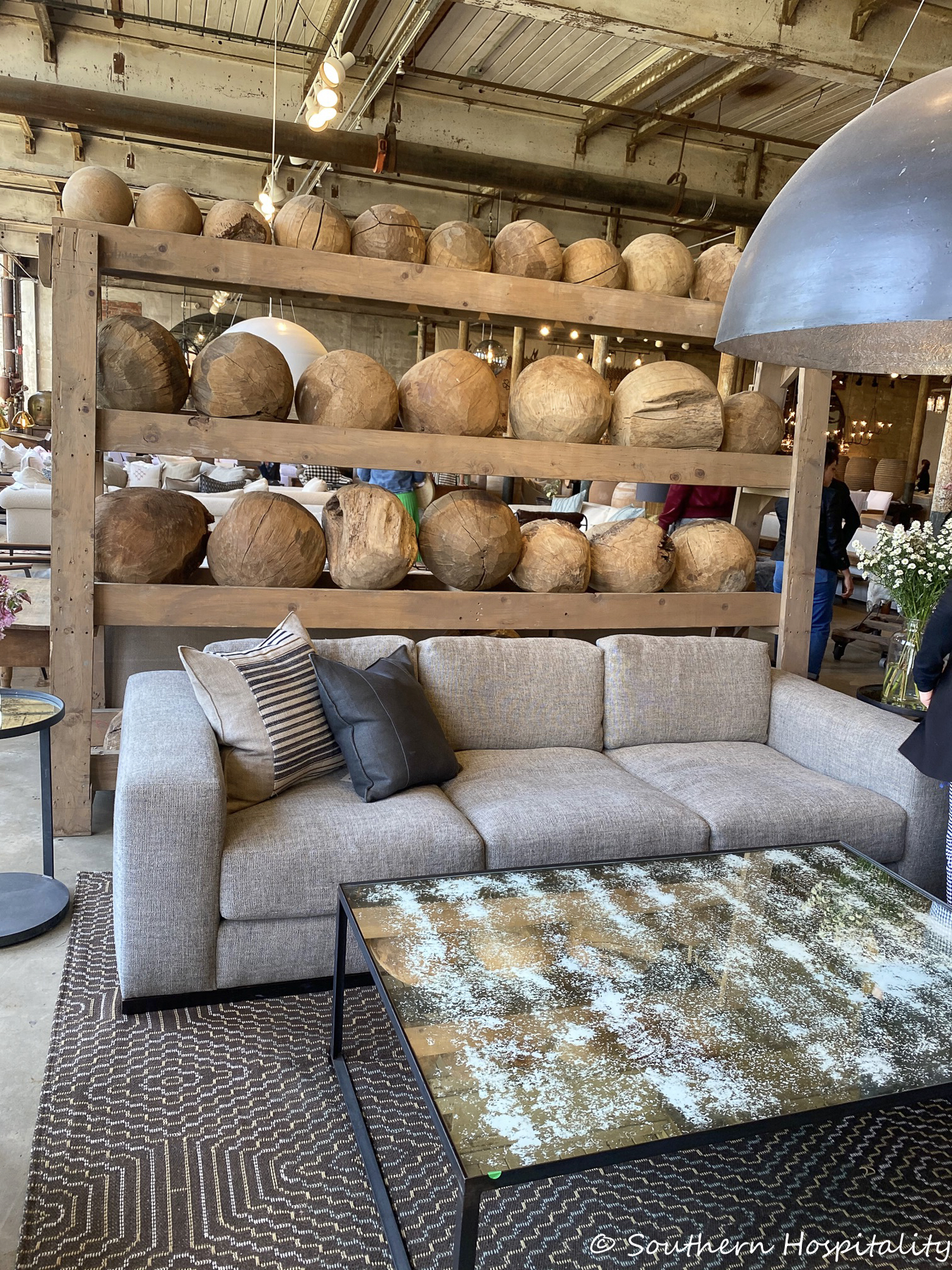 The furniture is cozy, casual and so comfortable. We tried it out along the way.
As with Fairfield Chair, Wesley Hall, and Theodore Alexander, Crypton Fabrics partners with Cisco to create beautiful chairs and furniture with performance fabric that wears like iron.
It was so inspiring to walk through the Cisco Home warehouse and see all they create in such a magnificent backdrop.
This was the last stop of our tour and they graciously gave us wine and cheese, olives and snacks to end our second day of the tour. We heard that Cisco himself cooks a wonderful Italian pasta meal for anyone dropping in that night. We unfortunately missed that, but I can imagine how good it was.
What a wonderful spring High Point 2022 tour it was this year. Such fond memories of new friends made and friends reacquainted, as well as meeting some of the most inspiring brands with beautiful home furnishings that will make any home feel and live abundantly. Isn't that what we all want in our homes? To feel at home and in love with what we surround ourselves with. Going to market gives me a renewed appreciation of my own home that Mark and I have created together. It is our restful place to relax and come home to at the end of the day.
I hope you all enjoyed a look at the spring High Point market this year and got some ideas of your own on creating the home of your dreams!
Here's a look at all the sponsors again, I hope you will visit their websites.
THE SPONSORS FOR SPRING 2022 IN HIGH POINT ARE:
Cisco Home, ciscohome.net
Crypton Home Fabric, www.crypton.com
Hooker Furniture, www.hookerfurniture.com
Hubbardton Forge, www.hubbardtonforge.com
InterHall, www.imchighpointmarket.com/interhall
Jaipur Living, www.jaipurliving.com
Stickley, www.stickley.com
Theodore Alexander, www.theodorealexander.com
Universal Furniture,  www.universalfurniture.com
Note: This tour is sponsored by High Point brands and hosted by Esteem Media. All opinions are my own and we are compensated for our time. 
Don't Miss a Post, join my list!