It's time once again for the annual Atlanta Homes & Lifestyles Home for the Holidays showhouse and I was invited to preview last week and I've got all the scoop for you. I really enjoyed this year's house, it's mostly Traditional and classic style and I think you'll enjoy it too.
I noticed lots of wallpaper, beautiful finishes, and a timeless feel in most of the spaces. That was refreshing and this is the type of house that I love to tour and see in person. There's color, as well as some more neutral spaces, but overall a really lovely home with lots of great design inspiration.
The house this year is a newly built shingle style Nantucket cottage by Harrison Design, KBD Development & Construction, and The Jane Group. The 6,500 s.f. residence is in Ivy Ridge, an enclave of new luxury homes. With 6 bedrooms, 6 full bathrooms and 2 half bathrooms, it's a spacious home for sure. The design of the house marries Arts & Crafts style of a 1950's beach house with the distinctive roof and dormer seen in Dutch Colonial homes and a formal limestone Italianate entry.
The house will be open until December 6th and you can find ticket information here at the website.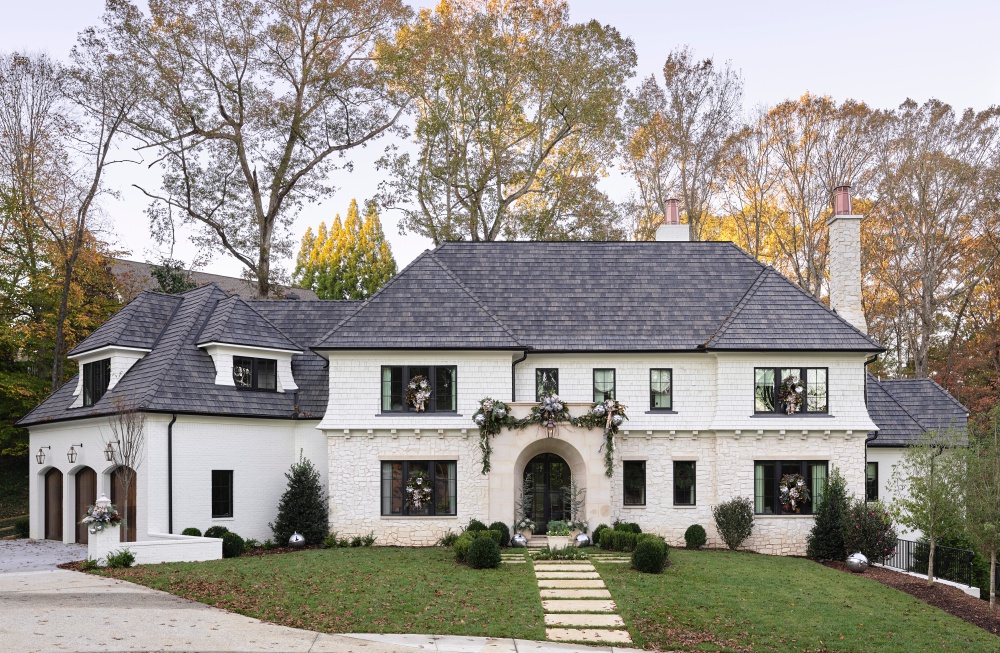 These two photos are from the magazine. Photographer: David Christensen
The house exterior is so pretty and I love the arched glass front doors. The shingles and limestone facade is a great combination. Don't you love the swags and bows of garland? And the huge jingle bells are so unique and pretty. This entry is perfection!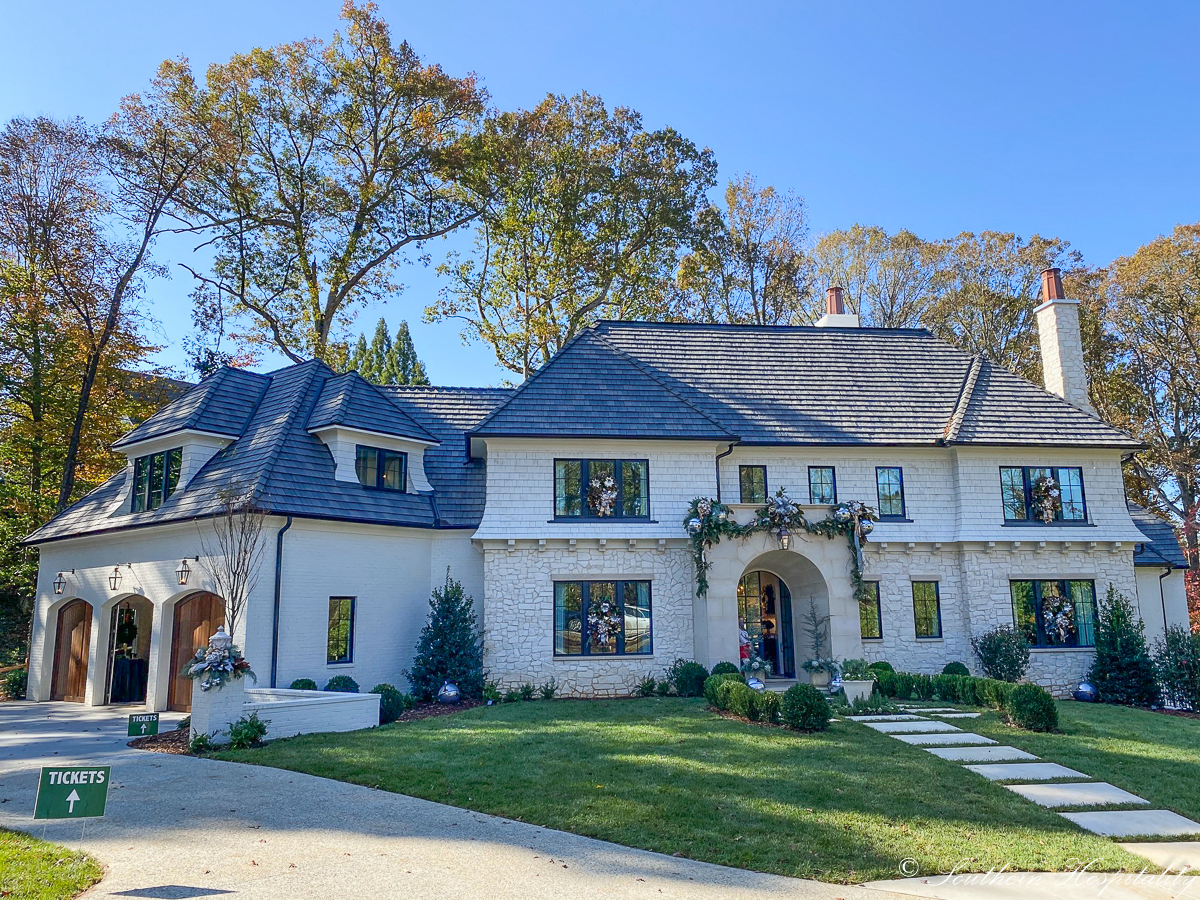 All the rest of these pictures are mine, so I hope you enjoy.
Exterior Design: Randy Korando & Dan Belman, Boxwoods Gardens & Gifts
Those jingle bells are just gorgeous!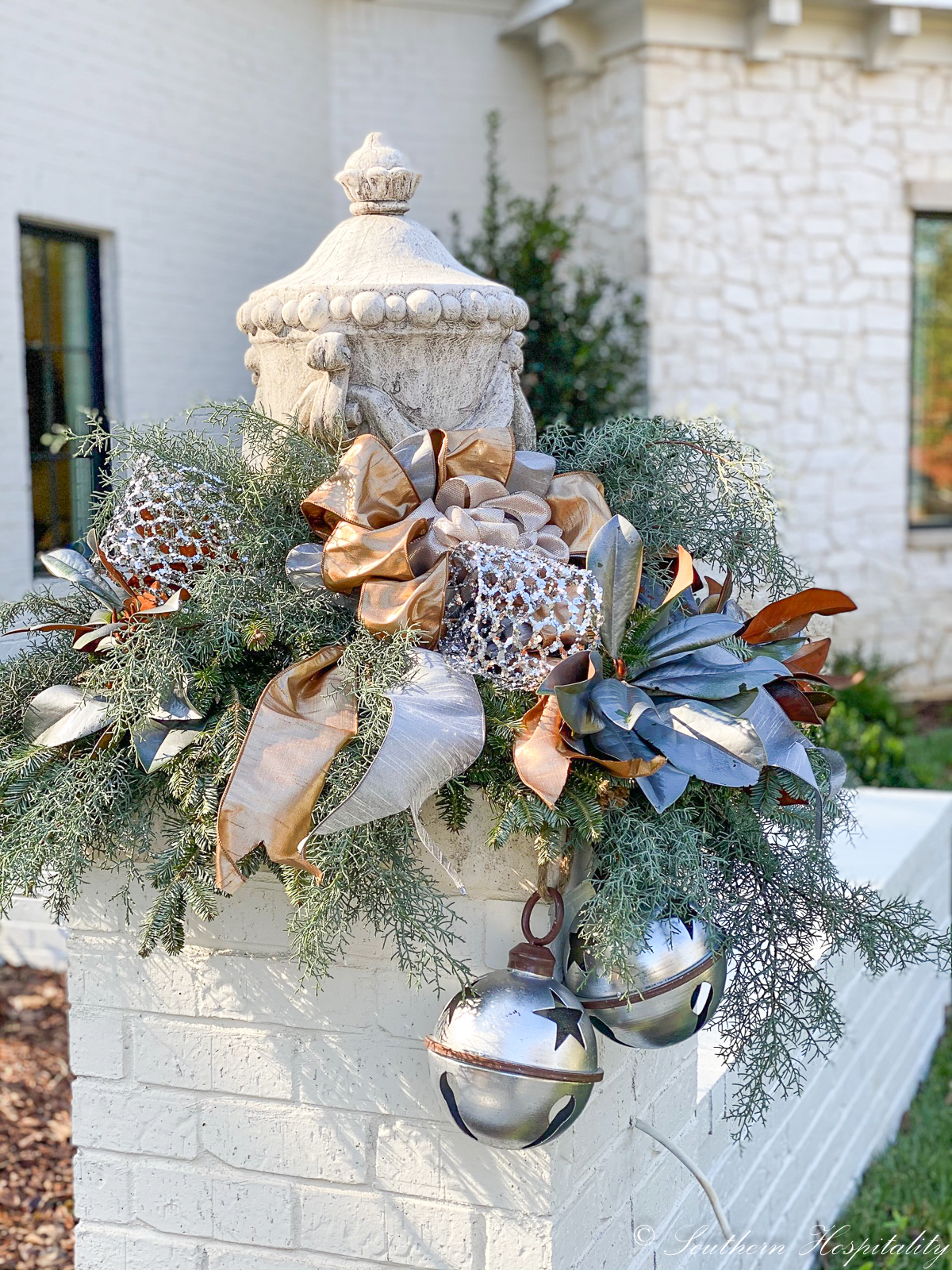 It's just gorgeous!
The front door looking out to the front entry. I'm not going to talk about all the spaces, but will chime in on a few that I loved. Enjoy the tour! I'll share all the designers who did each space as we move through the house.
Entry Hallway & Powder Room: Judy Bentley, Interior Views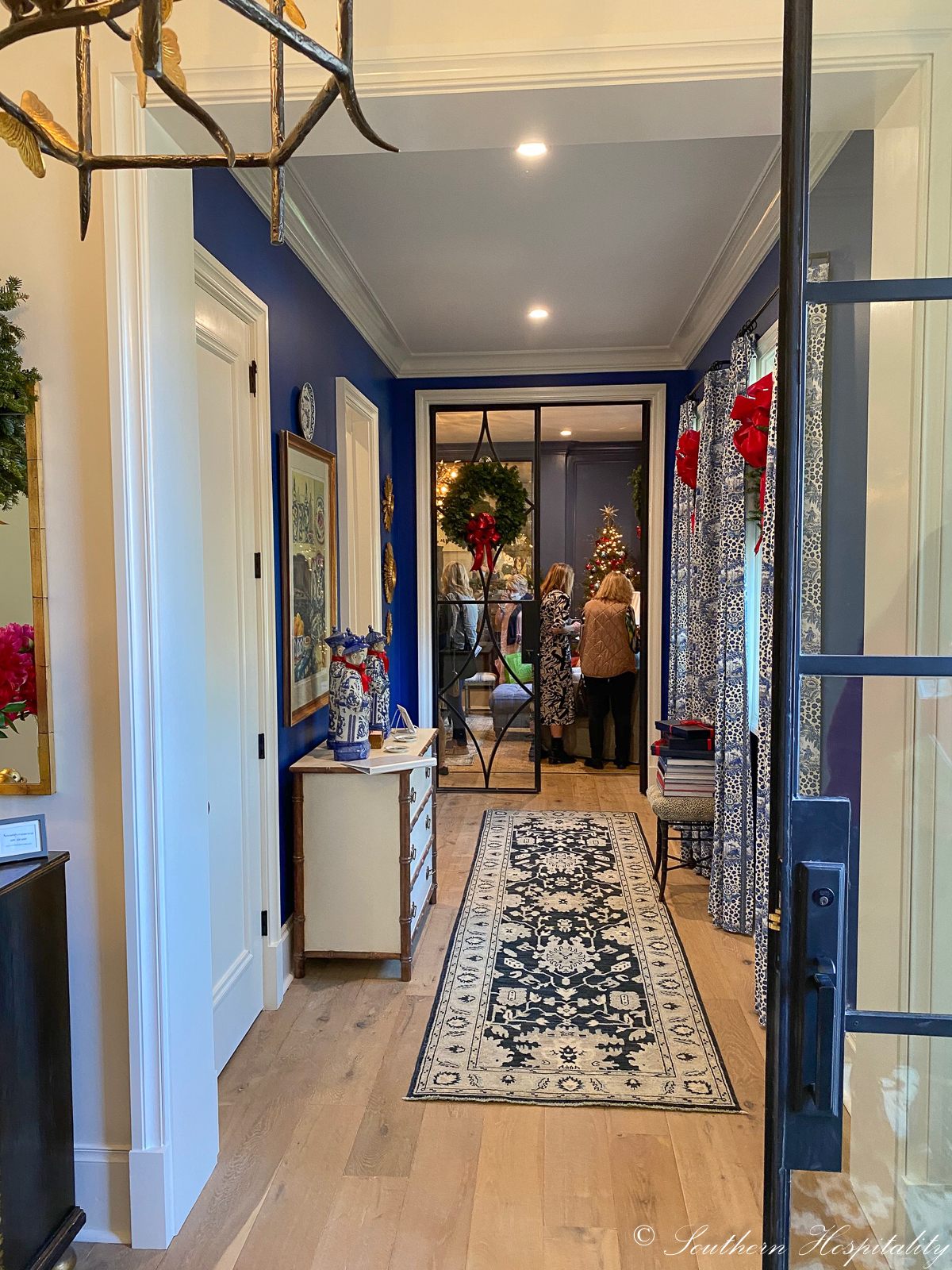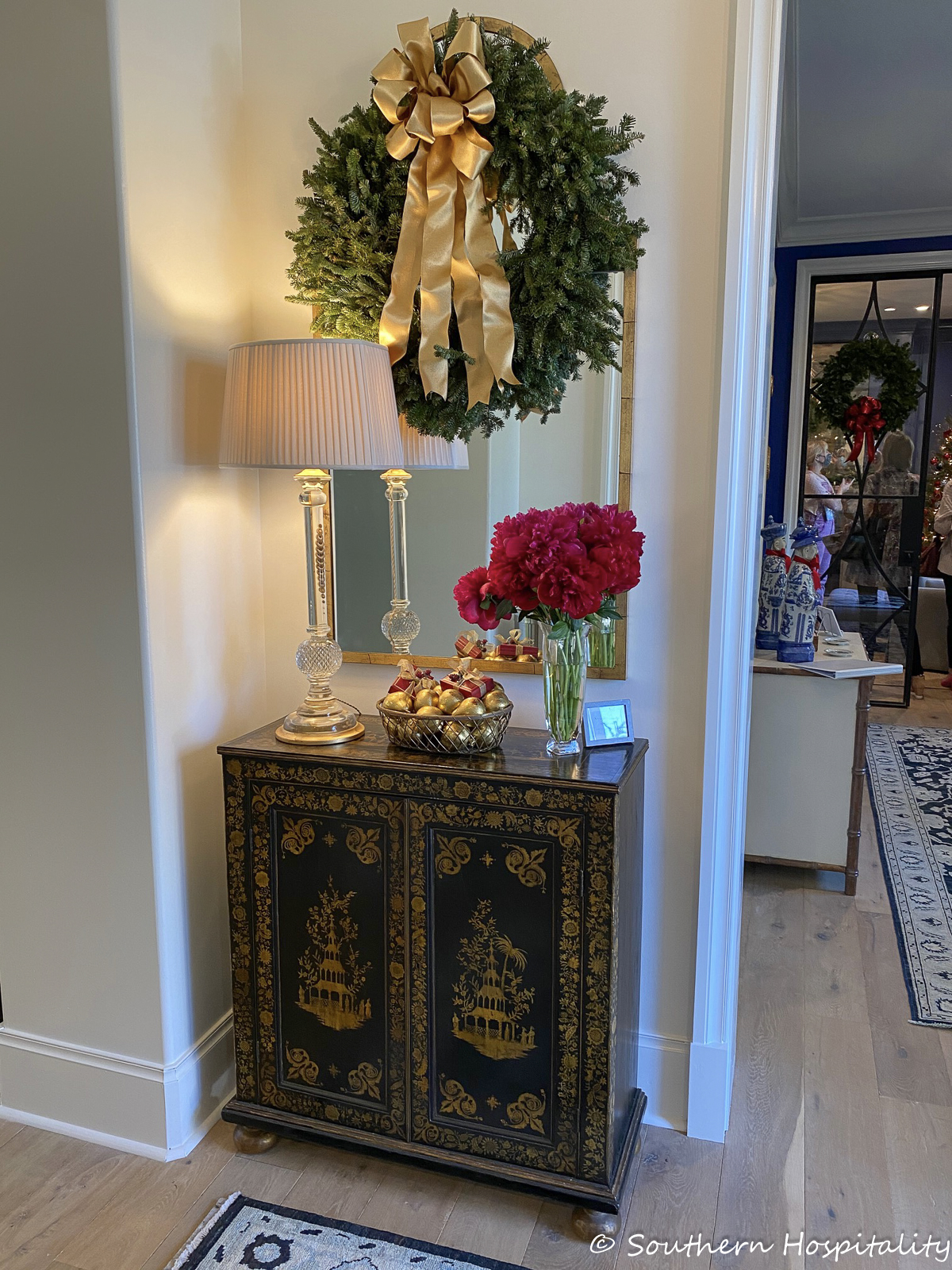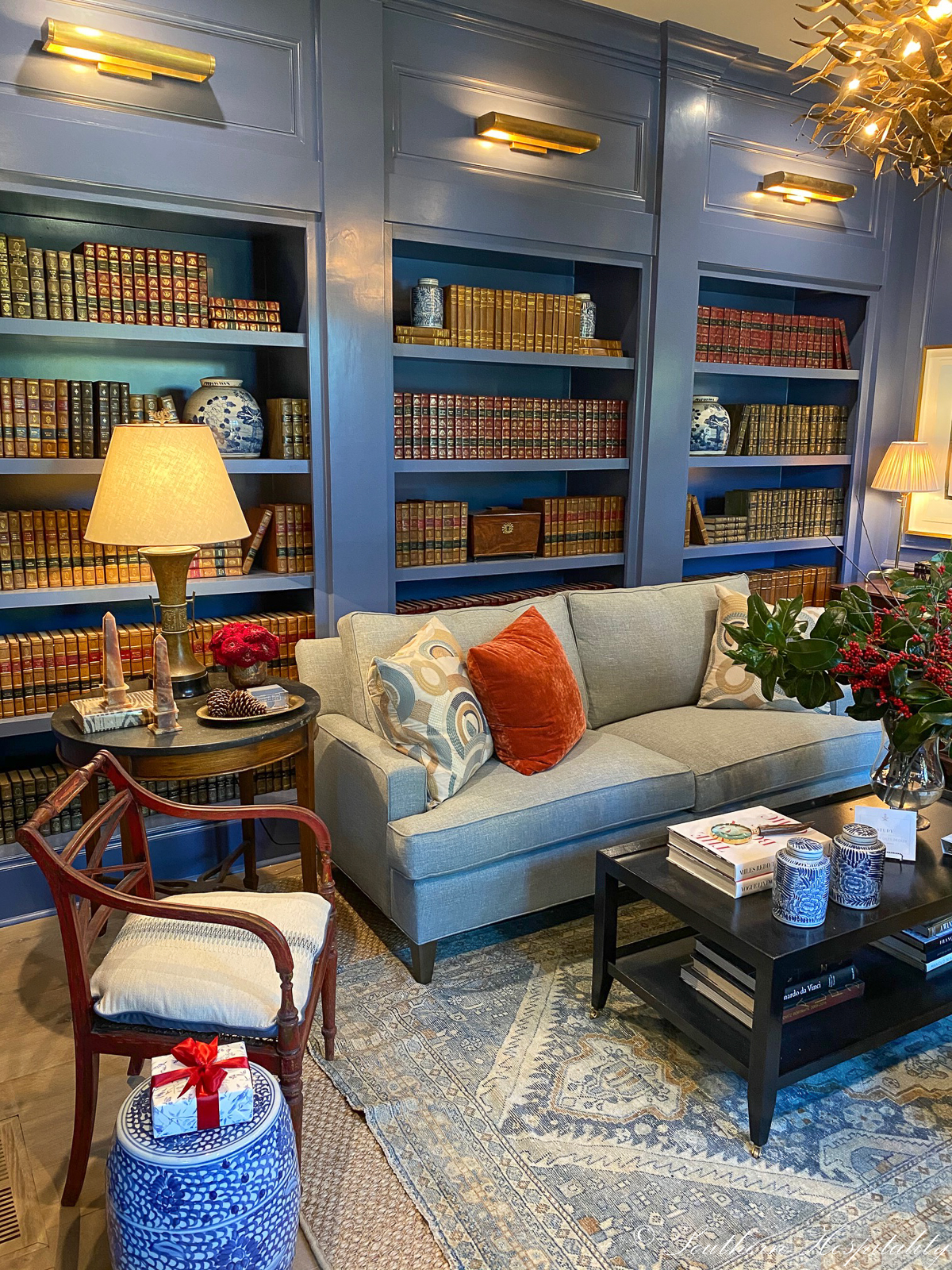 Study: Courtney Giles Decker, Courtney Giles Interiors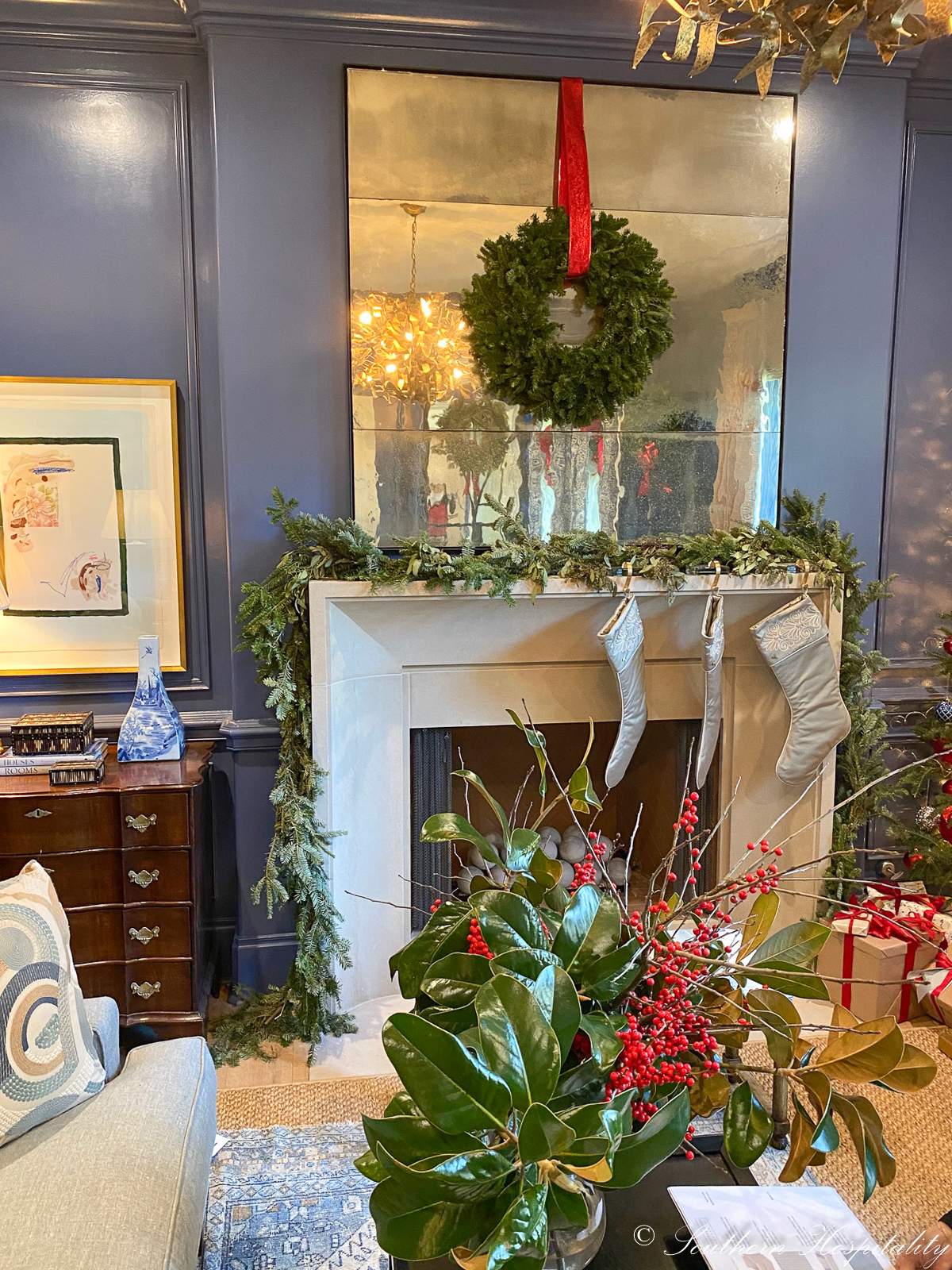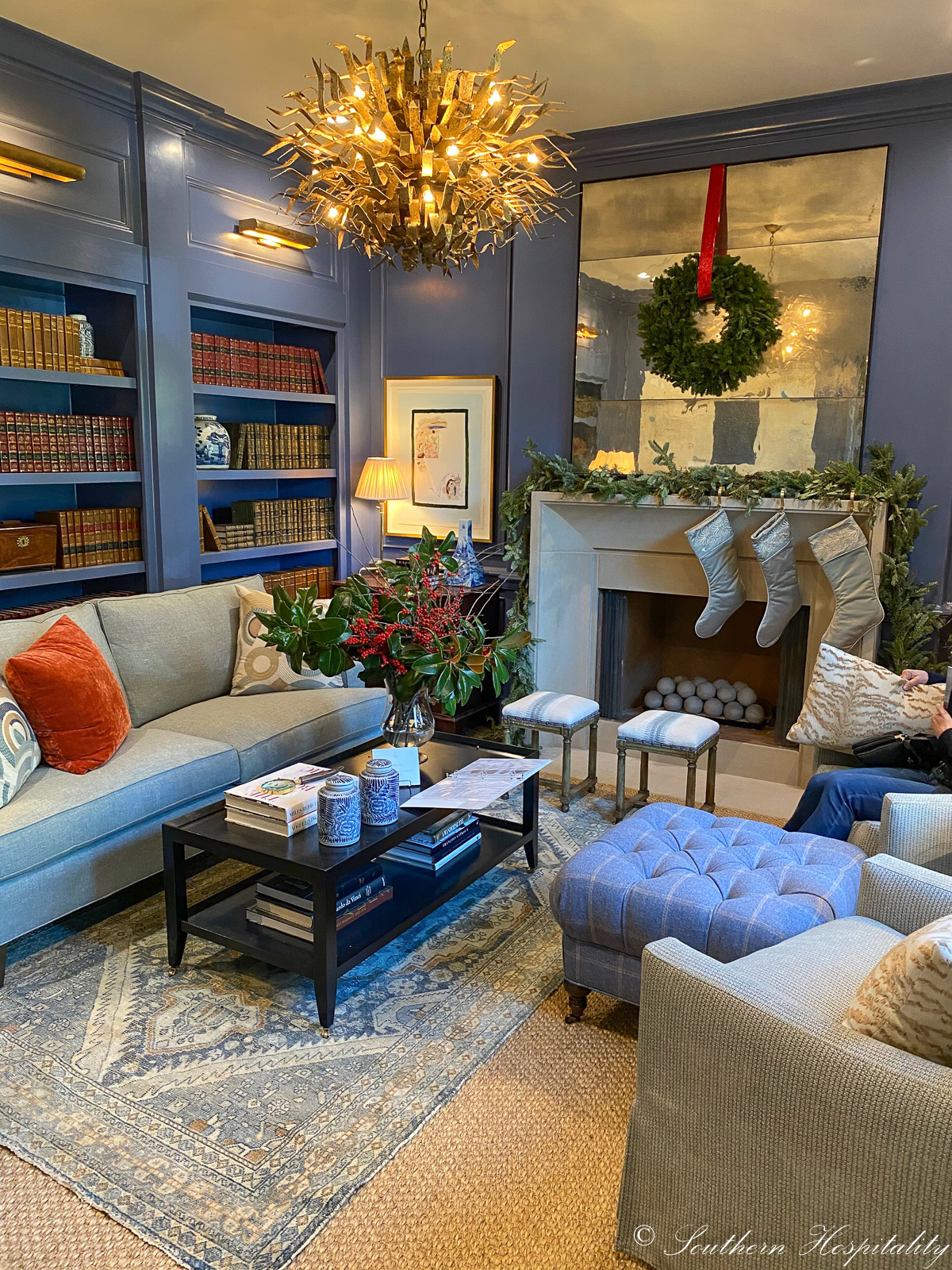 Dining Room: Mallory Mathison Glenn, Mallory Mathison Inc.
I really liked how colorful and unique the dining room was. I heard that the wallpaper in here didn't come in time so I think it was the designer's mom who came in and hand painted the mural. It adds so much to the room.
Butler's Pantry: Courtney Shearer, The Designery
Kitchen & Breakfast Room: Janie Wilburn, The Jane Group
Covered Porch: Sande Beck, Sande Beck Design
Scullery, Dog Wash & Mudroom: Courtney Shearer, The Designery
Living Room: Patricia McLean, Patricia McLean Interiors Inc.
I really loved Patricia's space and told her how much I loved it as a classic and timeless design with Traditional style. She beamed when I said that I'm so glad to see Traditional styles in showhouses and I told her my readers would love her room too.
The colors and textures were so pretty.
I loved the mossy green sofa.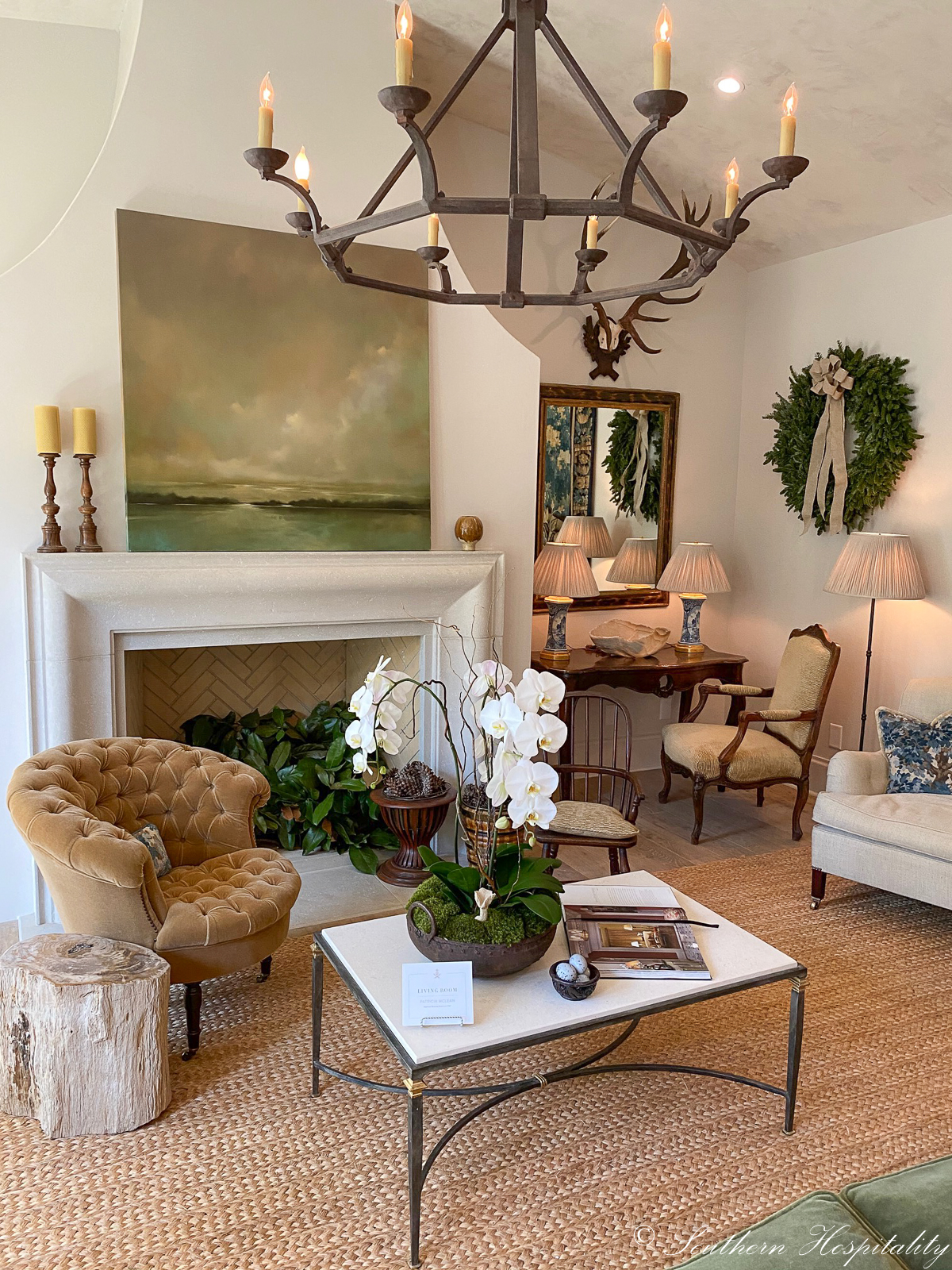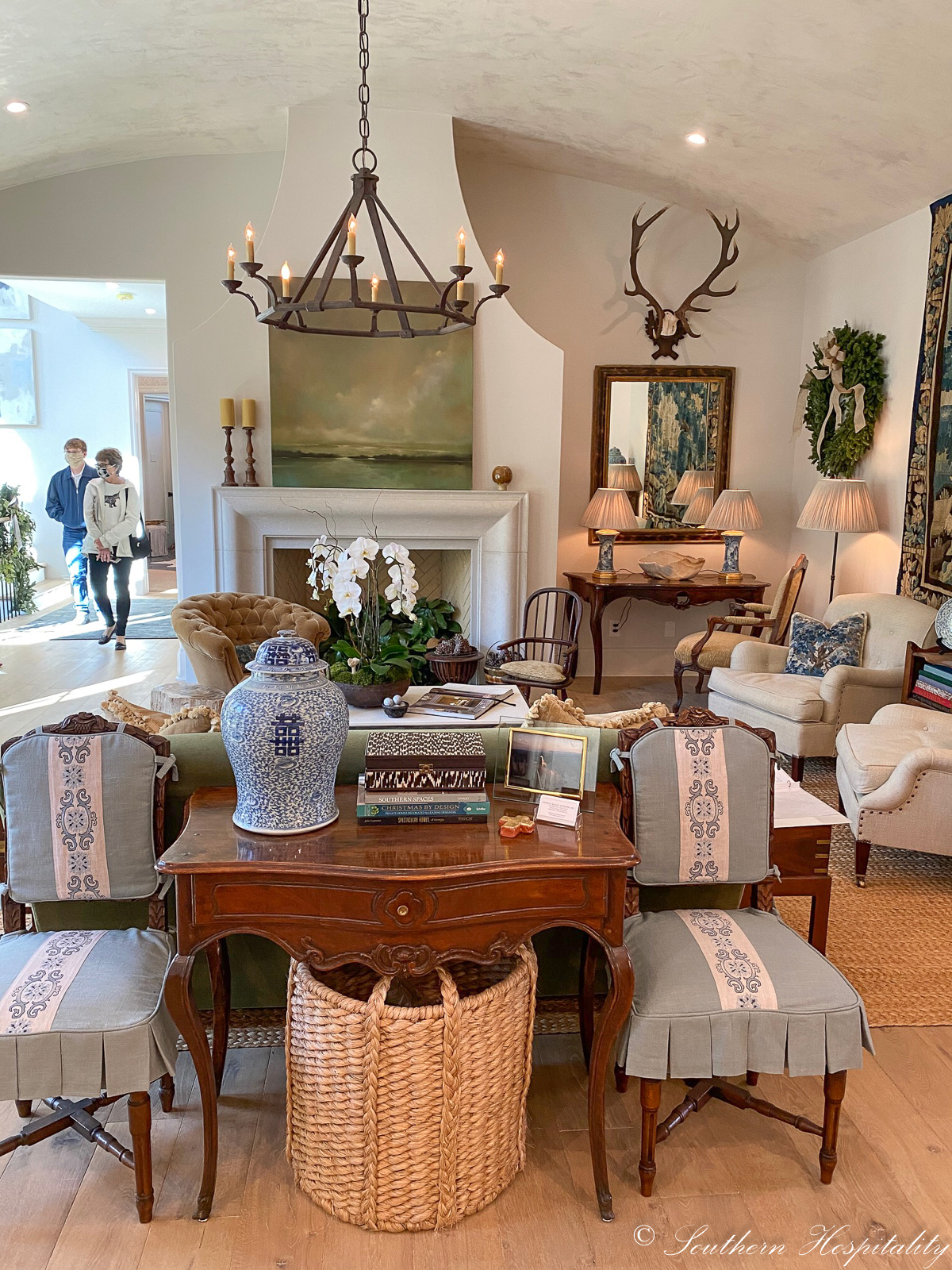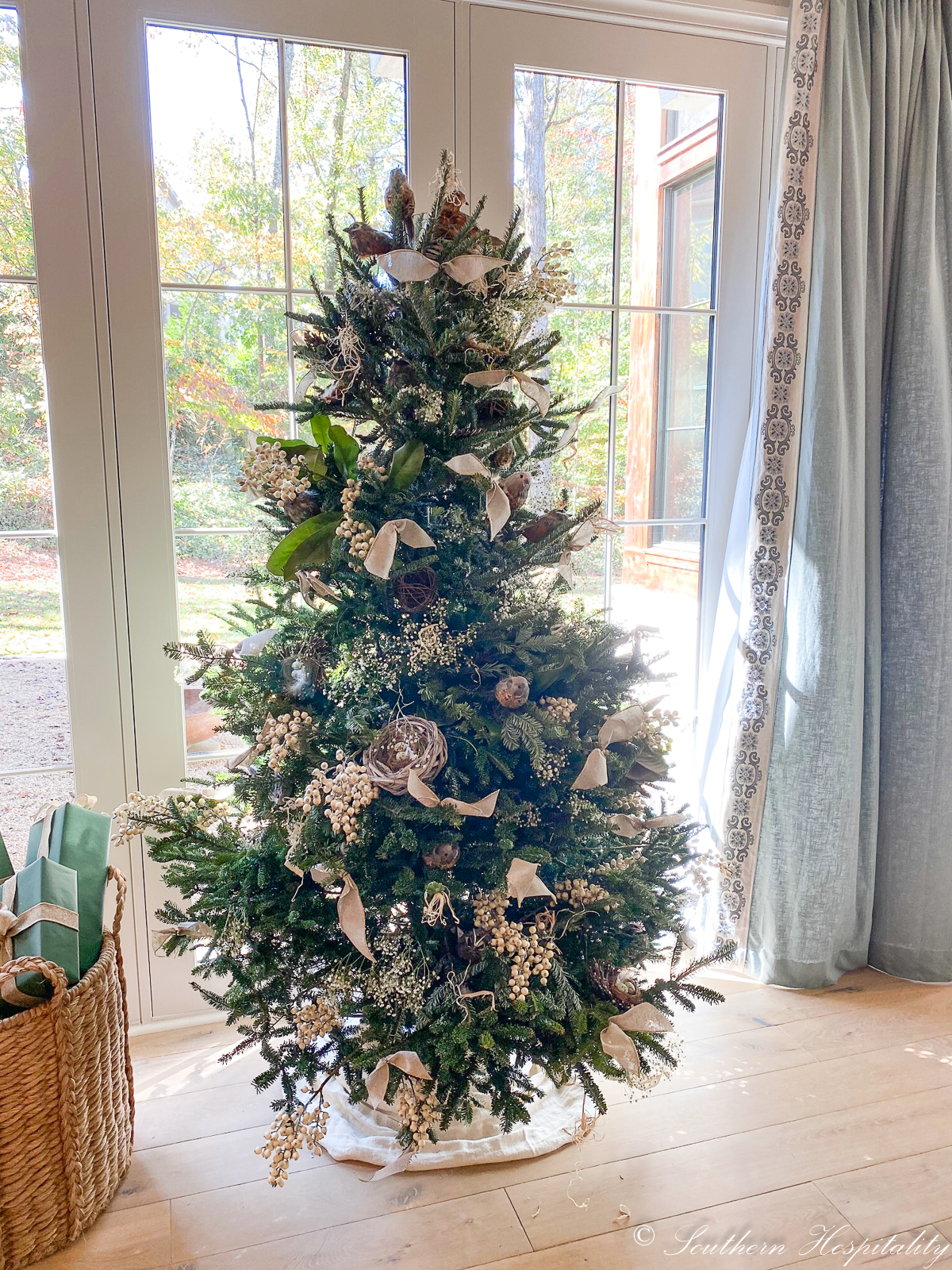 Hallway to master bedroom suite.
Bar in Master Bedroom foyer.
Master Bedroom & Hall: Lauren Davenport Imber, Davenport Designs
Master Bath & Closet: Jason Mitchell, J Ansel Design
Stairhall, Upstairs Landing & Laundry: Kit Castaldo, Kit Castaldo Design
Upstairs Hall & Sitting Area: Trudy Stump, Heather Parker, & Wren Caples, Huff Harrington Design
Nursery: Anna Louise Wolfe, Anna Louise Wolfe Ltd.
This was the sweetest space, I loved it! So pretty with the colors and all the details and wallpaper.
Bedroom: Cate Dunning & Lathem Gordon, GordonDunning
I thought the wallpaper was a fun touch throughout. And notice this area had painted trim instead of white. Nice touch.
Beautiful Roman shade.
Bedroom: Valerie Garrett, Valerie Garrett Interiors
Upstairs Apartment: Michael Habachy, Habachy Designs & Atelier
Don't Miss a Post, join my list!