I've shared this one before, but many of you may have missed it so it's worth sharing again.
Did you know how easy it is to change out dining room chair seats? 
Those seats that are screwed in and can be taken off very easily?  It is so easy to change them out to fresh new fabric and that's what I did in  my new living room.  These 2 black chairs which have been with me since early 2000's have been changed a few times.  They've spent their lives in my kitchen and have seen a couple of fabric changes in those 12 years that I have had them.
So, now, it was time to refresh them again. Only this time, they aren't staying in the kitchen.  The other 2 chairs that have been in this grouping still have the yellow trellis fabric I added on them a couple of years ago and when I get my screened porch finished, they will have a home out there, along with the extra 2 that go with them.
In the meantime, these 2 armchairs are sitting in my new living room, looking pretty and sporting their new Ikat turquoise fabric, which makes them look even better.
Here's how easy it is to change out those seat fabrics.
Take the old fabric off using pliers and screwdriver.  This isn't hard, just takes a little time.  These chairs I recovered a couple of years ago and now it's time for some new fabric.   This yellow fabric will be reused on 2 other chairs for the porch.
Underneath is the batting I had added on there too.
So now you've got a clean slate, ready to recover.
So, take a pattern if you have one (and if you don't decide which pattern you want front and center on your new seat).  I chose the large white medallion for my center.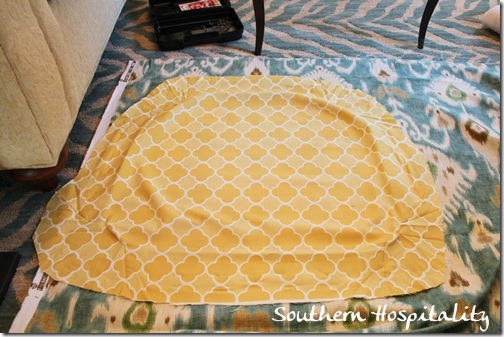 I placed my old pattern on top and began cutting it out.
That's it, this piece is plenty large to pull taut and staple.  I use an electric staple gun for this job.
Make sure you line up the pattern exactly where you want it before you flip it over and start stapling.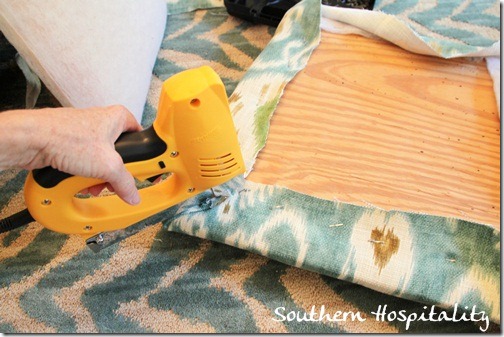 Then you are ready to turn it over and begin pulling the fabric taut, stapling on all four sides.  I usually pull one side and then the opposite side and go back and forth until all is stapled.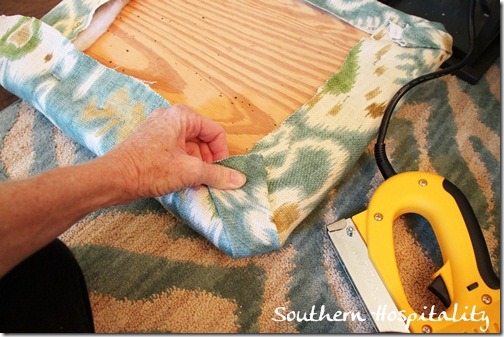 When you get to the corner, I just do a little pleat to hold down the corners and make them flat.
And here it is all done and ready to reattach to the chair.
I also just cut out a piece of muslin to cover the raw wood on the bottom, not that it shows, just gives it more of a finish.
Pop them back into place and screw the screws back in all 4 corners.
And your chairs will be ready to go.
I've had these chairs for many years and they have served me well.  Solid wood  never goes out of style and even though they started as stained originally, I painted them black over 10 years ago and still love them like this.  They might get another paint color one of these days and that's the beauty of wood.  It can be changed up and renewed with paint time and time again.
Do you have chair seats that need recovering?  What are you waiting for?
Don't Miss a Post, join my list!