Today I'm sharing all about the process of cleaning out and prepping our parents' house to sell after they moved to assisted living/memory care. There's a lot that goes into moving parents out of their long time home of 50 years and I figured our experience might help others who are going through the same thing. We learned as we went along, asking questions of friends, and learning how to clean out a house, selling the contents, and getting the house ready to sell on the real estate market. Hope you enjoy this share!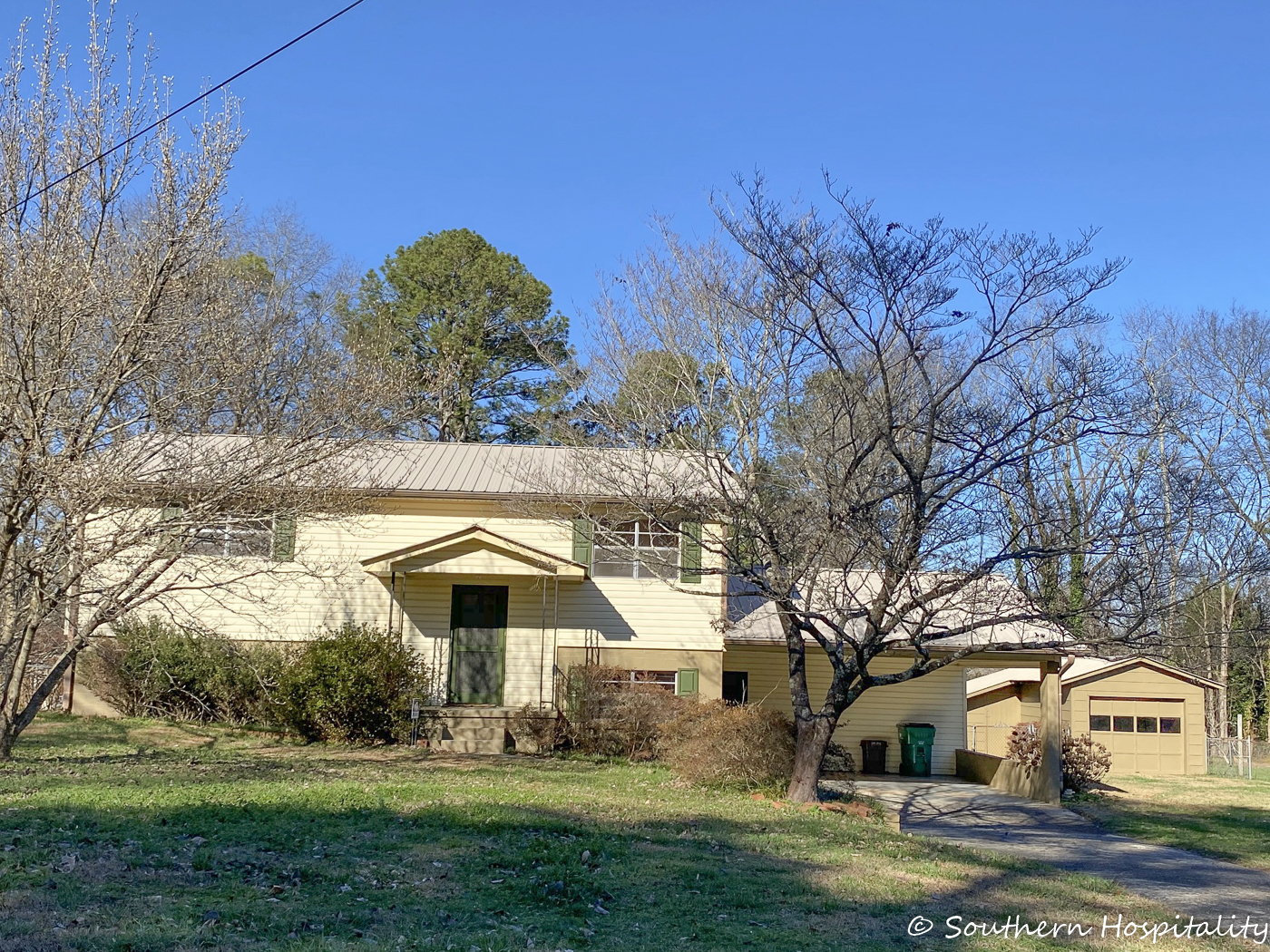 Moving Our Parents
We moved our parents on October 1st and as I shared before, my dad had no idea that this day would be the last time he would see their house. There was no way around that unfortunately, as his reasoning skills did not allow him to logically reason out the process of them moving and giving up their home. Mom was more than ready to move and it was definitely the best thing we could have done before things got worse at home for them both. Dad's memory was such that he didn't need to be driving anymore and we had taken away his car keys in July, which didn't go over very well. He got angry with us for taking things away from him and that wasn't going to get any better.
So after mom said it was time to move, I began the process of finding them a new home. We settled on Dogwood Forest in Acworth, 5 minutes from my house and I felt at peace over this decision. It has turned out to be the best thing for them. You can read about that moving process in these posts. They might be helpful for any of you who are taking care of aging parents and need to know when the right time to move might be. There is no perfect time, but I've always heard move them before it's too late, rather than be forced to move in a hurry. We are so glad we took the cue from mom and moved them when we did:
Decide What Furniture Will Fit in the New Space
That was something we looked at by measuring and really thinking about the new apartment and how much we could fit in there. It was definitely going to be major downsizing, there wasn't even room for a sofa in the new living room, so we measured carefully and chose their favorite things to take with them.
We ended up with their 2 recliners with a table and lamp in the middle, an extra chair in there and we shopped for a piece to hold the TV, A bookcase also fit the space. In the bedroom, we took their queen size bed, a nightstand and lamp, the dresser which ended up in the large closet, minus the mirror, a small chair in there. In the bathroom we took a large cabinet that was on the back porch for extra storage. There was room for the settee and swivel outdoor chair as well as the rocking chair for the balcony off the room. That was it, so we knew up front what we would take on moving day, along with their clothes, personal items, and everything we could think of to take to make them comfortable. Of course, over the course of the next month, mom thought of many things she wanted me to bring to her so I did that every week until we got to the end of the list. That's normal for them to not know exactly what they want to take and as more things came to mind, we took them to her.
Sell the Contents of the House
After everything was taken to mom that she wanted, we knew everything else would be sold. We waited until Thanksgiving weekend to get to the final part of emptying the house. I had started after they moved to list the bigger things, mostly furniture on Facebook Marketplace. That's a great way to get rid of stuff and sell it for a fair price. So over the course of about 6 weeks, I sold a lot of the furniture on Facebook and emptied out the house of the bigger things.
There was plenty left though and that was a big job to finish the cleanout. When my sister and BIL were home for Thanksgiving, we dove in full force to continue emptying the house so that we could get the house on the market to sell as soon as possible. Mom was ready by then to start the sales process and let the house go. It was a relief to her to get the house sold and not have all the upkeep to think about, since it was all on her shoulders. Dad had gotten to the point that he couldn't take care of the house, the only thing he did was to continue to mow the grass with his riding lawn mower, but we knew that couldn't last forever. He was not able to take care of maintaining the house any longer and mom had to handle any issues with the house.
Emptying out the Contents of the House: A Moving Sale
After most of the bigger things were sold, that left the rest of the contents. This was the hard part. My sister and I went through all the drawers in the bedroom furniture and as those things were sold all the contents were strewn all over the floor for us to sort through and look over. We saved all mom's photo albums and family pictures and she has most of those in her new apartment. It really is a challenge to go through your parents' things because what was important to them was not necessarily important to us, so there was very little that we kept for ourselves. Lauren, however had a big stack of things that were hers since she practically grew up in that house too. She's a sentimental gal and kept some of mom's kitchen things too. She had a lot to go through since she had left so much there after she got married and moved away.
Those things were sorted out and given to who wanted them, including a few things who went to a church friend. The rest of the contents were up for sale and we had a big moving sale on the Saturday after Thanksgiving. Our plan was to have the sale on Saturday, and then advertise a giveaway day on Sunday. On Monday, I scheduled a junk hauler to come and haul the rest away.
That ended up being a really good plan and it worked out great. We did sell a lot of the contents the first day, we gave good prices and it was a good day. We made enough money out of the sale of the contents to pay for the hunk haulers and to get the house cleaned with money left over.
The free giveaway was also a success and we were happy to let people come and take things away, it was less that the junk haulers had to take away. So that was a good day as more and more things went out the door lessening the load somewhat.
All of these things were sold on Facebook Marketplace and that plan worked out great.
Dad had two tillers which we sold. One went to the neighbor and then the older tiller sold a few weeks later.
The utility room was packed to the gills the first day we started. It was a daunting task to go through this space, with all the tools, nails and screws plus misc. junk. Men really liked this sale with all the tools that we had for sale so that worked out well. This shot is after the sale day and then people hauled away more, but this room still had junk to haul out too.
Call the Junk Haulers
On Monday, the junk haulers showed up as scheduled. We had hoped that one truck load would be enough, but it ended up taking 2. They had to come back the second day to empty out the garage and outbuilding, so it was a long process to get rid of the rest. We used Stand Up Guys Junk Removal and they did a great job.
Cost: $575 per truckload so $1150 total
If you're peering in the truck and see that sewing machine, it was no longer working. No one wanted to buy it, so we ended up scrapping it. I don't think the thriftstore would have taken it. Her working sewing machine sold right away.
Hauling the junk was tiring for sure and my sister and I along with Bruce was there helping too. With 50 years of accumulation, you can imagine all that was there. It was a relief at the end of the first day to see the empty house. There were many things that were just too good to throw away, so I grabbed all of the things I thought were still valuable and took them to the local thriftstore up the street. I made at least 6 trips up there hauling anything that was left that was valuable, including the old blue sofa which no one wanted. I couldn't bear to see anything decent be hauled away.
Clean the House
After the house was emptied, it was time to get it cleaned. I didn't have the energy to do that myself after all we've been through, so I hired it out at $300 to get a thorough cleaning. She did a great job and got it spic and span clean, ready to put on the market. That was a relief too, to see the house clean and ready to sell.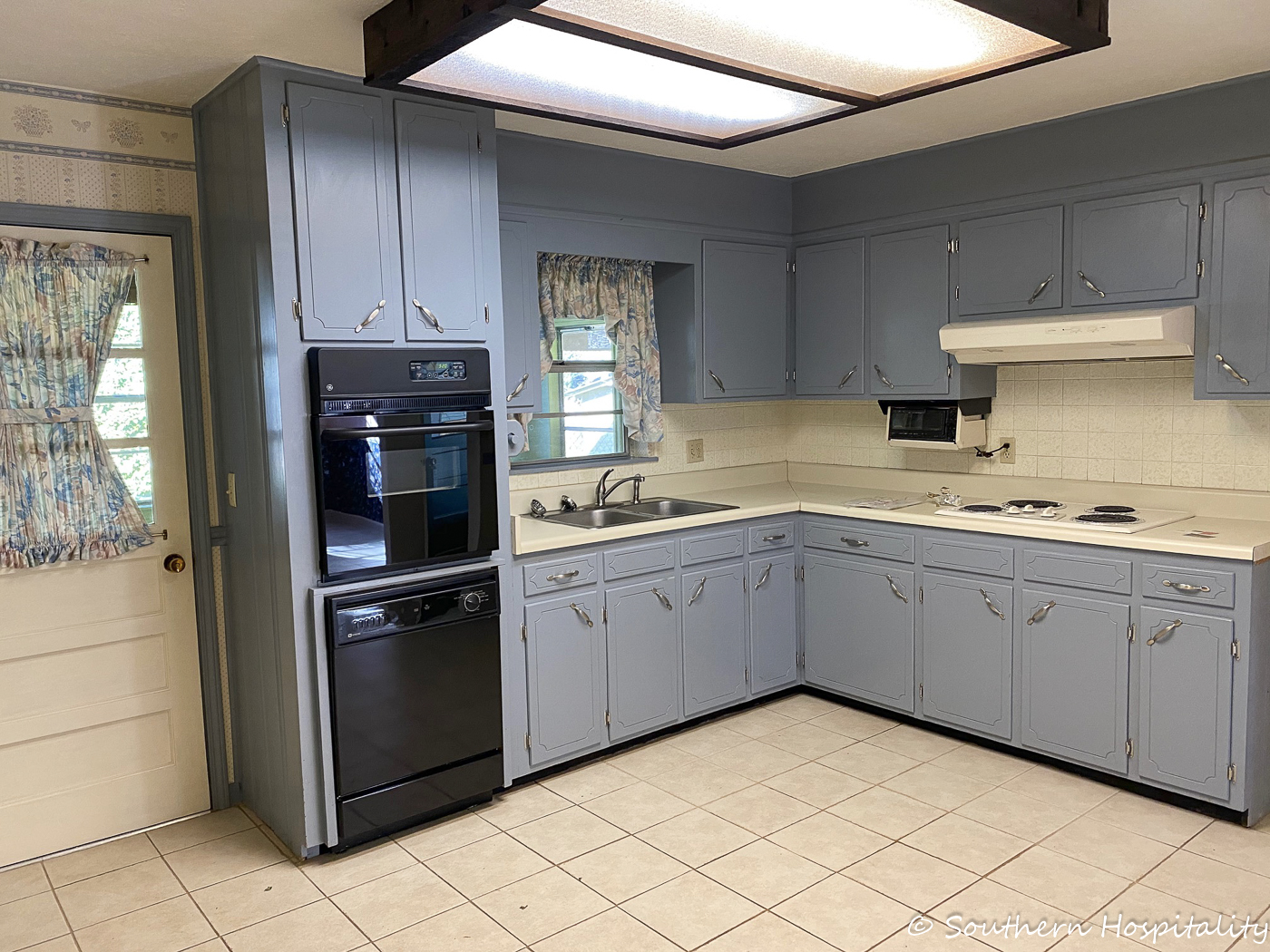 Sell the House
I took a few shots to show you all. So many of you have followed our journey all these years and I have taken you in this kitchen so many times. Mom cooked in this kitchen for 50 years and it definitely has a lot of memories. No one took the window coverings, so I just left those up. The rest of the windows got cleared out and doing that let in so much more light.
The house went on the market on a Friday, with showings all weekend long. We ended up with several contracts and chose one that was really strong, over asking price and not many contingencies. We did have to give back a little for repairs and we had to do a termite treatment to the garage, but that was all we had to do, so I'm happy with how that turned out. Selling in a brisk market like this is getting them top dollar for their house. All the proceeds for everything sold, including the house will help to keep them in assisted living for years to come if needed.
They also had 2 vehicles, a Nissan Altima and a Toyota truck. I'm keeping the truck and I sold the car after Thanksgiving to a nice young man in the military. It was nice to see it go to a good home, the car had 60K miles on it and was a 2008, so buying a car from an elderly couple is a good thing.
Now Mark and I have both our dad's trucks and have to figure out what we're going to do. We don't need 4 vehicles for the two of us, so I'm not sure how we are going to solve that one, but neither one of us could bear to let our dad's trucks go.
I really hope the family that moves in here will enjoy it and make it their own. A lot of life has been lived in this house and it was a haven for mom and dad for all those years. I was 15 when we moved in this house and we lived in the house next door first for about 9 years. Dad built both of those houses.
The den where they spent so much time. That heater in the corner is one of dad's additions.
Their bedroom all empty now.
The living room upstairs in this split foyer house. There are 3 bedrooms and a bathroom up here.
And here's the little porch that I did a makeover on when I lived with them. I had fun making over this porch when I lived with them for a year and 1/2. It was a great porch to enjoy for many years and now this furniture is on mom's balcony. I was going to link the post but somehow it has disappeared.
So now the house closes in a little over a week and that will close the house chapter. I'm so glad we are at this point. It's an exhausting process to move parents and get them settled in an assisted living, but we know it was the absolute best thing for them.
I hope this post is helpful for anyone else on this path with your loved ones. There may be books out there to help with this process, but we just figured it out as we went along and things worked out for us. Mom and dad are settled in and content in their new home and I don't have to worry about them nearly as much. I'm 5 minutes away which gives me much peace of mind. Elderly parents are a blessing and we must do all we can to help them in their final years of life. Mom and dad have done so much for me (and all of their girls) over the years, this is what I can do for them and I'm happy to do it. This is a journey that every family will deal with at some point, so I'm sure you can relate if you've been through it or you can look ahead to what's coming if you're not there yet.
Don't Miss a Post, join my list!