Getting my laundryroom together and making it stylish has really made me feel so good about that space now. What was once a dark and dreary storage/laundry room has now become a full fledged mudroom/laundryroom/storage area and the ugly has mostly been removed.  I can't tell you how exciting that is!
I'm so fortunate to be able to work with some incredible companies during all my house renovations.  One company that I have recently worked with is Karran and they build integrated sinks along with Formica countertops.  In case you didn't know this, you can now do undermount sinks and these integrated Karran sinks with laminate!  I know…amazing isn't it?  I had no idea this could be done until just recently and wow, does it take laminate to a whole other level.
So, I wanted to show you all the details on the new sink and countertop in my laundry space.
I ordered Calacatta Marble Formica laminate along with a Karran Nova sink.  It's a white acrylic sink and these are molded together in the manufacturing process and then installed as one piece.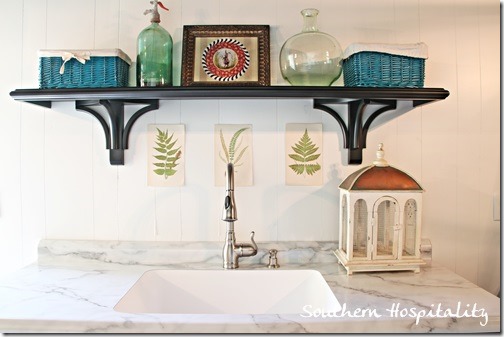 We simply sat it on top of my new base cabinet and added liquid nails around the top of the cabinet to adhere the sink, which has a built-in backsplash.  I love it!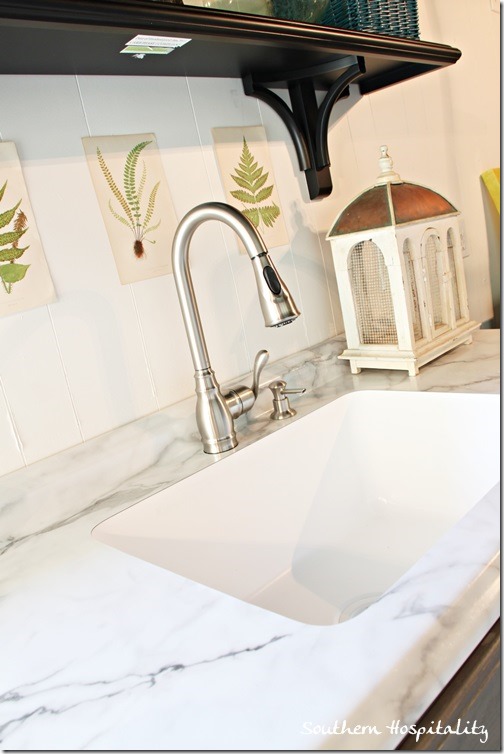 The Calacatta marble looks surprisingly real and the gray veins really enhance my gray cabinet that was stained and I showed that process earlier.  In case you haven't looked at Formica and laminate lately, the new method of undermounting is SO cool!  I was blown away by that new feature and knew that it would be perfect for my laundry room choice.
This product is Calacatta Marble Formicaand there are several finishes to choose from, all gorgeous!
The sink is nice and deep and will come in handy for gardening projects, washing out paint brushes and many other mudroom chores, since this room has a door going out to my backyard.  A big huge thanks to Moen for sending me the new faucet, Anabelle in brushed stainless.  I have this same faucet in my kitchen in oil rubbed bronze.  I just love these gooseneck pull-down faucets and Anabelle has been a winner for me.  The built in soap dispenser puts it just where it's needed and soap is always at the ready.
Here you can see the Ogee edge detail I chose, one of the postformed edgesfrom Formica.  I could not be happier with my Formica countertop and Karran Nova sink.  I'm so thankful to be able to work with fabulous companies like this in my home to make it even better.
And hopefully you got some new inspiration on using laminate again.  It looks better than ever!
Disclosure:   I worked with Karran and Formica on my undermount sink and countertop and I'm so grateful for their support of my laundry room project with the donation of the countertop and sink.  I chose all the components for my countertop and sink and a local fabricator made it for me.  We picked it up and installed it ourselves.  Moen is also a wonderful sponsor of mine and has supplied all the faucets in my house.

Don't Miss a Post, join my list!