We had the best time at Lake Martin with Mark's sister and brother-in-law, Kim and David. They built this home in The Harbor at Lake Martin 13 years ago and it's such a nice get away spot for them from their main home in Fayetteville, GA. This was my first time at the lake house and it was so fun to see it in person. I shared Kim's beach house in Destin with you over a year ago and today I'm sharing the lake house. It was a relaxing couple of days there at the lake, lounging on the porch, eating good food, boating, and floating in the lake and just being together with family. All the things that make summer fun!
There are lots of Alabama people of course who have lake houses at Lake Martin, with a strong contingent of Georgia people as well we heard.
The driveway is in a semi-circle downhill so we were all parked there and it was a challenge getting a full picture of the house from the street side, but this is a pretty good shot of it.
The other side shows the wrap around porch which wraps to the back of the house too. I forgot to get a picture of the backside but we spent a lot of time sitting on that back porch.
Front door to the house.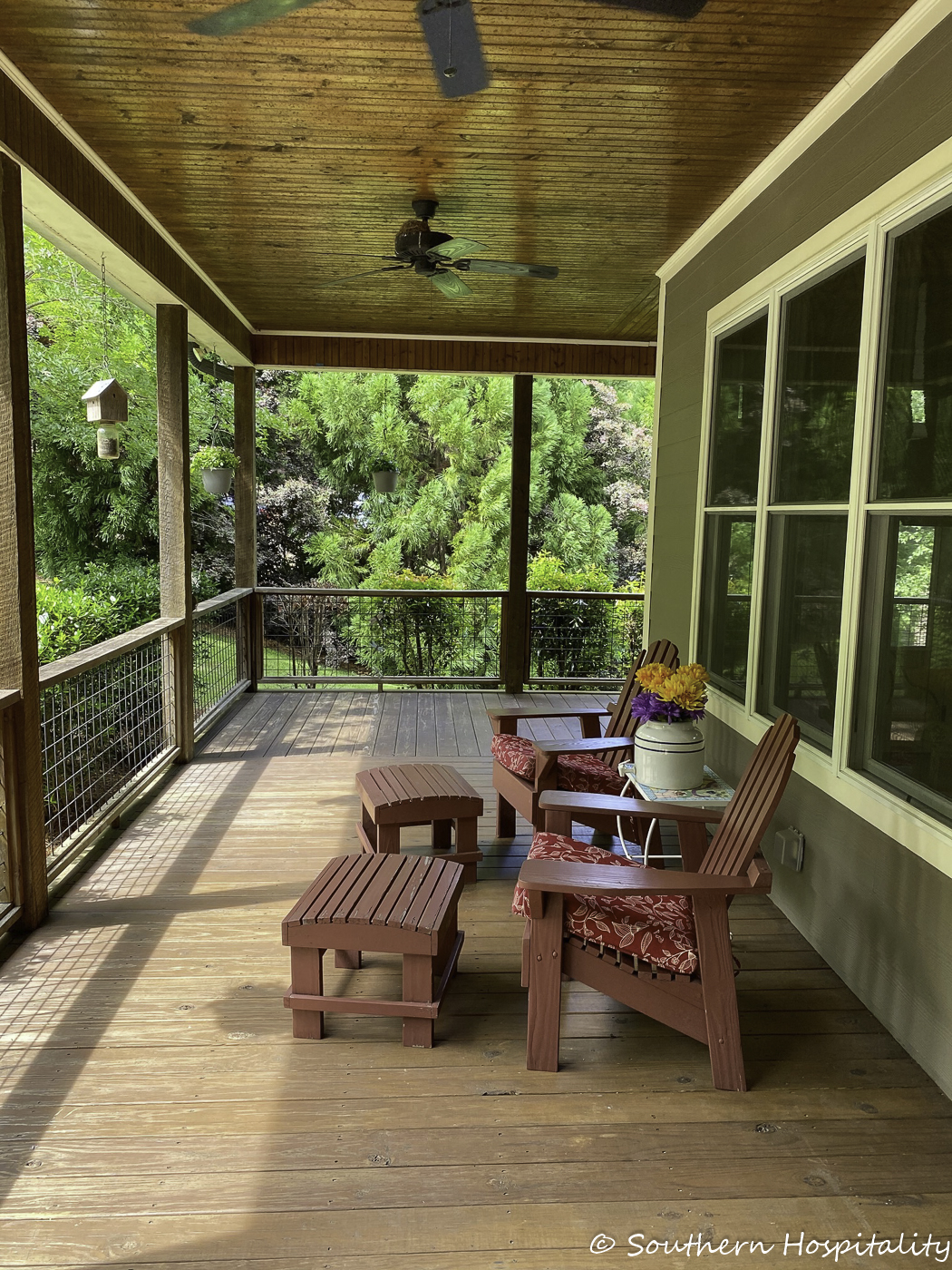 Front porch
Side porch, so cute with good breezes blowing through. The weather couldn't have been better.
Kim is a thrifter like I am and always looking for deals on vintage things. She found this Tarpon Springs, FL bench somewhere along the way, as well as that little table and chippy white chairs.
View from the porch looking down to the lake. That centipede grass was so green and lush.
Lake side looking back to the house. That's Kim and David as we were getting ready to go out on the boat that first morning. I'll share lots of lake pics next week, but today we'll look at the house.
Kim had all the wood milled in AL and it's beautiful. There is so much wood all over, from the ceiling to the planked walls to the stained pine floors. I told Kim she was doing shiplap before shiplap was cool, since she built this home 13 year ago way before the Fixer Upper show. She's got plenty of comfortable and casual furniture around the house, some family pieces and some found pieces.
I love these soaring ceilings and all that planked wood. Those windows up top let in a lot of light.
Greatroom looking back to the kitchen.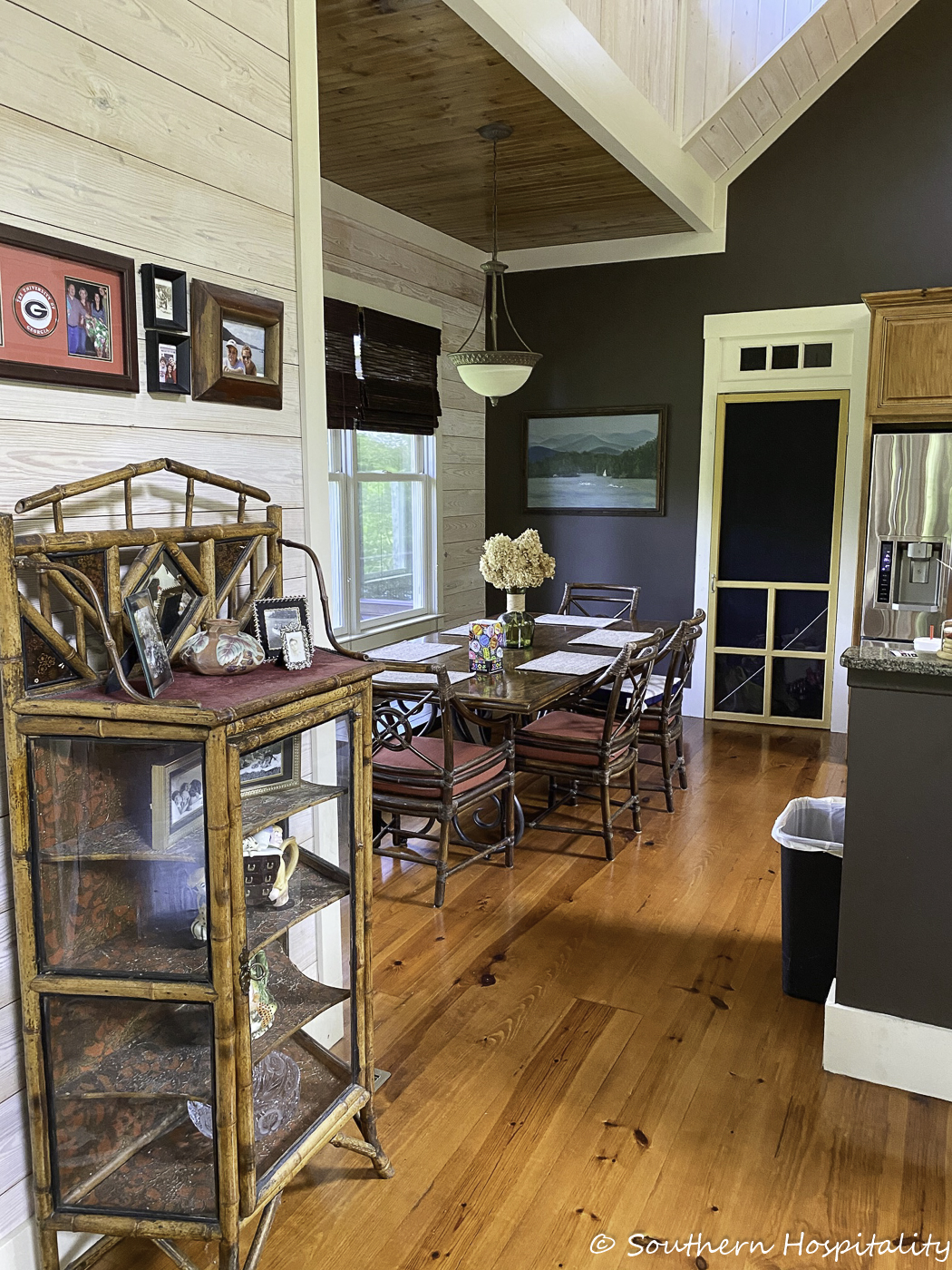 Everything is all open with the greatroom, kitchen and dining table which is a nice flow.
Kim loves old rattan and bamboo like I do, so it's fun to see her collections.
Another shot of the kitchen. Keep in mind we all just piled in and brought food so the counters have food and stuff, not picture perfect, but you get the idea.
Love the dining table and rattan chairs.
Pantry screen door.
That Welcome fish was cute on the wall. She whitewashed all that wood on the walls herself before they installed it.
Bedroom 1 is painted a cheery lime green. Mark's parents stayed in here. I loved this room, so cute!
She's got a cute mix of vintage and found things, making the house so cozy and comfortable.
The master bedroom.
Every bedroom is painted a different color on the planked walls.
Sitting area.
Hall bathroom.
Bedroom 2 where we stayed. Love the hooked rugs and vintage feel.
These white wicker pieces belonged to their grand parents and Mark said he has such fond memories of his Nanny sitting in the rocking chair. The chairs are so petite.
I didn't take pics downstairs, but there is another TV sitting area with a bedroom, bathroom and small kitchen down there too. Such a nice house with gorgeous views of the water. Of course that's what you want to enjoy the most when you're at the lake.
They have a nice pontoon boat and we all went out on that two days. The weather couldn't have been more perfect.
Their slough is very nice and peaceful. You could hear everyone out on their docks, enjoying the water and nice weather last weekend.
Mark and I getting ready to get on the boat for a ride. I took lots of lake pics and can't wait to share those with you.
I captured this blue hour shot one night and it was so peaceful and pretty with the lights reflecting off the water. This is from their back porch.
Kim liked that picture so much that we went across the lake to the neighbor's house and captured this shot looking back at their house during blue hour.
This captures lake living perfectly. Blue water and skies and peaceful lake life. We loved it so much and can't wait to go back! It was great spending time with Mark's family.
Don't Miss a Post, join my list!