Hey, friends!
I'm back today with a little update in the living room.  I shared with you awhile ago that we planned to get my old Ethan Allen sofa recovered.  This pretty and stylish sofa has been with me for about 14 years and it was time for a refresh.
Did I mention I used to work for Ethan Allen?  I did, way back in 2003 into '04 as a design consultant.  I didn't last very long in retail, only about 6 months and sales just wasn't my thing. Retail sales in a store at least wasn't my thing. That was a gig that wasn't long lasting for me and I think I would have starved in that sort of career.  Some people are good at it, I just wasn't.  But, I did score a floor model sofa before I left and that was a good thing.
So, the sofa has been with me a long time and this damask chennile was her original fabric.  This sofa really didn't get heavy traffic since it was always been in a living room setting and didn't get used all the time, but the fabric just kept feeling more dingy as time went on.  It was a creamy yellow toned fabric, but I wanted to brighten it up. You can see it more in this light, it almost has a light gold tone.
In brighter light, it wasn't bad, but again it was time for a refresh of this sofa. She has great bones and I still loved the shape but not the fabric.  We wanted a brighter cream and not a yellow toned one.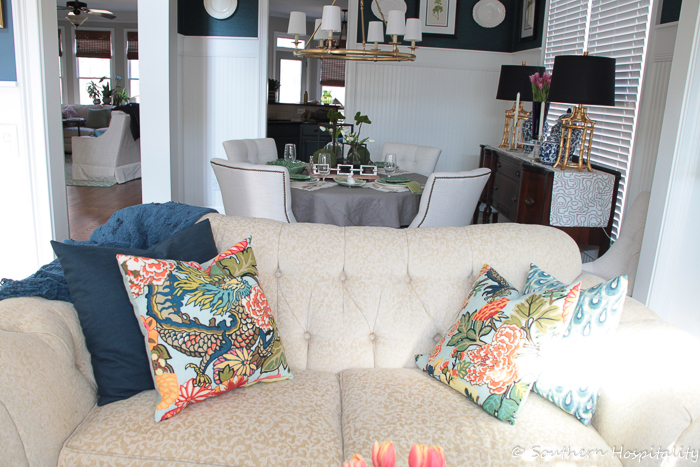 When I visited High Point last year, I was introduced to Crypton fabrics.  I was amazed at what I saw and their fabrics were all over High Point.  Performance fabric is what this is because it performs in the worst of circumstances and it's totally stain resistent.  Don't we all need that?
It's hard to see this here, but this was a stain test on Crypton fabric that I saw with my own eyes. A red liquid was spilled all over the cushion and it merely ran off, doing no damage at all to the fabric.  The rest of it was blotted up and voila, no stain at all. I was sold on that fabric!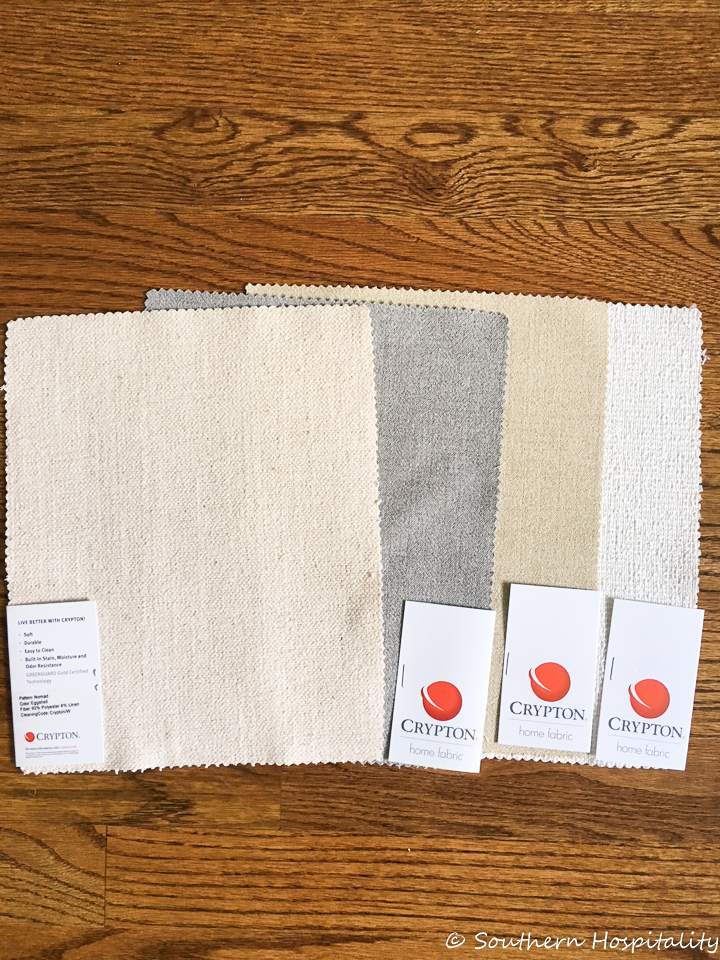 So, when it came time for me to consider a fabric for this treasured sofa of mine, I contacted the folks at Crypton and asked them if they would sponsor some new fabric for me. I had seen a display of Crypton in my local fabric store and that's what got the wheels turning.
I chose one called Nomad Snow.  It has little flecks of a darker color in with the cream and overall has a linen-like appearance, but is soft like chennile. I had to wait about 3 months for the fabric to come in, but it was worth the wait!
Recovering An Old Sofa
Here she is all recovered!  I used a local upholstery shop called Glaber's.  They are at Bells Ferry Road and Barrett Pkwy. for those of you local who are looking for upholstery jobs. My sister used them 5 years ago and had great results and one of my readers in the area has been using them too and we've all been very pleased.
It's not cheap to get a sofa recovered, but sometimes it just makes sense if you have a really good frame and just need to update with fabric.  My sofa was $700 to recover because of all the button tufting, but they did such an outstanding job, I'm thrilled with it.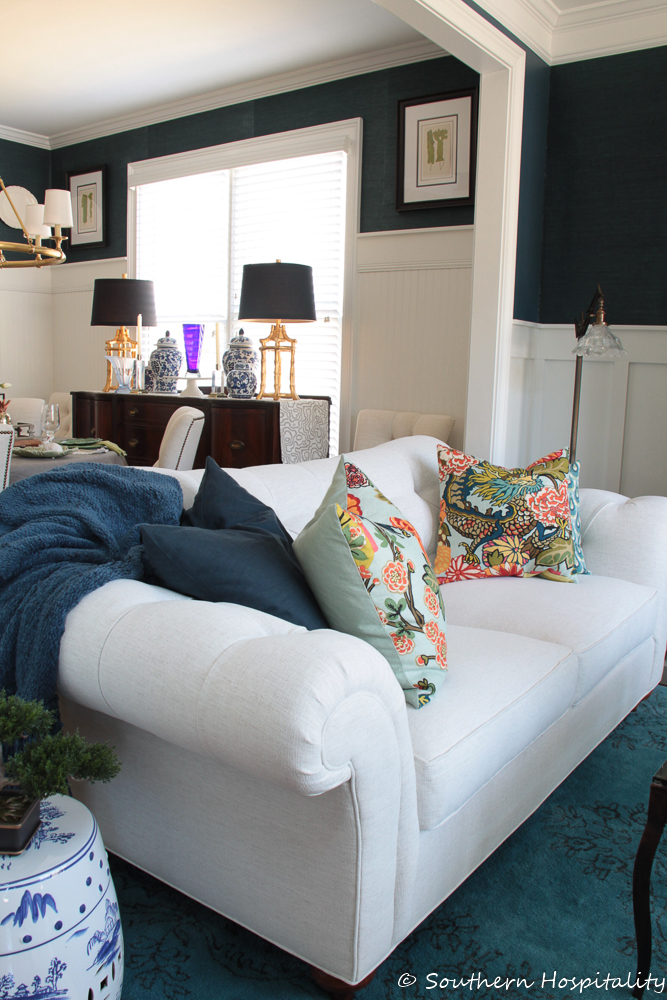 I love the classic lines on this sofa and now it looks brand new.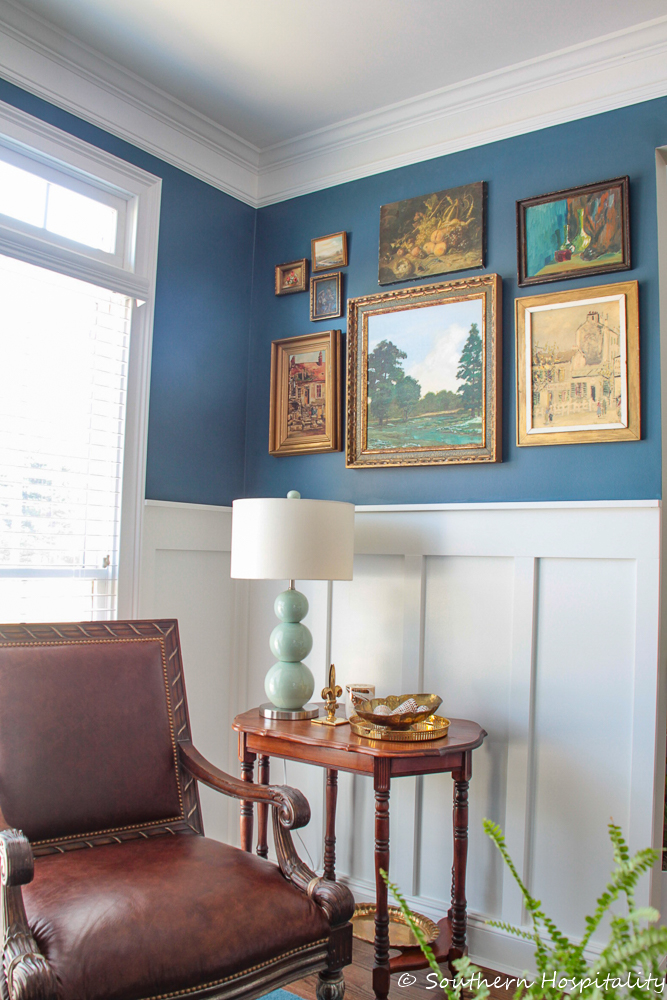 A peek at theother side of the room too. If you missed the update on these leather chairs, I dyed them dark brown back in the fall, so take a look at that post.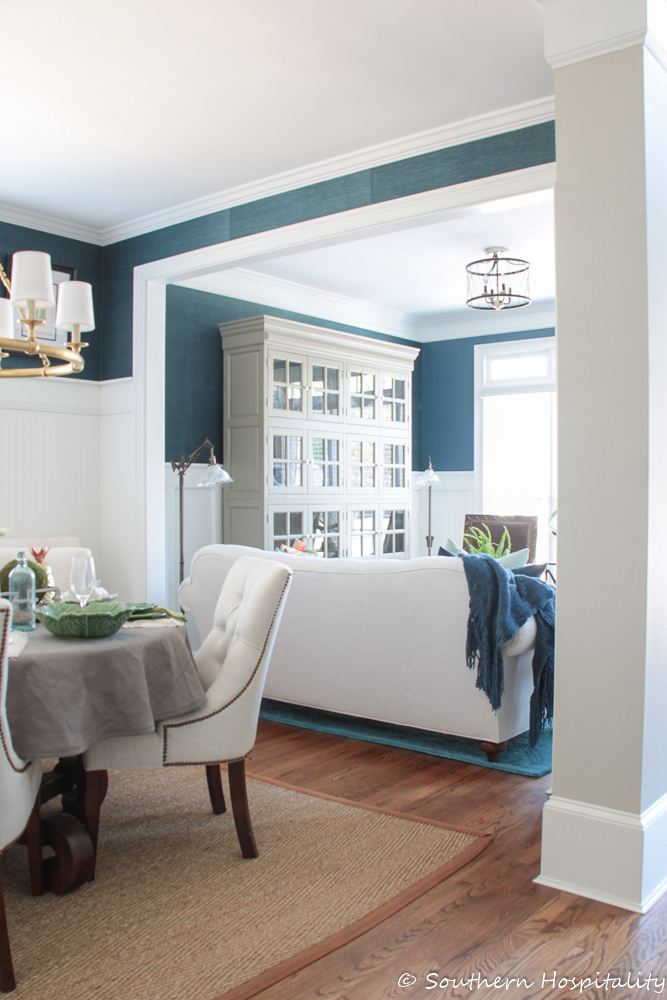 And from the dining room, you can see the back and it's pretty from this angle too.  It fits nicely in our smallish living room.
From the dining room table looking to the living room. We love our views!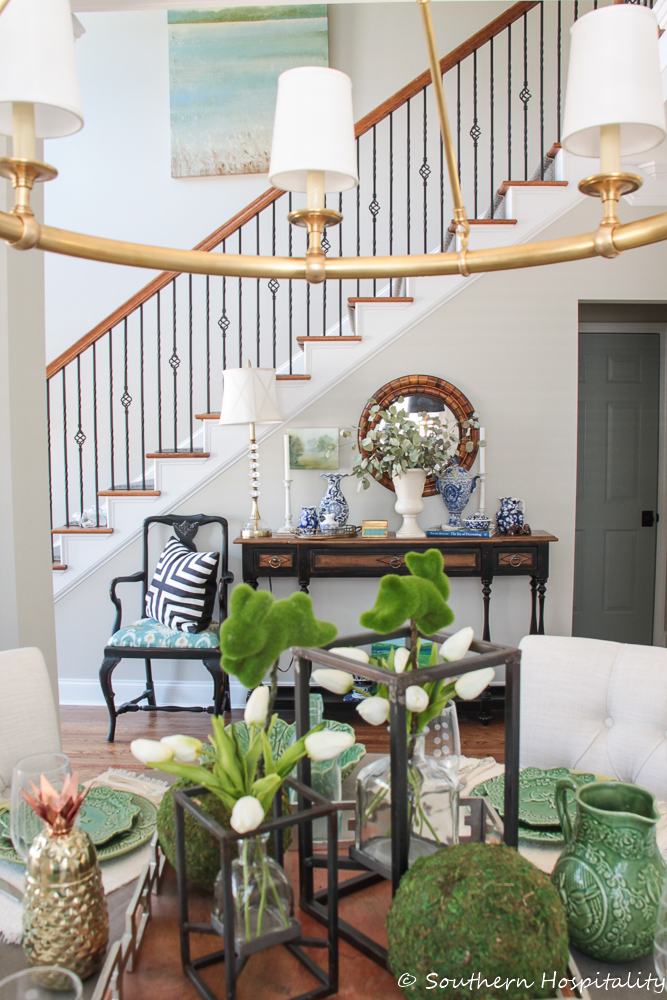 And I couldn't resist a shot of the table looking towards the foyer. You can see how open our floor plan is.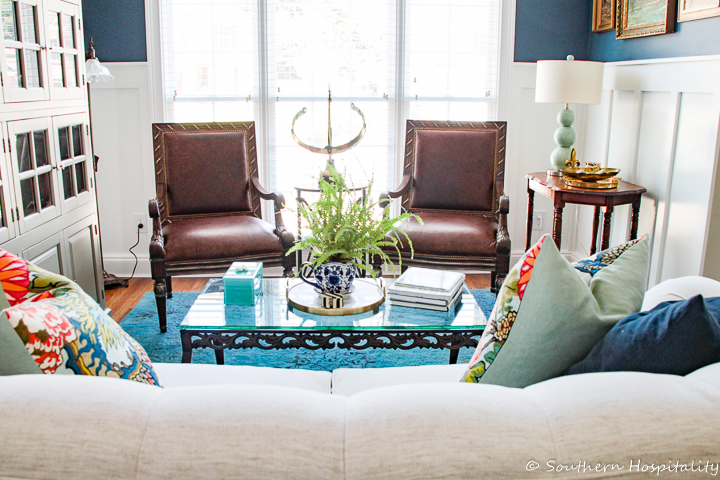 Another view of the back of the sofa into thel living room.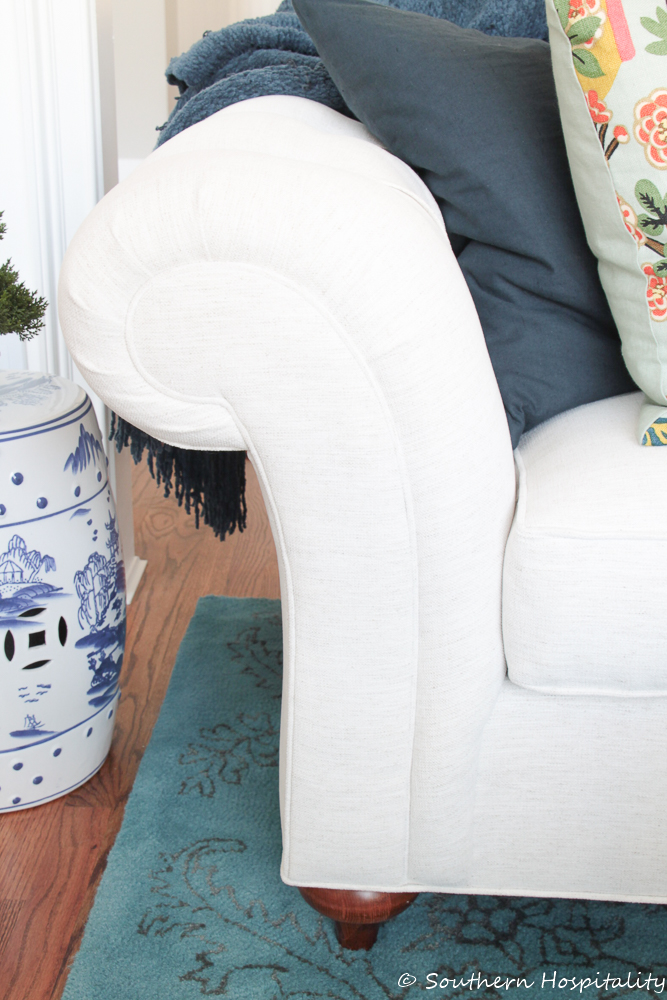 It really brightens up the sofa so much to have the new fabric on there and we both loved it instantly.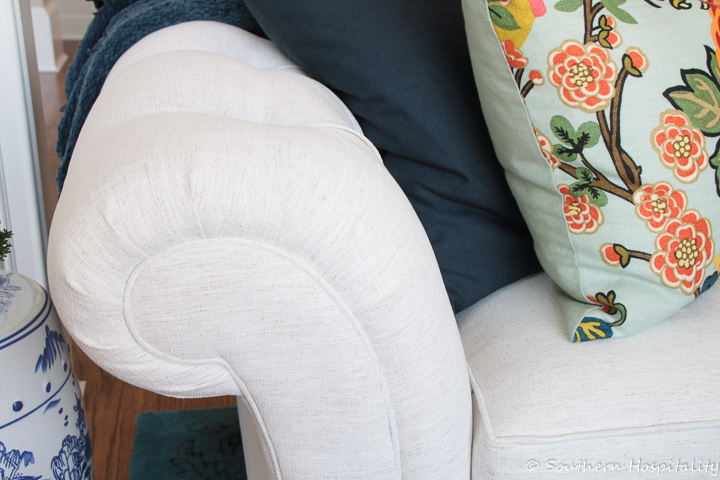 They did a fantastic job with the arms as well as the welting.
It truly looks brand new and the chennile is so soft to the touch.
The best part is that this sofa will not stain, so I don't have to worry about that.  We don't have a lot of traffic in this room, but even if something happened, I know it will clean up just fine.
So light and bright now.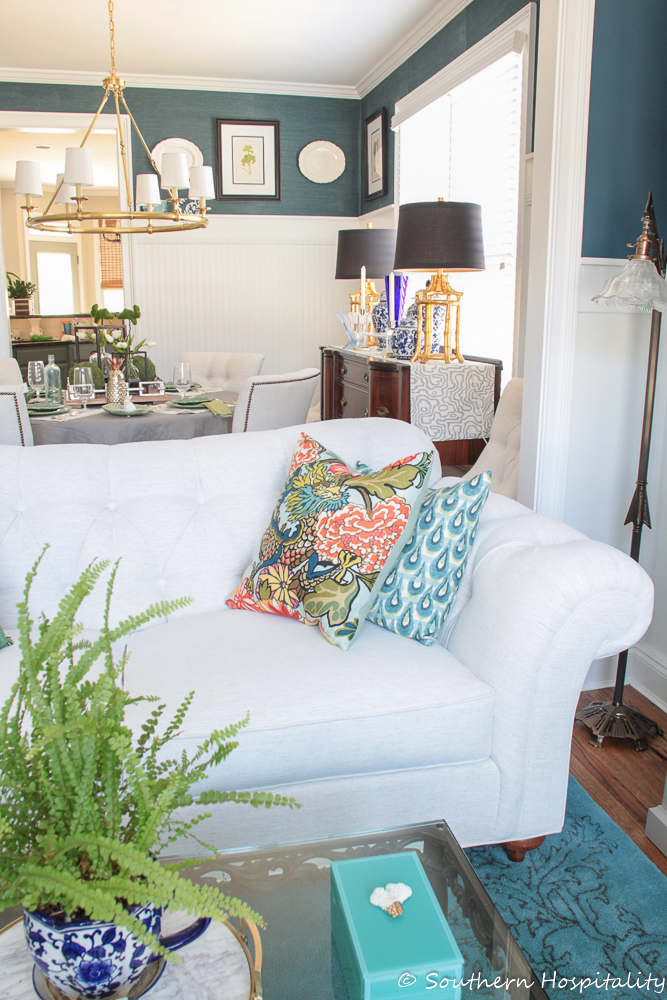 A big huge thanks to Crypton Fabrics for sponsoring this post.  Someone asked me about buying Crypton online and asked where I had seen mine.  We have a local fabric store that I've been shopping at for years, Fabric and Fringe Warehouse, and they have a nice selection of Crypton fabrics, including the Nomad Snow that I got.  It looks darker in their picture, but it's very true to color in my pics.
I hope you enjoyed seeing an older piece of furniture revived and refreshed!  I'm not all about replacing everything with new when I have a great solid sofa that just needed new fabric. I'd rather update with fabric for a fresh look!  If you're looking for a performance fabric, definitely take a look at Crypton fabrics, I'm sold on them!
This post is sponsored by Crypton fabrics. 
Don't Miss a Post, join my list!