Two weekends ago, Mark and I made the drive back to Madison, GA, a quaint and historic Southern town about an hour from downtown Atlanta. It's a through back in time, with beautiful historic homes that were spared in the Civil War burnings and for that I'm grateful. I love towns like Madison, where driving through the streets feels like another era and time. The downtown square is so pretty and it was a fun 2 days, since we spent the night at a bed and breakfast this time and came back home Sunday. I've shared Madison, GA a few times, so check out the Spring tour we did a couple of years ago.
We also noticed one of the houses that was open for viewing back then is on the market still or again for sale in the historic district. Take a look at the Kolb-Foster historic home in Madison, it's a beauty!
We love touring homes at Christmas and decided to take in Madison's tour this year, even though it's on the same weekend as the Marietta Pilgrimage, so we had to skip that one this time. Madison is a great town to visit if you haven't been yet! We did the day tour on December 7th and also the candlelight tour that night. It was all a treat to enjoy!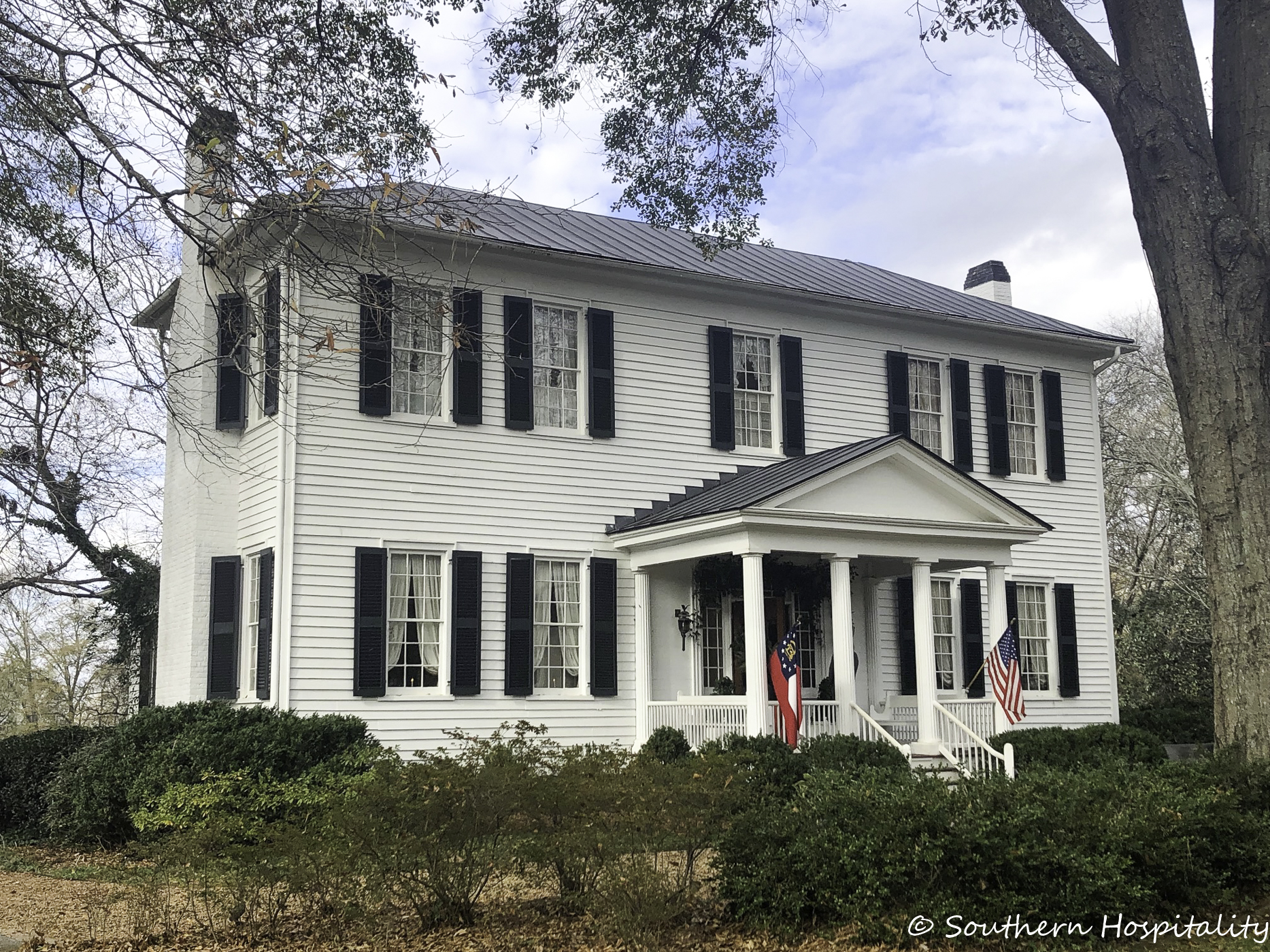 I had heard about Hilltop house (circa 1838) before we got to Madison and briefly got to meet the lady of the house, well known Christine Lambert, who has lived in Hilltop for 50 years. She is a spry 94 year old and has been recognized as one of Georgia's major leaders in historic preservation. Her late husband, Roy, was a local attorney and influential member of the Georgia General Assembly.
It was a treat to see her house and I hope that she doesn't mind me sharing a few pictures of inside the house. It's gorgeous inside and out.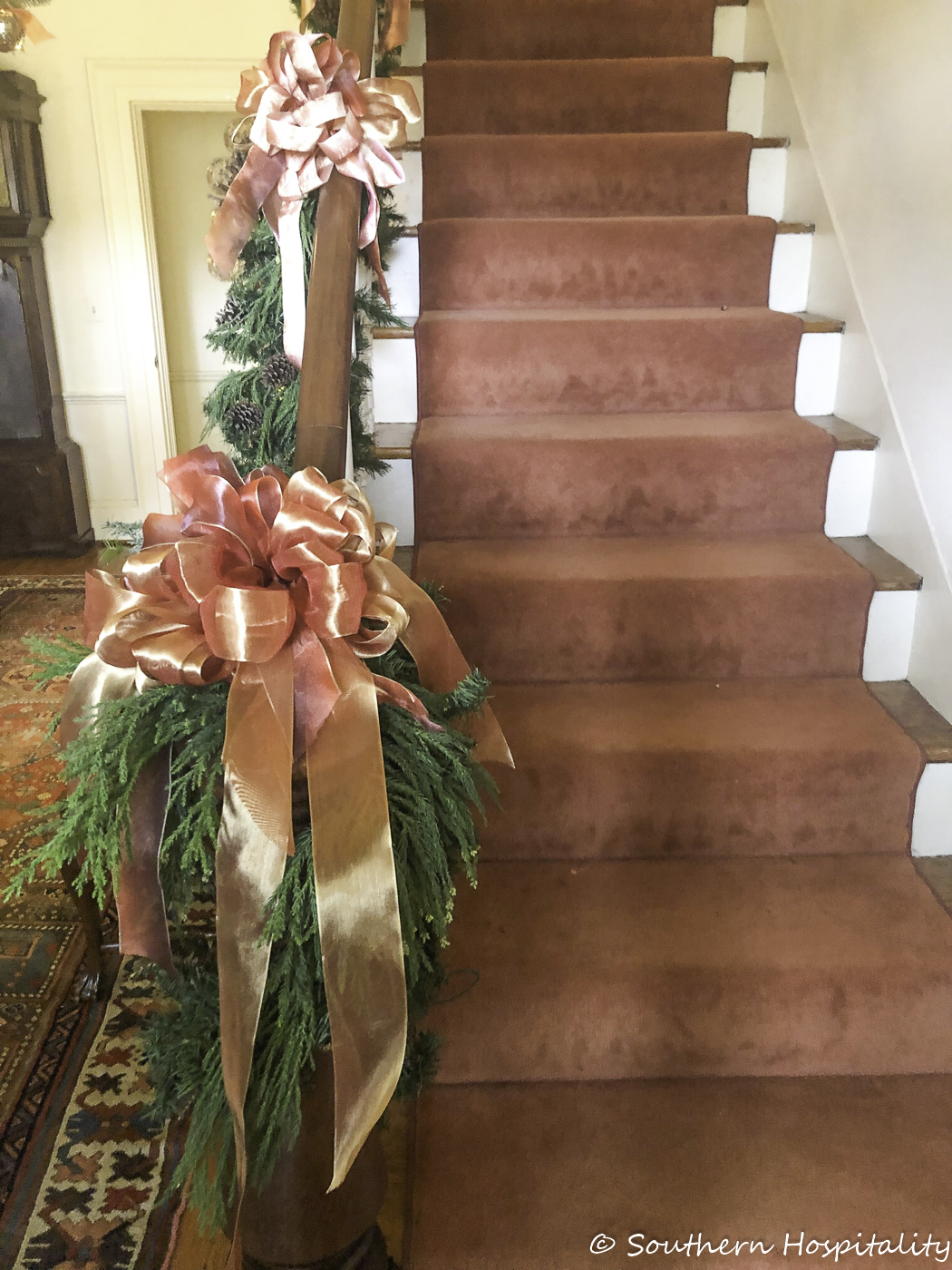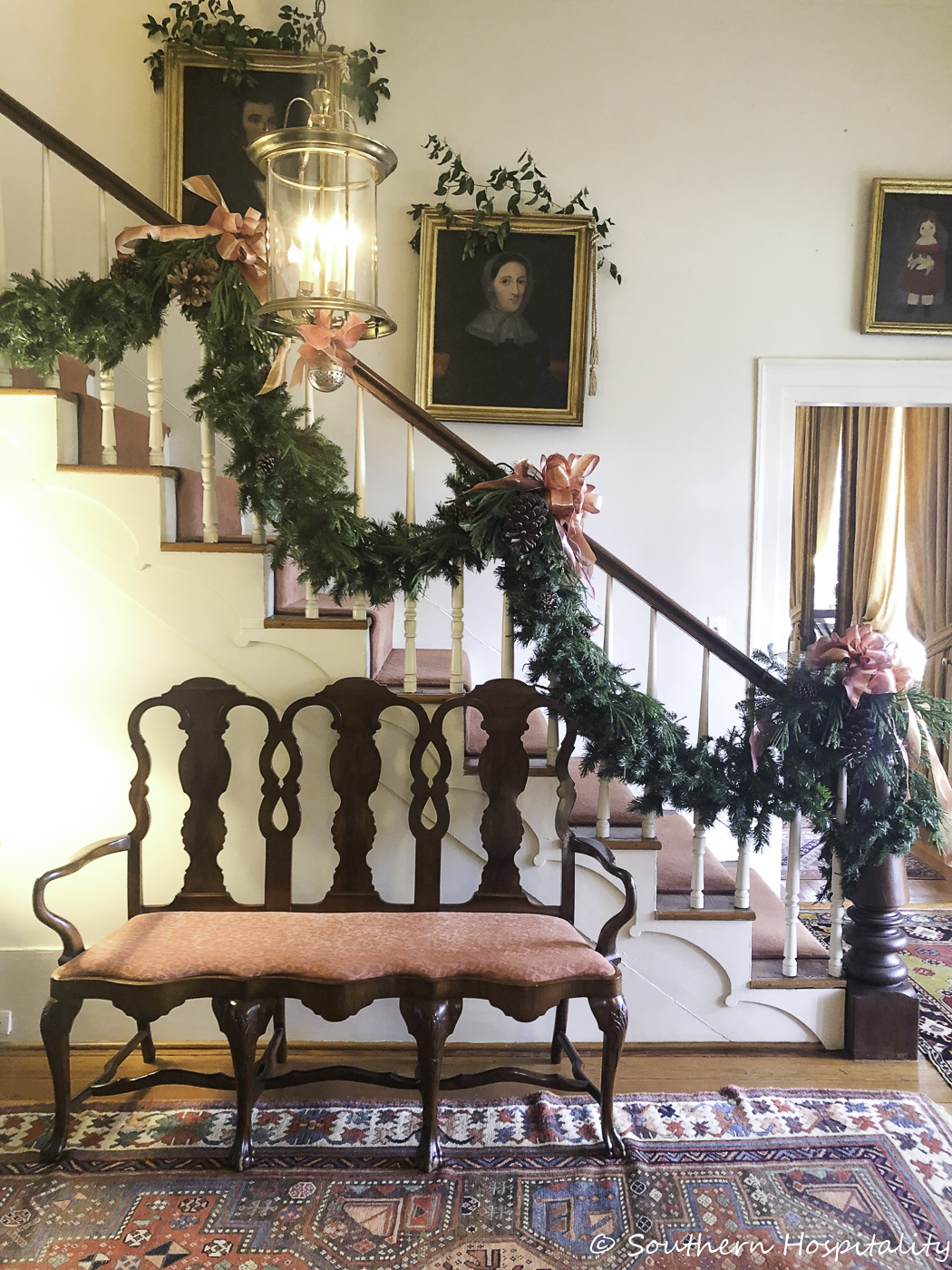 I loved this staircase with swags of garlands and pink bows.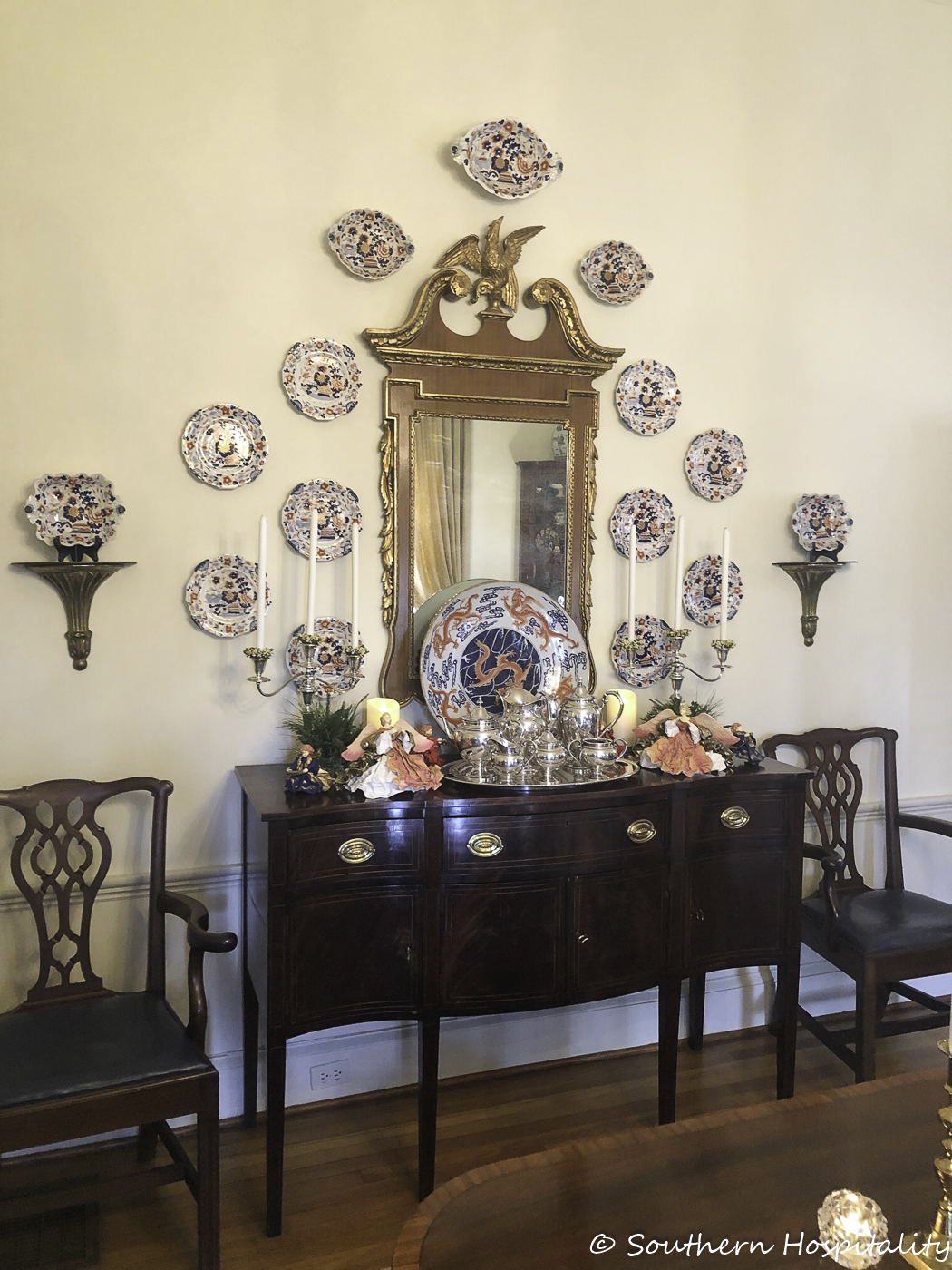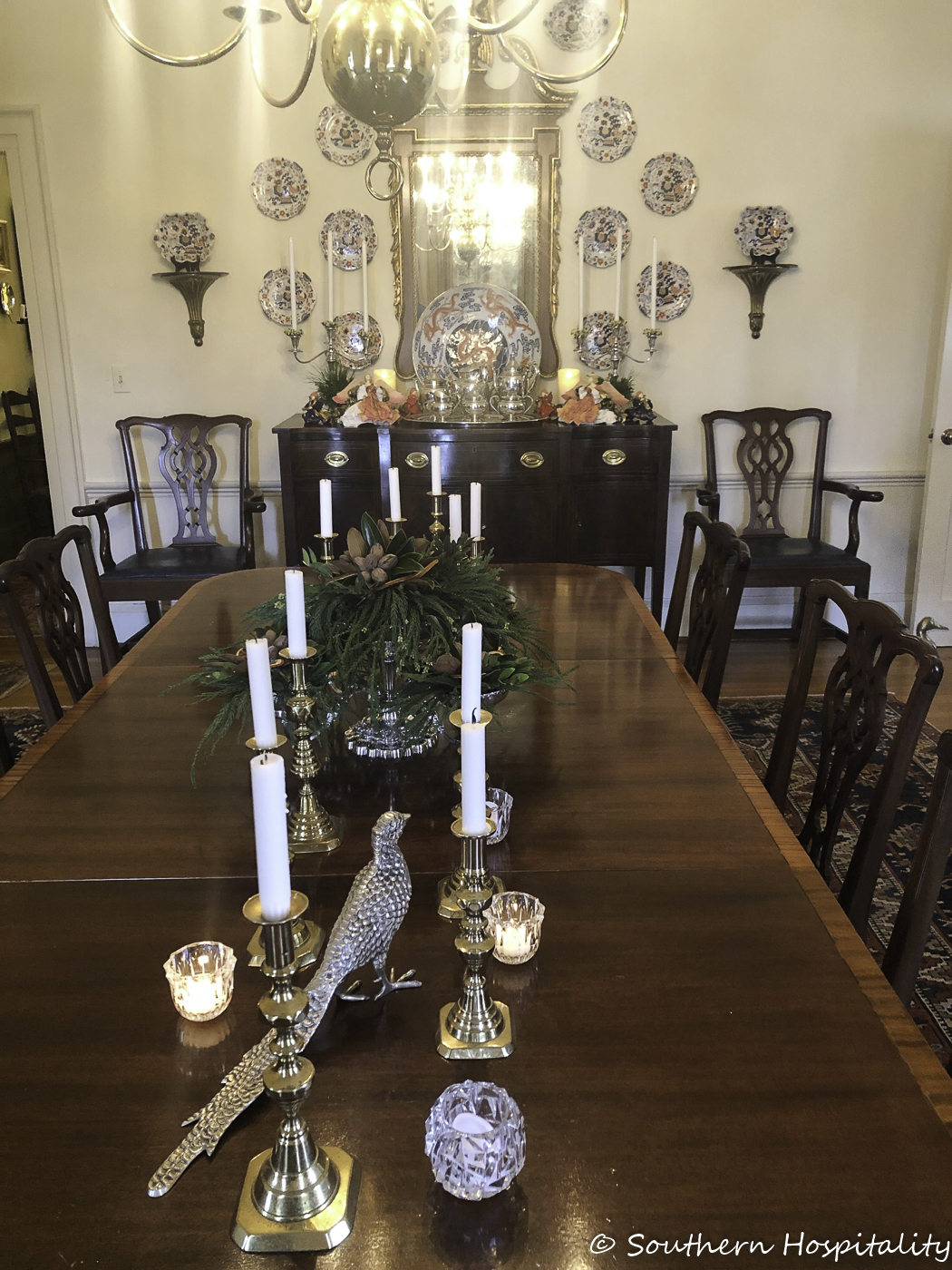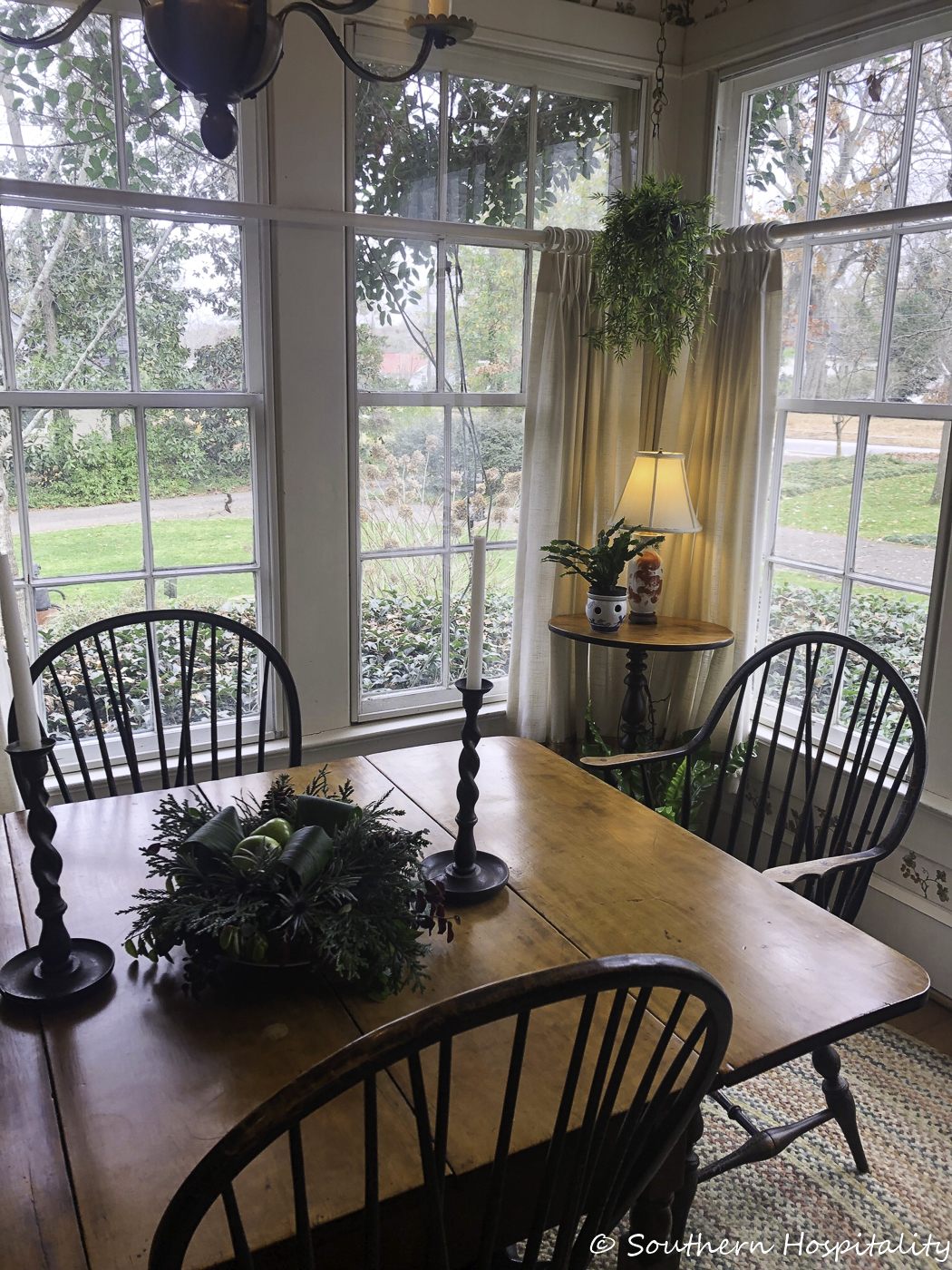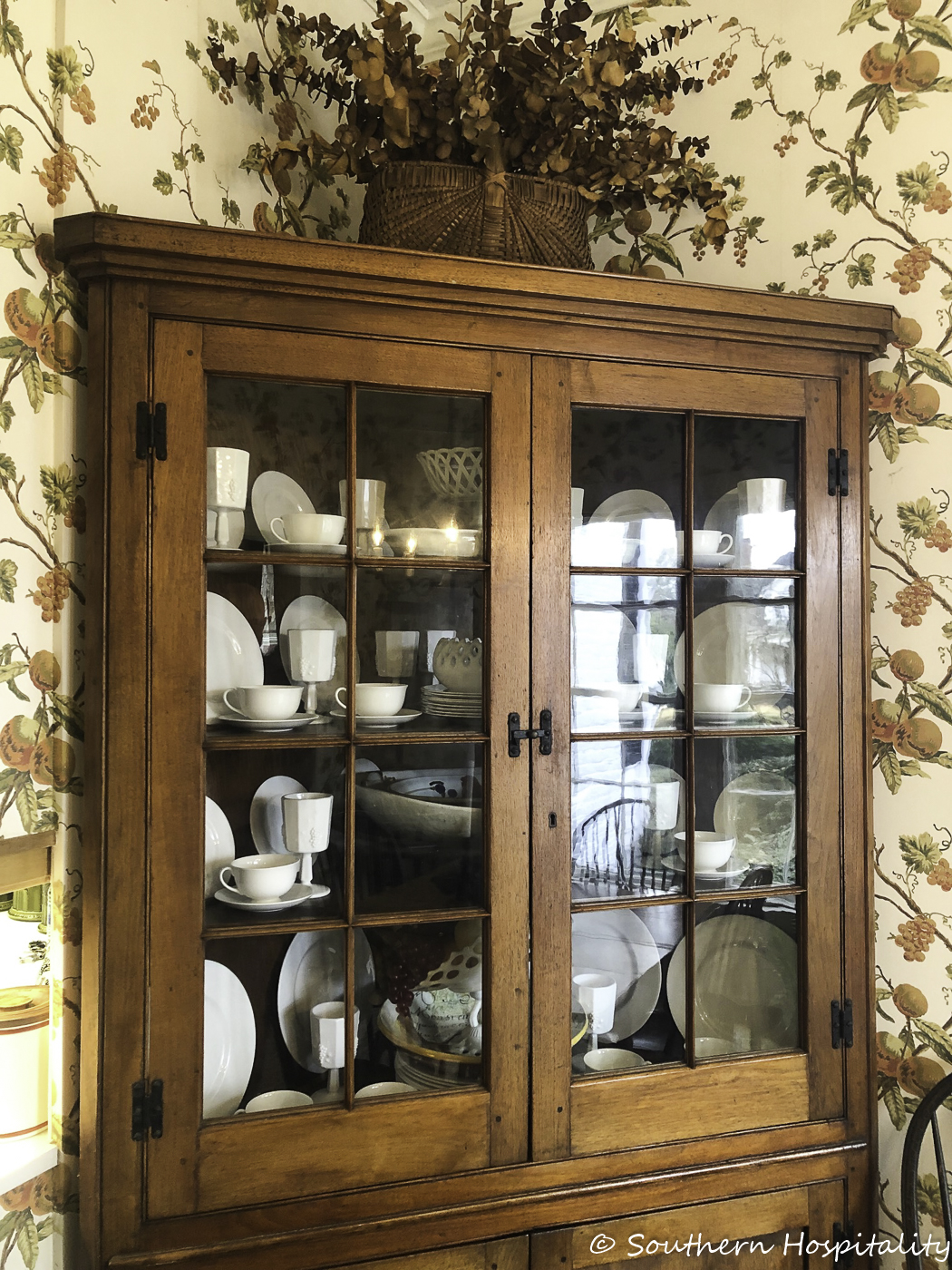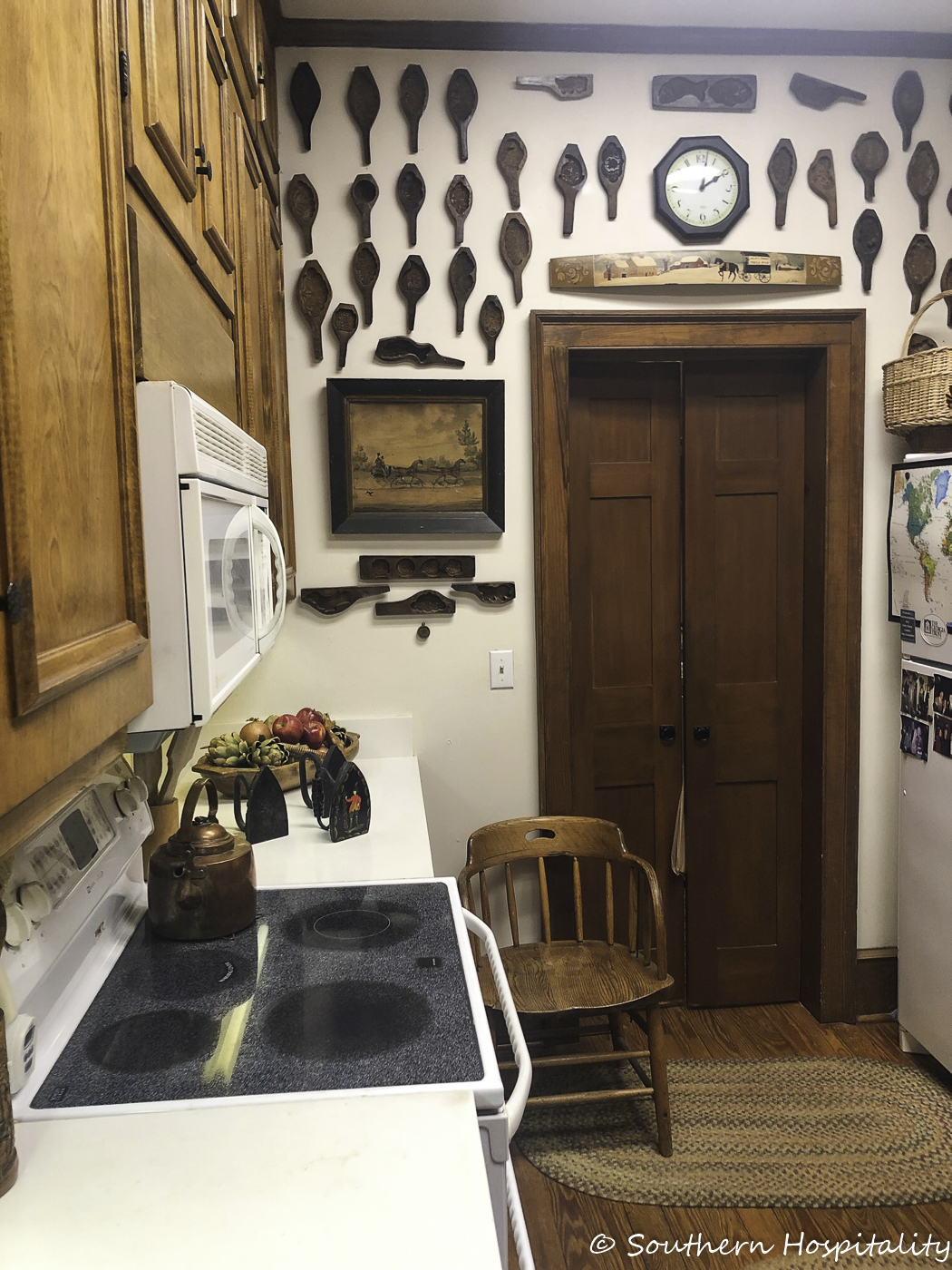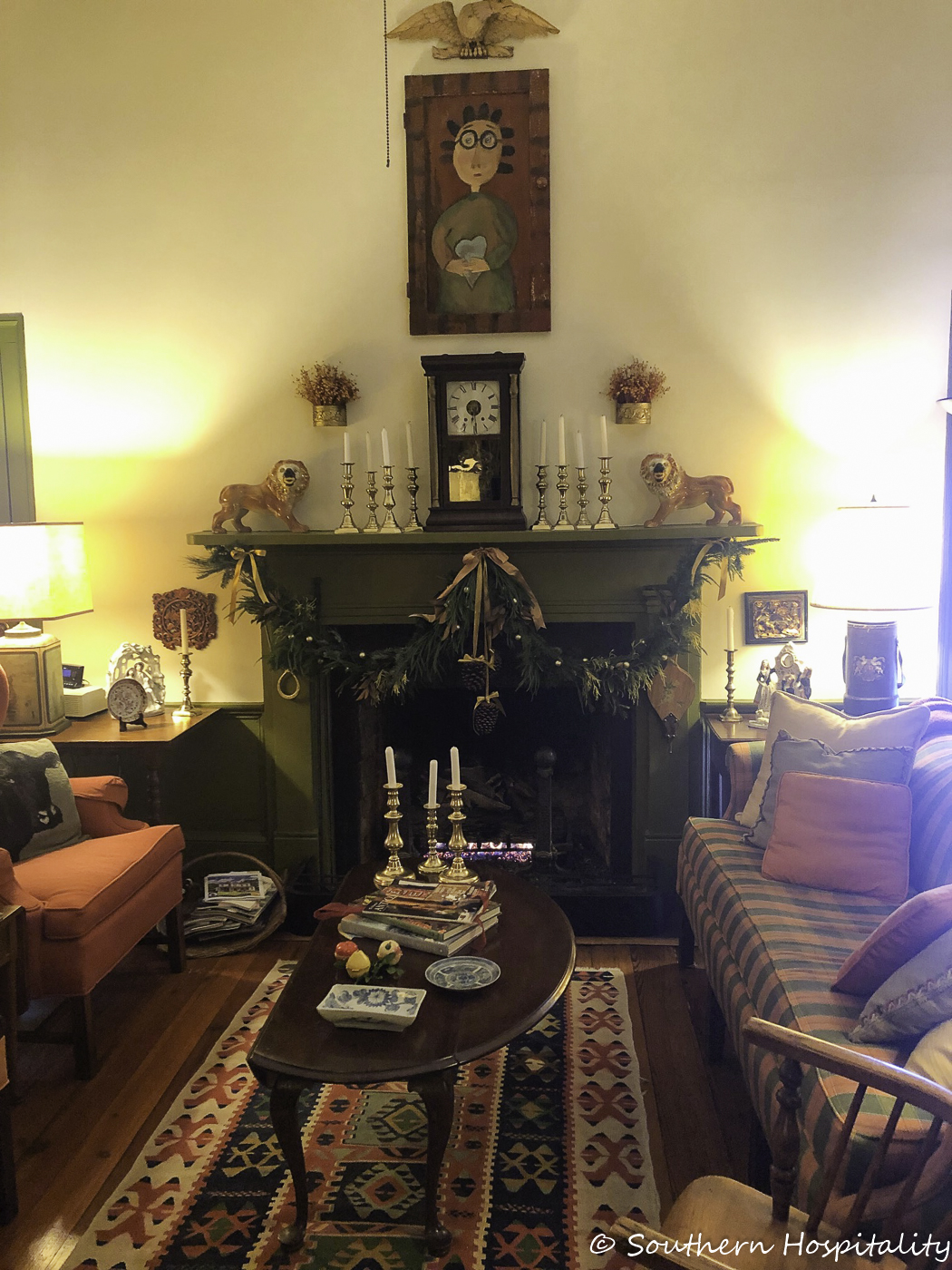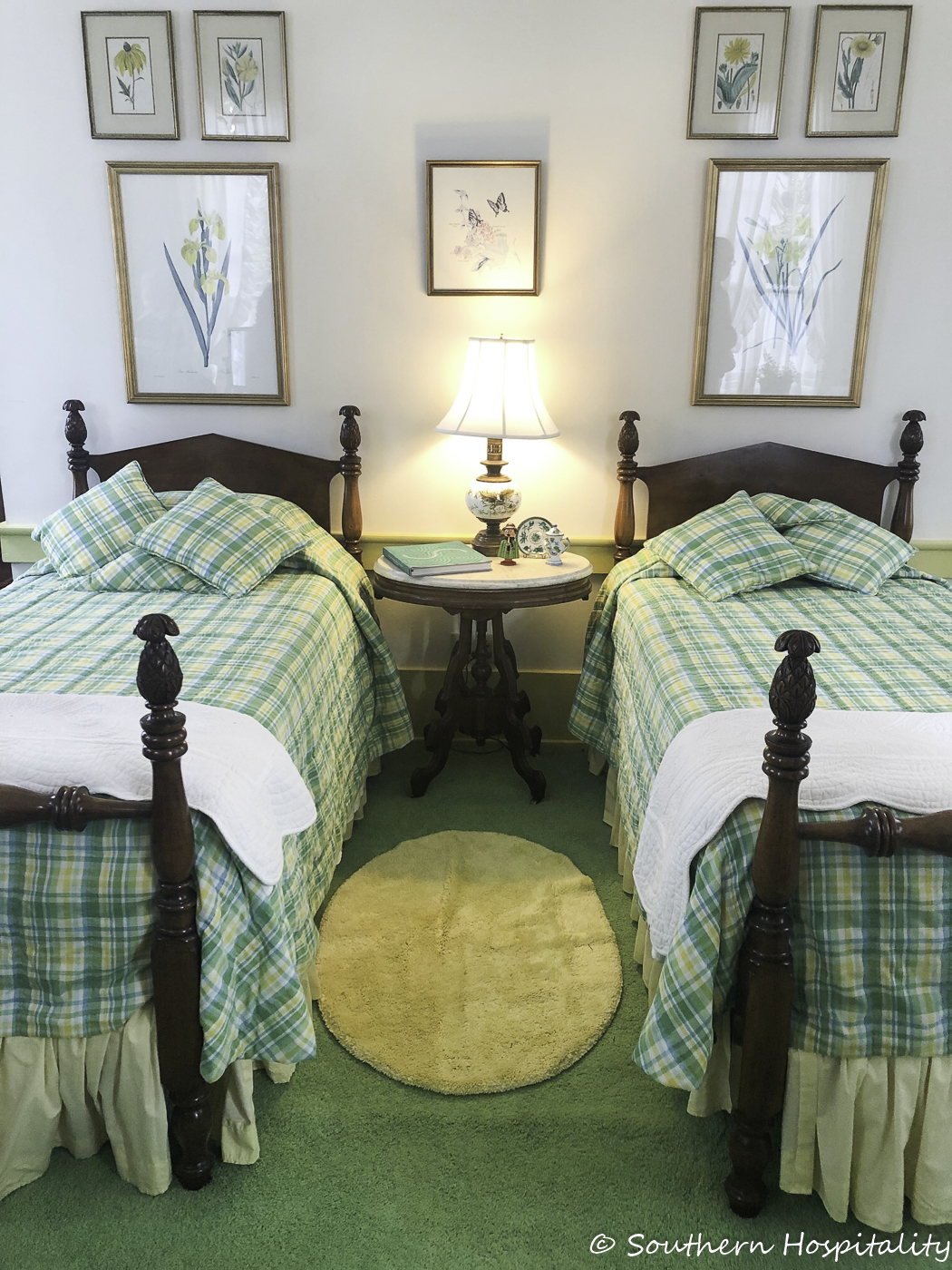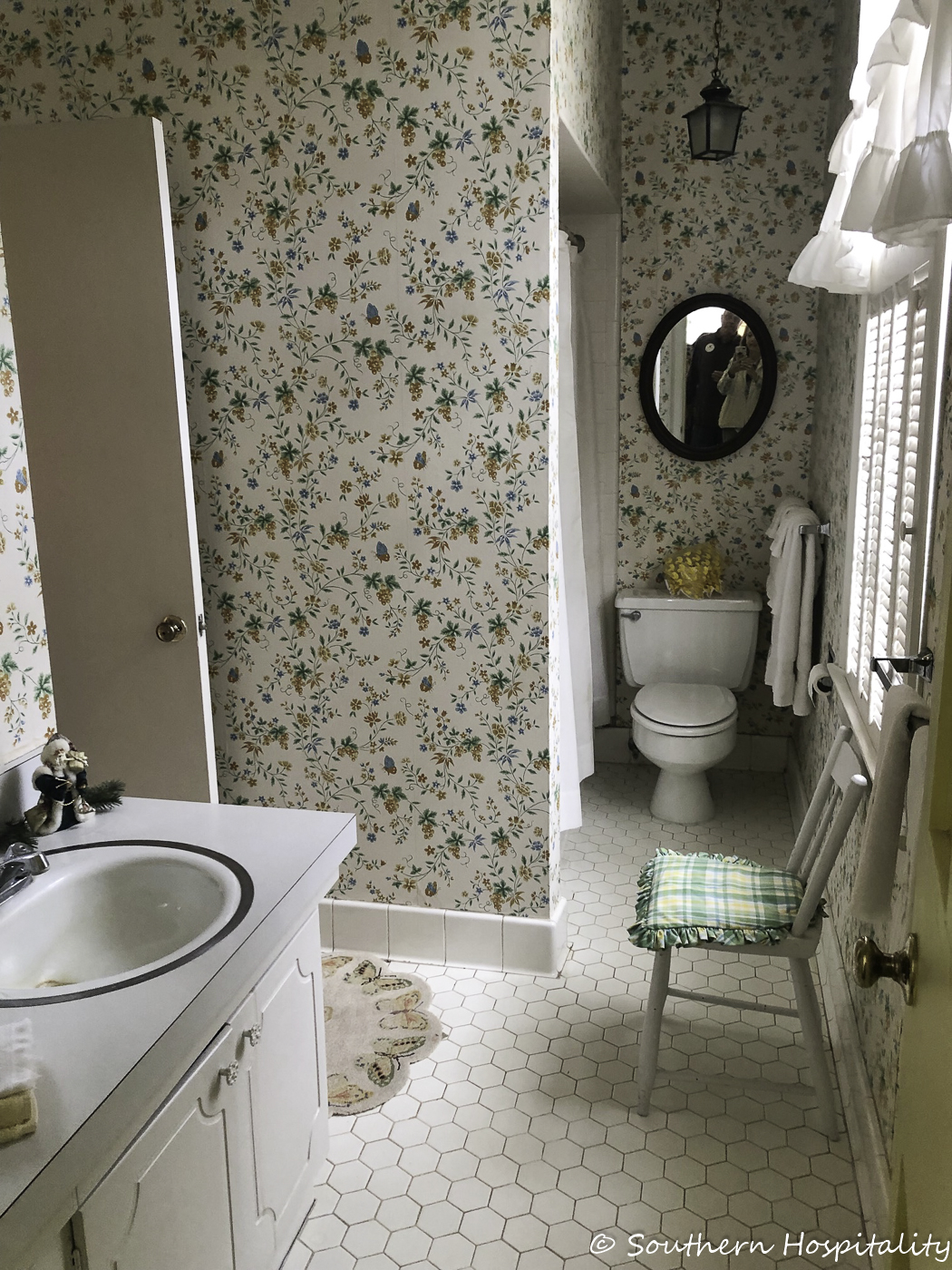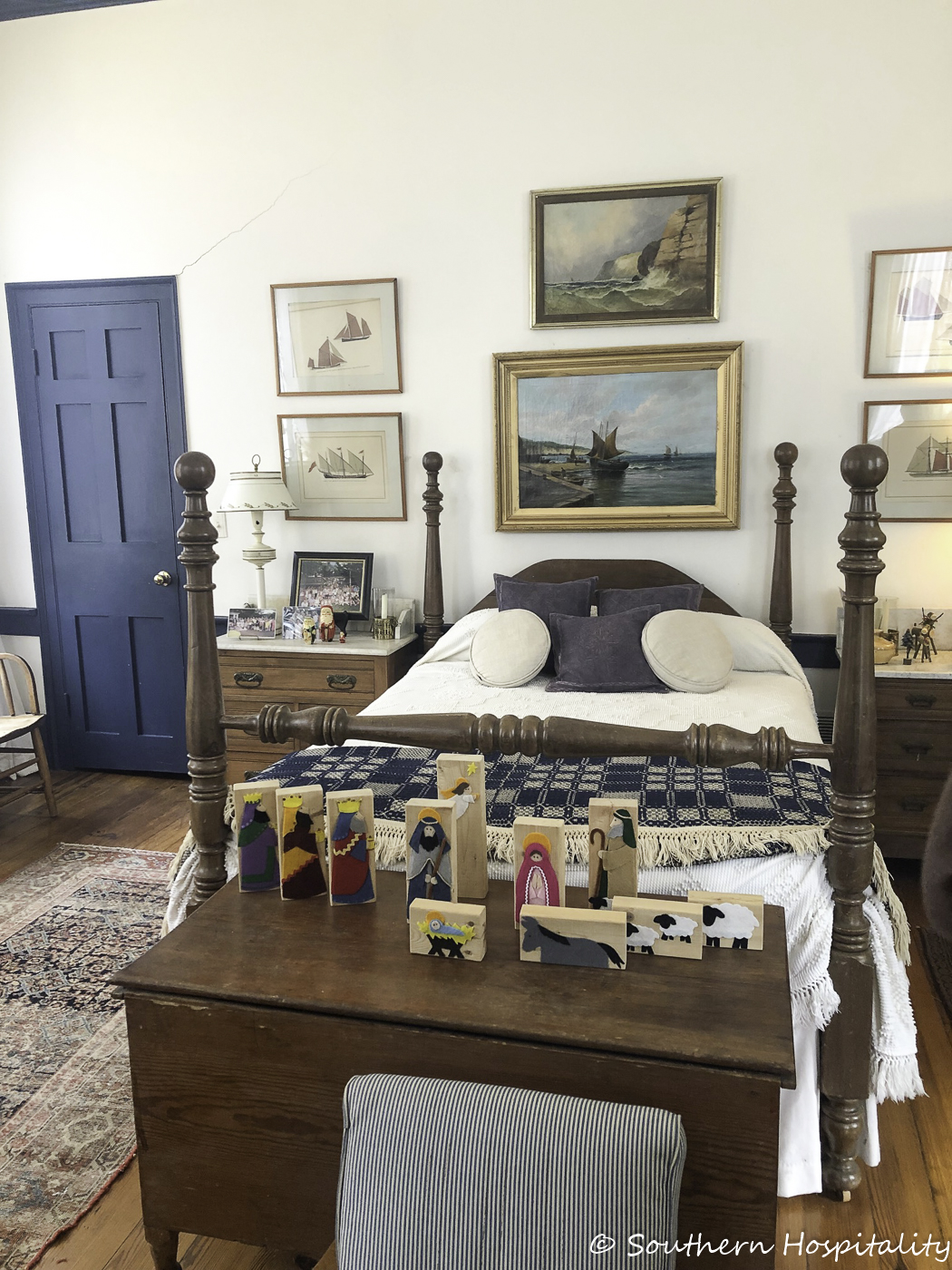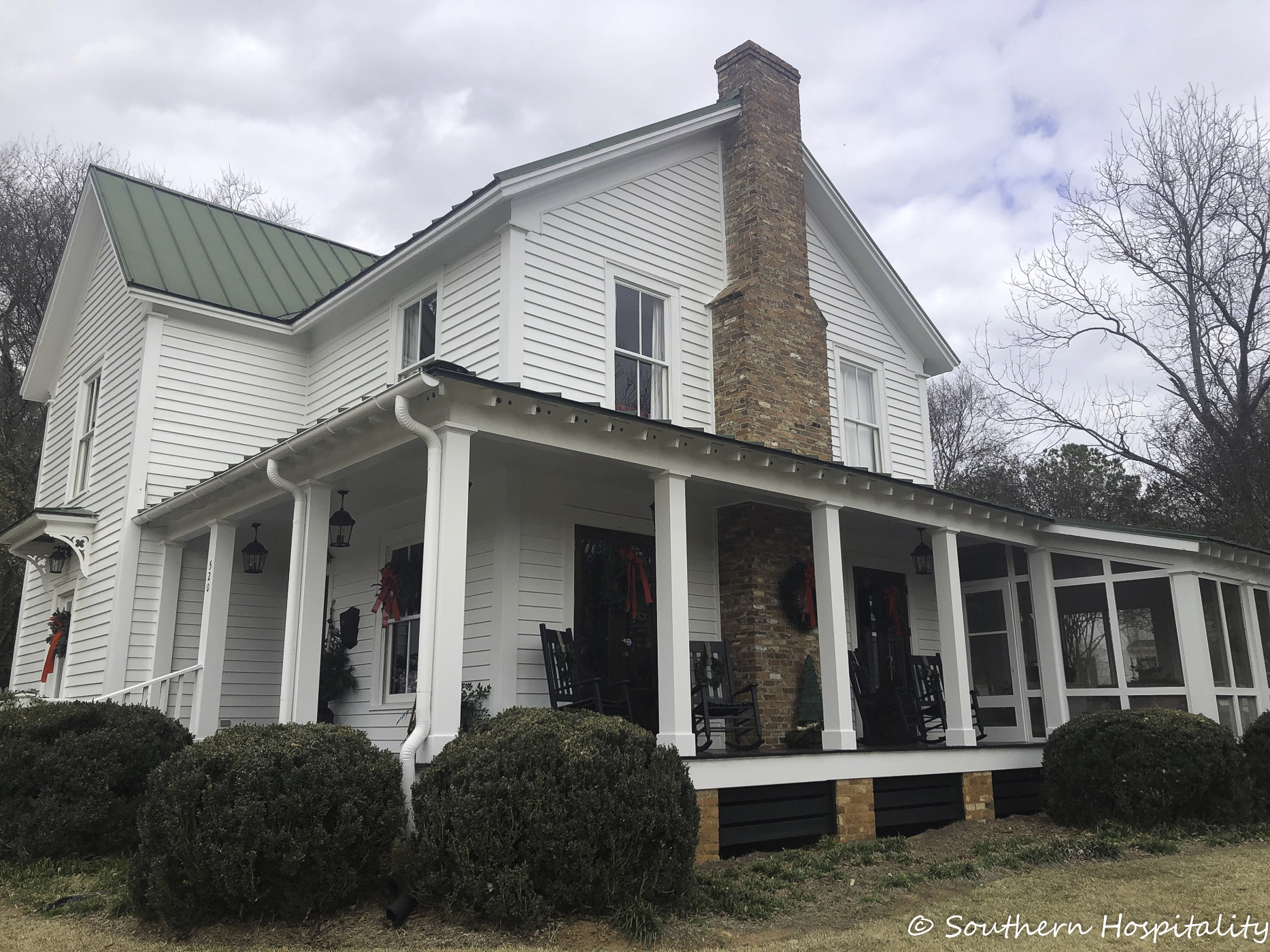 Valley Farm is a newish neighborhood in Madison, with homes that look like they are historic, but are not. The original farmhouse is still on the property and is used as a clubhouse for the neighborhood, which I think is great. Known as Old Holland Place the Farmhouse overlooked a large pasture and orchard. The house was built and completed in 1870.
Developers Diane Lankford and Dell Reardon purchased the property in 1998 and created a community in sync with historic Madison in both architecture and landscape design. The old farmhouse is now the Valley Farm Meeting house with modern conveniences, indoor kitchen and swimming pool with bathhouse.
It was fun touring the farmhouse and I enjoyed the old mixed with new.
The porches really caught my eye.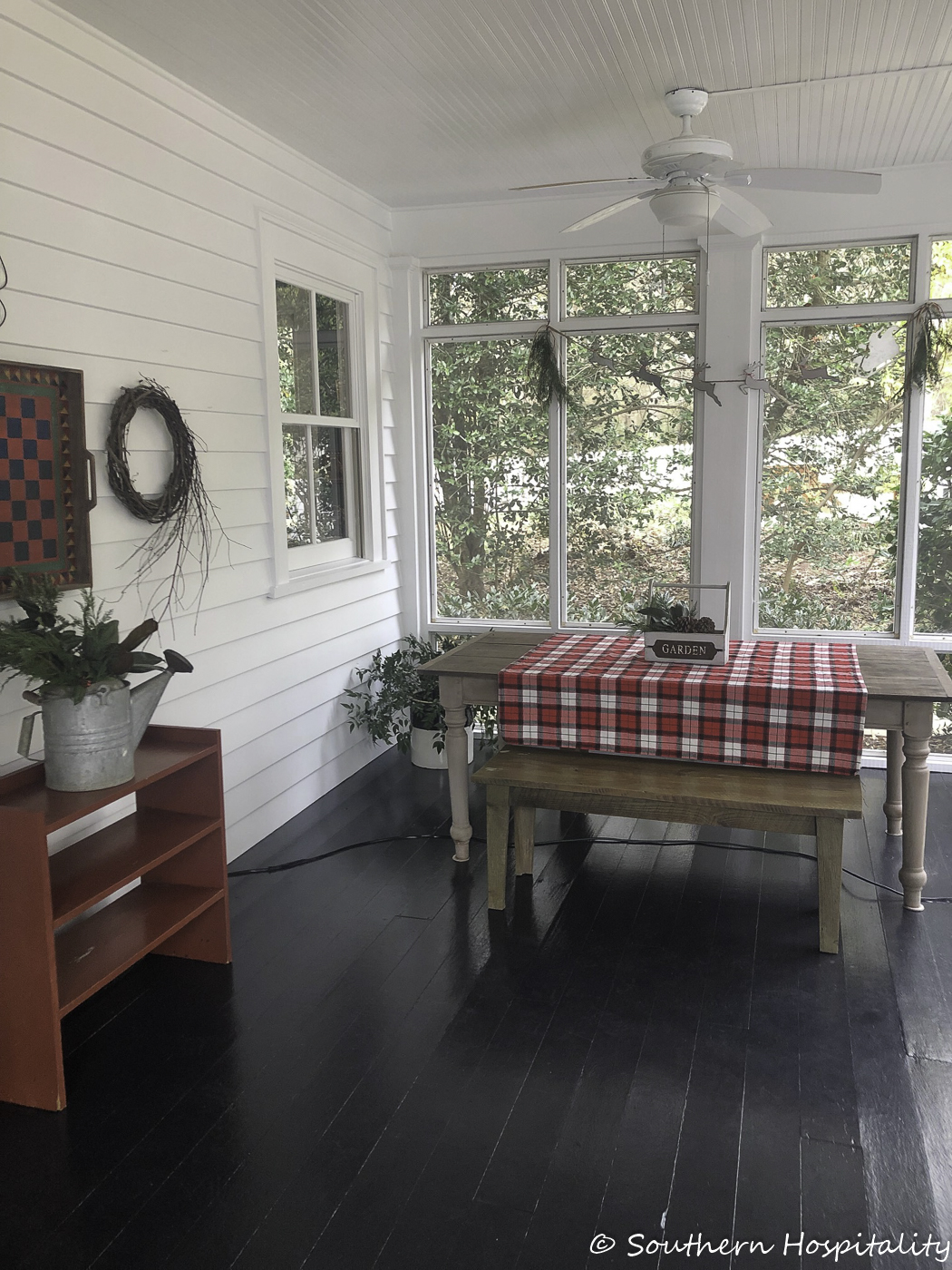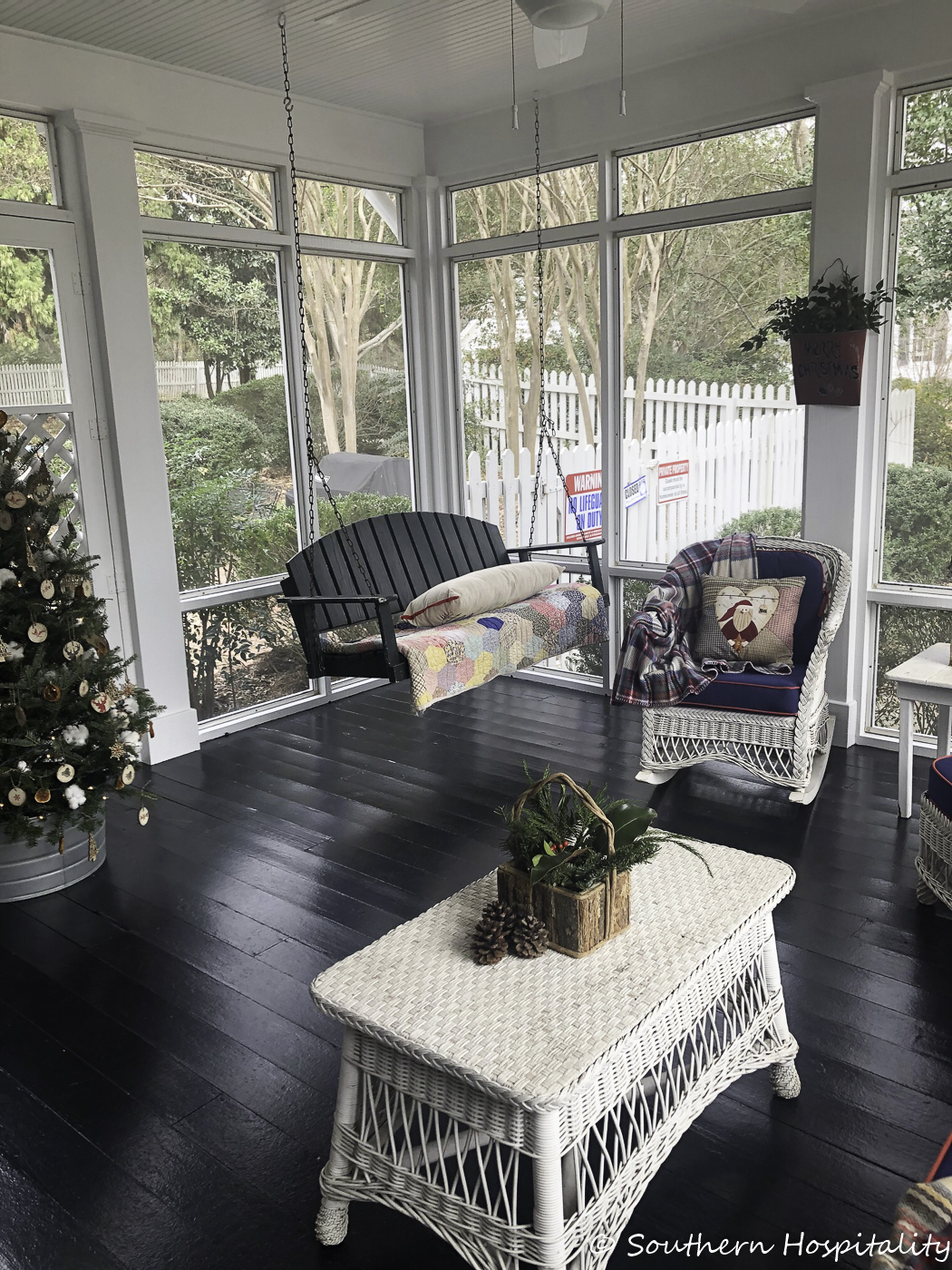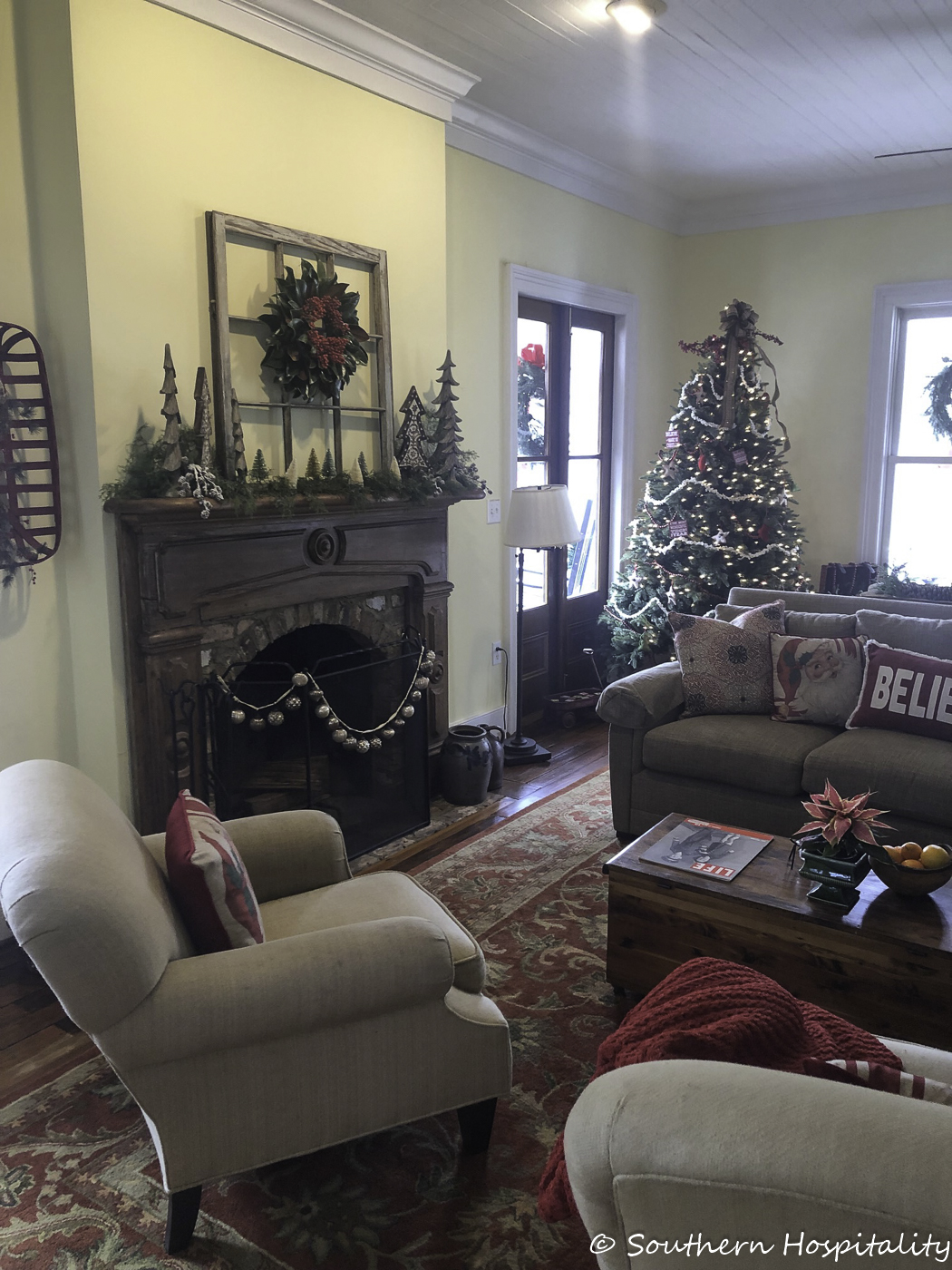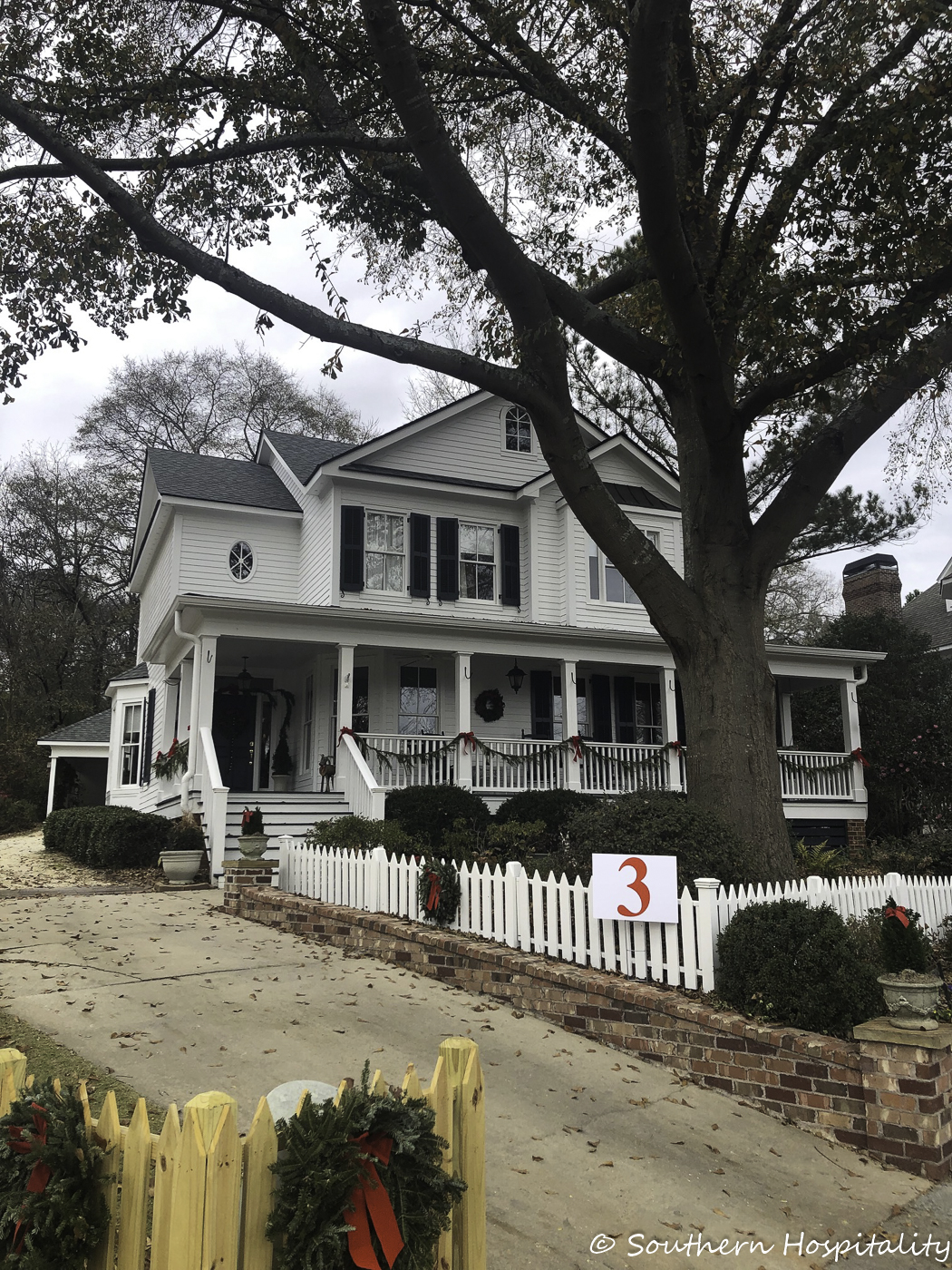 Next door to the farmhouse was another home on the tour. We were allowed to take pics inside of some of them, but I didn't overdo it. This is the Halloran residence, built in 2000 and is a Southern Living house with reclaimed pine floors.
I didn't take a lot of pictures inside, but it was a beautiful home. You can see from the outdoor pics that the neighborhood is the best of both worlds. Architecturally historic looking, but newish homes.
I knew you all would love this blue and white collection of dishes.
I always love the Williamsburg way of displaying fruit at Christmas.
I didn't get outdoor shots of the candlelight tour homes, but this one is the Porch House, circa 1897. With a wrap around porch, that's how it got its name I'm sure. The current owners are Mike and Laurie Becker and they moved to Madison in June 2019 and say the house is a work in progress. I loved the artwork and Christmas displays throughout the house.
Beautiful artwork over the mantel.
On the candlelight tour, this house had some beautiful displays. The Barnett Stokes Ball house, circa 1835 was really well done and pretty inside. I didn't get a pic from outside since it was dark, but I loved their displays of Christmas cheer. It's a raised cottage style house more typical of South Carolina low country than Georgia.
The current family, Sarah and Sam Ball moved to Morgan County in 2012 and became owners of the Barnett-Stokes-Ball home four years ago, adding two little ones to the family since then. You can see the children's rooms in these pictures and they are adorable!
I think this is the famous Arhaus mirror that I've seen in blogland.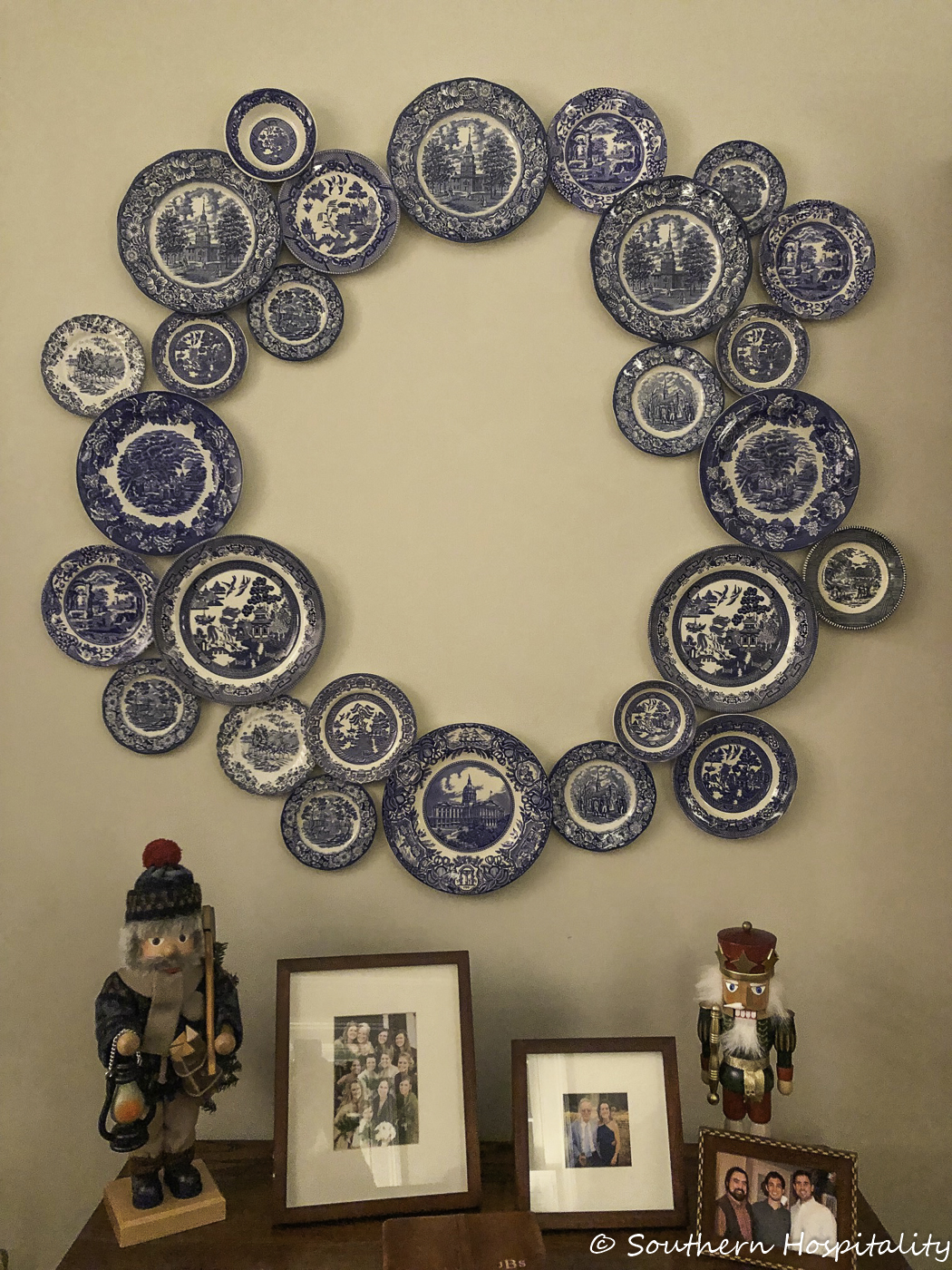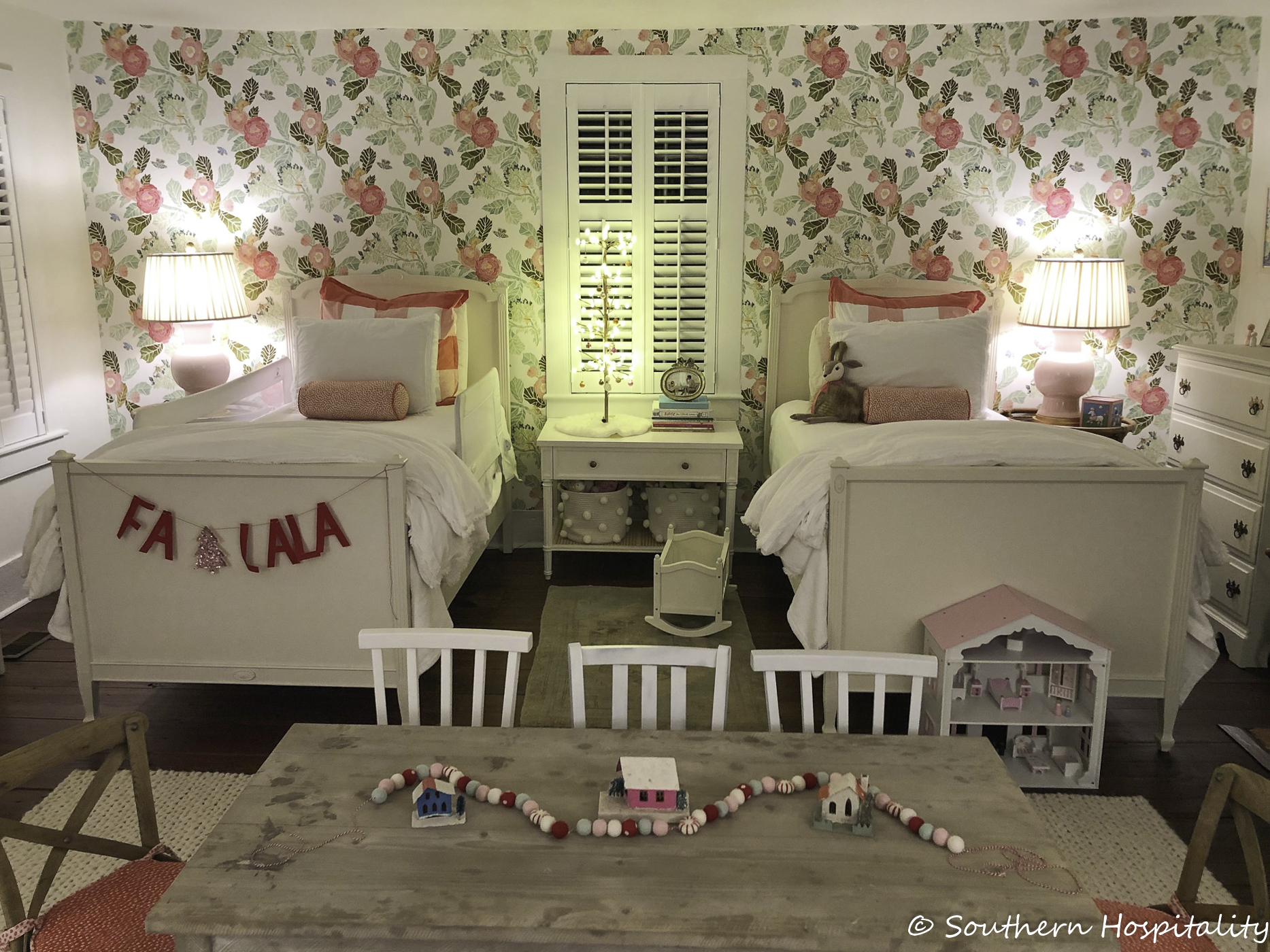 This girl's room really caught my eye.
And this nursery is so cute!
The lower area of the house still had the old kitchen and brickwork throughout and was really a neat tour.
I hope you enjoyed this taste of Madison, GA's historic Christmas home tour. We really enjoyed our stay there. I've got a few more things to share of Madison, including the B&B we stayed in and where we had dinner, all worth sharing, so I'll do that on another post.
I took these shots at night as we were walking around town.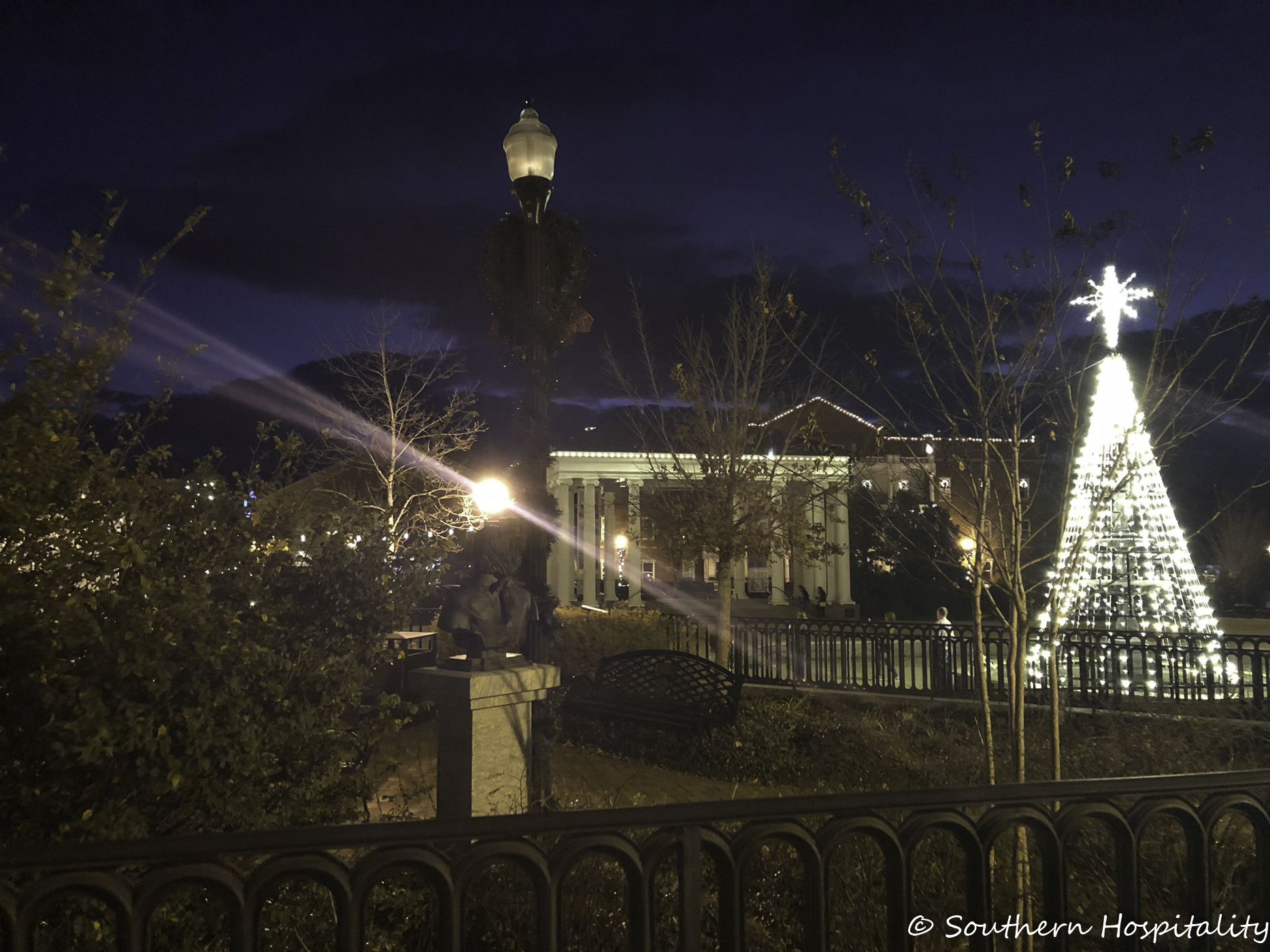 Loved this shot of the clouds and moon over the court house, I think it was. Madison is such a cute town, so if you haven't visited, put it on your list of places to see in Georgia!
Don't Miss a Post, join my list!