We officially have a new baby in our house. I'm so excited to introduce you to our new puppy, Daisy Mae. I had no idea we would be getting a puppy this soon. My sister got her Shorkie, Bailey, 4 years ago this summer and I fell in love with him then and was ready to get one too. He was so cute and cuddly, non shedding and the size dog that Mark and I wanted to get for ourselves. We weren't ready for a puppy yet though.
We lost Holly last September and Mark especially has mourned her loss since he raised her from a puppy. She was a sweet girl but wasn't a house dog. She was a super shedder too. We had always talked about getting a puppy together but we were going to wait until Holly was gone.
So, in January I called the breeder Renee and Bruce got Bailey from and she had a waitlist, but no extra ones at the moment. I had another breeder too that I chatted with and same thing, she didn't have any puppies at this time. So I figured we would have to wait until the next litter of puppies later this summer to get one and get on the waitlist, but that all changed last week when Sandy the breeder, texted me that she might have a little female puppy (which we had specified) ready to go home to a loving home if we were interested.
Yes, we were! It actually was a little more complicated that that and there was someone in line in front of us who she was waiting to hear back from and he had a deadline of last Monday. I really thought it was going to work out, but when she texted me that Sunday to say she had heard from him and he wanted the puppy, I was so disappointed. We had seen a picture of her and I really wanted this girl and had already attached myself to the idea of getting her.
The guy that was in line fell through and on Tuesday of last week, I got another text from Sandy saying she was ours if we wanted her, so I was so excited to hear that. My emotions went from excited, to disappointed, back to excited all in 3 days. We picked her up on Wednesday and brought her home and she has already stolen our hearts. She's a 8 week old Shorkie, which is a Shih Tzu and Yorkie mix, the cutest mix of cuddly and adorable. She won't get very big, less than 10 lbs. and her coloring and markings are so cute.
If you're interested in the breeder, let me know and I'll pass along her name and number. Email me at [email protected]. I'd rather do it personally than to put her name and number out there. I think she's going to be overwhelmed with calls, since I shared her name with about a dozen people already from Instagram.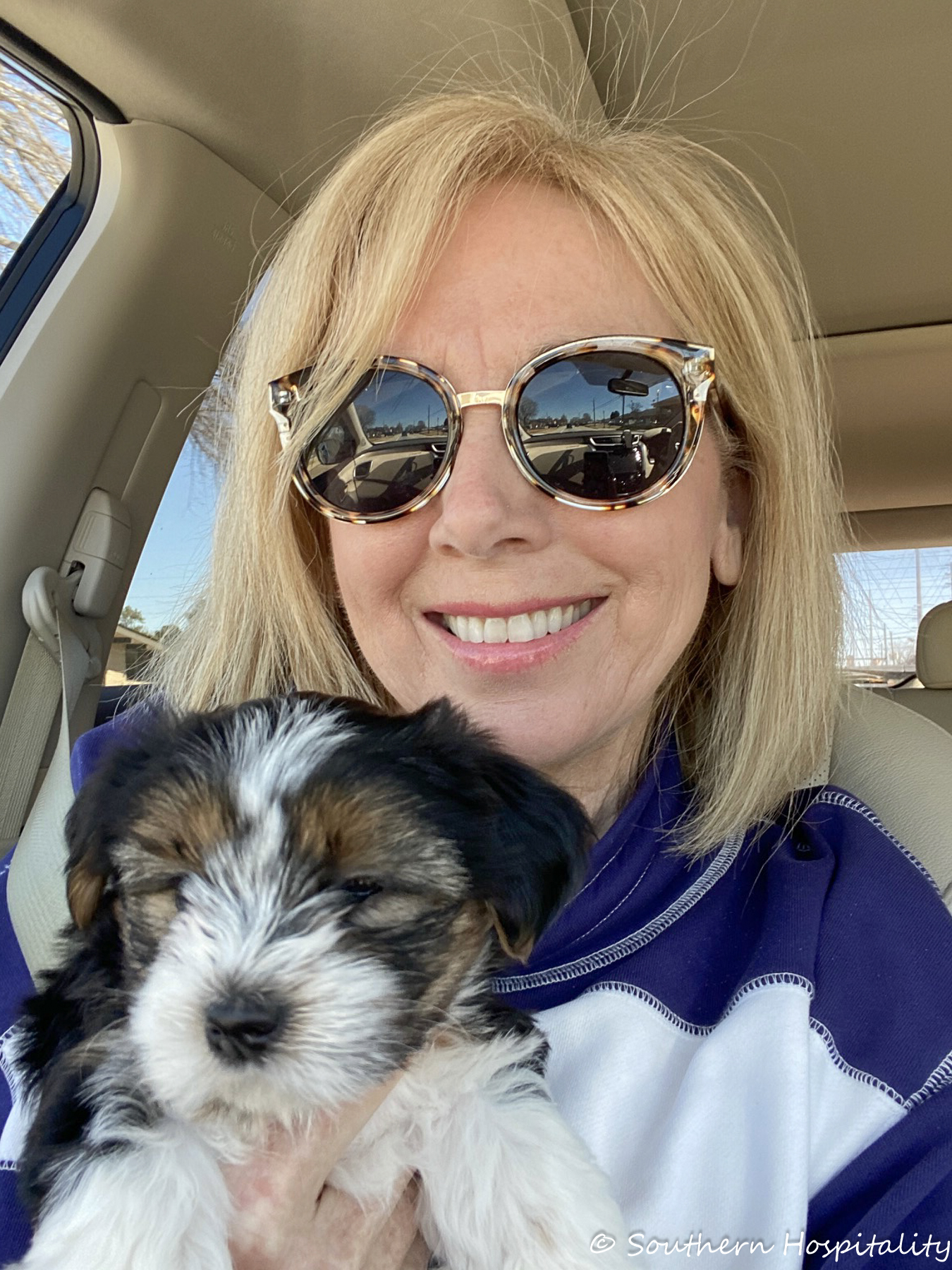 She looks like a little stuffed animal, doesn't she?
She's so soft and sweet. We love her markings and coloring with 4 white legs and black and white body with some tan markings in there too. I love that little swoosh of white on her head. She's the cutest and sweetest little thing. We are bonding fast, all 3 of us.
First day home on Wednesday. So as you can imagine, we are deep into the baby stages of puppy ownership, with potty training top of the list. We are doing crate training with her and I hope she catches on fast and gets the potting training part and I think crate training will help her feel secure and have a schedule.
We picked up all the things we needed to get started with a new puppy and taking it one day at a time. The first night she cried for 30 minutes before finally calming down and going to sleep. At 4 she woke us up ready to get up and go out, so that was the end of sleep for us. We will see how the first week goes, but I think she's worth it. I'm so glad Mark and I are both home and can devote time to her.
Here are random Daisy pictures from the week. She is just the cutest little thing you've ever seen and we can't get enough of her.
She's been sleeping a lot and we get her outside everyday to wear her out a little. She loves to run around and play.
We are smitten to say the least with little Daisy Mae and can't wait to watch her grow up. I know she's going to add so much to our home life and we we love her so much. She's a doll baby and so affectionate and cuddly.
As you can see, she's living the good life already.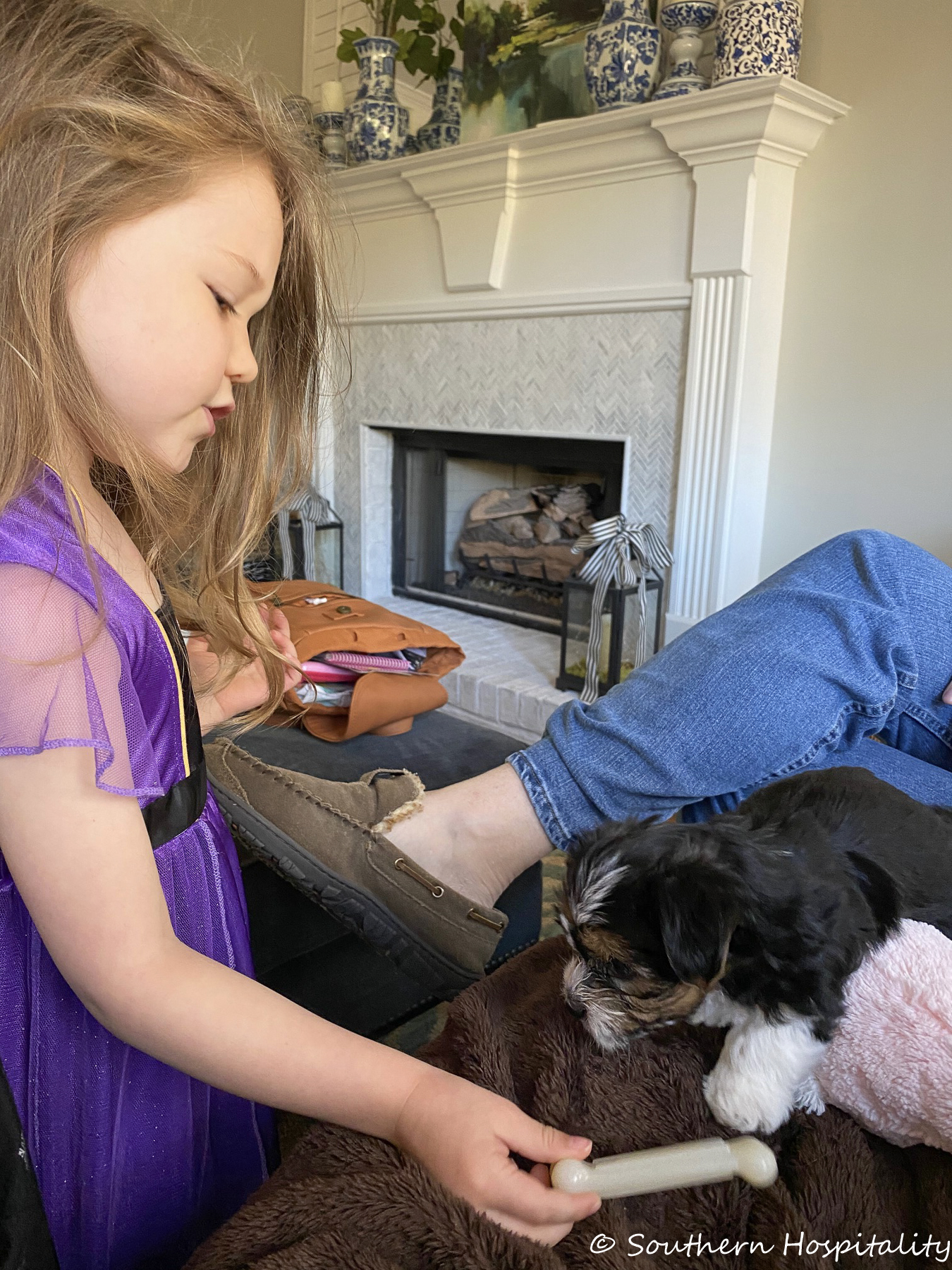 We keep our granddaughter, Rose on Thursdays, so she met Daisy last week and Daisy just loved Rose.
More naps!
We got outside and Mark rode Rose in the wagon and they got out and played and ran and had so much run. Daisy chases after Rose and follows her around.
They will have a lot of fun together I'm sure.
Daisy has already wormed her way into our hearts and we love this little nugget already. It doesn't take long, does it? It's been 15 years since I had a dog of my own, Tara, I wrote about her years ago, but I didn't raise her from a baby. She was already a year old when I got her.
Rose and Miss Daisy will be big buddies I'm sure.
Mark and I are both big dog lovers, so it's a lot of fun to get a puppy of our own to raise together.
A few more Daisy pics for you. She has definitely changed our house in the few days she's been with us. It's like taking care of a baby!
Already getting into mischief.
We took her to Mark's moms to visit and she was smitten with her too. Daisy took a nap in Nanny's lap.
Outside enjoying the sunshine. She's such a cutie pie, we love her coloring and hope it stays similar as she grows up.
Those paws and that face melt me. She is the sweetest thing and has quickly bonded with me and Mark. She gets up on our chest and nuzzles our necks and ears and lightly bites our face. It's so sweet!
And she has the cutest bark too.
Miss Daisy will be so fun to have around. We have to get through this baby stage and I hope it is sooner rather than later. But she is so sweet and cuddly, I'll take a little less sleep. She melts our hearts! I couldn't wait to introduce her to you all. It wasn't something I thought would happen quite this soon, but I'm glad things worked out and we got her. I think she will be the perfect sweet doggie for us to love on. I'll definitely do updates about Daisy so you can watch her grow too. She should not get over about 6 or 7 lbs. I think.
Don't Miss a Post, join my list!