Everyone needs a bedroom that envelopes and calms.  A place of peace and rest.
I'm so, so happy with how my bedroom is turning out.  Before I get to the After shots, I have to show you all the Befores.  It's just amazing now to go back and see these really awful Before shots.  Hard to believe this is the same space.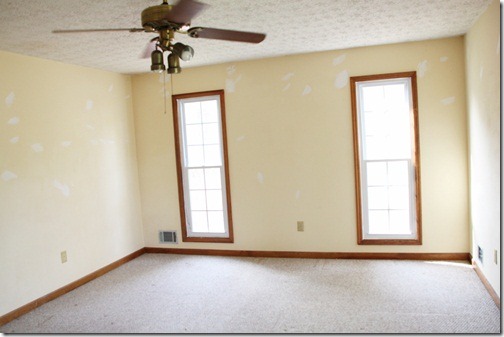 I had plans all along to stencil those Ikea Ritva drapes and could see it in my head and I'm happy to say, they turned out exactly like I envisioned.  What a difference hanging drapes can make. I've always been a fan of panels in a room, there's just no comparison to how they cozy up a set of windows.
I love how they frame the armoire and the whole room just comes alive.  One of the biggest things I've learned over the years is to hang drapes high and wide.  When I do my tutorial on how I stenciled these drapes, I'll point it out even more.  Makes a HUGE difference in the windows!
Just take a look at the Before and After pics above and you'll see what I mean!
And, a little on the thought process as I was figuring out what I wanted to do in here.  I wasn't ready to ditch all  my old linens just yet, they were still pretty and I still like them.  But, I didn't want this room to look or feel like the old bedroom in Birmingham, for obvious reasons.  Time to move on and even though this furniture has been with me for a long time, I knew that getting a new look was going to be important for me even though I was keeping some of the same linens, like the matelassé coverlet and the blue and white paisley pillows.  So, out went the gold in the old room and in came green, my favorite color.   Green was the perfect color to bring in the room for a nice mix that was ME.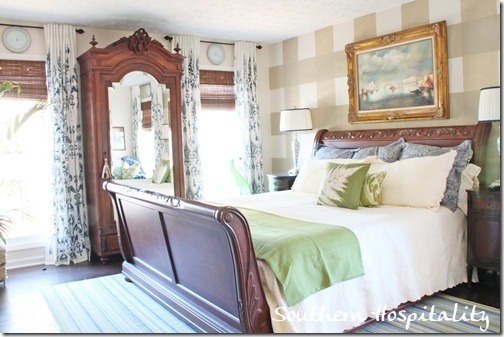 I love my room!  It's so cozy and spacious all at the same time.  I can open those bamboo blinds which by the way, came from Payless Décor.  I'm a brand ambassador for them and can't say enough about how much I love the shades I got from them. I'm about to put them on the rest of my windows too.  These shades with privacy liners are easy to operate and I can open them fully for the sun to pour in.
These shades are Tibet in the Premium line at Payless.
I still love my gingham checked accent wall in khaki. It's such a pretty backdrop to my fabrics and colors and I'm so glad I took the time to do it. Here's the tutorial on how I did that one with paint and tape.
I brought in an original oil painting that I had of a water scene from Venice (found the painting at a yardsale in Birmingham for $25 and already had the frame I just reused) and it's so restful and pretty above the bed in the gold frame. I have a mix in this room and I'm using what I have. Not to say I won't change it up one day, but for now, I am loving the feel.  Those blue paisley pillow shams, my mom made for me when I lived in Birmingham, and the green and white Ikat pillow is from Ballard Designs.  I'm not going to keep the green fern pillow here and have plans to add a stripe to the mix eventually (show you that in a minute).
My antique French armoire fits perfectly in the middle of these windows and the mirror expands the room.  That big huge green wine bottle came from Italy and I got it from a blog friend. I love watching the sun shine through it.
I have plans to paint this TV cabinet in a pretty shade of green, Annie Sloan Antibes.  Just haven't gotten around to it yet, but it was scuffed up during moving and I think a fresh green will look great.  I added my 3 blue botanicals around the TV to add some interest to this wall.  The palm tree in the corner came from my friend, Judy.
Another long shot of the room.  Did I say how much I love it?  I really, really do.  There's plenty of room in here, this room is 13 x 17 and plenty big enough for my furniture.  I'm so grateful to have a nice sized room.  Another big shout-out to Wayfair for providing this beautiful striped Dash and Albert rug (Fisher) (affiliate link).  The rug totally set the tone for my room makeover and all the colors I wanted to bring in. The green blanket at the bottom of the bed is from Ikea.
Plenty of room for my white slipcovered chair and ottoman too.
It tucks nicely in this little corner by the window and that's what I had planned all along too.  So fun to finally have my vision come to life and now I'm actually living here.  That little side table was a $5 yardsale find and has been painted a few times.  Another Ikat pillow from Ballard Designs and a reader and Etsy shop owner, Judy, from 20 North Oro made that Haven pillow for me.  I adore it!  The lamp came from Habitat Restore for $2 and the lampshade from Ballard Designs back room. Original water color painting came from a yardsale.  I hang on to my yardsale finds, as you might have noticed!
I'm totally in love with these drapes and they make this spot and even cozier place to sit.
Love having plants by the window.
I bought 3 of these pretty plates here in Atlanta at Hill Street Warehouse many years ago and always loved the subtle shades of colors in them and now they work perfectly with my bedroom color scheme and I am thrilled that I had 3 to go above all the windows.  They are a nice accent.
Here's a good close up shot of the stenciled drapes.  I'll tell you all about how I did them in a separate post, but it took me 6 days to do them.  I stenciled one a day until I got them finished.
They are far from perfect, but I love them and I'll tell you all about it later and they were so ridiculously cost effective.
Caught in the mirror.
Another BEFORE!  I have to show you these because the AFTERS are pretty amazing, compared side by side.
Looking towards the vanity area.  I'm so glad I ripped out that old tile and put all new flooring in here.  One of the smartest things I did.  Had to argue with my Daddy over that one, but glad I won! Taking out that old sink was the best decision and my antique vanity fits like a glove in this space.  My chest of drawers fits nicely on that right wall coming in the door.
I added a few things to the top for now.  Love my sign I bought at the Country Living Fair and plan to mount it on something eventually.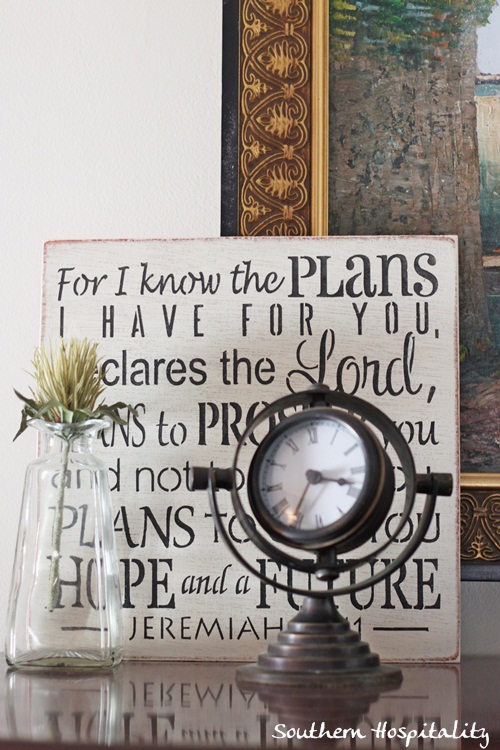 This verse means a lot to me, as you can imagine.  One of my faves.  He's surely been faithful to me.
Ta-da!  I finally got my old school louvered doors painted and hung back up.  That was a pain in the butt to do, but they look really cute and I'm glad I salvaged them.   This entire area got the beadboard wallpaper and 1×4 board treatment and it totally makes such a difference in the feel of this little 4 x 8 space.
I bought this pretty striped fabric to cover my vanity seat and to add a couple square pillows to the bed.
Tray of colognes on my vanity.
Inside my closet is quite roomy and I'm happy with a least a small walk-in.  It holds all my stuff just fine.
With a long shelf above for all my purses, and 2 sets of hanging rods on either side, it's plenty big for me.
Directly across from the closet is my small master bath.  Cozy and cute.
Here's the Before on the Master Bath
Yes, this really IS the same bathroom, believe it or not!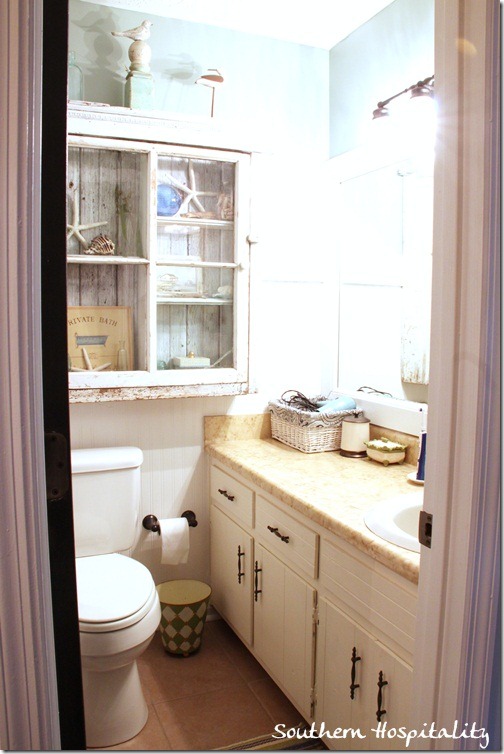 What a difference!  It's not big, but it's all I need and I love waking up to it every morning.
And that's the grand tour of the master bedroom.  Looking down the hall towards the living room, you can see that little Cody dog.  He loves me and follows me around too and he's adorable. It's fun to have him around and I'm happy to have Rhonda and Cody here to keep me company.
It's been quite the journey to get in this place and I'm just so content and happy.  Thanks to all of you for following along and watching the process.  I am so excited to share it with all of you now!
I'll be back soon to show you all the how-to's on those stenciled drapes!
The winner of the $75 giftcard from Lowes has been posted here!
Linking to Sarah's Before and After party.
Don't Miss a Post, join my list!