It is finally done!  The bedroom is now as pretty as the new bathroom, so it's really nice to have this project accomplished and done.  My parents are really happy with the outcome (especially mom).  She feels like she has a brand new suite going on and it really does look so much better.  It was time for an update.  Keep in mind, this makeover is for a couple in their 80's, so it works perfectly for them.  The bedding is new, as well as the drapes and rug.  It's not exactly a WOW room that I would do for myself, but for my parents, it's a nice space and they are enjoying the new look.
My dad was a real trooper and totally helped all along the way, doing a great job in the bathroom.  He painted this room and hung in there until it was finished.  We ended up priming over the old border.  It was stuck up there SO well, that it barely budged, so no one wanted to tackle that.  We primed over it with Kilz and then painted over it with the wall paint, Sherwin Williams Antique White.
With the border, dark drapes and bedding, along with the dark furniture, their bedroom had an overall dark feeling, even with the light color on the walls.  The old drapes blocked a lot of light coming in too.
That spaceball light fixture is GONE!  Some young thing will probably be all over that when it gets donated to the thriftstore. 🙂  We added a beautiful new rug and artwork.  The darker Southwest vibe rug has seen better days as well.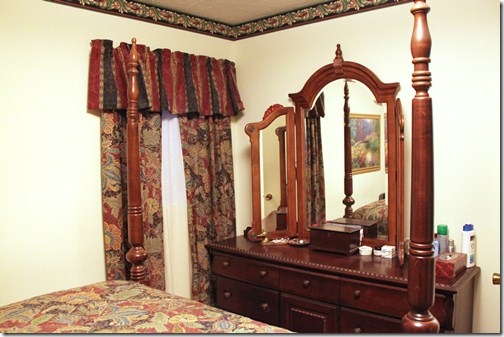 Mom and Lauren sewed new drapery panels and I raised them higher, as well as brought them further out past the windows to let in more light.
Are you ready to see?
Ta-da!!  Isn't it pretty.  The rug I received in my Shaw blogger event last summer looks really nice in here and it is so soft underfoot.  This one is large at 8×10, so it goes all the way under the bed and they can walk on more of it.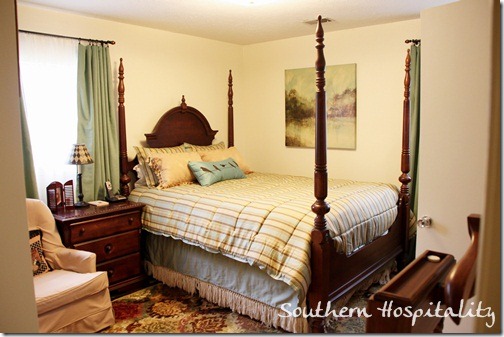 The colors are soft and easy to live with.  We do have a few more things to do in here, so keep that in mind.  I'm going to be on the lookout for a new chair for this space too.  She recovered her old chair, which believe it or not is even more pinky than the slipcover.  It's not perfect, but for now it has to stay.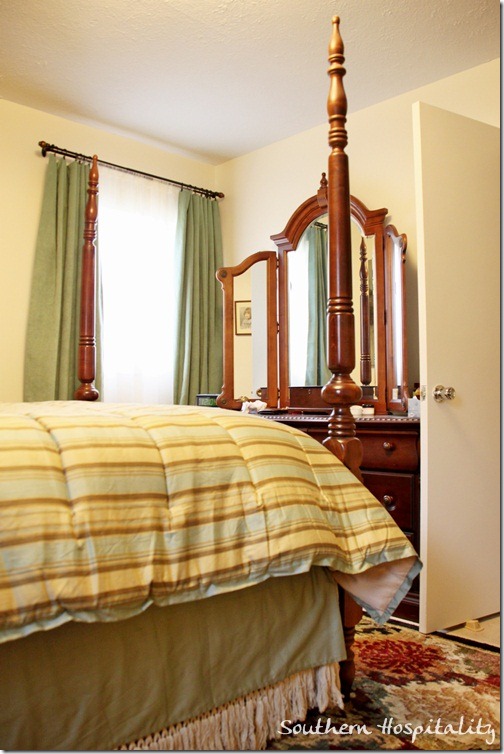 The new Tommy Bahama bedding from Bedding Style is so soft and pretty in gold and aqua stripes.
A good shot of the rug.  The slipcover is a pinky beige and I do hope we can find a good deal on another one soon.  It has to be small scale to fit in here. That rug has pink it in also, but I don't want to highlight that color.  We'll also get a nice big lamp in here as well.  She's using one of mine at the moment, but a new lamp will make a huge difference.  Her birthday and Mother's Day will be coming up soon, so that will give us something to shop for.  Moms are hard to buy for, aren't they?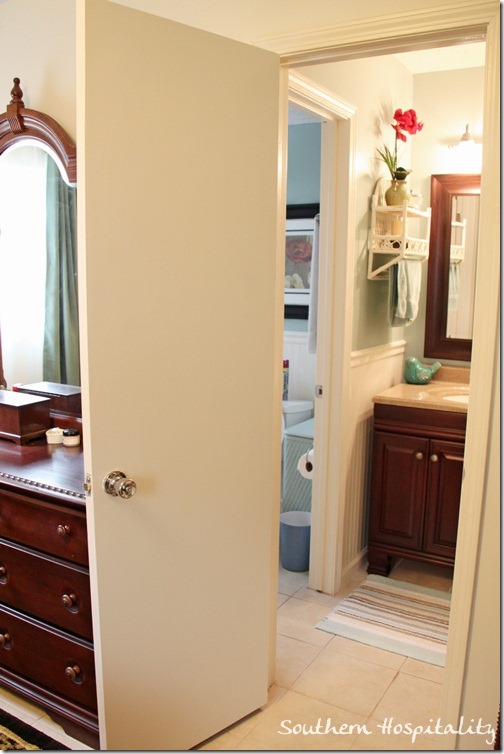 Looking into the new bathroom, if you missed it that space turned out gorgeous.  It really does feel so fresh and airy in the master suite now. It's not a big space at all, but freshening it up makes a huge difference.
Bedding and pillows.  Those gold pillows are mine, as well as the bird aqua pillow.
I had the bird pillow on my living room sofa.  I'll probably let her keep the gold pillows, they really work well with her bedding.
You can see the new painting on the right wall and it works great in here, as I knew it would.
We couldn't find the exact right shade of ready-made panels in blue/green, so we went to Fabric and Fringe here in Marietta and bought this fabric for $5.95 a yard.  Lauren sewed them up for her and lined them and they ended up being less expensive than buying ready-mades.  We found the double rods at Anna's Linens, since she wanted to add sheers behind.  This was the perfect solution.
Drapery panels
My niece, Lauren, gets top billing in this room.  Her baby pics are still hanging on the wall.  She was a cute little thing and we all doted on her.  Still do, as a matter of fact!
These little dresses were Lauren's too and mom features them in a shadow box.
So, that's the new bedroom space for my parents.  I think it turned out fantastic and mom is thrilled with it.  I'm so glad I was able to do this for them and to have several items given to us was a huge perk.
This is a real-life room and a real-life smaller space, so hopefully it will give you ideas on how to update a small space on a budget.
Linking up to Sarah's Before and After March party!
Don't Miss a Post, join my list!