If you haven't figured it out yet, we are a close family and we help each other.  Me, my sister, brother-in-law, and mom, are back from a fun few days visiting my niece, Lauren and her hubby, Philip, in New Orleans.   Dad stayed home and kept my sister's dogs, but he will be going down once the baby is born.
This young, two career couple with a baby on the way just bought their first home together and that's been exciting to watch.  They've been working hard on getting moved in and stayed there for the first time, the day we arrived.  They had painters come in to do some painting in the tall greatroom and we loved getting to see their house in person.  It's still a mess from moving in, but we made the best of our time there and got some things done inside and out.  Painting some furniture pieces were on our list of projects and I'm happy to say we got them all done, as well as painting stripes in the new nursery.  We didn't have time to get the nursery finished, but I'm sure Lauren will be working on that in the next few months, before the baby arrives in February.  Needless to say, we are so excited for them with the new house and new baby on the way.  What a memorable sweet time for a young couple to experience.
So, here's a home tour for you all so you can see their house too.  Keep in mind, they've just moved in and it is a mess, but it will all come together eventually.  That's the fun of getting a new house, making it personal and all their own and I have no doubt that they will do that eventually.  Making a house a home takes time and they've got all the time in the world, since this home is one they can grow into for the future.  Their kids can be raised here with plenty of room to expand.
We're so happy for them in their first house together.  I'd call this Mediterranean style, with an Italian feel and it's about 6 or 7 years old.  A beautiful Bougainvillea vine is growing across the front of the house.  It was plenty hot while we were down there, but not as hot as I've experienced New Orleans in the past.
They've got plenty of tropical foliage to take care of as new home owners.  Having a home comes with the yard work too.  I love the pretty double front doors.
This home has a very open floor plan with 4 bedrooms and 3 and 1/2 baths.  The flooring downstairs is all travertine tile with carpet in the upstairs.  So, it's messy right now, but I wanted to show you the pretty floorplan.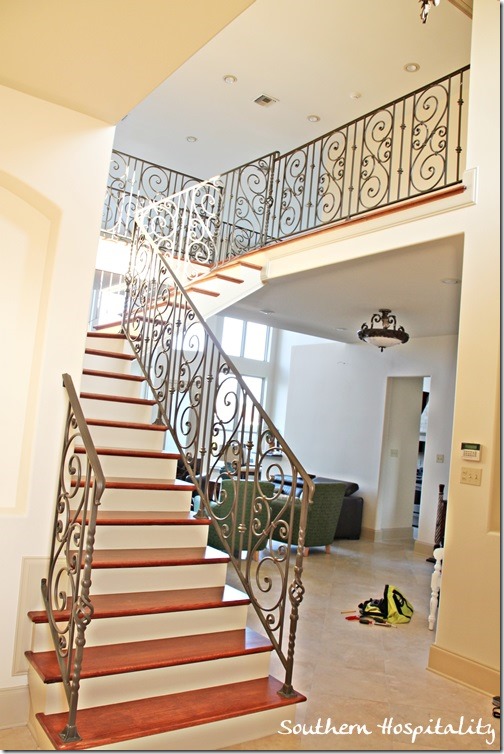 Coming in the front door this pretty curving staircase with iron railing goes to the 3 bedrooms upstairs. Master is on the main.
Just off the front door and foyer is an office nook and a powder room.   Take a look at those double bookcases in there.  That was one of our paint projects that I'll show you soon.  Lauren takes after my sister and shops on Craigslist for bargains and they scored some great things for the new house.
One of the great finds was that huge round dining table and chairs.  Craigslist score, along with the china cabinet, which was another of our paint projects.
Check out the beautiful view with the wall of windows on the backyard side of the house.  It let's in a ton of light, but also sun in the afternoon, so they will have to put up some shades to help with that.  It is pretty though, all these windows!
Looking over from upstairs to the living room below.  They are going to use the furniture they have for now, but will probably eventually get something different for the living room that holds more people, like a sectional maybe.
Looking from the living room back towards front door.
Just inside the foyer are 2 of these niches with lights.  A wedding portrait will go here.
Looking up to the chandelier in the foyer.
Another view from upstairs of the dining area.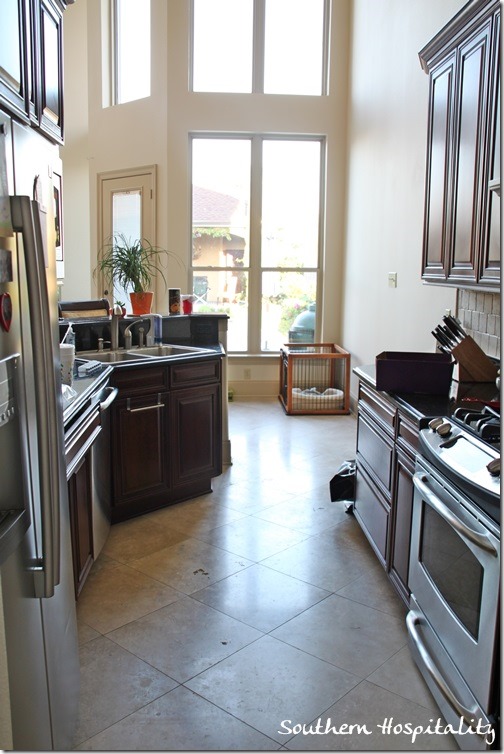 The kitchen is compact and not overly big, so they may enlarge this space down the road. There is plenty of room to expand out towards the windows in this pic.
There's not a ton of cabinets or counterspace, so it would be nice to expand that eventually.
The previous homeowners never added knobs and pulls to the kitchen cabinets, which made them very hard to open. That's one of the projects my brother-in-law helped them with this weekend, installing some pulls and knobs. That is already looking better, but I took these pics before they got installed.  She got pretty brushed nickel for the hardware.
Stove side.
Laundry room going to the garage with sliding door.
Their dog Stickers, has her own little house, which she absolutely loves.
The master bedroom is just off the living room with huge double doors going to the outdoor pool area.  They are getting a pretty new upholstered bed soon.
This is a terrible pic but you can see the trey ceiling here.
Hallway with 2 closets going to the master bath.
The master bath is spacious with a nicely tiled shower and a separate tub.
Upstairs there are 3 bedrooms with 2 baths.  This is one of the guest baths.
One bedroom will be Lauren's craft room,which she is really excited about. She's finally got room to spread out and play.
Upstairs looking over the iron railing to the backyard and great room.
Outside, they have a pretty pool right out the door along with a beautiful cabana.   I passed on my tall umbrella and stand that I used to have on my deck, since I don't need it anymore, it will come in handy for them.  It's great to have a pool in New Orleans with the heat they have.
This will be a fun backyard for entertaining and parties.
A hot tub sits next to the pool with a little waterfall going into the pool.
So pretty, I'm happy for them that they got a pool.
The South is a great place to own a pool with the heat and humidity.
Bruce and Philip outside discussing plans.
This wasn't just a fun weekend, but we actually all pitched in and helped them get some things done.  Bruce took his tools and he and mom worked in the yard some too.  Bruce loves cutting things back.
My mom loves working in the yard.  That's one of her things that she enjoys, making a yard look pretty, so she got some weeding done.
And she cooked up some good food for us too during the weekend.  Lauren loves her Nana's cooking so much and it was fun for her to get some of her favorite things.  It was her birthday on the 31st too, so we celebrated her 31st birthday with her.  Mom made grits and tomato gravy for breakfast one morning and we all love that dish.  I've blogged about it before if you want to know how she makes it. It's really not hard at all.
It was a fun and productive long weekend and we did a LOT of furniture painting projects, which I'll be sharing too.  It was fun to help Lauren get these things done, since she is busy with work and waiting on the baby to get here in February. She's due right around Valentines Day.  How exciting that will be!  I'll keep you posted on more of her plans!
Don't Miss a Post, join my list!