Kitchens are a huge source of conversation and inspiration these days. I've seen so many gorgeous kitchen renovations since I've been blogging and they definitely get attention. From large major kitchen renovations, so smaller updates, fixing up a kitchen is one of the best bangs for the buck you can get for your home.
When we moved into a new to us home, it was not exactly the way we wanted it. We want to add our own stamp to the home, making it our own and creating a space that makes us happy and content. Our kitchen was not a main selling point when we moved in here. We liked the space just fine. Even though it's smaller than my last kitchen, I've grown to appreciate the small footprint and adjusted to cooking in here as well as having less storage and cabinet space.
We could have extended the kitchen toward that little sitting area and torn out the bar, making a new island, but we didn't want to go that extensive on this project. Sometimes a cosmetic change is just fine to get the look and functionality you want for a kitchen. That's the case with ours. We're not going to spend a fortune on this kitchen. We have several other spaces we want to improve too, so the budget will be spread around.
Sometimes in blogland, we see so many major expensive kitchen renovations done and I love to see them, they are beautiful, but many of them are way out of the budget for most of us. We don't have a fancy kitchen, or a fancy vent hood. I can't put the microwave anywhere else, so it's staying where it is. I hope you all will enjoy seeing this renovation done without gutting or changing the footprint of our kitchen. It's a modest kitchen renovation.
Here's what it looked like when we bought the house. Darker cherry cabinets, black with copper flecks granite countertops and a tumbled marble backsplash. None of these were my favorite, so we knew we would change out the elements in here eventually. The first thing Mark did was add molding around the bar peninsula. What a difference that made!
This is one of my favorite projects that Mark has done in our new house. It gave that area so much more importance and beauty. What a difference not only paint makes, but moldings too.
The bar and bottom cabinet color is Benjamin Moore Knoxville Gray, the upper cabinets are White Dove. 
Another angle of the kitchen. It's small for sure, but I have adjusted to it and it has easy access to everything since it's all close together.
A few more before and after shots before we moved in.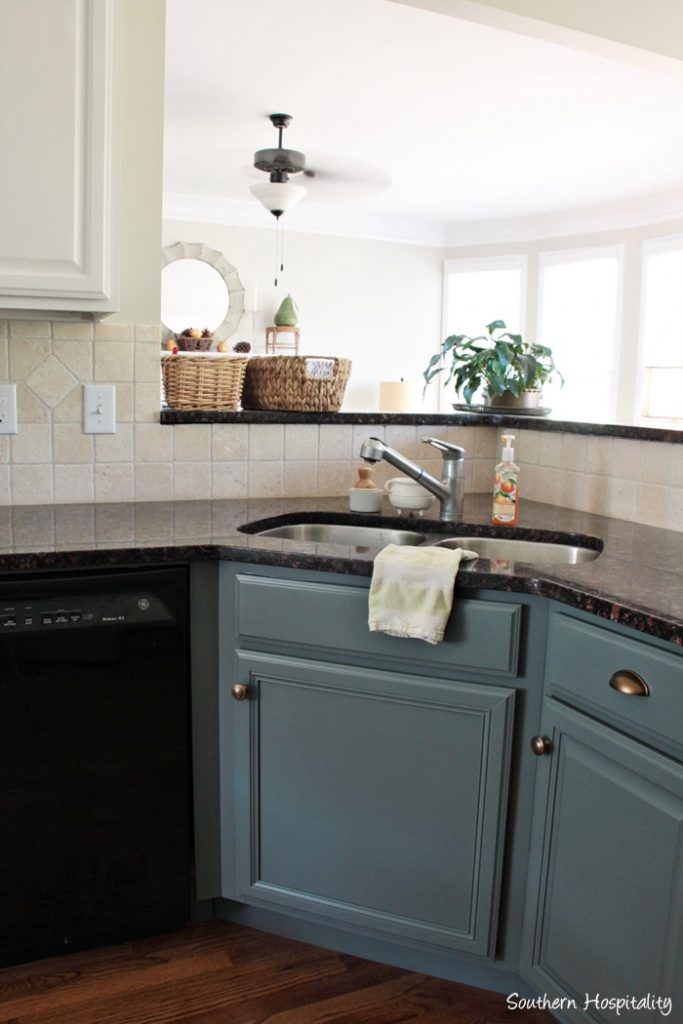 Wow, has this view changed a lot too!
Pantry area.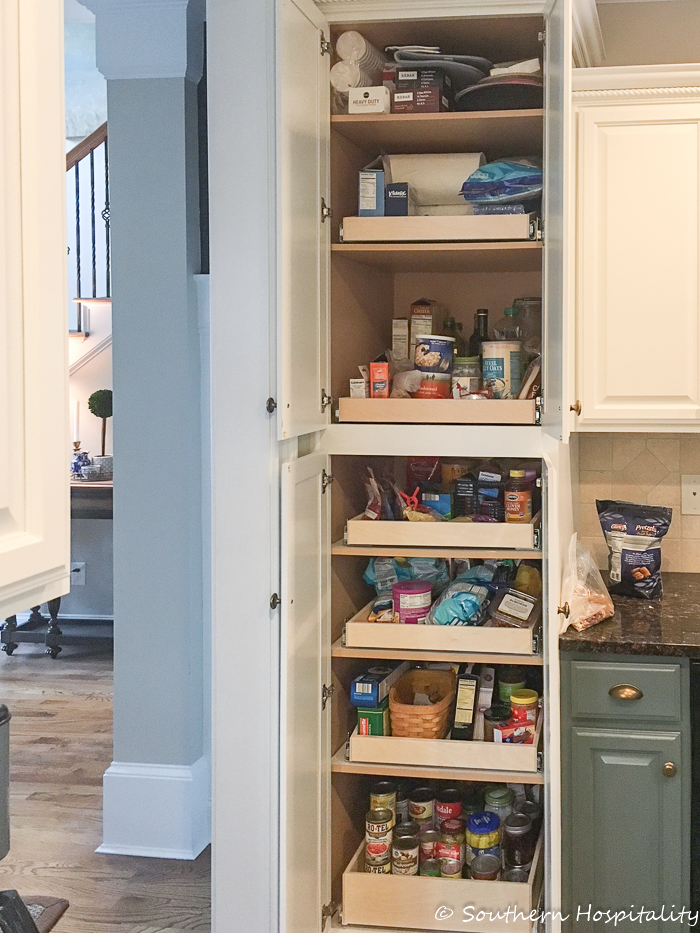 I couldn't find a good pic of this area after painting, but here's one from my pantry sliding drawer installation. That pantry is so much better now with pullout shelves.
Here's one more after of that space from a different angle.
Notice the refrigerator. We have since gotten a new one just before Christmas, a counter depth fridge that I'll show you later. We also plan to replace this stove with a slide-in that will not have the back on it like this one does. The slide-in ranges are so much better looking, so we will get that later this year too.
That means we will be tiling behind the stove to make sure the subway tile is behind the new stove when we get it.
We loved the cabinets after painting them, but always knew we'd replace the countertops and backsplash eventually.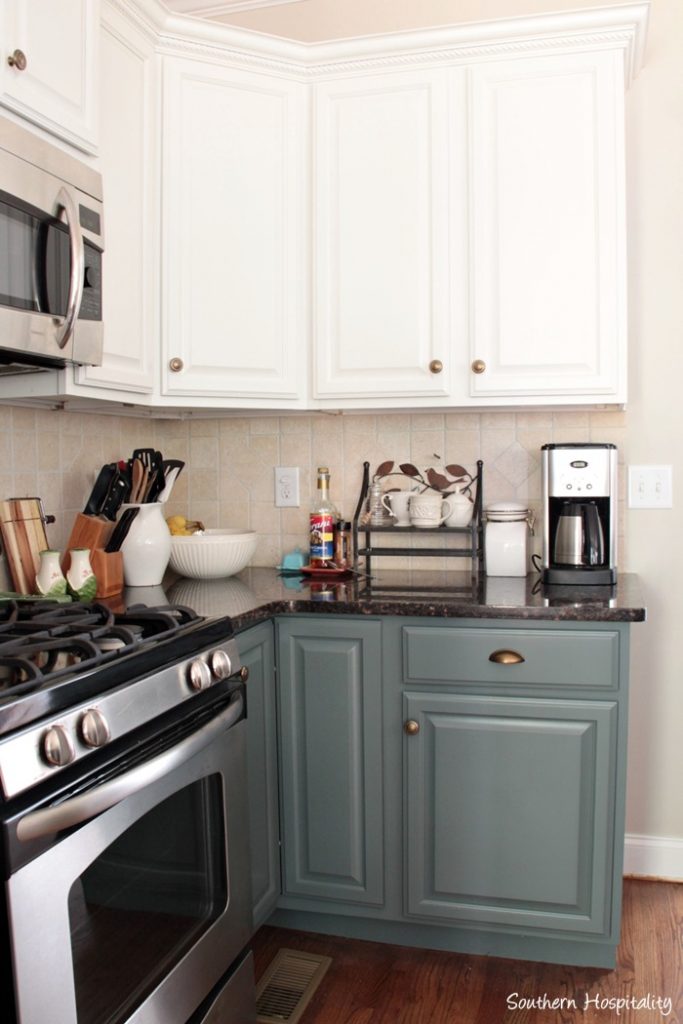 Here's a quick shot of the new fridge, a Whirlpool counter depth fridge. We bought it at Home Depot during Black Friday sales month of November. That's when we heard the sales were the best and we did get a great deal on this one. We're very happy with it and the old one went into the garage for extra storage. We love having 2 fridges and now don't have to access the ice in the bottom drawer or open the door when we want water. I'm not a fan of French door but I know many people love them. I'll share this model number link when I do a whole post on the final kitchen renovation.
I like the side by side so much better for day to day. The freezer in the French door drove me crazy, as everything was jumbled in the bottom and I had to fight with it constantly to get the drawer shut if everything wasn't completely flat in that big bottom bin. So good riddance to the garage, love it out there for extras!
So that's where we are now and let's talk about next steps!
I am fortunate to be working with Hanstone quartz on this kitchen project. They have worked with several of my blog friends and I reached out to them and they agreed to work with me, so I'm very happy about that. They have beautiful quartz choices among all the quartz companies out there now and it was easy to fall in love with these new Boutique styles they have to offer in whites and soft grays that mimic real marble.
A note about this partnership with Hanstone. They are providing the slabs to me for no charge and I will be paying for the fabrication and installation which is not inexpensive. I'll let you know in a final update post what this quartz would cost total for my kitchen so you can have an idea of what quartz countertops cost. The cost of quartz can be more than granite for sure. There are more inexpensive granites and really pricey granites, so that is why you have to do research and figure out your price point on a project like this. In general, quartz is more expensive than granite, I think. But price per s.f. varies from place to place, so you definitely have to research and look.
You can see they all have a slightly different tone so I wanted to be sure the one I chose looks great with our cabinet paint.Everyone has preferences on countertops and this is my first time getting quartz, but I've heard so many great things about it that I'm so excited to get it in our house. I am not one that would ever choose real marble, because of all the upkeep it needs and it etches and stains so easily that I wouldn't be able to deal with that. So, quartz is the best of both, beautiful looking and durable and stain resistant.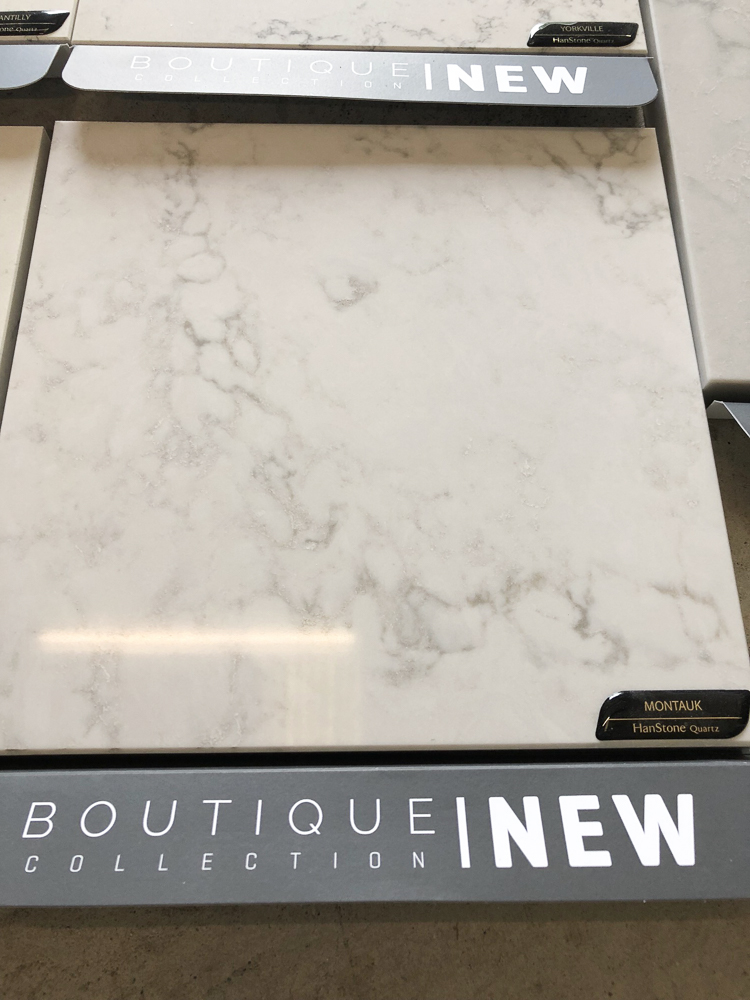 I got samples from Hanstone and brought them home to my house to see how they looked next to our cabinet color, White Dove. The paint has a slight gray undertone and Montauk flowed beautifully with our cabinet color and looks gorgeous. I went to a couple of local granite companies to see more of the slabs in person to get an idea of movement and shadings in each sample.
The new Boutique colors has something for everyone who love marble but don't want real marble.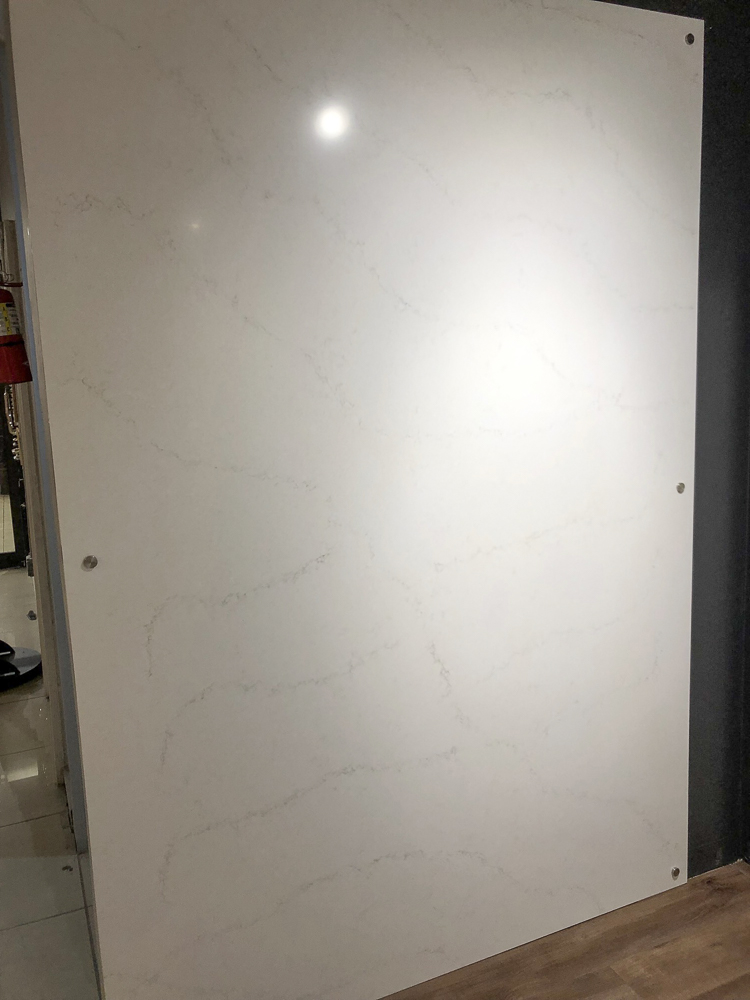 The slabs looked beautiful in person and I am so excited to get this in our kitchen. It's going to lighten and brighten up our space so much.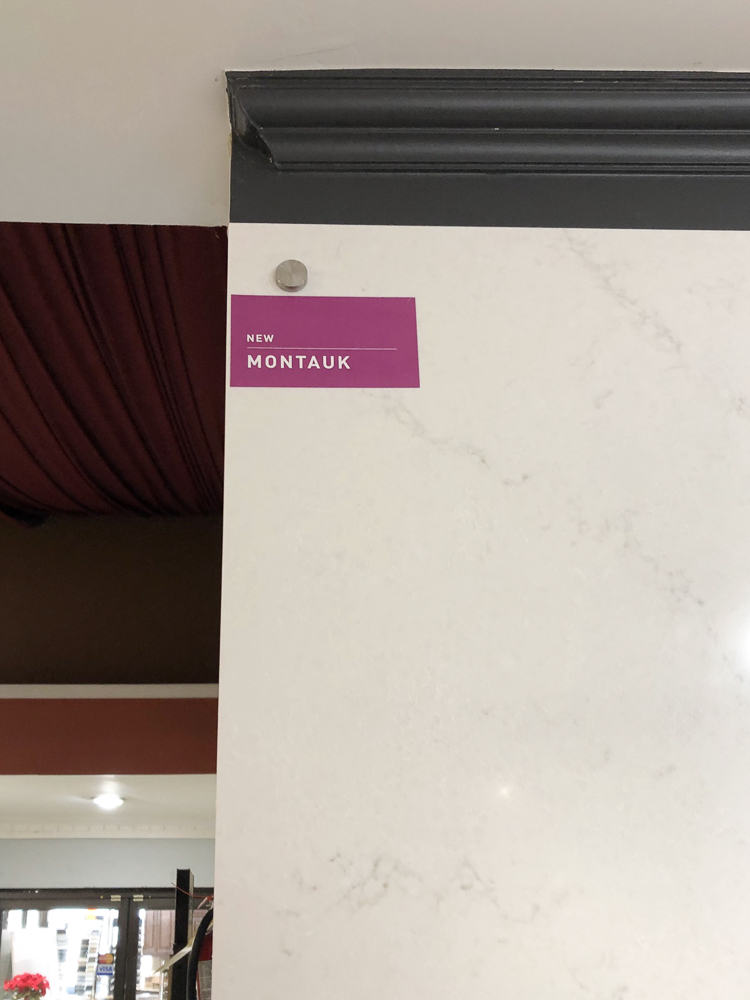 Montauk samples. It's very much like a real marble look.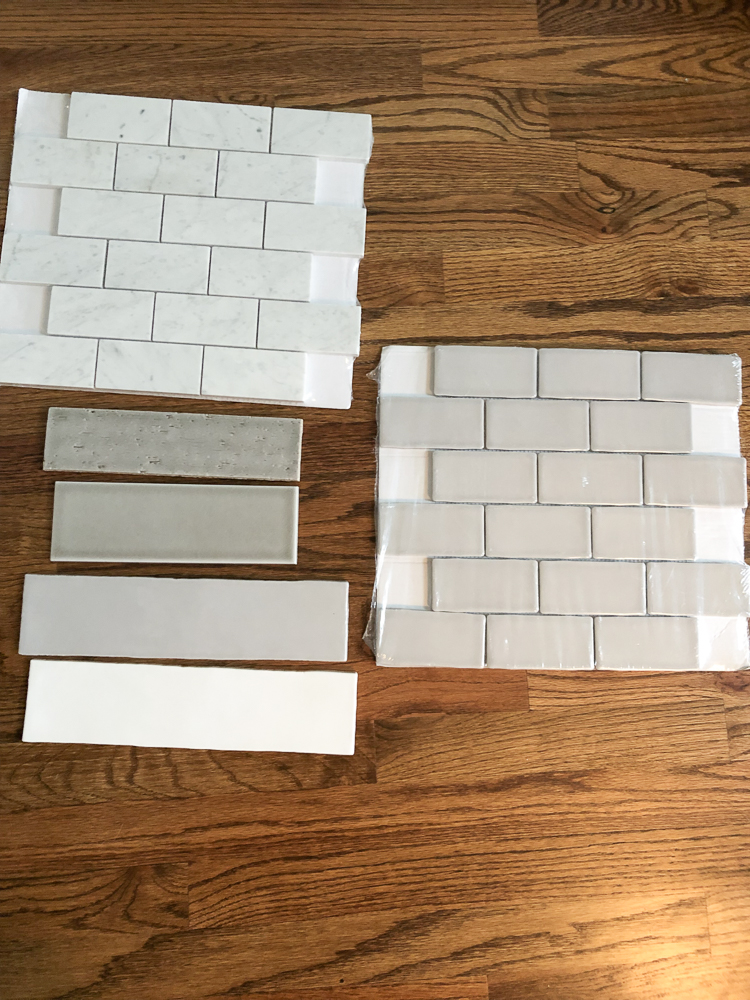 With this kitchen renovation, I am replacing the backsplash too, so that was the hardest part! I went to Home Depot, Lowes, and Floor and Decor for a few samples to bring home. This is very difficult sometimes as so many are pretty, but I wanted to make the right decision for us. We looked at white and gray tones for the backsplash and I like both of them. I love subway tile still and brought home a few of those and also the grid subway tiles on a mesh. It can get really confusing when you bring them home and start laying them out but several were eliminated right away for undertones. This group (above) came from Floor and Decor.
This group was from Lowes. I looked at real marble subway tile on the mesh backing, different shapes of gray and white subway tile. The white subway tiles were too white next to the Montauk quartz.
I looked at a ceramic tile marble look alike, but decided against it.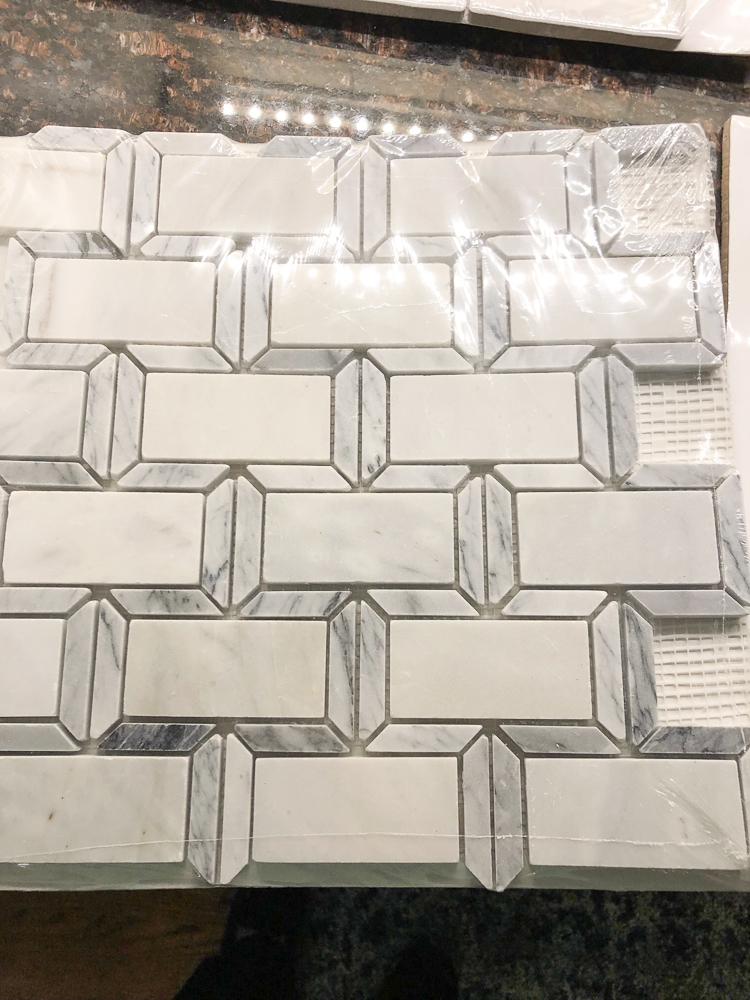 I saw this marble tile from Home Depot when we were picking our marble tile for the fireplace and I had grabbed a sample of it and brought it home. I thought my mind was made up and I was going to use it, but started having second thoughts. Mark wasn't completely sold on it and thought it would be too busy for our kitchen. I love it, but started thinking the same thing. Most kitchens I've seen with two toned cabinets have white backsplashes with the white countertops and that's the look I'm most drawn to.
I brought home several of those samples and laid them out with the quartz sample of Montauk and immediately started figuring out which ones we loved and which ones we didn't. That smaller subway tile on the mesh was a pretty dove gray, but at home in our light next to the wall color it looked pinkish. Definitely a no-go!
The white subway tile below the gray one ended up being the winner, I'll show you more of it. I went round and round and finally decided that a beautiful subway tile would be the best fit for us and our small kitchen. I never tired of it in my old house and it's so classic and clean.
That particular subway tile is from Floor and Decor and it comes in gray and white crackle finish. We liked the gray too and Mark was actually drawn more to the gray, but I think doing the white crackle finish will be gorgeous. It's called Heirloom Linen and is a gorgeous white shade, not stark white but it has a slight gray undertone which goes so well with the quartz counters.
Here are both of the subway tiles in gray and white.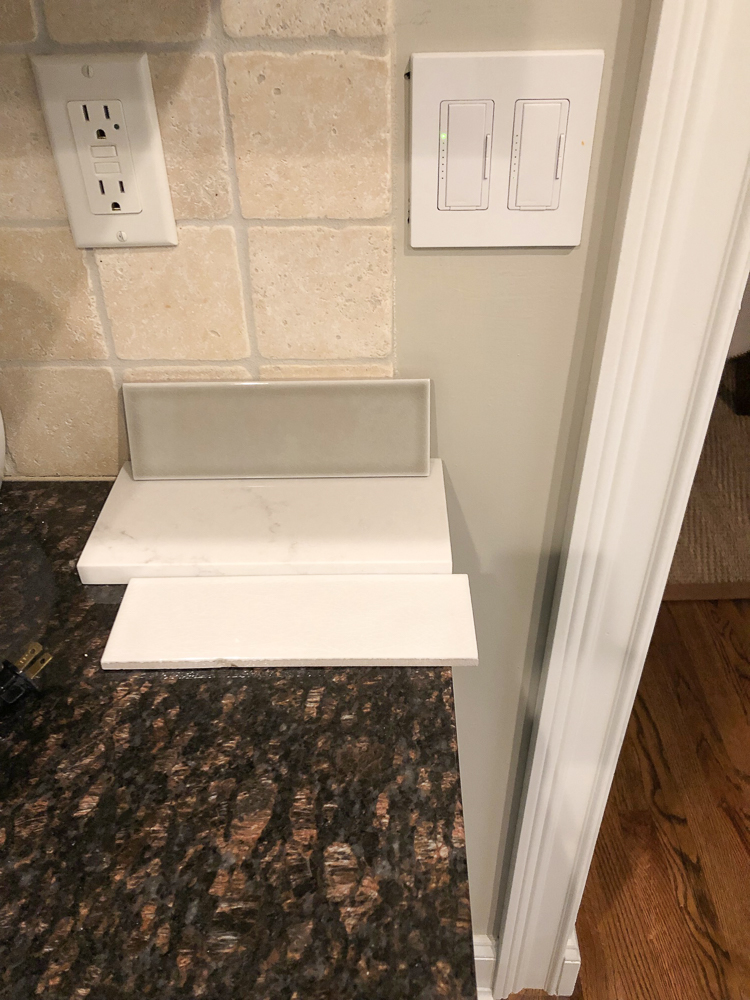 Another view next to the wall color, which is Magnolia Home Gatherings. I'm so excited to see this countertop go in and this whole kitchen will be lighter and brighter. It's going to be an amazing change!
Here's a closeup of the crackle subway tile in Heirloom Linen. It's the top choice and I think it's going to be fabulous in there. Mark and I are going to DIY this project after the countertops are installed. I've got the installation date set for Tuesday, January 22 and I can't wait!
I'm also super excited to get another Blanco sink. I'm partnering with Blanco on this Precis 30″ silgranit sink in Metallic Gray, the same sink I had in my other house, only that one was slightly bigger. I have a corner sink in this house and it needs to be a little smaller, but this will feel so luxurious after the double bowl stainless sink we currently have (and I hate!). I just love this sink and it's the 3rd Blanco sink I've owned. I put one in at my old Birmingham home too and have loved it since. A lot of people don't know about these sinks, but I love how durable they are, they don't show a lot of spots or stain easily. So easy to clean up and stay looking great. I love this Metallic Gray shade too and have had a black one too.
I'm excited to be working with Delta on this project and they are providing this Trinsic Touch20 faucet for our kitchen in Champagne Bronze. I fell in love with this finish and am excited to have this bit of bling added in our space. One of my friends has this faucet and loves it, so I can't wait to try it. It is a touch faucet and the water comes on by touching the faucet anywhere. It can also work the regular way too. It's not too contemporary but adds a nice feel and look and I think it's going to be a perfect addition for our home, an eclectic mix of traditional and modern.
I can't wait to get this kitchen update finished and share it with all of you! It's going to be such a nice change and I know we're going to love it so much. Stay tuned for the finished project hopefully in just a few weeks, depending on how fast we can get that backsplash up!
Don't Miss a Post, join my list!