I've been working on the Ikea Billy bookcases this week and got them all put together, so I wanted to share a bit of that process with you in case you've never put together anything from Ikea before. It's not rocket science and if you follow the pictures in their booklets, you can do it too.  Those diagrams are pretty clear, but sometimes you have to stare at them for a few minutes and make sure you see everything they are trying to tell you. If there is an X in the picture, take note of that, because it means, "don't do this!".  I had a few duh moments, but managed to get them all together.
So, here we go.  Take everything out of the box and get it all set up for assembly.
Make sure you face the 2 tall pieces opposite each other, like the diagram says, then it makes sense in how it all goes together.  You put together the right side and then the left long piece fits over what you've put together, making it all one piece.  You'll see what I mean.
Each piece from Ikea comes with a booklet like this.  There are pictures, but not a lot of words, so it's sort of idiot proof, but believe me, there are still ways to screw it up. But, if you follow the pics and really  pay attention to what they are telling you, it will all come out fine.
Start with the first pic and definitely to in the order they tell you to do each piece. There's a reason for that.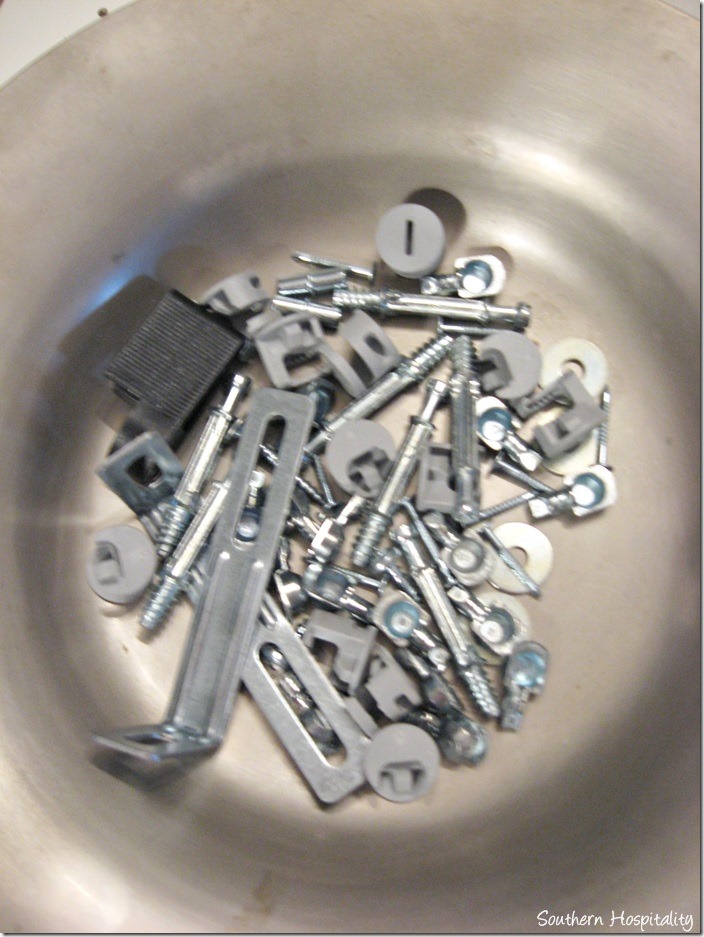 This isn't a great pic, but this is the bag of hardware.  I poured it all into a holder so I could see everything.
These parts are main hardware pieces of all Ikea pieces that are put together.  If you have put together anything from Ikea, these will be very familiar to you.  Wood dowels, screw locks, and long screws that anchor pieces together.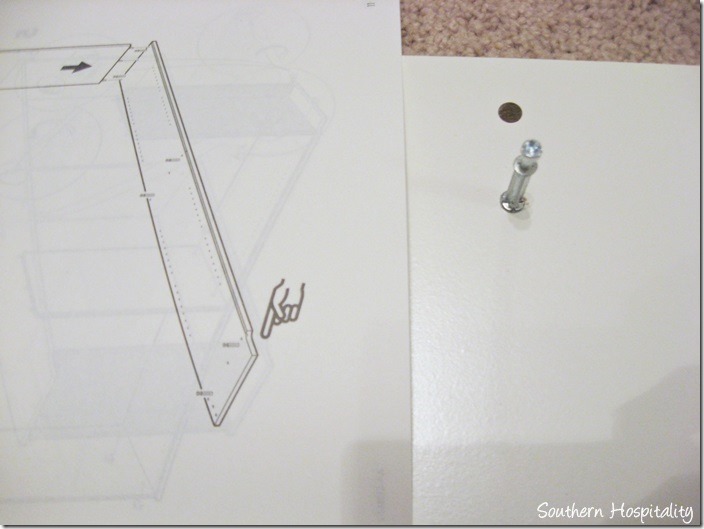 Following their pics, I put in all the long screws and the dowels in the pieces indicated.
Then, you start fitting each piece together, paying attention to where the holes are and making sure they are facing the right direction.
Dowels in place and ready for the bottom piece, which goes on  last.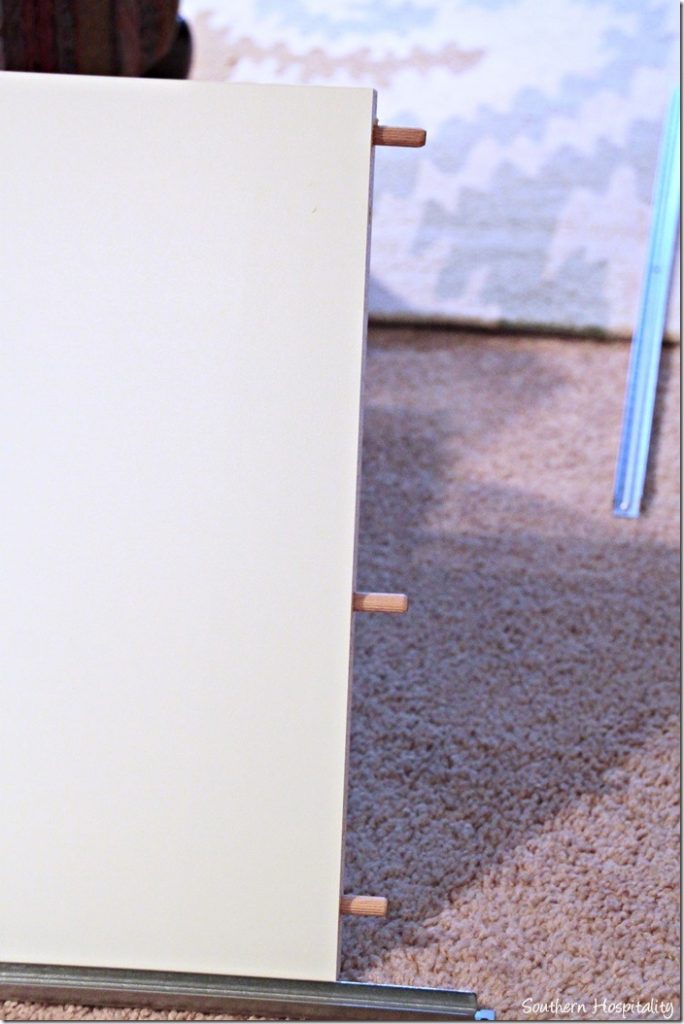 Here's a shot of the dowels in place.
Once all the main pieces are in place, then it's time to fit the other long piece over what I put together and this makes one side of the bookcase.  You can do this by yourself if you pay attention.  Make sure the long screws and dowels all fit into the predrilled holes and press down.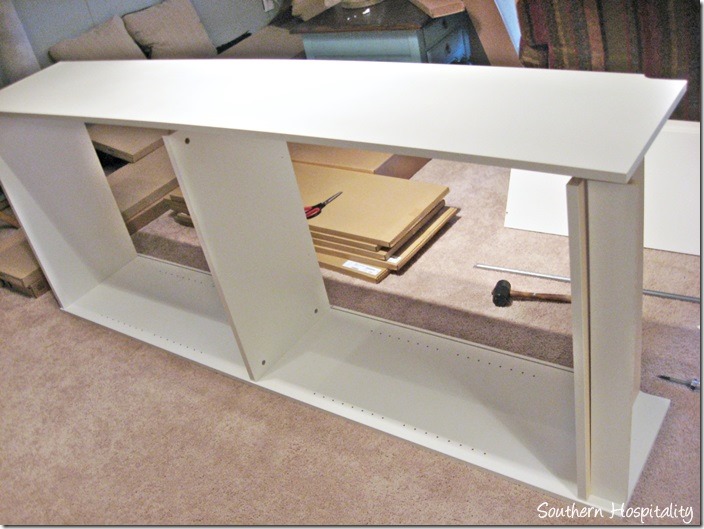 Fit each section into the holes and press down tightly to get them locked together.  Then you add those locking round screws that I showed above and this locks it all in place.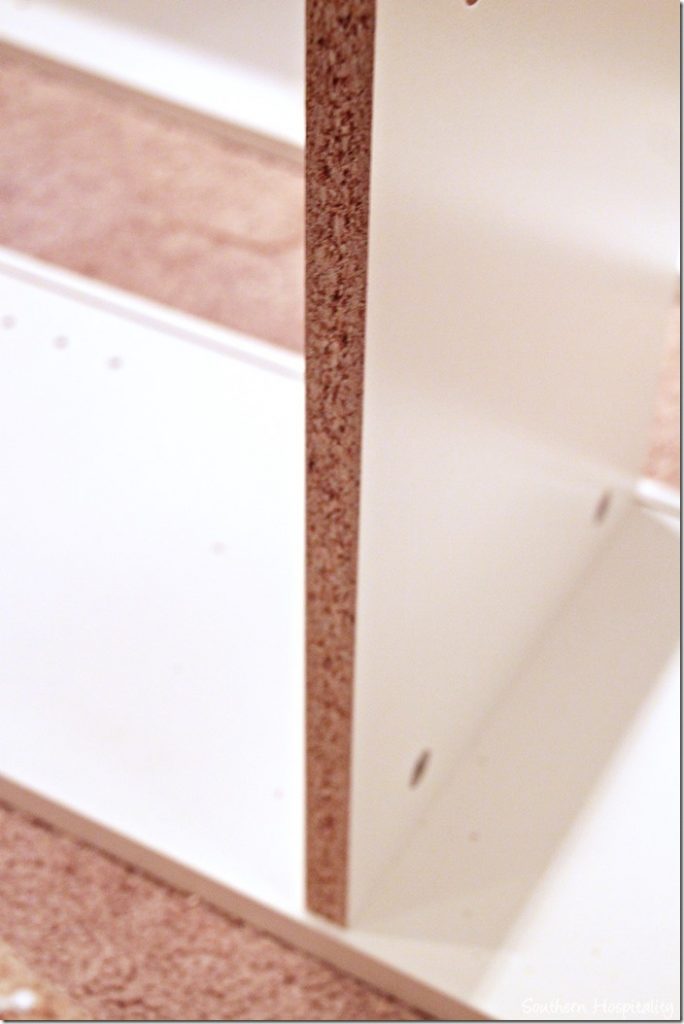 I had two 31" wide bookshelves to put together, plus a 15" wide one and somewhere along the way, I had one DUH moment, when I reversed the middle shelf that goes in at a crucial time.  See that raw edge next to the finished edge?  Yep, you definitely don't want to see that.  Once I figured out how to reverse the round locking screw, I was able to pull this piece off and anchor it in correctly.  See, you gotta pay attention!  I was so mad at myself for doing that, but it's par for the course of putting together Ikea.  It happens!
So, I got all 3 put together and couldn't finish the assembly until I painted the backs of the shelves.
The backing is just a thick cardboard type material and it slides into place. I thought about adding beadboard wallpaper to it, but there's no way it would then slide into the grooves on the back, it would have been too thick, so I just opted for paint.  It won't matter that much anyway once I have the shelves filled, but having a pretty color on the background will make a huge difference to the look.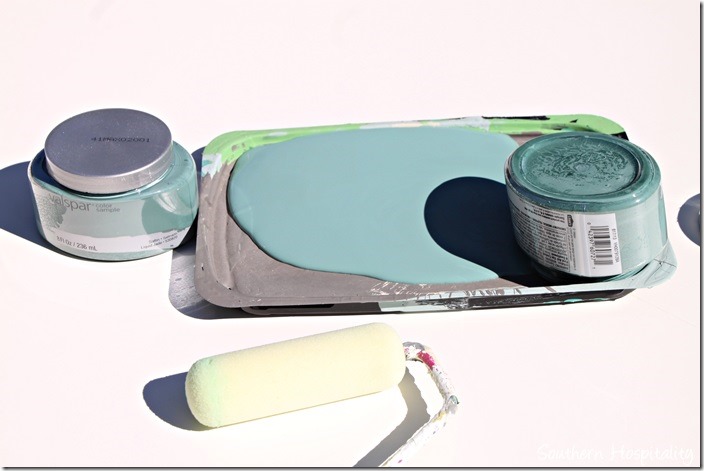 I picked up 2 sample paints of Valspar Liquid Jade, a pretty turquoise color.  Using a foam roller, I gave all 3 backs 2 coats of paint.
You can definitely see that it needs 2 coats.  The one on the left has only one coat. Outside in the sunshine and breeze, it dried really fast and I was able to paint all 3 with 2 coats in a couple of hours.
I took them back inside and leaned them up to dry overnight.
Next, it's time to insert the backing and it just slides into grooves on the back of the bookshelves.
The wider Billy bookshelves have a metal insert too that is screwed into place for extra stability.  There are also nails that are nailed in at the top and bottom to secure the backing.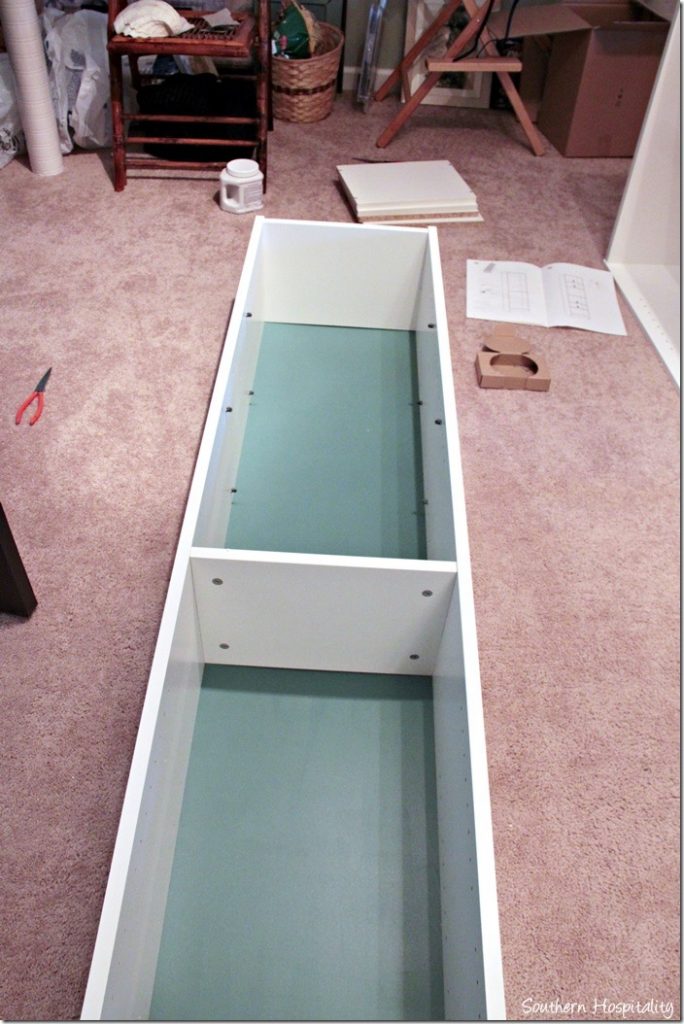 Here's one all put together and just waiting for the shelves.  I'll wait til we are completely finished before add the shelves.
Ready to go.
My lighting is terrible in this room and cast a really yellow shadow here, but you can see the shelf brackets that just slide in the holes on the Billy bookshelves. You can adjust the shelves anywhere you want.
Then the shelves have a groove that just fit down over the brackets.  Ikea really does a great job of predrilled holes and everything does line up well if you follow those directions and pics.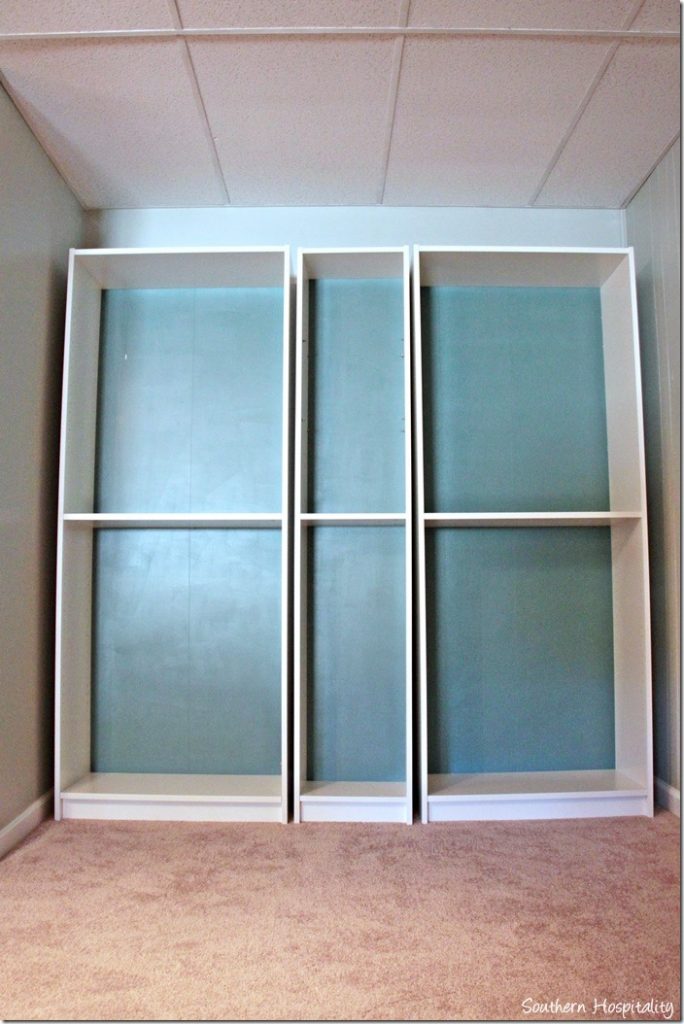 I couldn't help but slide all 3 into place to get an idea of what this project is going to look like.  I am going to love this in the corner of my den. This is a perfect spot for a little library and reading nook. I've got some fun things going here and will be adding a nice upholstered chair or two and of course, I'll show you all of that when it's completed.  It's going to take awhile for all of it, but I'll share as I go.  I can't wait to make this corner really pretty…finally getting rid of the junk that's been piled here since I moved in.
I may try to add some lighting on the shelves too, so will check out what's available at Lowes and see what I can find.  That would really highlight the shelves a lot, so I really want to do that.  We will be working on this hopefully next week, adding molding to the top, sides and bottom to make this all appear built in.  You can't really tell from these pics, the the 2 wider shelves are 15" deep and the smaller one is only 11.5" deep. That's the only way they carry these and I really wanted the deeper ones, so my dad said get the smaller one for the middle and we will pull it out flush with the other 2.  I think once it's all installed, it will hardly be noticeable at all that the middle shelf is not as deep.  I will enjoy having the depth of the 15" shelves a lot!  Oh, and I got doors at Ikea too to go along the bottom, so the bottom will be closed in with doors and the top will be open shelving.
Hoping this nook turns out to look like what I have envisioned! It will be fun to see it come alive, so stay tuned for progress!
To see the whole project, go here! 
Part 1 Building in Billy Bookcases
Part 2 Adding Molding to Billy Bookcases
Don't Miss a Post, join my list!