I'm so excited to share this update with you today.  If you've been reading awhile, you might remember that I shared a beautiful historic Abbeville, SC house back in 2015, when I went to visit and stayed there with some girlfriends. It was such a treat and we loved staying in the house. My friend, Buck, sold the house no too long afterward and told us that a couple in CA was interested in buying the house. Well, they did buy the house and Theodosia (the wife) contacted me after moving in and told me she would like to share the updates to the house when she had things ready. She just sent me new pics as well as their story with the house and I know you're going to love seeing the house. You might want to look at my first post and then come back and read the update from Theo. Thanks Theo for letting me share your beautifully updated home. I think you'll all agree that the back yard is now a showplace!
Theo wrote the following from her story and experience with the house.
***********************************
We purchased Buck's Historic Home in June 2016 and we moved from Roseville, California to Abbeville, South Carolina in May 2017. My husband James and I (Theodosia) planned to retire and decided we'd move South, where my family originated.
Many people ask how we found Abbeville. We knew we would retire in the South, either Texas, Georgia or South Carolina. We would take "Southern Retirement Tours" and spend a month driving and searching for the ideal place. We had a list!
We were driving from Columbia to Athens, when we took a side-trip to Batesburg-Leesville where my great- grandmother is buried. When we got back on the road, we came across a sign that said "Historic Abbeville". And so we took another detour that day.
That was October 8, 2013 and on that day we stopped looking. We knew Abbeville was where we would call home. Between 2013 and 2015 we visited Abbeville several times and finally found the right house for us.
We have named it "Reverie", which means waking dream. Officially, it is the McGowan-Gary-Hagen home, built in 1854 by General Samuel McGowan, who is buried in Upper Long Cane Cemetery in Abbeville.
We arrived home May 4, 2017 and on May 9th James suffered a cardiac arrest, and because of the proximity of the house to emergency services, his life was saved. Needless to say, our plans for the house and renovations were delayed while James recovered.
We've come a long way, in particular in the backyard. But with houses like these, the work never ends, and neither does the joy. How many people wake up in the morning, walk through their house with a cup of coffee, and say "good morning" to each room? Please join me for a tour!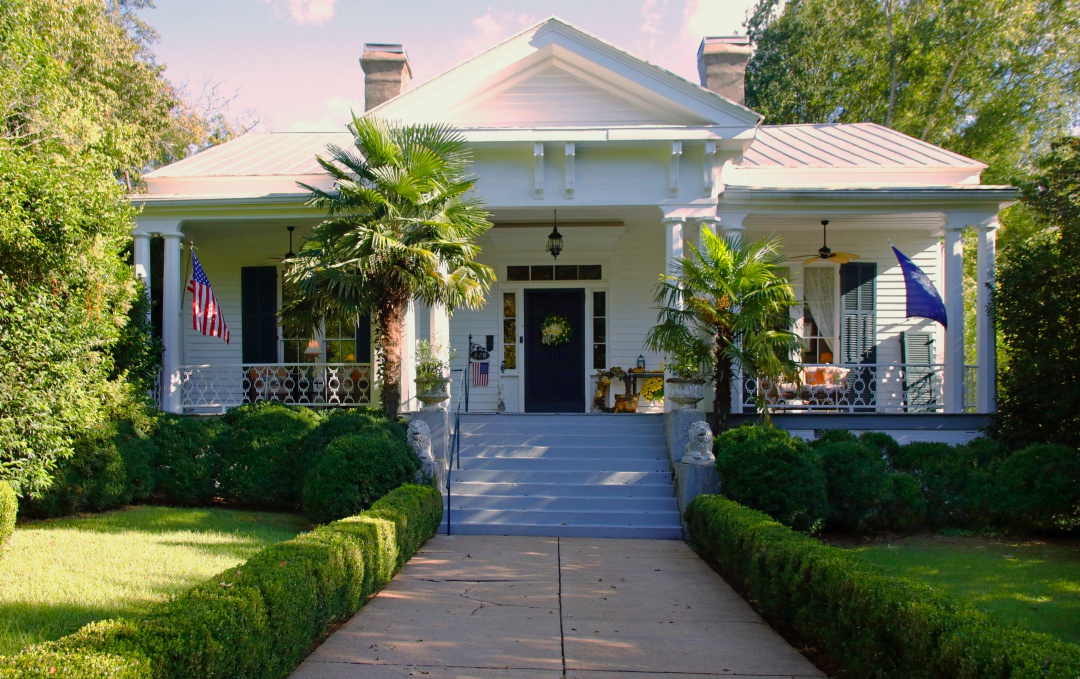 Featured in Southern Hospitality July 2015
The front porch shines. We enjoy "porch sitting" and when music plays in the Town Square, we can hear it from our front porch. Life near a town square is wonderful.
One of the first things I did was paint the door purple and add my frog door knocker.
We are closing out summer with some lemonade and my fall decor is ready to be put out.
The front of the house has been repainted and the chimneys repaired and capped, in addition to ceiling fans and a new light fixture. The porch is being replaced. The windmill palm trees will need to be moved elsewhere and we'd like to recover the steps and walkway in brick. Won't that make a grand entrance?
We've had to do very little to the interior rooms, mainly painting. The layout of this house is fantastic. The furniture is a combination of furniture we brought from California, items we purchased from the prior owners and items we've found in South Carolina. We live, work and entertain here and I hope it shows. Come on in!
Entryway
When you walk in the front door, the shotgun style of the home is apparent, as you can see all the way to the french doors at the back of the house. The style here is my idea of a "Great Hall", lots of reds and greens.
We are still working on the art work for the entryway, including portraits of Samuel McGowan and his wife Susan. The high ceilings are stunning, and will be more so when we complete the crown molding.
Can you tell we like to read? This is part of our collection of books. This is James' room, so he chose the colors and furniture and you can see his interest in history. But it's a working room – researching, studying and paying bills!
I started with the paint color – which can be grey, plum, purple or lavender depending on the time of day and season. I named this room "Tranquility". This room is laid for tea, and we use this room all year long, including at a Christmas dinner when the gentlemen retired to the Library for brandy and cigars and the ladies retired to Tranquility for ice-cold shots of Double Chocolate Vodka!
Although the major art pieces are up, there is still much to do. When done, the art work will be from eye level all the way to the ceiling. Recovering furniture and new curtains are part of the plan, but I enjoy searching until I find just the right combination.
Dining Room (The Oriental)
I named this room "The Oriental" because of the art work. You can see the blue, white and gold antique china in the cabinet and on the table. Don't the deep reds in the centerpiece and candles make a formal dinner special? And mysterious? It makes you want to linger a while.
I'm still searching for two, identical and elaborately carved plant stands for either side of the buffet, upon which I will place two bonsai trees in blue and white bowls to help complete The Oriental. The butler's pantry (next to the fireplace) will be rebuilt into an alcove with built-in, glass cabinets to showcase other china, crystal and silver and a demi lune window over what is now the door.
Downstairs Guest Bedroom (The Salley)
Since our visit to my great grandmother led us to Abbeville, this room is dedicated to her, Theodosia Salley. I've named it "The Salley" and the sage green walls, and florals make this room feminine. And we all enjoy breakfast in bed, don't we? The adjoining bathroom is spacious and the clawfoot tub is ready for a bubble bath, and a glass of wine.
I see a gas fireplace with a marble surround to complete this picture. And perhaps an elaborate ceiling medallion and crystal chandelier?
Other than furniture, we haven't started in on the upstairs. And there will be plenty to do. I have created some "idea boards" and I've made a start on those. The great thing about this upstairs area is that the two guest rooms are identical, large and are ideal for our daughter and son-in-law and the grandpunks. They have complete privacy upstairs, with one bathroom off the upstairs landing and another on the half-landing.
So let's go upstairs!
I always start with "idea boards" to help decide colors, fabrics and furniture. Purple, green and gold for the "adult" bedroom
and blue, yellow and white for the grandpunks.
Each bedroom is large with a fireplace separating the bedroom from a sitting area. I can't wait to get started up here, starting with pulling up carpet!
All of the rooms described so far are part of the original home built in 1854. Now, we'll move on to the "newer" part of the house built in approximately 1919. In total, the house is about 4,800 sf.
Gathering Room
This room is at the back of the house and where we spend a lot of time. On one end, we have our antique bar and cabinet of wine glasses at the ready. And at the other end, I like to keep it clear so that the view through the french doors is unimpeded. We change out our movie posters almost monthly – football and baseball movie posters are next in the rotation, followed by scary movie posters for Halloween.
The ceiling was previously lowered in order to install those ceiling lights, but I think I'd like to gain back the 12+ inches in ceiling height and rethink that lighting. The room is 15 x 30 ft. and would be more impressive with a little more height in the ceiling.
A white, grey and black kitchen was not my dream kitchen. But this one is growing on me. We changed up the color palette, with the soft grey from the breakfast nook continuing into the kitchen and we repainted the cabinetry white. All of the appliances have been upgraded and I stenciled the kitchen ceiling. The brass kitchen lights with exposed light bulbs were changed out and these industrial farmhouse ones with glass covers diffuse the light perfectly.
This hexagon tile will replace the white backsplash subway tile, and crown molding and baseboards will finish off the kitchen. 
The pantry will be renovated to add more counter and cabinet space, specifically as a breakfast bar, with a low profile microwave oven and a wine cooler below.The swinging door can block light, so I'm hoping to exchange the two top panels of the door for this beautiful stained glass.
It took months to find the right color combinations. I have two dozen or more paint samples for this room alone. I wanted a "hotel vibe" – relaxing and calming and "clutter free". I find this combination make it easy to sleep – something we find harder as we get older. Note the alternate colors on each side of the room and the painted doors – I know most doors are left white to match the trim, but I love a painted door.
The bathroom is tiny, but luckily there is an unused utility room right behind the bathroom. Eventually we will join these two rooms and include a giant, two-person shower. I can't wait!!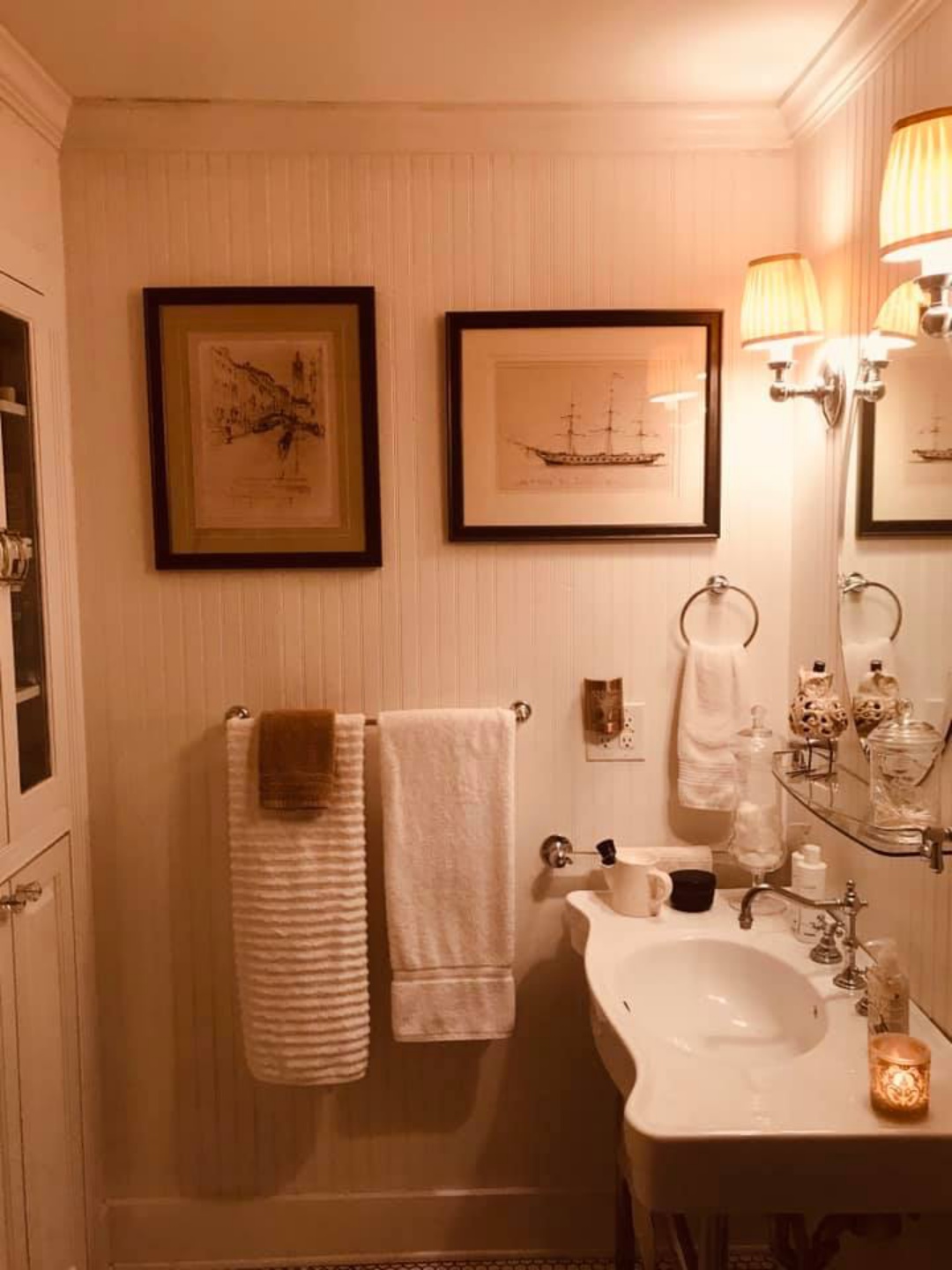 Breakfast Nook (Beaux Matins)
Loosely translated the name means beautiful morning. And it really is wonderful to sip coffee, read the paper and glance out on the deck and watch Huey, Duey and Louie fight over the hummingbird feeders. The table is laid for brunch, complete with cushions that act as grandpunk booster chairs. The paint color is a soft grey, and the combination of rustic and delicate works very well, accented by blue, white, grey and yellow. The art work is all trees, to bring the outdoor inside. The tulipiere centerpiece was loaned to me by a friend, and I think I will need to add one of these to my list of "must haves".
Our main focus was to transform the backyard into a private oasis, where we now have over 2000 sf of outdoor living space (patio and deck) in addition to green lawns and flower beds. We started with a garage and driveway, then moved on to the brick lattice-work wall, the patio and raised brick seating, the garden door and lighting, the outdoor fireplace, the covered deck and finally the landscaping (which is ongoing).
It's truly an oasis.
We had a "blank slate" – here is where we started. Not one tree was harmed in the creation of the oasis!
Cool night, warm fire, cold beer. Heaven at the Oasis.
There is space behind that table/umbrella for a jacuzzi and pergola. Our Christmas present to each other for 2020.
People ask me what my decorating "style" is – I don't know. I find success and comfort in three rules – 1) find things you love and make room for them. 2) remember YOU will have to clean whatever you get (beauty diminishes rapidly if you use something for 5 minutes and have to spend 45 minutes cleaning it). And 3) mirrors – you can't go wrong with mirrors. They reflect light and provide a unique view of rooms in their reflection.
We hope 2021 will see us a little farther down the road in adding to this beautiful home. It's an absolute joy to have such a wonderful canvas to paint on and dream about. But it may also be decision time for us, as we may consider selling Reverie, and passing the home into the hands of the next loving caretakers.
Reverie absolutely makes the spirit bright, no matter the season.
Majority of photos by Pam Kimsey Latham Photography
Don't Miss a Post, join my list!