It's not every day that I get to do something as exciting as what happened last week, namely spending a few hours with HGTV celebrities, Chip and Joanna Gaines of Magnolia Market and the Silos.  What a surreal moment in time and an absolutely fascinating time getting to see them up close and personal.  Definitely a bloggy highlight for me!
I was invited by Kilz to a media event and one in which we would be getting a preview of Joanna's new paint line that came out last year, Magnolia Home paint by Kilz and also we got to hear about her newest venture into her own chalk paint line, which has such beautiful colors.  I'm going to do another post later on about the paint colors and more details about it all, but for now, I'll just recap the day we spent with Chip and Jo.
There were about 6 bloggers in all and the rest of the almost 20 in our group were writers for magazines like Country Living, Southern Living, and Traditional Home.  Most large decor media outlets online were represented at the event and it was a pretty big deal to get invited to this.  I feel so honored and blessed to be a part of it.  I know that we were the envy of all bloggers around the country as we shared our time on Instagram and Facebook.  It truly was an amazing adventure!  I'll be sharing a lot more of the trip as soon as I can edit pics and digest it all.
I flew in from New Orleans, since I had just spent the weekend there with my family for Parker's 3rd birthday. I'll share that this week too.  Once I landed in Waco, TX and headed to the hotel (Hotel Indigo, 2 blocks from the Silos) that Kilz was hosting our stay, I took off to explore Magnolia and the Silos and it was everything I imagined and more. Can't wait to tell you more about all of that too.  I took plenty of pics, so you'll hear the entire scoop about it all and we got a private tour of the offices, including Chip's office.  We didn't get to take pics there, but it was gorgeous up in the office area.  We did get a private tour of the rooftop deck with magnificent views downtown.
Our day with Chip and Jo started the next morning across the street from the Hotel Indigo at the Phoenix Ballroom, a beautiful old space with gorgeous floors and rustic beams. It was perfect for an event like this.
There was a gorgeous breakfast lined up that came from the Magnolia Bakery and oh my gosh, was it delicious.  Cinnamon rolls, biscuits, muffins, fresh fruit and yogurt parfaits, and coffee.  That bakery is just heavenly, let me tell you!  I'll share more of all that too later on. I did have 2 cupcakes along the way and they are the BEST cupcakes I've ever had.  No kidding!
Joanna's paint line was all lined up in a beautiful array of colors for us to see.  I know the paint line has 20 Market Collection main colors, but the total number of colors in the line is 150 hand selected colors, which covers every spectrum you can imagine.  I love how Joanna's vision for her paint line is captured in the soft colors.
Joanna was so generous to all of us and gave us gift cards to spend at the Magnolia market, as well as signed copy of her book and new Magnolia Journal magazine.  I had just bought their book to read before I left and took it with me to get it signed.  It's a great book and I so enjoyed reading their story.  They came from humble beginnings and have worked very hard for this success.  Since she gave us a signed copy too, I'll be hosting a giveaway soon and I'll be giving away a copy of the book, magazine, and an extra apron that we got while we were there.  Woohoo for one of you!
The colors are soft and subdued and not in your face bright at all.  Colors that I could definitely live with. The paints are all available online at this time, but will be rolling out to some retailers soon, we heard. You can check out that link above for all the colors.
I tried out one color last summer when I painted my master bathroom Rainy Days and it's such a pretty color.  I could totally see using some of the others in future projects.  The paint is a Premium paint and also it's paint and primer in one, meaning the coverage and colors are rich and they cover well like you'd expect a nicer paint to be.
These paints are also available in a Cabinetry and Furniture paint, which should be very durable for painting furniture and cabinets.  I could definitely see using this for painting kitchen cabinets.
Chip and Jo were introduced.  I was sitting on the front row, on purpose of course.  I wanted to be as close to them as I could get.  They are fascinating people and I am hooked on their show. Are you?  Even my mom watches the show.  Everyone I know loves them and the Fixer Upper show.
And I can tell you after meeting them that they are exactly as I imagined them to be.  Personable, friendly, down to earth, with no air at all in spite of their celebrity status that they are living out now.
Chip is hilarious and just as goofy as you see on TV. He's full throttle in the personality department and had us laughing all the time.  Joanna is just as she seems too, a little more serious and reserved, but a lovely person who looks you in the eye as she speaks and makes you feel very welcome as she shared her passion with us.  She is such a talented lady and is definitely doing what she was made to do. Making houses beautiful and sharing her creativity with the world.  She definitely inspires me!
The unveiling of her new chalk line of paint.  The colors are so pretty and I love that she named colors after her children in both her paint lines.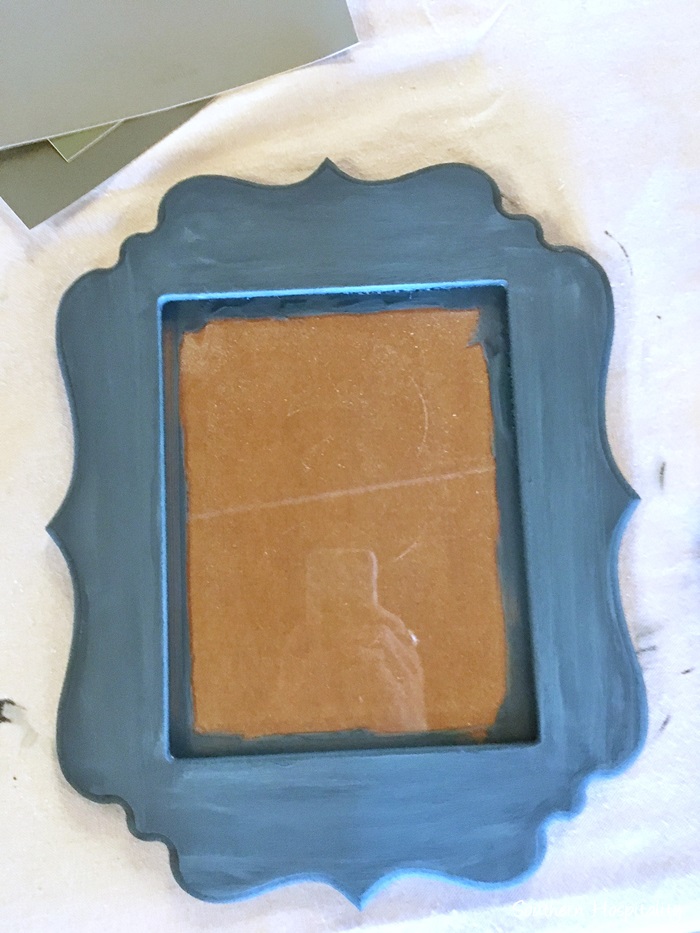 We got to try out the new chalk paint line that Joanna has just introduced.  This is a scoop for all of you!  Right now, I think the chalk paint will be only available online, but they will be rolling it out to some retailers later on.  I don't see it online yet, so stay tuned about that.  I know it will be available soon.
They had tables all set up for us to choose a craft project to use the new chalk paint on.  I chose a picture frame and the color Weekend, a rich deep blue.  What fun it was when Chip walked by and said, who has Weekend paint?  I said, I do, so he pulled up a chair and began painting 2 wooden boxes for their youngest girl, Emmie.  It was so sweet!  He painted the first one a lighter shade of blue and the other one in weekend.  We chatted away and that was a big highlight too.  He's so easy to talk to!
At this point, since I had him right there at my table, I decided to just jump out there and do this.  My boyfriend, Mark, was really excited for me about this trip. We watch the show together and he loves them and has been watching since almost the beginning of their show.  He had said to me before I left, do a video of Chip and have him say hello. Of course, I had no idea if I would even get a chance to do that or speak with them one on one at all.  But, there he was just a couple of feet from me painting away on those boxes.
So, I did it!  Chip was so sweet and accommodating to my request and it made Mark's day when I texted him this video!
I know he'll keep this one saved!
Chip is also a spokesperson for Kilz paint, which makes perfect sense!  Chip does all those renovations and what better product to use than Kilz paint. I've used my share of Kilz primer before too and can vouch for the coverage.  It's a great product!  I like that they have Kitchen and Bath primer for high humidity areas as well as a Max line for really bad areas.
Chip gave us the demo on the primer and it was fun seeing him in action.  Notice Chip's dirty jeans and boots.  No airs about this guy, he looked like he just walked off the farm and I'm sure he did.  I loved that he was just himself.
We got the chance at the end to sit in small groups and interview Chip and Jo.  They were so sweet to answer our questions.  I asked them if they had ever considered doing house renovations in other parts of the country.  They said that no, because of their kids and the fact that all of their crew lives here in Waco, that logistically it would be very hard to ever take on projects in other cities.  I totally get that and their family is the highest priority on their list these days, so that is very neat.  I love that family and their Christian faith are so important to them.  I do think that's a big part of their success.  People relate to that sincerity and that they live it out in their daily lives.
So, I just wanted to recap the day with Chip and Jo and what an absolute honor and highlight it was for me to be there.  I'm so grateful for the opportunity and so happy I got to do this one.  It will be hard to ever top this blog experience that is for sure!  I can assure you that these two fine folks are exactly as you picture and imagine them to be from the show.  Very down to earth and approachable.
I'll be back later to talk more about the trip as well as more information about the paints.  It's a beautiful line of paints, so check them out if you get the chance.  I hope to be trying more of their paints on future projects.
Note:  Big thanks to Kilz for sponsoring this trip. They flew us to Waco, as well as put us up in the Hotel Indigo for a night and we were treated to yummy meals while we were there.  It was truly a wonderful experience that I'll never forget! 
Don't Miss a Post, join my list!