Spring is surely here in Atlanta and I couldn't be happier about that! I've been outside more than ever and it's been so nice to et some things done out there prepping for Spring and Summer months. We've got some fun outdoor projects on our list this year that I can't wait to share with you all. I just got our back porch deck cleaned up and ready for sitting and wow, does that feel good!
In the meantime, I'm back today sharing the rest of my Spring home tour with you and today I'll be sharing the kitchen and family room. I don't do that much for spring, but for me adding flowers and greenery is such an easy way to welcome Spring in your house. If you missed my living room and dining room spring tour last week, please go and visit!
I'm excited to join 14 other bloggers the next 3 days who are all sharing their Spring homes all decked out for the season. And guess what? It's all about color! If you're a color lover, you'll love this tour. Hosted by my friend Jennifer, Dimples and Tangles and new friend, Jewel from Jeweled Interiors.
If you're stopping by from Ariel's colorful home at PMQ for Two, welcome!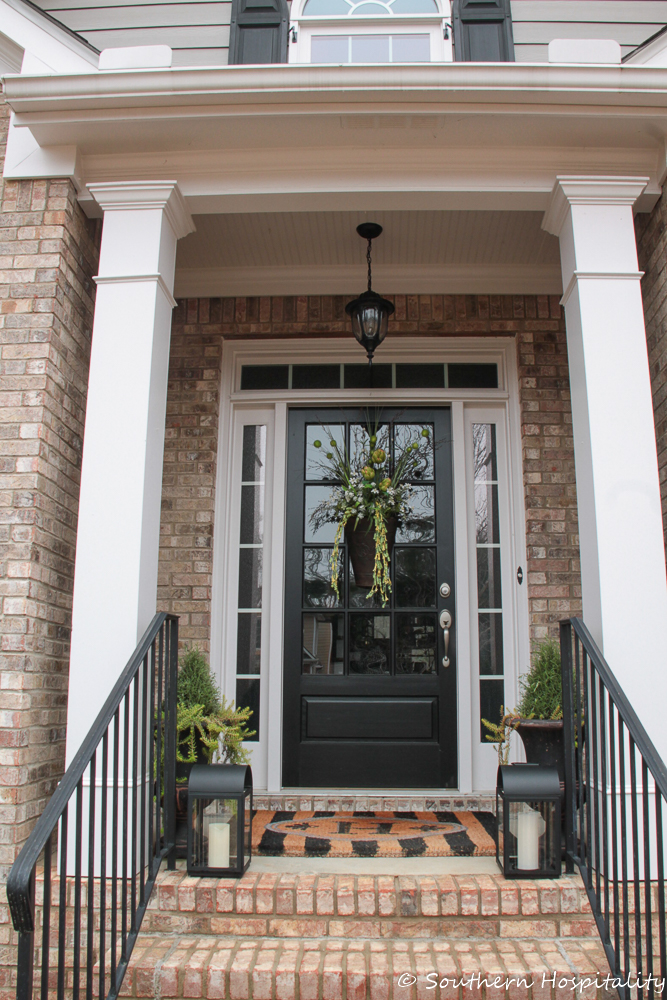 Welcome and come on in! Our Traditional home was built in 2005 and we have had so much fun putting our stamp on it.
This Spring door pocket that I made last year goes back on the front door this time of year. I use a suction cup hanger in case you're wondering. These are all faux florals that came from At Home.
I love our two story entry right inside the front door. It opens right into our smallish living room and dining room which are all attached and open to each other. You can see my Spring tour of these rooms that I shared last week at the link above.
Here's another peek at the foyer table.
I get asked regularly about paint colors, so I'll let you know that our main paint color throughout our house is Magnolia Home Gatherings, a beautiful soft greige color. We love it!
Here are some of the things you'll see in my house (affiliate links used) and others are similar.

The living room and dining room both have a beautiful navy blue grasscloth by Thibaut. I colormatched the rest of the living room walls to a similar blue tone, Benjamin Moore Spellbound.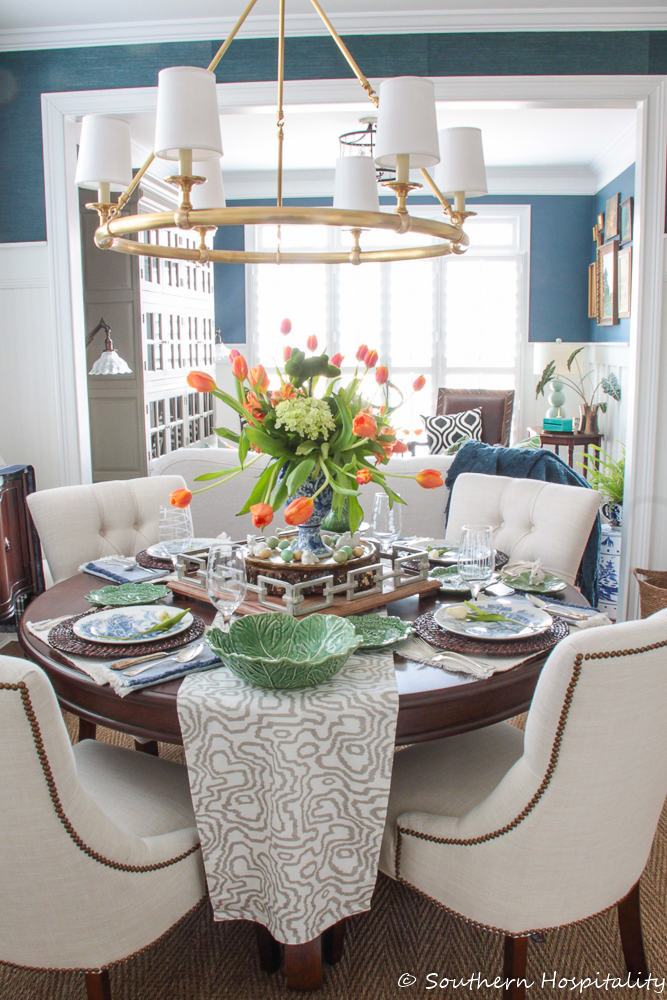 And the dining room. I love adding fresh florals to really bring out spring inside my home.
Coming in the front door and down the foyer hallway, it leads right to our family room and kitchen. We've been in our house less than 2 years, but have done so much already and it definitely feels like home now.
Our kitchen got a makeover in January and after we painted our cabinets when we first moved it, it was great to finish that vision that I had for the kitchen with new quartz countertops, backsplash that Mark and I DIY'd, as well as a new sink and faucet.
It's pretty much my dream kitchen now, even though it's not big and grand, it's turned out to be the perfect size for us. I'm used to the smaller footprint now and really love it.
It's open to our dining room and family room.
All I added was fresh flowers for this Spring tour, but I love how light and bright it is now.
It overlooks our family room which I do enjoy. I've never had an open kitchen before, so it's nice to be close to the family room.
Stove side.
It still feels like a brand new kitchen and I'm loving it so much.
We have a little sitting area off the kitchen which houses my antique French buffet with open shelves above.
I love how everything flows together from the family room to the kitchen and sitting area. As you can see, I love lots of blue shades and we have shades of teal, turquoise, to navy in our home and they all work together.
I'm a lover of vintage things too and these open shelves give me a place to display my vintage pottery and dishes.
That French buffet dates back to the late 1800's and I love this piece. You can't duplicate that patina!
Love my little collections of favorite finds. I've loved white dishes for a few years now.
Adding in pops of color is easy when you have white dishes and wood accents.
That's a piece of Peter's pottery I bought while in Birmingham.
And I have a thing for vintage planters too.
One more update before we leave the kitchen. This new addition just happened last weekend, when I found these barstools at my local Ballard Designs outlet for a really good price ($69) so I just couldn't pass them up.
I had considered them before and Mark was with me this time, so I made sure he liked them too and brought them home! I still have the other ones that I bought from World Market and I'll be selling them soon. I just love these, you know how much I love bamboo and rattan, so these are perfect to me!
Moving on to the family room, I had fun styling the mantel with fresh flowers and faux ones.
I don't do a lot of changes with pillows or anything in our house. I love color year round and love the fresh blue tones I have going in here.
Family room looking to the kitchen.
And peeking in from the foyer hallway, this is what you see. We love that bank of 5 curved windows in the back of the house. They sure let in a lot of light and I'm all about light!
That bamboo shelf on the right was a fun find at my local Queen of Hearts Antiques a few months ago and I was so happy to find it.
Our fireplace got a makeover just before Christmas too and we are so enjoying the lighter look and the added herringbone marble.
These aqua bottles I've been collecting for several years now and they came from all sorts of locations, from Homegoods, to antique stores, to yardsales. I love this glass color.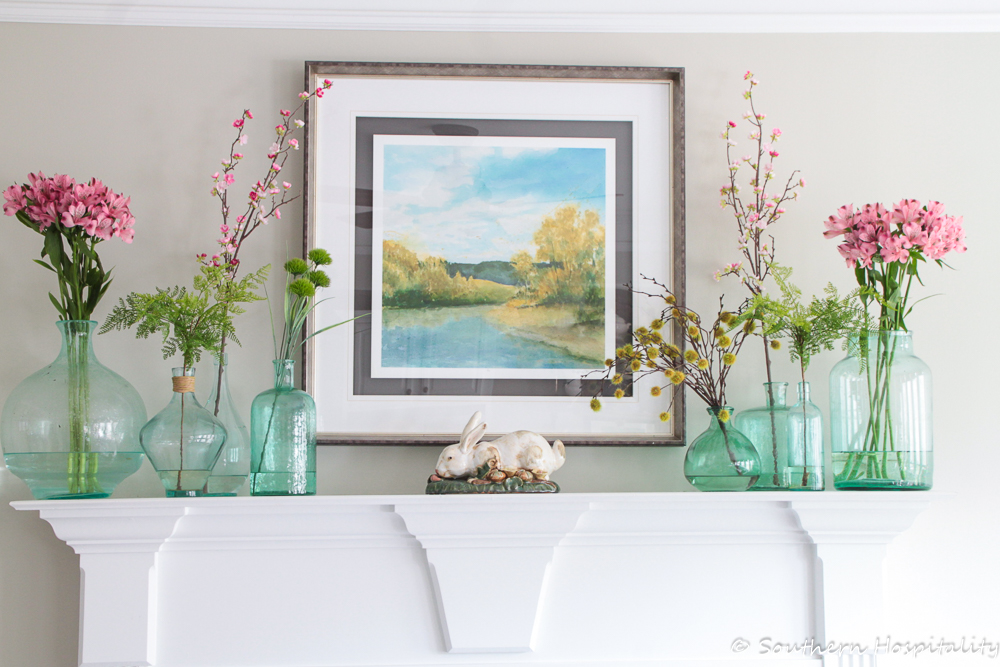 And it sure looks nice all grouped together and seems to be perfect for Spring decorating. The flowers on the outside are real flowers from my local grocery store and all the others are fake from Michaels.
I had gotten away from faux flowers over the years and still don't do a lot of them, but a good fake makes a statement too, so it's nice to put these up here and not have to replace them. I added water to make them look more real!
Pink and green really go together for Spring decor.
This pretty pottery bunny has been with me for years too and I found it at a decor store years ago, I can't even remember which one now! I was so into bunnies at one time, but I've had to pare them down and just keep my faves. He's definitely a fave!
He's right at home with the flowers.
I don't normally add bathrooms in a home tour, but I thought I'd circle back to our downstairs guest bath which we finished last year about this time and we are so glad to have this done. I recently updated with a natural basket trash can.
It's all neutral in black, gray and white and we love it.
That little mother in law tongue plant does well in here and I added it to a natural basket too for some added warmth in here.
And that's a peek at our downstairs home tour all decorated for Spring. Thank you so much for stopping by and I hope you'll take the time to click around on the tour and come back later on Wednesday and Thursday for the rest of the homes that will be shared.
Next on the tour tomorrow will be Heather from Heathered Nest, so be sure and stop by Wednesday morning.
Here's the lineup this week of inspiring homes!
TUESDAY
WEDNESDAY
THURSDAY
Don't Miss a Post, join my list!