I'm so happy and excited to be participating in Gina's Summer tour of Homes this year. She's the brainstorm behind this fun event and 26 bloggers will be sharing their homes with blogland, all this week. If you've missed them, you can see the list of bloggers here, so be sure and go back and catch up.
If you are coming over from Brittany at Pretty Handy Girl, WELCOME! I'm so glad you stopped by.
I'm so dang excited that I have a home that I can put in a tour this year. After 6 months of renovations, it all paid off and now I'm enjoying my cute home, sweet home….for sure!
Come on in and take a look around.
If you are new to my blog, WELCOME!  I'm so glad you are here.  A little about me.  I bought a 1979 fixer upper house in April of 2012 and my dad and I spent 6 months renovating it.  Move in was October 2012 and I've spent the last 6 months putting all my rooms together.  I'm almost there with most of them and right now am working on my screened porch. Hope you enjoy the tour and please come back again!
For a complete look back at all the posts in my House Renovation, you can find every single thing we have done to this house. You won't believe the BEFORE pics!
Coming in the foyer, the back of my front door is painted Annie Sloan Florence.
Foyer Table
Living room in blues and neutrals.
Artwork and accessories.
Blinds and fabrics.  I love soft blue and greens and have used many of these colors throughout my house.
Foyer and living room of my 1979 tri-level home.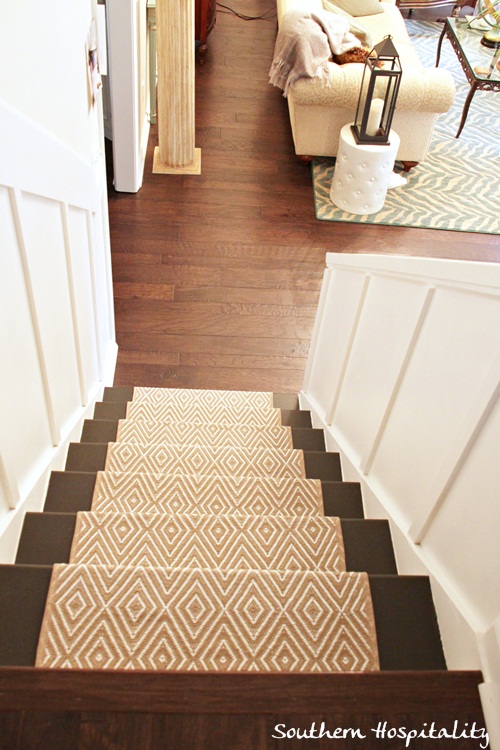 We added new pine stair treads and new risers and I finished off my painted stairs with a runner from Dash and Albert.  This is one of my fave projects in my renovated house.
Dining room in neutrals of gold and gray.
Dining room buffet.
Dining room table set for Thanksgiving.
Corner cabinet found thrifting that I renovated.
Ikea kitchen renovation, which will soon be featured in Better Homes and Gardens Kitchen and Bath renovations.
Sink side with granite sink.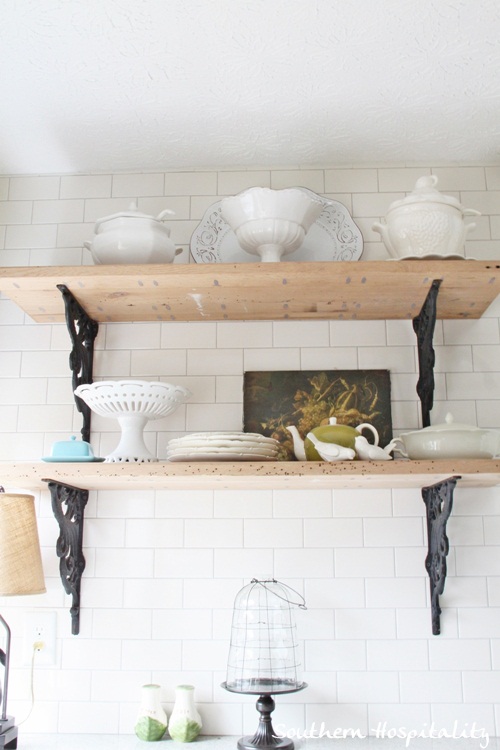 Reclaimed wood shelves and iron brackets. I did a post on my complete Ikea kitchen cost and renovation, so you might want to check that out.
My green office.
Bookshelves and desk.
Chair and drapes.
Guestroom.
Guestroom chair.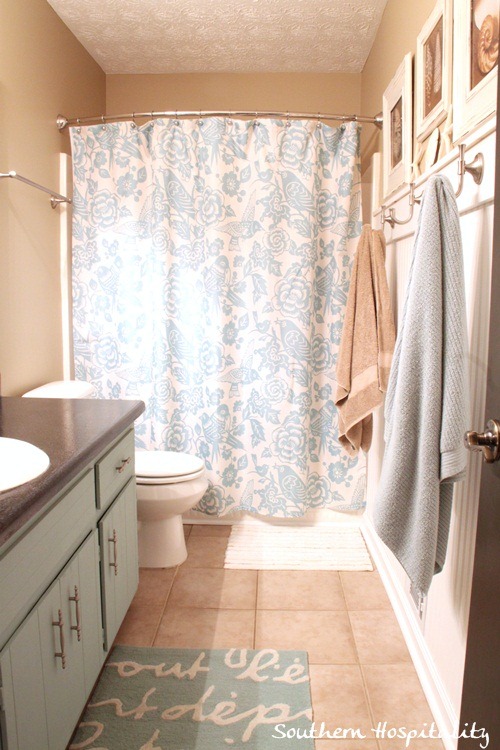 Guest bath, which will soon be featured in Better Homes and Gardens Kitchen and Bath renovations.
Beadboard wallpaper and hooks in the bath.
Master bedroom
Master bedroom armoire
Feature wall paint treatment
Reading nook with stenciled drapes.
Vanity nook
Small master bath.
Den area
Gallery wall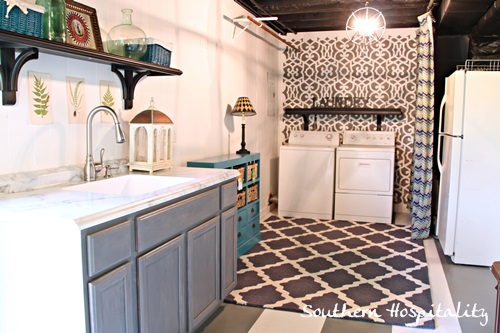 Laundry room/mudroom.
Laundry room sink.
Thank you ALL so much for stopping by! I'm so happy to meet you and hope you'll come back again.  I love home decor and making rooms beautiful and strive to make my home as beautiful as it can be.  I love sharing inspiration with blogland and have been blogging for 6 years.
My complete Home Tour with links to individual posts might be helpful for answering any questions.
I also did a video a few months ago, showing my house mostly done.  This video was for an HGTV submission (nothing came of it), so I did a little tour of my house, talking about how long I've been decorating and lots of things I've done in my house, so you might enjoy this one!  And you can hear my Southern drawl, up close and personal. 🙂
Please make yourself at home at Southern Hospitality!
The next stop on the tour is my friend, Traci at Beneath my Heart. She's been working on a big renovation as well, so I hope you'll stop over and see her gorgeous home too!

In fact, here are the complete list of bloggers posting their home tours today, so check them all out!
DAY 4 (June 6th)
1 – Rhoda @ Southern Hospitality
And don't forget that on Friday, you can link up your own home tour over at Gina's The Shabby Creek Cottage !  There will be SO much inspiration that you'll be looking for days. Enjoy and thanks for stopping by!
Again, here is the entire list of 26 bloggers participating in the tour, so don't miss a one. You're going to love all the talent in this group of bloggers!
I'm going to Florida on Friday for a few days, but will still have some things up next week, but I'm going to skip Feature Friday this week and you'll have all weekend to check out the home tour links. That should keep you busy for days!
Don't Miss a Post, join my list!