Closing last Thursday went so well, 45 minutes later, we were the proud owners of a 1979 fixer-upper with lots of potential.  I was so happy I told my mom I wanted to jump up and down like a little kid.  She smiled and said, go ahead.  🙂  I was jumping inside!
It makes me choke up when I think back to one year ago and what darkness I was facing, to where I am today.  God-sized dreams do come true when He is in the middle of things.  Without my parents help, I could not have done this anytime soon, but they are amazing people and they love their baby girl (they love ALL their girls).  I borrowed money from them to buy the house and will pay it back.  This house will be something that I can afford to pay for and it will be a house I'll be so proud of when it's finished.  Not that it will be finished anytime soon. There will be a million projects that I'll want to tackle down the road, not to mention the outside with landscaping and the screened porch fix-ups.
We are eager to get started and the work has already begun.  If you missed the first house post, check it out here for all the rooms.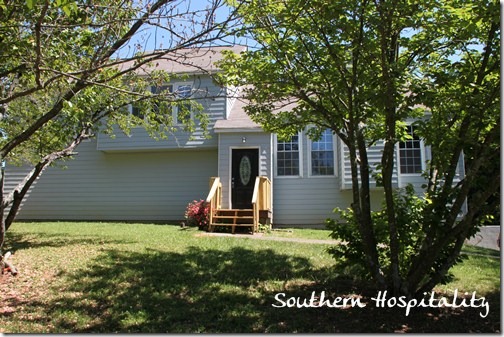 There are 2 cherry trees and a pretty pink dogwood across the front of the yard.  One lone azalea is blooming left of the front steps.  At least I don't have overgrown landscaping.  There's hardly any landscaping to speak of.  A blank slate.  I kinda like that.
Coming in the front door.  The door has not been protected from the weather and under that wood down there is some rotted out plywood under the door jamb, which will have to be repaired.  We'll tackle things one at a time.  We have quite a bit of molding to add around the windows inside too.  One great thing that the house has is newer vinyl double-paned windows that tilt out for easy cleaning.  That's a huge perk!  But, whoever put them in didn't know how to trim out windows and they need some help.  We'll get that done too.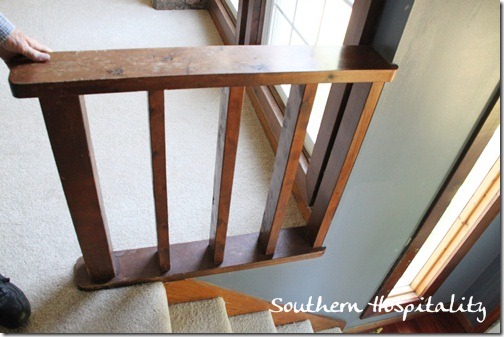 I don't love this wood railing, it's a little rustic for my taste, but after it's painted it will look a lot better. I'm concentrating on priorities first and that will be painting every inch of this house inside,  flooring and the kitchen.
My contractor is checking out the windows. 🙂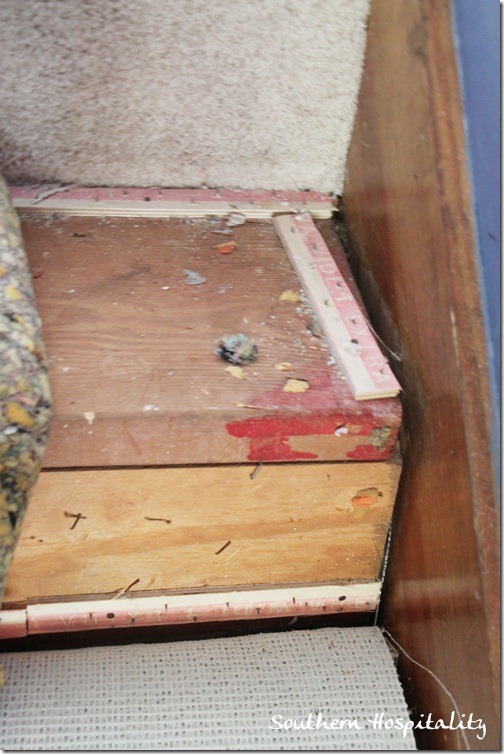 I pulled back the carpet to see what the stairs look like.  Does this look familiar?  Oh Em Gee, it sure does to me.  These look exactly like my old Birmingham stairs and in case you didn't see how I finished them out, you can read all about the how-to's here.  I have even better plans for these stairs which will require less molding, but still a great look, so these will get refinished and painted too.
I see lots of staple pulling in my future.  There are 3 sets of stairs.  One coming in the front door, one going upstairs to the bedrooms and one going down to the bonus room/den, which I didn't show you before.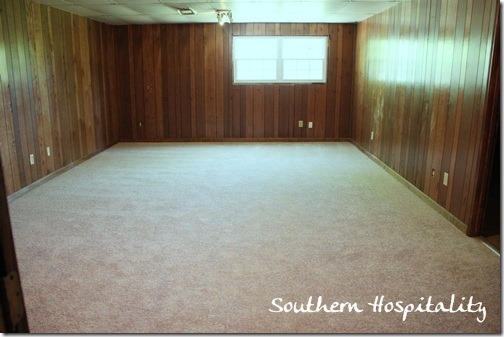 It's a huge room downstairs and one set of windows, which lets in plenty of light.  The room is entirely paneled and I can't wait to paint that out.  When we first looked at the house, there was concrete in this space and I thought, oh cool! I will finally get to stain some concrete.  When we came back after we won the bid, look what the bank had done.  Yep, they installed some brand new carpet.  OK, I'll take it.  It's a nice neutral beige/cream color and it will be fine down here.
This room is way bigger than my old den, but my furniture will fit nicely in here.  I have room to do 2 living areas here.  There's a big cubby area around the corner on the left that you can't see.  Huge room!  This will be the TV/entertainment area and yippee, I get to use both sets of furniture.  One for the den and one upstairs in the living room.  All that furniture I have will come in handy.  There's a dropped ceiling in this room and I'm going to peek up there and see what it looks like, but I imagine I'll want to keep it covered up.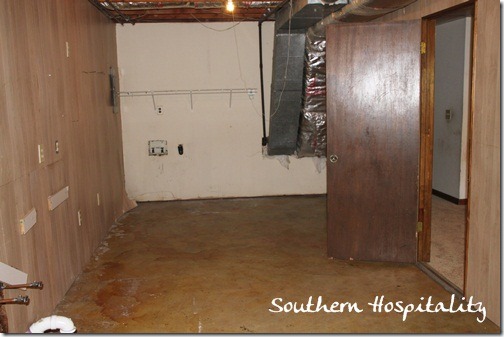 I imagine it will probably look like this ceiling. This is the doorway coming in from the den. And this end of the room is for the washer/dryer. Not very pretty now, but I have big plans in here too. You all know what a pretty laundryroom I had in my old house. It was definitely a laundryroom to envy, but I'll make this space pretty one day too. I'm going to stain or paint this concrete floor. Paint the walls and even though the ceiling is all open in here and there are exposed pipes and ugly stuff that would best be hidden, I will eventually paint out the entire ceiling in black (spray paint with a spray gun!). My friend, Debbie, did that in her office/crafting space at her house and it is SO cool. Very industrial. So, that's my plan in there. If I can make that ugly ceiling disappear with black paint, then I can work on beautifying the rest of the space. It's big enough in here to add a craft table and shelves for that too. If we can salvage some of those pine kitchen cabinets without tearing them to pieces, we'll bring a row of those down here for that left wall, uppers and lowers and I'll paint them and use them for storage in here.
Here's the other end of the room.  It's a long skinny room.  That white door goes out to the backyard and it's even stubbed for a commode in the corner and that white pipe is for a sink.  Ummm, no, I don't think I'll try to make this space into a bathroom.  We'll just have to go upstairs for that. I might, however, put a utility sink in here.  This room is SO big, I think I'll put a wall up on the other side of the door and across to the other wall (eventually).  That space to the back of the room, I'll line with nice tall wire shelving and use it for Christmas storage and overflow storage.  That will come in handy.
Back upstairs in the living room, we are going to wall up that door on the far left.  In fact, it's already walled up on our first day of renovations.  My dad didn't waste anytime on that and it's already GONE.   There were 2 doors going into the kitchen, but space in there is precious, so taking out this door from the living room will give me more cabinet and countertop space on the other side of that wall.
Here it that door from the kitchen side.  I'll gain about 4 or 5 feet of countertop space and cabinet space below.  And I have some really neat rustic shelves that I bought before I moved from Alabama that I'm going to use for open shelving on that new wall in here.  I can't wait to see it all come together.  The kitchen will probably be the last room we tackle and the most expensive part of the project. I'm still going to do things on a budget since that is where I live.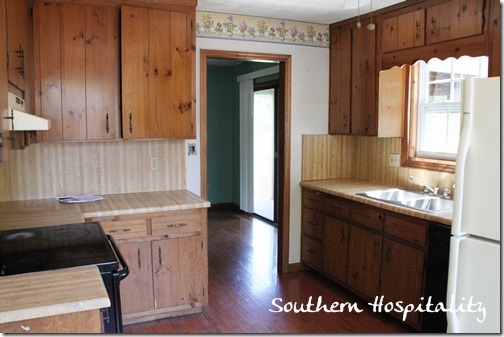 We can access the kitchen through the dining room and that will be just fine.  I'll enjoy having more cabinet and countertop space more than an extra door.  The kitchen is not huge, but I'm going to try to maximize my space as much as possible.  It is nice and bright with a window over the sink and a huge double picture window at one end of the room, so closing off that door won't change that a bit.   In a dream world, it would be fun to take down the wall between the kitchen and living room, but that would require way more $$ and energy than we have right now.  Plus it would get rid of one entire wall of cabinets and countertops.
I have already met my new neighbors on one side and she invited me in to see their new kitchen that was done a couple of years ago. Her hubby did all the work and they designed it all themselves and it is absolutely beautiful.  They got Shaker cabinets from Ikea and did a wonderful job in the kitchen.  They opened up a wall between their kitchen and livingroom and it is so pretty, but their kitchen has a lot more space than mine does on one end, so that plan will not work for me.  I do pretty much have my mind set on Shaker cabinets too.  All the cabinet pics that I've been saving have been white Shaker style.
Another peek at the dining room.  I'll be adding new hardwoods in the living room and hope to get all this wood sanded down and stained darker.  I am planning to take hardwoods up to the master bedroom too, at least I hope that all comes together as I want it to.  And I'm going to do a fun board and batten treatment here in the diningroom. I've got some plans to do quite a bit of molding in the house, I love how much charm that adds to plain drywall.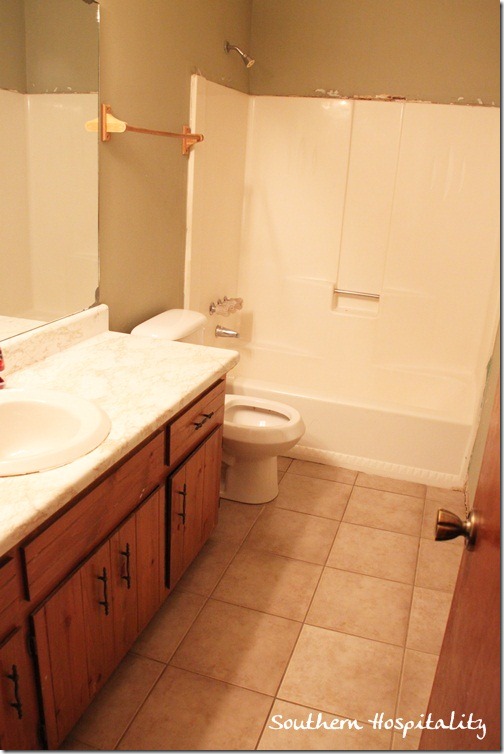 Upstairs, this is the main hall bathroom.  It has some OK tile that I'll probably leave for now.  The vanity bottom inside is completely rotted out, so will have to be replaced.  Of course, I hate the sink and countertop too and would love to rip all of this out, but we'll have to see how my budget goes.  This will be last on the list and if I have to, I'll replace the rotted board inside and just paint this thing out and live with it for awhile. The drywall around the top of the shower has to be patched too from water damage.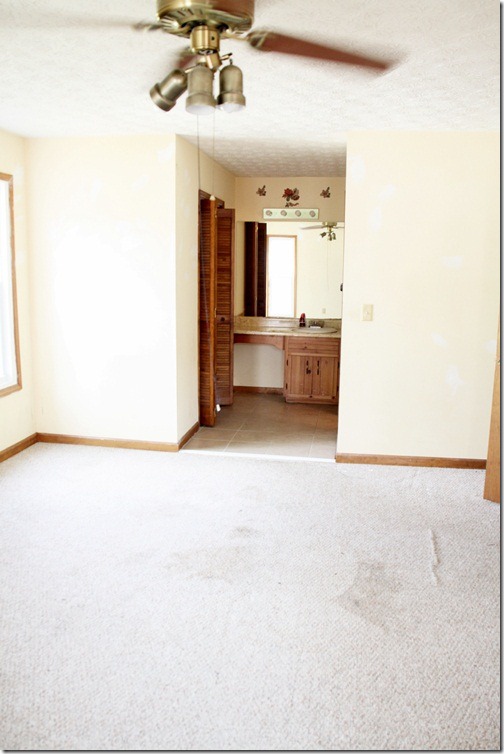 Back in the master bedroom, here that's built-in vanity again, that I want to tear out.  It's in its own little alcove.
This little area is tiled around this piece.  I'd love to bring the hardwoods into this area too and leave the tile in the tub area right next to this.  That's my plan now, to bring hardwoods all into this little cubby, as that will look so much better than keeping the existing tile.  I don't mind tile, so I will leave the tile in the tub area and then I can update that space later.    I've got another sink in the bathroom that I will use. I measured and my vanity/desk with mirror will fit in this alcove.  It will be the perfect spot for my makeup area.
To the left is my master closet.  It's not huge, but not tiny either.  It's pretty long and has lots of shelving and hanging poles and it's nice and deep.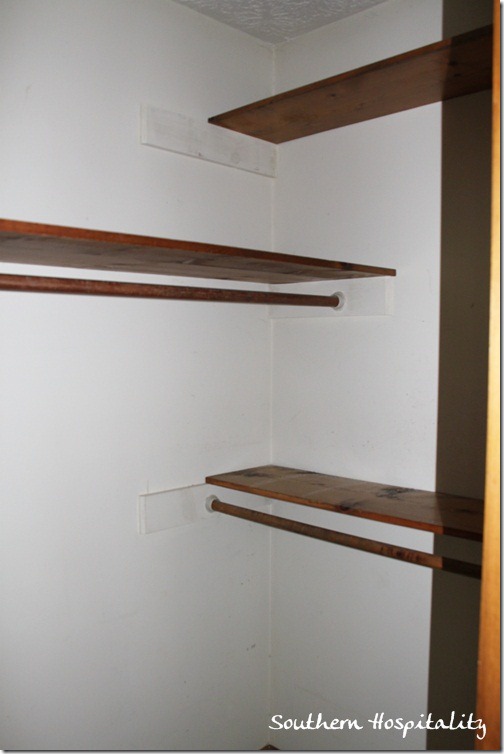 I'd love to take all of this out and get one of those closet systems, but again, that will probably have to wait awhile. That budget gets in the way of the plans in my head. 🙂 You too?!
Outside, the backyard is very nice.  I'm loving it!  It has a little bit of a rolling hill, but is mostly flat. One clump of trees in the middle of the yard is all the leaves I'll have to deal with back here and that is fine with me.  There's a nice buffer of trees on the backside of the property and there is a 2 lane road back there, but nothing really busy and loud.
There's my contractor again, checking things out.  The porch will need some repairs on the outside and inside, but it is structurally sound.
All the screening needs to be replaced and I want to add some beadboard inside on the lower walls and the ceiling.  The bank had a handyman add these stairs back here, which I'm so grateful for.  He told my dad there were no stairs here at all, they were gone.
I'm so excited about this project. It's going to be a lot of hard work, but boy, how rewarding it will be.  I will be sharing it all, every step of the way.  Ya'll have been my cheerleaders all along the way, through all the tough uncertain days this last year and I can't tell you how much that means to me.  To have you all out there rooting for me is the best thing in the world.
Most of my worldly possessions are housed in this storage unit and hopefully in about 6 mos. I'll be unloading it and moving it into my new house.
So, we'll call this the house that blogging built.  That's what it is going to be.  A house of restoration and healing.  A house of love and gratefulness.
My house.  I can't wait!
I have to share this with you too.  After closing on Thursday, my mom shared with me a devotional that she had written 1 year ago on closing day, April 12, 2011, from Streams in the Desert.  It was about Jesus's resurrection and how that sometimes we fail to remember that "in the pitch-black night when there's no outer light, it is the time for faith to shine."  She had hand-written at the bottom of that post, "We are trusting you for Rhoda's dark night to turn into a morning of joy.  Increase our faith."
One year to the day later, we closed on a house for me!  and yes, indeed, my dark night has turned to joy. 
I got all teary-eyed when she showed that to me as I recounted how faithful God has been to me this past year, every painful step of the way. 
That's the kind of parents I have and I'm SO very grateful for them. 
Don't Miss a Post, join my list!