Have you heard that Nate Berkus is going to have his own show this Fall?  Well, he is! I just adore Nate's style and all he does and have followed him for years since he first made an appearance on Oprah's show, decorating up a storm.  The guy is fantastically talented, no doubt about it and it doesn't hurt that he is a handsome rascal too! 🙂
Nate's new show launches September 13th in NYC and I can't wait to see it!  I heard from those very funny Moggit girls on Twitter that they suggested to Nate (via Twitter) that there should be a show with the WHOLE audience filled with design/decor bloggers and that he has promised it will happen.  Now wouldn't that be fun? I'd LOVE to be a part of that one!  There are a bunch of bloggers sharing posts today about Nate and their favorite projects of his, so I'm joining in too. Click here to see the whole list of bloggers blogging about Nate today.  
Since I have his book, Home Rules, I'll share one of those.  He has done so many fantastic projects, it's hard to pick one.  This happens to be the very first project he shared on the Oprah show back in 2002 and was the redo of a 319 s.f. historic brownstone in Boston that had 18 foot ceilings.  Talk about a dramatic change, this one was stunning:
When a space is this small, every inch counts and Nate made the most of every tiny millimeter.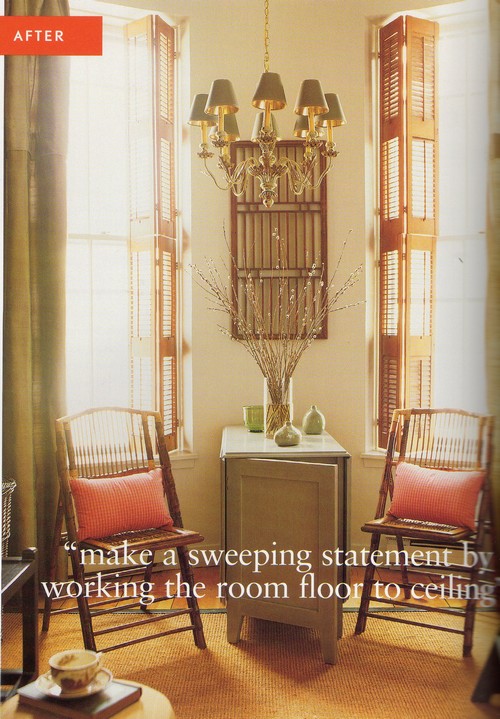 Stylish, beautiful, not to mention functional too.
Nate has hit so many homeruns in his career and I can't wait to see more.  And how I would love to be in the audience of the decor bloggers this Fall.  If you'd like to get in on the opportunity, you can post about it too and put your name on the list.  I don't know how they will choose who is going to be invited, so we'll all find out.
Pick me, Nate's producers, pick me, I'd love to go to the show in person with all those other design bloggers!
Do you remember Nancy Golden from HGTV fame many years ago?  That's none other than Nate's pretty and talented mom, so the apple doesn't fall far from the tree.
Do you enjoy Nate's design talent too?
************************************************
Crystal Light Giveaway Post # 2 is up today, so go on over for a chance to win $100.  All you have to do is leave a comment to be eligible for the drawing.
Don't Miss a Post, join my list!