Who would think that avocado and aqua could co-exist peacefully?
I wouldn't have thought it possible if it hadn't happened so easily, with the help of some inspiration linens.  From Homegoods, one of my favorite places to shop.
If you find yourself a fabric or in this cases towels and washcloths that tie it all together, that's the way to do it every single time.  Think about it:
green, blue, khaki, brown go together perfectly, so why not in a bathroom with avocado tiles and aqua countertops.

I have no idea what happened back in 1973 that brought in the aqua countertops, but I have a feeling my Dad found them on sale somewhere. That has to be the reason. I learned from the best penny pincher around.  My dad.  And you know what? This is the absolute best this bathroom has ever looked, just by working with the colors that are here.  We weren't about to gut this space and start over, so I had to work some magic with what I had.
When I found these towels at Homegoods, I knew this was my answer on how to blend those colors.  So, let's take a peek back at what this bathroom looked like a few short weeks ago when I first shared it with you.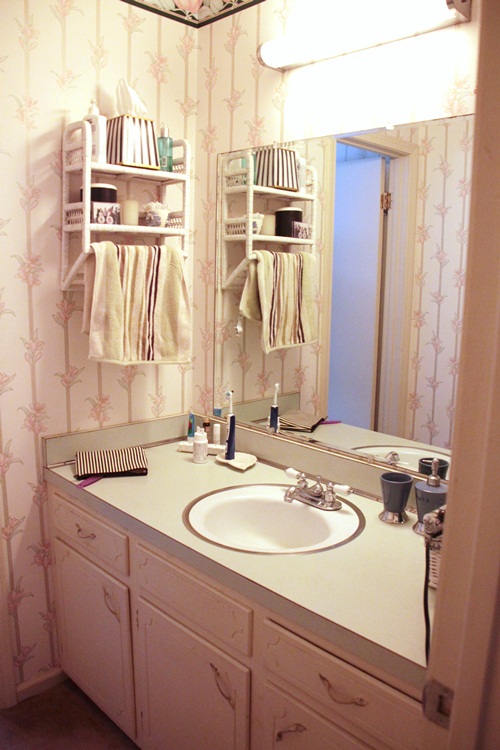 The best we could come up with around 1985 was adding this lovely pink and seafoam wallpaper.  Yeah, that would make this a soothing space, right?  I'm afraid NOT! Take a look at that horrendous florescent light fixture.  Bad, bad, bad light in a bathroom, it has always been dim in here.

Pink shower curtain lovliness.  So just what do you do to update a space like this?  Some suggested that I should reglaze or paint the tiles.  No, no, no!  I really like the green tiles.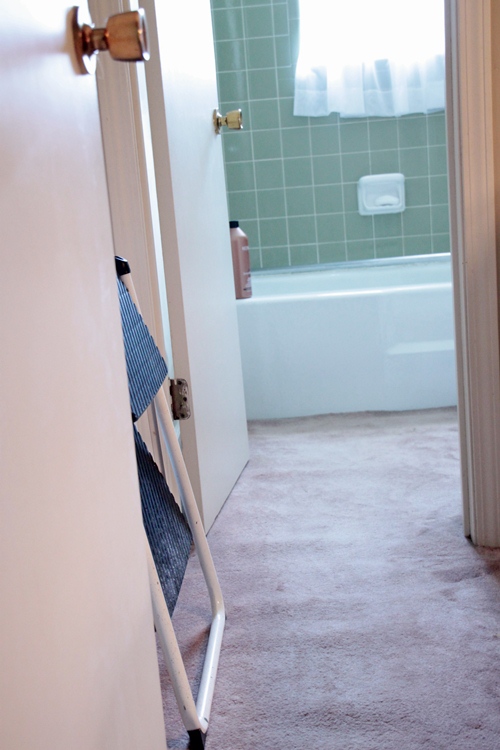 Y'all were probably feeling bad that I had pink carpet in this bathroom and yeah, I was feeling bad about that too.  But no more….pink carpet is gone, as well as that ugly, ugly wallpaper and border.
Are you ready??
I was more than ready.

Welcome to the new and improved bathroom.  I  found this pretty squishy soft aqua ruffled rug at Homegoods back on the big shopping spree some bloggers went on and that was my starting point, along with the new towels.    Of course, the new flooring makes all the difference in the world in here.  Bye-bye pink carpet!  Good riddance, I should say.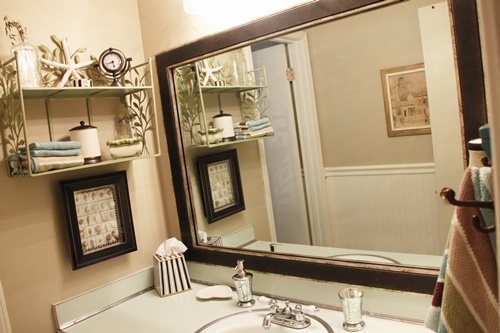 I brought in some accessories I already had and reused things from different rooms in my old house in AL and had plenty to fill up this space.


Here's a good look at the existing aqua countertop I had to work with and I really don't mind it at all now.  It's all working together in harmony.  You can see the mirror got a new frame and I will tell you all about that later.  That's a separate blog post. 🙂


Pretty new aqua rug (exact same color as the countertop)  is wonderful on the feet and I gave all the trim and cabinets in here a fresh coast of Creamy paint by Sherwin Williams.  That brightened things up a lot too.   New hardware was a must and I ordered these ORB beauties off Ebay.


All 5 handles were $10 total.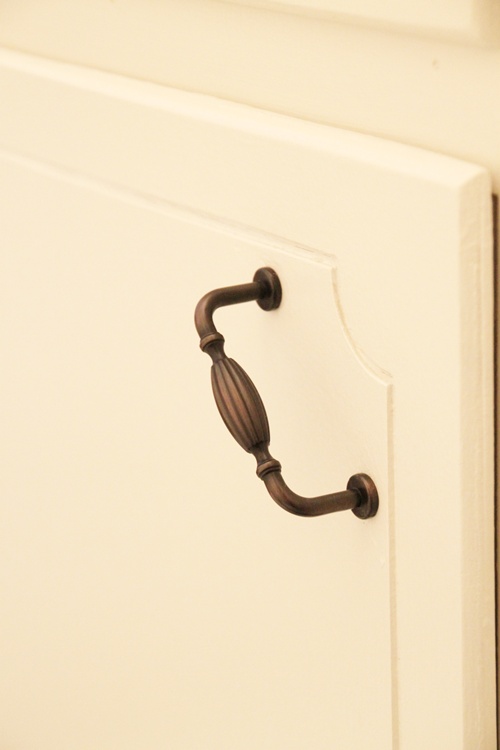 I love their delicate shape and they make a big difference in here too.


This pretty green metal shelf came out of my old green bathroom in AL, along with the accessories, most of which were found at yardsales.


This is a pretty shellbox that I made 2 years ago and never showed you, mainly because I shamelessly copied it from Layla's mom and she was selling them on Layla's blog at the time.  I don't think she is anymore, so I will show you my version now.


Most of these little shells I actually picked up off the beach.  I looked online to try to find out the names of them and did the grid on Excel and printed it off.   Hot glued the shells and inserted it all in a shadow box and there's my shell box.  I love this little thing and have plans to make another similar out of cats paw shells I picked up in Port St. Joe.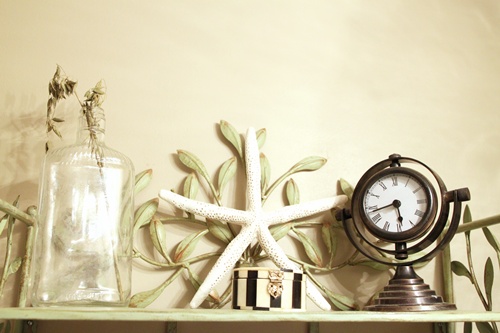 Bottle from a yardsale, as well as that little cute black/white box.

I turned off the light so you could actually see the fixture.  Brought this with me from one of my old baths and this is an inexpensive fixture from Lowes with seeded glass globes.  Simple and pretty.


Print passed on to me from Layla, which I've always admired from Rusty Cricket shop.  It has a beachy feel and I love the colors.  I picked up the frame from the thriftstore and had a mat custom cut for it, total $10 to frame it.  I'll show you that later too, but framing things like that is so easy. Burlap lamp was in one of my bathrooms too and it works great in here.


Hard to get a great pic with the light shining so bright in here.  This beadboard shelf came out of my blue bath and I was so happy to be able to use it in here.  I love this piece too and it came from a neat shop in Birmingham called Stray Cats.


Shabby and chippy with just the right colors.


These pretty aqua mercury glass soap and glass pieces were found at Homegoods too.  I love their shiny brightness and they look nice with the chrome fixtures.  By the way, I have totally mixed metals in this space and I don't mind it all all.  You have my permission to mix your metals too.  Chrome, nickel, oil rubbed bronze and a little antique gold thrown in for good measure.  It's all good with me!


Vintage art that I already had, a yardsale find, naturally.  This is a really accurate shot of the new paint color, Windsor Greige by Sherwin Williams. I lucked out in picking this color, bought it when they had a weekend sale by walking in choosing it from a strip and getting a gallon mixed up. I love it and didn't even sample before buying. That hardly ever happens with paint!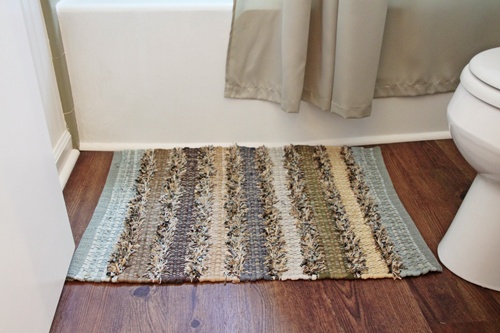 Pretty shaggy striped rug came from Steinmart for $10.  I love this little rug and when I saw the colors, I knew it was perfect too for joining all my colors together.


Perfect colors in here!  Muddy green, blue, brown, khaki, everything I needed in a rug.
Sage green and white shower curtain was a Homegoods find.  I'm going to get it monogrammed with a pretty chocolate brown letter.

Do you recognize this little aqua table?  Yep, it was in my living room in AL and fits nicely in here as a side table.  Fun to add more aqua in this space with the green tiles.   You can see I added the beadboard wallpaper on all the walls in both rooms, except around the vanity area.  I simply painted that side with the new wall color.

Trash can was a yardsale find and I used it in my old blue guest bedroom.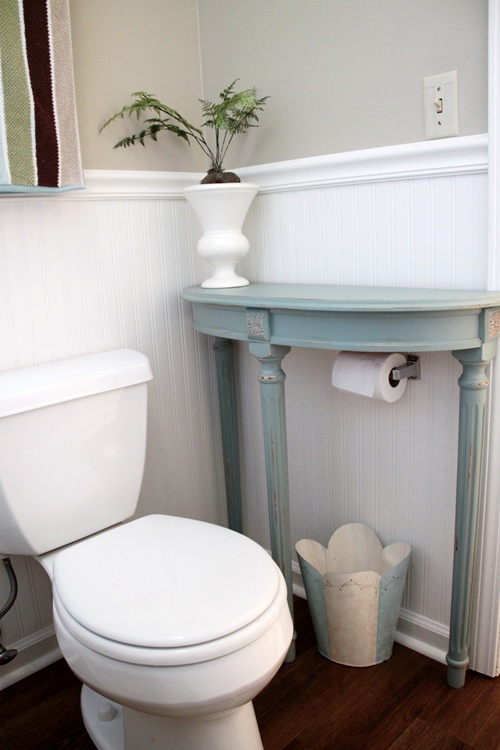 This is a small little room, but sure feels better with a makeover.  I totally am in love with this bathroom now.


One tip for those of you using beadboard wallpaper.  Add a doorstop to keep your doorknobs from banging into the wallpaper.  They will dent if that happens, so to be safe, add a doorstop!


Another wall piece I already had, it fits in nicely here too.


So, there it is!  The new and improved bathroom.  I totally feels like a new bathroom, even though it wasn't gutted and we didn't start completely over.
I hope you can see how updating the floors, walls, new paint and linens can totally bring a bathroom up to date.
Several of you asked how my parents like it.  They are not jump-up-and-down highly excitable kind of people, but I can tell they totally love it and think it's a HUGE improvement too.  My mom wants to redo her bathroom in the Fall, when garden season is over.  That's what keeps them busy during the summer. But, they are not ready for me to tear the house up trying to improve it. They are plenty happy with it just the way it is.   I'm the one who will enjoy this bathroom the most. 🙂
Here's the breakdown on cost:
Paint – Sherwin Williams Windsor Greige ($35 on sale)
Beadboard Wallpaper – $25/roll – Have some left
Trim Paint – Creamy by Sherwin Williams mixed at Walmart in Dutch Boy Semi-gloss – $7 on clearance
Chair rail & quarter round – $25

Floors – Trafficmaster Allure Hickory ($1.79/s.f.) We bought 2 boxes for around $100, had 1/2 box left.
Linens & some accessories – Homegoods (I got a free $100 shopping spree and used about $60 for this project).
Striped Rug – Steinmart $10
Cabinet Hardware – $10 Ebay

Mirror – I'll tell you about the new frame for the mirror in a later post, but you may remember that I DIY'd two mirror frames in my old house and that can save some bucks.
TOTAL Cost = $272
Lots of bang for the buck, don't you think?!
Read about the  Allure flooring how-to's.
More on the beadboard wallpaper post how-to's.

I did have plenty of accessories on hand so didn't buy anything new for that.  The light fixture came from my old bathroom and I brought it with me.
Hope this gave you some great ideas on what you can do to update an ugly old space.   And this was definitely an UGLY space.  Now I'm in love with it!\
Linking to Sarah's Before & After party!
Don't Miss a Post, join my list!