After checking out several places for kitchen cabinets, I have a winner, but you already know that.
IKEA it is!  I've decided on the Adel door style, simple Shaker style in off-white.  Seeing them in so many places lately has really confirmed that I'm making a great choice, especially after finding them in the Southern Living Idea House in Senoia recently.  They are beautiful and they are affordable!
Affordable is good.
Here's the Southern Living house kitchen featuring MY cabinets.  You can see all the pics I took of the house at the link above.
(via Southern Living, you can see all their pics of the house here)
I thought I'd share some of my favorite kitchen inspiration pics that I found over on Pinterest.  The verdict is in.  I definitely am in love with white cabinets.  Almost every kitchen I saved is white, so that tells me where my inspiration lies.  The best way to figure out what you love is to keep saving pics.  It will be obvious in no time.
OH, and Shaker style white cabinets is what keeps jumping out at me too. I adore their classic design style.

(BHG.com)
These simple Shakers really have my attention, so that is what I'm going for.
(BHG.com)
Look at this beautiful white kitchen, with soaring ceilings and dark floors.  Oh, be still my heart.  I don't have soaring ceilings, but I have some pretty awesome dark floors.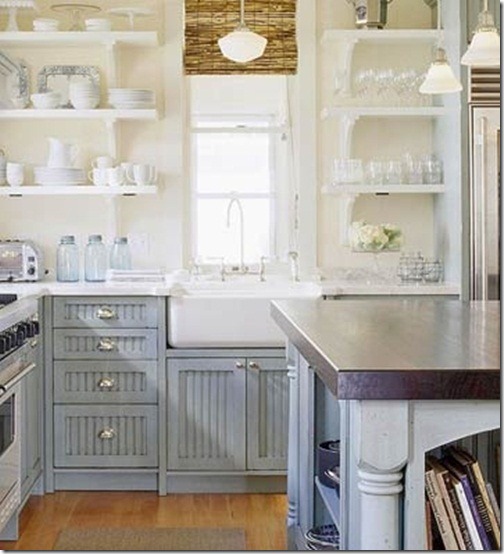 (BHG.com)
Now, this one has blue gray on the bottom and it is particularly pretty too.  Love the open shelves.  I have plans for 2 large open shelves in my kitchen.  I love open shelves, but don't think I want to commit to a whole wall of them.  They are beautiful though!
In fact, here are my shelves.  I bought them almost 2 years ago, not long before I moved from Birmingham  and they are stored away waiting for me.  I'm going to stain them dark and hang them up on my white subway tiled walls.  Aren't they yummy?  They came from that fantastic salvage shop in Cullman, AL, Southern Accents.  Wish I was closer, I'd hit that place again.
(HGTV.com)
Another beautiful Shaker style cabinet pic.  Those drapes are snazzy too.
White Shaker, dark floors, marble countertop and backsplash.  This is one gorgeous look!  I probably won't do a farmhouse sink, nor marble, but I hope to get something similar. Fairly positive I'll go with white subway tiles on my backsplash.
Another one for visuals.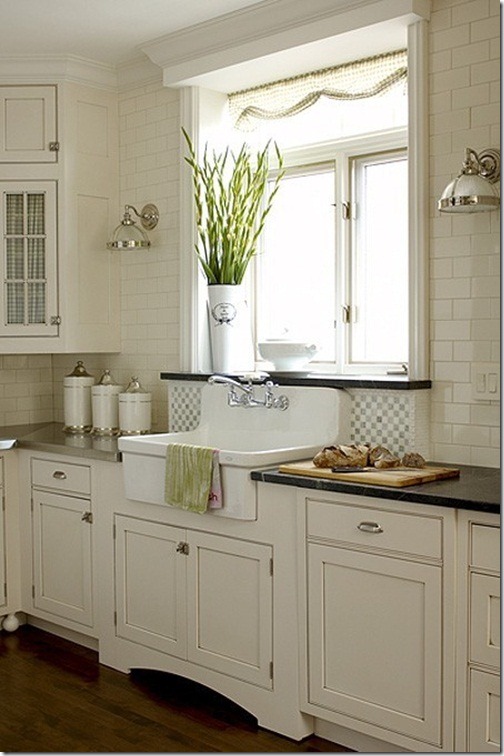 This kitchen above is just breath taking to me.  It is gorgeous, yet completely doable. I love how that window is trimmed out.  Sure love that subway tile!
This real life kitchen renovation really got me excited.  They did a fabulous job on updating their kitchen and did the work themselves.  Very inspiring! GO over and check out the before and afters on this one, you won't believe the difference.  Goes to show what some DIY magic can do!
One more that I just love, I'll have a mix of glass fronts and Shaker doors.   This is a good visual for a dark sink, which I happen to love.
(via Houzz)
The kitchen above is just beautiful, love the Shaker cabinets, subway tile with gray grout and the dark sink.  I'm pretty sure I'm going with a dark sink again this time either in black or dark brown.
And this one has wood shelves similar to what I'm doing against a wall of white subway tile.  Love, love it!  I sure am glad classic white subway tile is affordable.  My shelves are 4 feet long.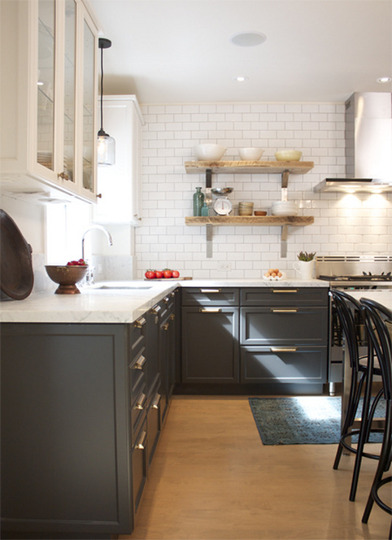 (via Apartment Therapy)
Here's another fabulous IKEA kitchen that I've been following over at House Tweaking.  They are doing a great job with their house renovation, you can click that link to see it all.
I'm planning to get granite again for my kitchen countertops, so hoping to fit that in the budget.  I will probably get a similar color to  my former kitchen, Napoli, which goes well with white cabinets.  Still have to narrow down those choices too.
I still need to score a stainless steel stove, so will be looking for a deal on that too.
Here's a little design board that I put together with the choices that I most likely will stick with:
Adel cabinets from Ikea  (done deal)
White subway tile with gray grout
Oil rubbed bronze knobs and cup pulls for the drawers
Lightish granite
Cafe Brown or Charcoal Silgranite sink
Moen Annabelle pulldown faucet in oil rubbed bronze
Addie Ballard Designs pendant in green
Loving the gray/cream chevron indoor/outdoor rug from Ballard's with this Adel kitchen that Ikea featured, might have to get this runner in my kitchen too.
I'm so excited to get my little kitchen up and running.  It's fun to plan one from scratch, but a little scary too!  I planned a kitchen from scratch back in 1985 and hated my cabinet choice 10 years later. I hope that doesn't happen this time around.
How about you? What color cabinets are your favorite?  Are you a white lover like me or does dark float your boat?
Don't Miss a Post, join my list!