It's been fun to connect with so many bloggers here in the Atlanta area, after Haven last year.  There are a bunch of us and we all periodically get together for lunch and outings and what a fun community it is, this blog world.  We meet in various areas of Atlanta and last weekend we met up for some lunch and shopping in Decatur,GA, a historic area that is well-known in Atlanta.  I have to say, I'm such a suburbia girl that I knew nothing about Decatur until I started working on the children's home projects, the boy's cottage last year and the girl's cottage, this year.  I had heard of Decatur all my life, but it was never in my radar of places to visit until then.
When I drove there for the first time, I totally understood why I had never been to Decatur.  It's a hike off the interstate way inside the Perimeter and is tucked in a little ways from downtown Atlanta and you would never just accidentally stumble across Decatur on your own.  It's all back roads and neighborhoods and is actually not all that far from Stone Mountain all the way on the East side of Atlanta.  It's a quaint area of town,with many beautifully restored older homes in the neighborhoods and a very desirable place to live.
Anyway, Decatur has become a cute and quaint destination for restaurants, shopping, music and fun and I can understand why people enjoy living near there and enjoying the vibrant life in downtown Decatur.  It's such a cute place with lots going on!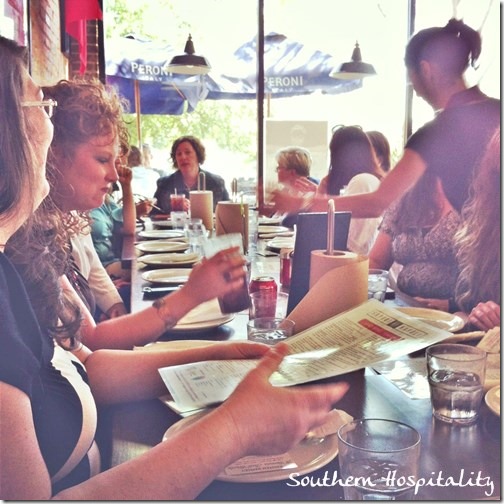 The blog girls all met up at a cute Italian place called Sapori di Napoli and it was delish as well. I had their wood-fired Margherita pizza and boy, was it delish.  This is a really bad photo, but you get the idea of the meet-up.  Lots of talking and eating going on!
I ate every bite of this yumminess, 12" Margherita pizza which got me ready for shopping!
We strolled down to the square area of Decatur and this is actually the first time I've browsed down here and it's such a neat area.
Lots of restaurants, shops and a great place to enjoy the outdoors.
We had a beautiful Fall day with moderate temps and as you can see, an incredible blue sky.
Such a fun artsy area.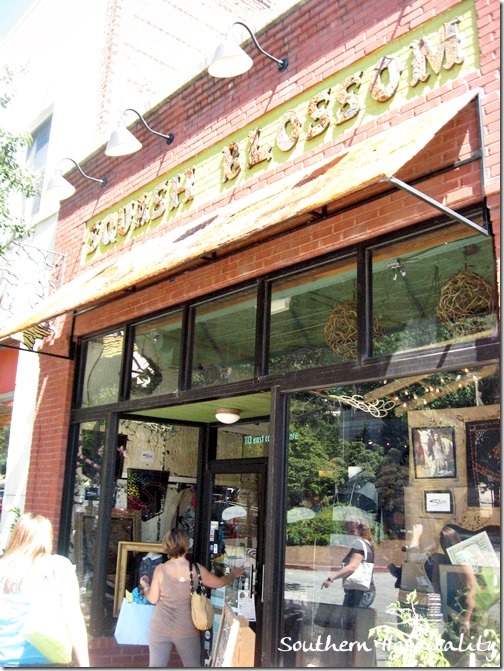 Lots of shops for browsing gift ideas, clothes, and more.
Loved the brick walls in this store.
Walking along we saw this restaurant, Blue Moon, with open air seating and a ping-pong table. How fun is that?  I love ping-pong, by the way and have kicked a few butts with my prowess.  Learned how to play way back when I was in college.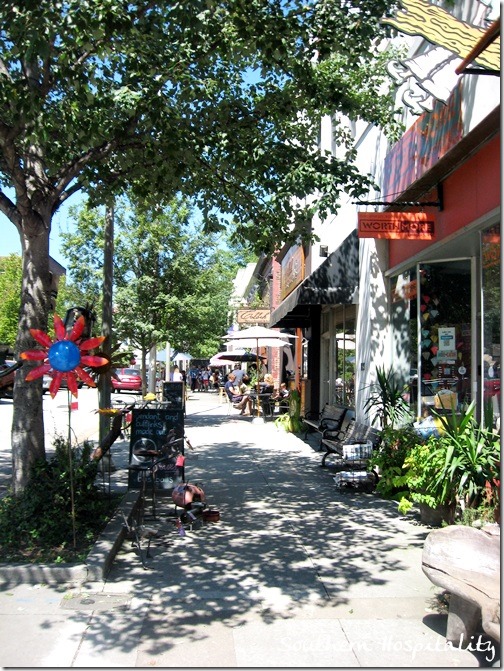 Sidewalk view of Decatur.  We loved this area, but we really wanted to get into some vintage antiques type shopping, so we headed down the street just a few miles and hit Kudzu Antiques. This is the original location, from what I've heard and there is also another location now in Sandy Springs, which I've shared with you before.
Love the colorful signs.
And all the fun things they have to offer.  There is something for everyone at Kudzu.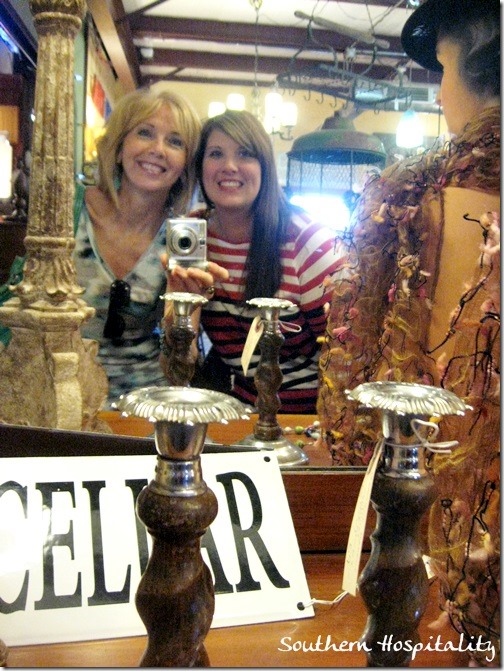 My sweet blog friend, Heather, has just moved to Atlanta with her family and I'm so glad she is finally here. We live too far away from each other, but hopefully will be able to get together occasionally.  So proud of Heather, she has lost over 50 pounds in the last 4 months and is getting herself in shape!
This place is big so take your time looking around.
Getting ready for Halloween on the front porch.
Vintage rolling pins.
Plenty of cool artwork and occasional chairs and furniture.
Spotted Kermit the Frog swinging away in one booth.
Does anyone else remember these?  I don't think my mom had these, but I SO remember them.  Ahhh, brings back nostalgic memories.
Now these mid-century headboards also bring back memories. My mom still has a full sized headboard in one of her guestrooms like this, with the sliding door on top with the matching dresser and mirror, dark wood. She could probably get a small fortune for that set now.  I guess that make me mid-century modern too, right?! 
  56 model that I am.
This lamp caught my eye.
And this rustic side table was also pretty cool.
Reclaimed wood everything is still very hot, as are round mirrors.  Wonder how long this one will last, no one knows.
Big letters are also still the rage. I do like a big letter myself.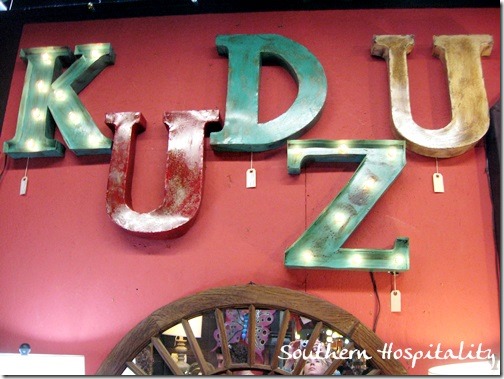 Kudzu spelled out on the wall.
This was pretty unusual, a rustic iron base coffee table. I think the top is metal too, very neat piece.
This whole booth had lots of industrial pretties to look at.
Great idea on organizing jewelry, an old window with cup hooks.  I desperately need to organize my jewelry and when I figure out what to do, I'll for sure blog about it.  It's a mess!
More reclaimed beadboard in animal shapes. This is a trend in blogland too!
An old vintage dinette set.
Pretty old doors as a backdrop.
And some fun and whimsical wall art.
And that wraps up my visit to Kudzu Antiques.
Have you been to this location or the Sandy Springs location?  You'll enjoy your visit, so go and browse if you get a chance!  I really enjoyed my visit to Decatur and I'm sure it won't be the last time I'm there.
Don't Miss a Post, join my list!