How's that for a Monday morning title?
This is something I've mulled over many times in the years I've been blogging. Never before in the history of ever have we had so much home decor inspiration at our fingertips, have we? It's everywhere!
We see it on TV, from HGTV flip shows to renovation stories, to blogs that show one after another beautiful home renovation projects. I've done plenty myself and still love a good Before and After. But it can become quite daunting to figure out how much renovating to do and how much money to spend on a house to get it the way we want it.
I think HGTV shows and blogs too have definitely spoiled us on home renovations. We want new and improved all the time, don't we? I'm just as guilty so I know how it is. We aren't satisfied with builder's grade anymore. We see those hour long renovations on HGTV and it looks so easy and simple to get a beautiful space. We all know it's not that easy either. It takes time and sometimes lots of cash to get a house looking beautiful.
I don't see anything wrong with improving, but I have to stay within a budget, as I'm sure you all do too. We are mulling over our master bathroom and what to do with it. It's not going to happen really fast but it's something we are thinking about. We don't have unlimited funds for a renovation like this will be. I've seen bloggers who spent $50K on a bathroom renovation. That will not be happening at our house, I can assure you!
Mark and I have worked diligently here at our newish house, making over one space at a time. We've done plenty of DIY projects ourselves, and have hired out plenty too. We know our limitations and how much to take on. But hiring things out can be expensive too.
Where do we draw the line in home renovations? That's something I have to ask myself all the time too. Kitchens and bathrooms are the top spaces that people look at for renovating to add value to a home. It definitely works, so that's one reason why we are willing to put money into this house. It's for our enjoyment first and then it does add value to our home down the road.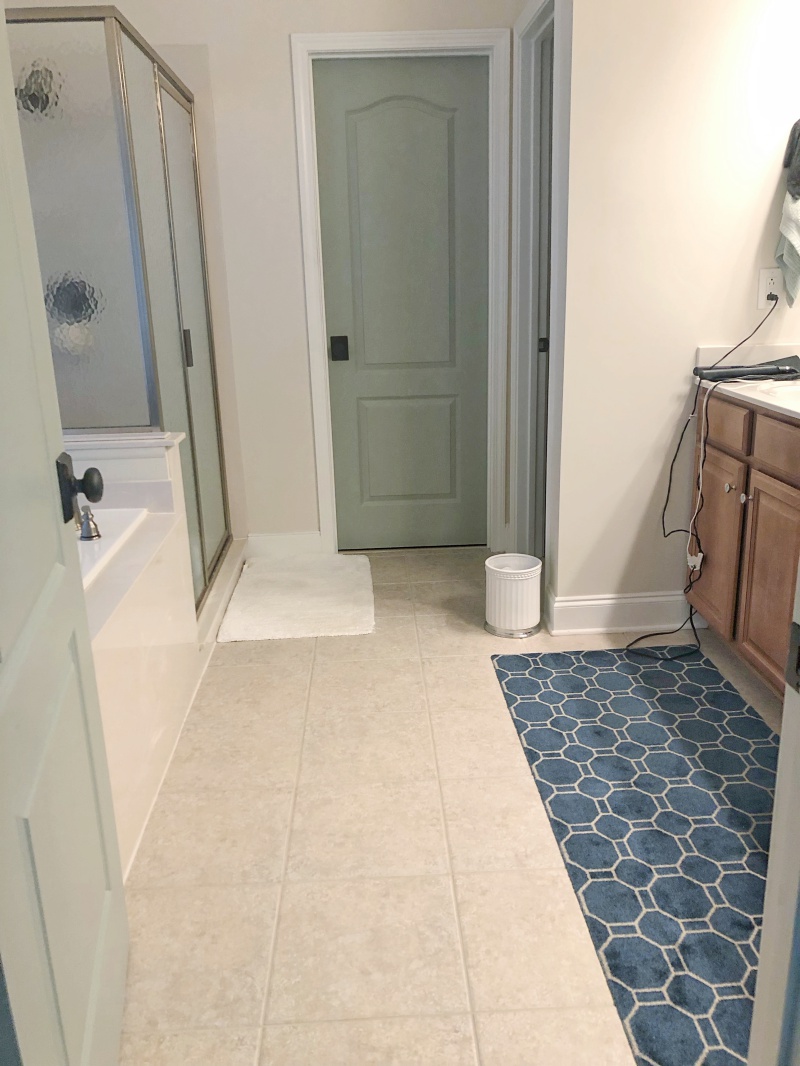 So today, I'll show you the whole bathroom to see what we are working with. Here it is in all its glory. It's a sea of beige. There's nothing wrong with our master bathroom. Many people would love to have this bathroom. It's big and spacious. But do you think we love it? No, we don't love it, we're really glad to have it, but it doesn't reflect our style. Growing up, we always had small bathrooms. And I've only had one other large bathroom myself. The larger the bathroom the harder it is to keep clean, right?
This bathroom serves its purpose and works well for us, but we do want to renovate it and make it nicer and better. But, as with any renovation we'll have to figure out up front what our budget will be and how to stick with it. Our house is 14 years old now and this bathroom was done in 2005. It could definitely use sprucing up!
I'm fortunate to do what I do as a blogger and get to work with brands along the way. I'm sure I'll be reaching out and working with some brands and sponsors on this bathroom, but we will still be paying a contractor to do most of the work. We don't want to tackle tile work like this again, so we'll hire it out, at least most of it. First, we have to come up with a design plan, order all the parts and materials, and then get a contractor's estimate and decide how much we can spend.
Do we tear out everything and start over? That's to be determined still, but I'd say we will probably keep some of this, like the vanity maybe.
Our tile in the bathroom is in perfect condition. It's a little boring, but not horrible. But if we start tearing out tubs and vanities, then it will probably be necessary to tear out the floor tile too. I really want the bathroom to be prettier as well as functional and suit our needs. I don't want to have to worry about matching the current tile with what we decide to do in here. I do think about resale too, down the road. We want to do a classic bathroom that will stand the test of time.
We currently have a huge jetted tub that we hardly ever use. I've just never been a bathtub girl all that much, but they are great for a good soak and bubble bath occasionally. I just don't use it all that much and neither does Mark. But, I don't think we want to take out the tub completely. There's a huge picture window over the tub so we really can't put the shower there very easily.
If we take out this giant tub, it would allow us to add a little bit of space to the shower and it could move over to the edge of the window above about a foot or so, making the shower bigger. That would be nice for sure, we would love a bigger shower.
You can see the bathtub is wrapped in this faux marble material and this is the same material inside the shower. It's definitely not high-end fixtures, but very builder's basic as was the rest of the house. We have good bones in this house, it just needs things kicked up a notch to make it better. So that's what we are doing with every renovation we do.
The shower is just a basic square and it would be nice to make it slightly bigger and of course get a better glass enclosure for it. The faux marble material inside is definitely less than desirable.
The water closet is very small and you can see we don't even have a toilet paper holder on the wall. For some reason, the former owners either took it down or didn't have one either. There's a mark on the wall so it looks like one used to be there. We haven't bothered to put one up since we haven't touched this space yet. But we'll get one eventually. I know, that's pretty funny to not even have a toilet paper holder!
So, here we are thinking about doing a master bath renovation, but it's not high on the list yet. It might be next year's big renovation, we will see. We have one other guest bath to redo too, but that bath will be done on more of a budget and we'll keep most everything that's there and just paint it, decorate it and make it overall better. We can definitely do that bathroom on a much smaller budget by keeping everything and adding to it.
But when it comes to a master bathroom, that's a different story. If I have my first choice, it would probably include taking out the old floor tile, ripping out the shower and probably the jetted tub. Mark wants to get a free standing tub of some sort and that is definitely the trend now. Like I said, we want to make sure this space is done in a classic manner and stands the test of time.
I'm not quite sure what that means now though. What is classic and timeless? I see a lot of marble bathrooms right now, there are dozens of gorgeous bathrooms to be inspired by, aren't there? So many gorgeous bathrooms out there, how do you choose the right fixtures and features when you're renovating and tearing out the old?
It's definitely something I'll be pondering over for a long time before we actually do it. It's a big project to take on something like this!
There are so many bathrooms out there that I love. One of them is Kim's from Savvy Southern Style. She renovated her master bathroom a couple of years ago and I love it. I think it's very timeless and classic and she made great choices in there. She did a post about her sources in the bathroom and mentioned that her husband had hoped to keep the budget at $14K, but they spent a "good bit" more than that. It helps to know what other people spent, so that's why I freely share here how much we spend on most of our projects. I like knowing that when I see a big project like this.
I know this won't be a cheap project at all, so we have to choose wisely and figure it all out up front. I'll be finding a good contractor to handle it all and hope for the best. I'm not even sure how much our budget will be until we get there, but $14K sounds like a lot to me and more than we might be able to spend.
(photo: Sarah Dorio)
This gorgeous marble bathroom from Atlanta Homes & Lifestyles is stunning and such a classic statement bath.
I love this look, even though I doubt we'll go with real marble in our bathroom. I don't want the maintenance that I think marble would bring, especially in the shower. I want lower maintenance materials in there so a faux marble might be a possibility. We will be looking at all our options and making some good choices for us.
Via Domino
This is a beautiful black and white bathroom and I love this mix, but I'm definitely not going with trendy black and white statement tile like this. I think that's a sure way to grow tired of something when it makes such a bold statement like these tiles do. They've been around for at least 5 years and still going strong, but this won't be a look we go for. They used subway tile but in a more modern pattern. Black and white is always fresh and classic and I would be tempted to do black and white again, but just not sure in this bathroom.
via Craftsmanship Revival Instagram
Another example of the trendy black and white tile. It's beautiful, but not the look we are going for.
These are 3 distinctly different bathrooms, all beautiful and all classic for the most part. So how do we choose what to go with since there is so much out there? 
Definitely sticking with more classic, which may be the safe route, but it's what will fit us best. So what do you think? Are we all renovating too much because of the influences of HGTV and blogs? We didn't do home improvement projects growing up all the time, did we? We just lived in our houses the way they were.
We are inundated with so much inspiration these days, it's so easy to want newer and better. Like I said, I'm guilty too! We all fall for the new and shiny. But we all have to live within our budgets and that's what we'll be doing in this bathroom too.
We have not even figured out any of the materials yet, so that will be months in the making, I'm sure. Of course, when we get to this one, I'll be sharing it all. How do you feel about renovating your houses? Do you feel inundated by all the inspiration we all see constantly? It's hard not to feel envious at times when we see the beautiful After pictures on Pinterest and Instagram. But we all live in the real world too and have budgets to deal with.
I'd love to hear your thoughts on this subject!
Check out these renovations to for more bathroom inspirations! 
My sister and brother-in-law did a DIY master bathroom renovation a few years ago and it's still beautiful!
Here's the guest bath renovation Mark and I did last year that we love as well. The master bathroom will be much bigger & more costly so we want to do it right!
And here's the tiny master bathroom renovation I did in my previous house. Well worth it to update this space and it will definitely help sell the house when the time comes!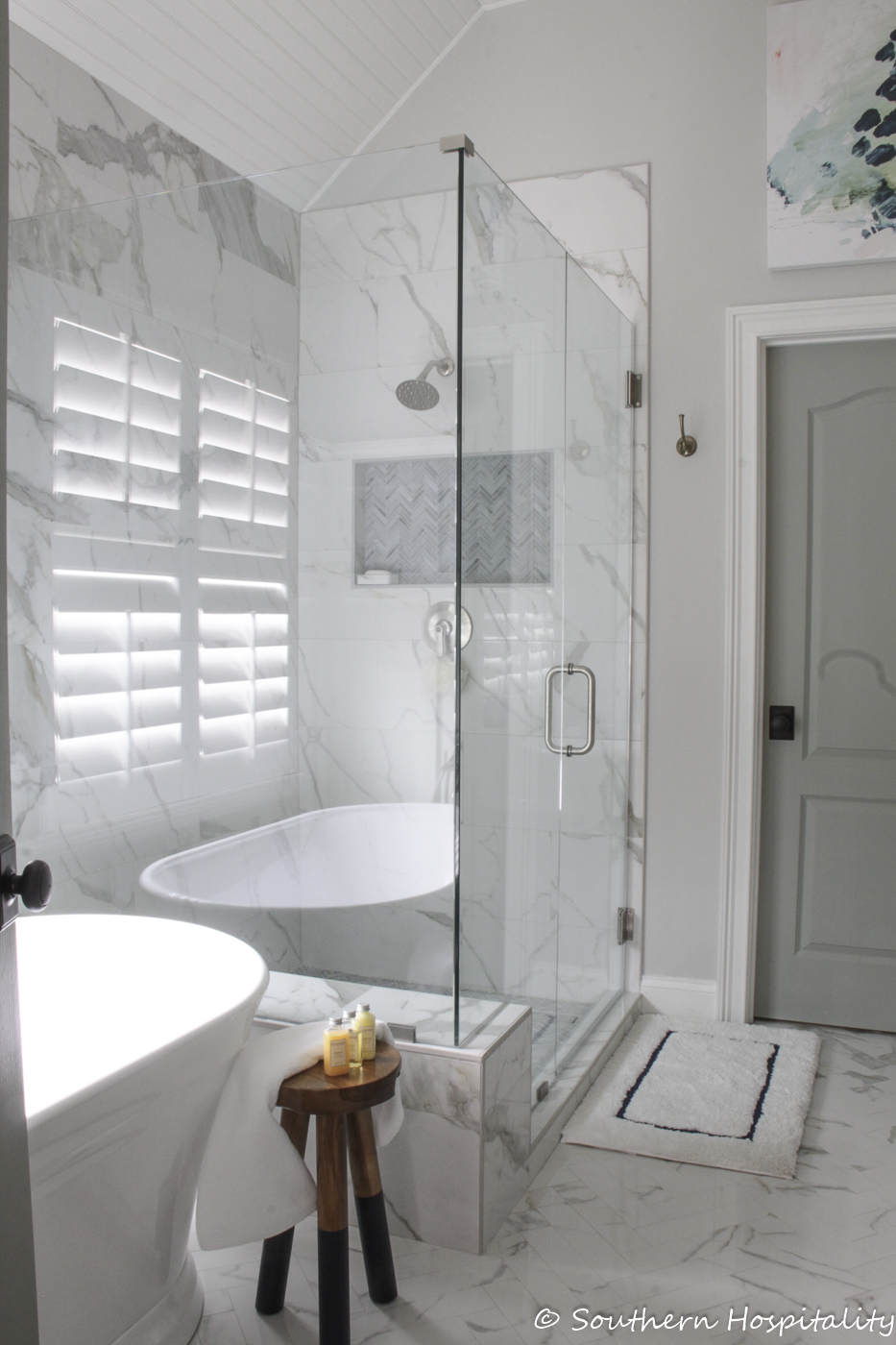 Finally, here's the master bath renovation we did the following year that was featured in this post. Stop by and see the finale! We love it!
Don't Miss a Post, join my list!