It's that time of year when my head is in a fog and I can hardly remember what day it is. With back to back trips the first week of the New Year, I'm just getting caught up with taking down Christmas decor yet, much less organized. We can all use some great organizing ideas this time of year, can't we? Today I'm sharing some organizing ideas for all areas of your home from some talented bloggers. From kitchen pantries, to junk drawers, craft closet storage, bathrooms, and more, here are some great ideas to keep you organized.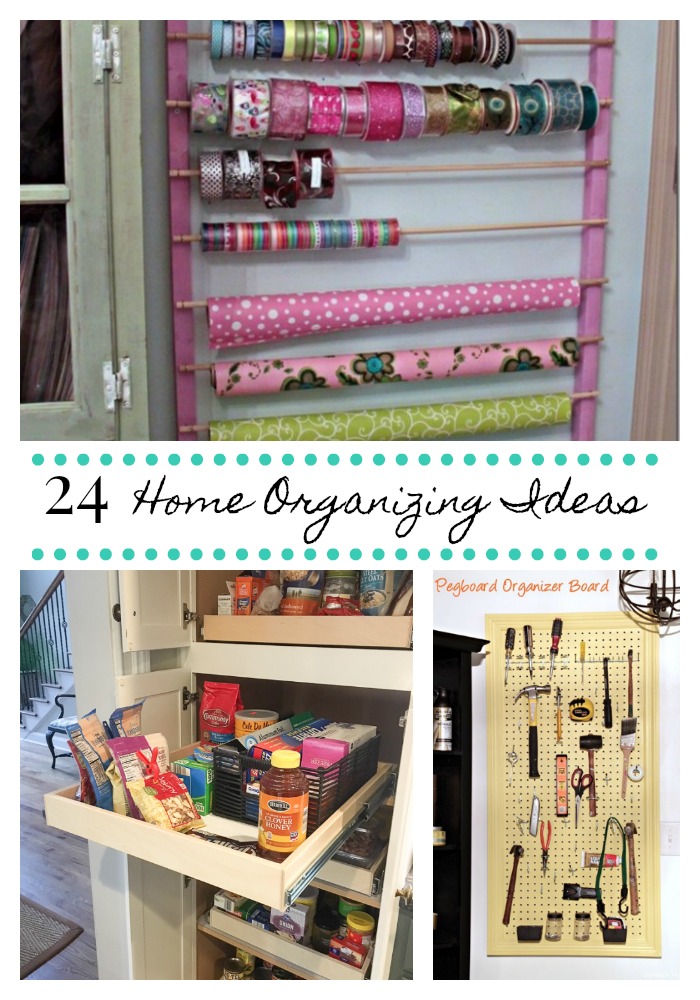 Pin for later! 
I love to see pretty pics of organized spaces, but I confess I'm not the best when it comes to keeping my rooms and cubbies well organized. It's definitely a challenge to keep up with it, but we can all aspire to better organize our homes!
Doreen with Hymns and Verses has a craft closet to envy! Love this storage of her paint and craft supplies behind closed doors.
Houseful of Handmade shows her version of the craft closet. Cute and organized, the best!
Kelly Elko shares a beautifully organized craft closet plus some chalkboard labels for you to get organized too!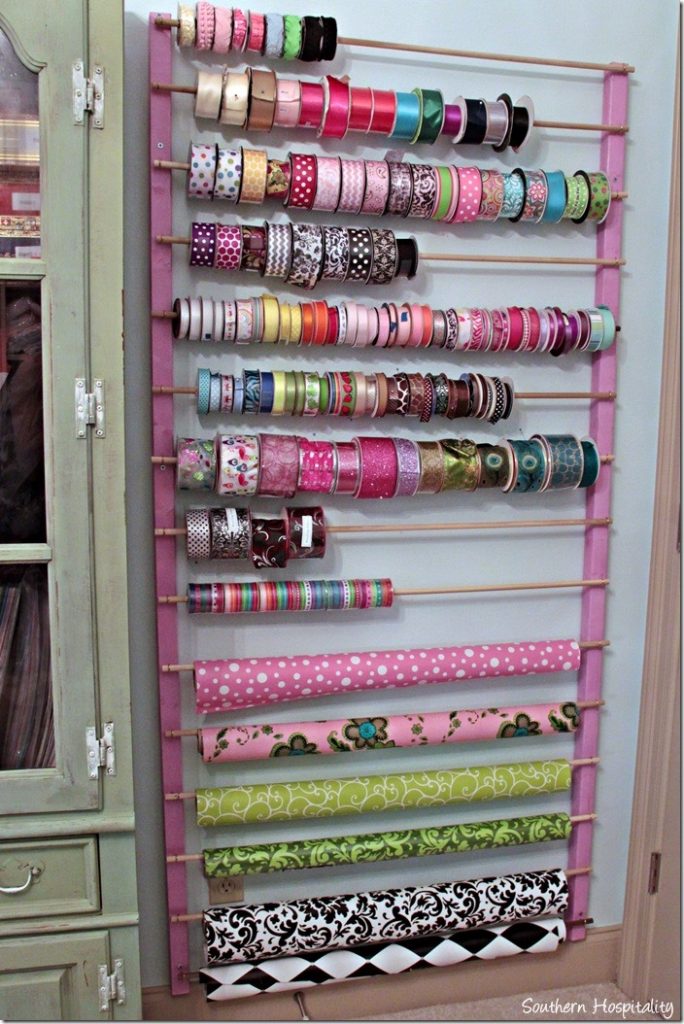 My niece, Lauren, made this DIY gift wrapping station at her house in New Orleans and it's one of my most pinned images.
Get yourself some free printables from The Handmade Home, these are the cutest!
Sherry with Savvy Apron has a super organized garage with paint cants and that cute peg board. Great way to see your paint and know what you have.
Here's another garage pegboard from Emily with Small Stuff Counts that holds supplies cute and handy too.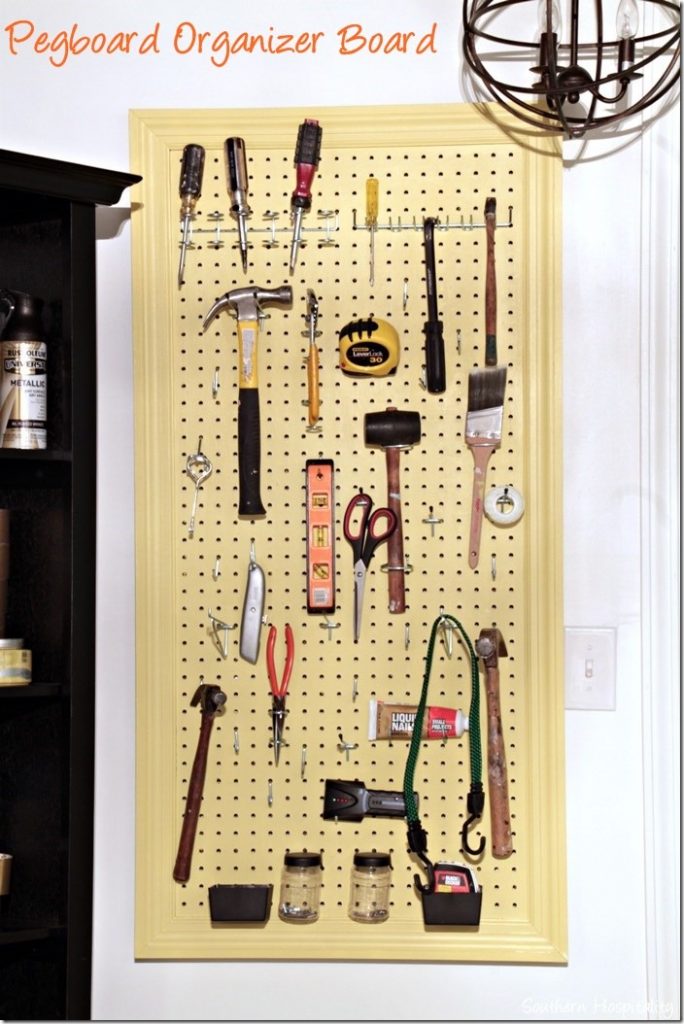 Here's my own pegboard organizer board that I made a few years ago. I need to get this hung up in a handy spot again because I loved having it organized and ready to use.
I'm so envious of Tricia's walk in pantry from Simplicity in the South. Wow, is this a neat space and so organized! Of course, you have to have a space like this which I do not.
Amy with Atta Girl Says has a very organized pantry with her slide out drawers.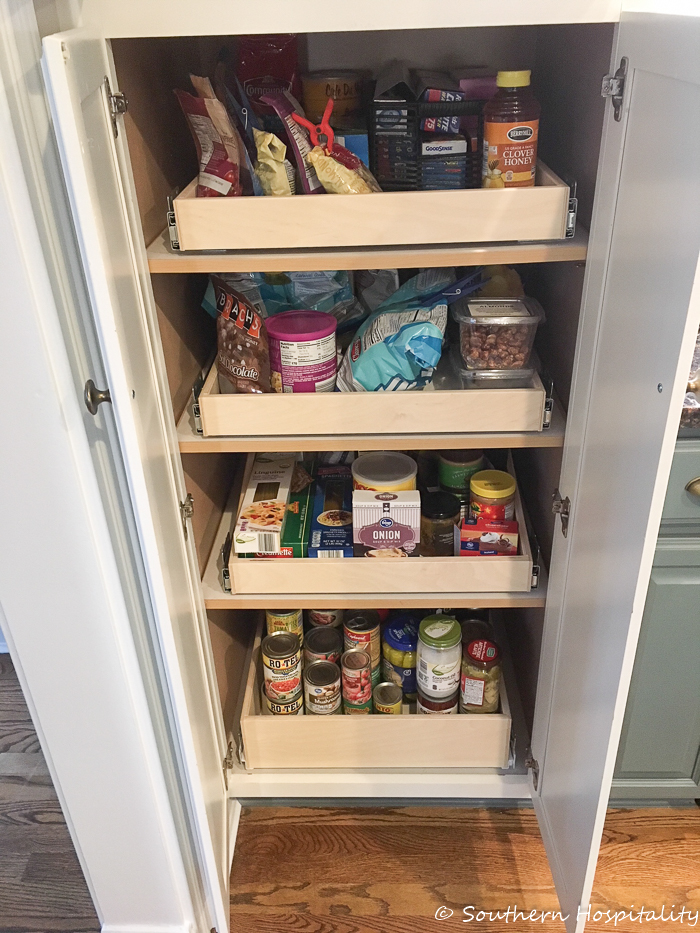 I did a similar sliding drawer system in my pantry too and couldn't be happier with them. My sister just did the same ones before Christmas.
Jessica Welling gives her best tips for organizing a small pantry. Of course, cute labels help!
Marissa with Squirrels of a Feather shows how adding pretty knobs to the wall can become an instant jewelry holder. I have way too much jewelry for this idea, but I love it.
Here's another cute necklace holder from Sunshine and Munchkins. If you have a few pieces, this is a great idea.
Shannon from Fox Hollow Cottage shares a perfectly organized closet with lots of items to keep your closet looking great.
Laura from Inspiration for Moms made her closet pretty and organized. Love that background.
Dagmar gives her best tips for organizing a linen closet. Lots of baskets and boxes help the process.
Jen from Rambling Renovators has one organized linen closet that looks picture perfect.
Have a really small bathroom? Julie from My Wee Abode shares her wall organizing ideas for towel storage.
Nancy with Artsy Chicks Rule shares how she took an old dresser and turned it into a coffee station complete with organized coffee drawers.
I love this idea!
Squirrels of a Feather shares the Konmari method of folding clothes to keep drawers organized. I love the look of this!
Ideas on organizing a junk drawer from Sunshine and Munchkins. How do we end up with junk drawers? They're so hard to keep organized!
Angie with Postcards from the Ridge uses vintage finds to keep her drawers organized. Pretty and quaint!
Laura with Inspiration for Moms shows how grouping things on the kitchen counter in a tray looks so pretty and keeps things at your fingertips too.
Don't Miss a Post, join my list!