I've had a little bit of melancholy, not having my own house to decorate for Christmas, for the first time since the mid-80's, when I moved into my first house.  But, I'm not going to let that stop me from feeling festive.  My parent's house is not really a great house to decorate for Christmas, there's not a lot of room to add things, but we just might put up a small tree.  My mom has a small fake one that she usually puts in their den, but I'm thinking about getting a little tabletop real tree this year and putting it on the porch.  I'll keep you posted on that!
But, I will have plenty to share from my sister's house and also plenty of friends who deck their halls, so the blog will have plenty going on for the month of December. I've already done some photo shoots and can't wait to share with you.
In preparation for all the Christmas decorating that I know will be going on this week, I'm looking back to last year at my old house.  I think it was my most favorite Christmas decorating I've done to date, so it's worth looking at again.  And there are bound to be some new readers who didn't see any of my Christmas decor from last year, so I hope you enjoy.
The dining table was set with brown and white transferware.
The mantel got a dose of aqua last year and I did love it.
Oh, how I love my mom's vintage Shiny Brites that she passed down to me.  These might make an appearance this year too.   They bring me joy, since these are what dangled from our tree growing up.
The dining room buffet got a winterscape too with this cloche and natural elements.
I took a Christmas tour through Mountain Brook in Birmingham and saw some of the most gorgeous real greens.  Great ideas for using real greens on that link, with mailbox swags and wreaths.
My colorful Ballard's tabletop tree was fun and you'll see this again at my sis's house this year.
I added another tabletop tree last year on top of my aqua plant stand.
I so love mercury glass and silver all grouped together and loved this table.
And my lime and red tree in the kitchen was an all-time fave.
I've still got all of this packed away and one of these days, it will all come back out again and I'll have a big Christmas celebration with it all.
Don't forget the Holiday Home parties start next week!    Layla's up next Monday with table decor and I'll cover mantels on Wednesday.  Get your posts ready to link up if you have some inspiration to share!

Feel free to use this badge on the mantel post to  link back, if you would like to.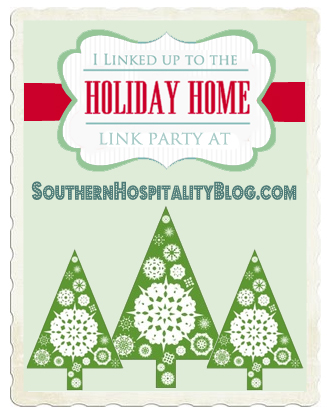 Are you decorating for Christmas this week? 
Are you doing more or less this year? 
Some years, I feel like doing a lot and sometimes a little. 
How about you?
If you're stopping by from Nester's Christmas home tour, so glad to meet you.  This is a recap of my Christmas from last year and some of my fave things for the Holidays. 
Don't Miss a Post, join my list!