I hope you are enjoying Marc's tour in his beautiful home.  If you missed Part 1 and Part 2, check those out too.  Now, we'll head down to the finished basement, which is all aglow with Christmas cheer.  Marc loves Christmas and sprinkles it all through their home.  It's fun and happy and exciting to see.
At the bottom of the stairs, this pretty vignette greets guests.
Lovely bird and nest.
With a wintry flocked tree under glass.
Looking into the downstairs family room, with a white flocked blue and white tree.
This is a cozy room to hang out in.
Sectional sofa and big screen TV.
One of the dogs is resting on the chair.
Festive and sparkly mantel.
A guestroom is downstairs also with pretty antique twin beds.
Along with a Santa and tree on the dresser.
And a bottlebrush wreath on an old window above one bed.
Here's a closer look at the pretty blue and white tree.
It's gorgeous and icy blue.
A pretty treatment on the walls down here, this space has a full kitchen and dining space.  It's more of an apartment than just a finished basement.
Pretty table and chairs.
Happy tree in the corner.
Marc said these Santa mugs are from childhood.  So cute!
Full size kitchen with black cabinets and white island is gorgeous.
Marc has it all decorated for the season too.
Lots of collections hang out down here, like these snowmen.
Happy, jolly Santas.
And carolers are singing on a table down here.
Snowman and pretty tree.
Even the office space gets some Christmas cheer.
Bathroom side table.
Love this little tree.
And these shelves are bedecked with pretties too.
A corner cabinet in the bathroom downstairs gets a wintry snow village display.  Check out the brick floors here.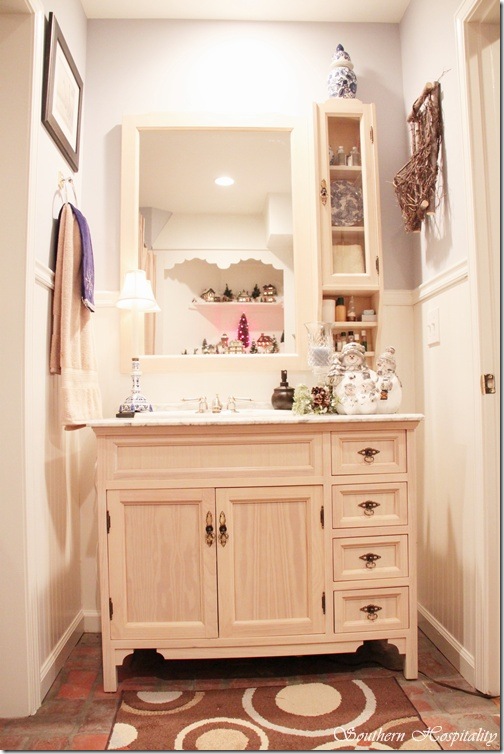 And that completes the tour of the suite in the basement.  This is one of the nicest finished basements I have ever seen.  It doesn't have a closed in feeling at all, it's all bright and cheery.
I hope you've enjoyed seeing Marc's home.  If you get into Encore Fine Furnishings in Roswell, look Marc up. I know he would love to meet you.
Thanks, Marc, for letting me show off your Christmas house!
I'll be back tomorrow with more from my friend, Ruby's festive home for the holidays.
Don't Miss a Post, join my list!