Today's Feature Friday is my sister, Renee's house all decked out for the Holidays.
You all really loved seeing Marc's house (my sister's neighbor) and they are truly similar in that they both love to decorate every room in the house.  My sister has 12 (count em'!) trees in her house this year, a mix of floor trees and tabletop trees, but 12 trees nonetheless.  It's beautiful and festive and this is where our family spends Christmas morning, around the big tree in their great room, fire blazing, Christmas music on the stereo, and she makes a wonderful Christmas brunch for all of us.
It's wonderful and it's family time!  We enjoy it so much, that Christmas morning together.
So, I'll take you on a tour this year of her Christmas home, which takes weeks to finish.  But, she truly enjoys it and she has a great hubby who also helps her get it all down to decorate for the Christmas season.  She also does a few parties every year, inviting friends in for the festivities this time of year.
Hope you enjoy!
Their front door is always decked out too, with lighted garland at night, very welcoming.
Inside the front door, the foyer table is decked out in lighted garland too with lots of pretty white Christmas décor.
Several of you have asked the paint color, so I'm adding it here:  Sherwin Williams Whole Wheat, the same color I had in my old house.
It is beautiful at night all lit up.
The white flocked tree in the foyer and large size Mary and Joseph and baby Jesus.
Lighted garland with bows and white poinsettias going up the stairs.
To the left is the living room, with a tree in the urn.
Nativity set in the living room.
This tree is in gold and bronze tones.
Just inside the living room, a big white Santa greets guests.
Looking right from the living room is the open dining room.  Their whole house is all open and is perfect for parties, since it's all in a circle for guests to move around.
She has bought a ton of her furniture on Craigslist, including this huge round dining table and chairs and the hutch in the background.
A green and red tree is festive in here.
Love this tree!
She adds large Christmas balls to this big container in the middle of the table for the holidays.
A cute animal print tree is on the mirrored sideboard.
Moving straight in from the foyer is the large two story greatroom with the biggest tree.
This is where we gather on Christmas morning as a family.
When that first grandbaby girl is born, she will love coming to her nana's house for sure.  This tree is very nostalgic with all the Santas and old fashioned ornaments.
The mantel is all filled with Santas and lighted garland and a lighted wreath.  Pretty, pretty!
I was sent a beautiful wreath this year from Tree Classics and let my sister use it on her fireplace and it's perfect here with her garland. They do have some very nice faux garlands and wreaths if you're in the market. This is the Venetian Elegance.
This big room feels very homey and cozy all the time, but especially during Christmas.  She adds her lighted village to the big entertainment center and it's so pretty too.  She found this beautiful entertainment center on Craigslist too and it's one of the best things she has ever scored.
Not a great pic, but I love the coziness of a lighted village.
The console table in the greatroom gets some Christmas spirit too.
And one corner of the greatroom has a fun and festive colorful tree.
Lauren brought this New Orleans Santa to my sister one year.
From the greatroom, looking back is their big kitchen. It's all decked out too.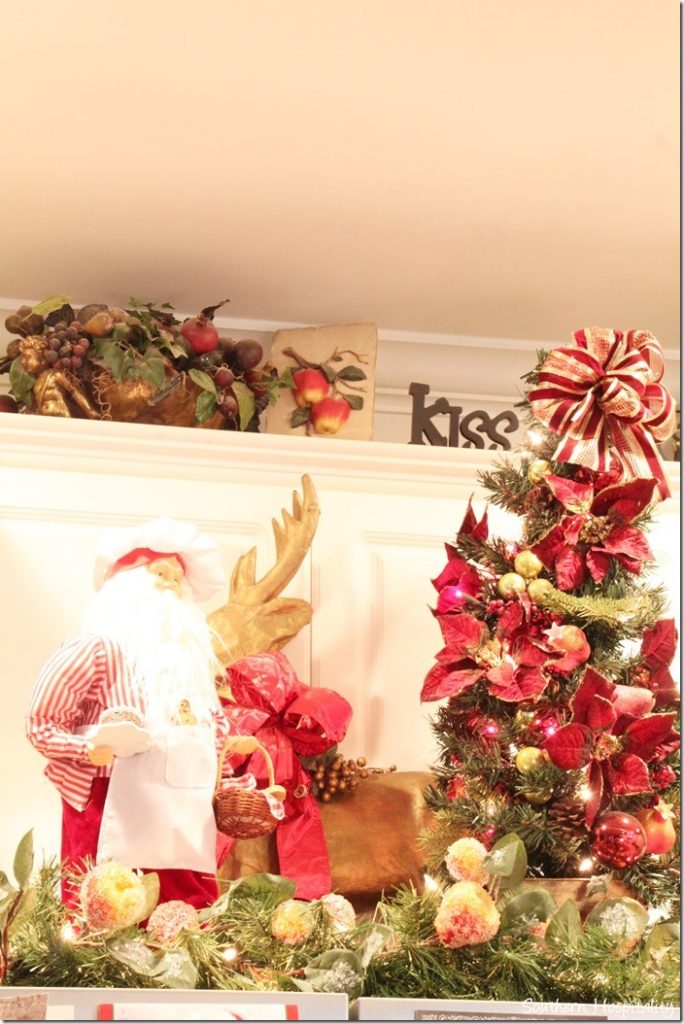 Santa on top of the fridge.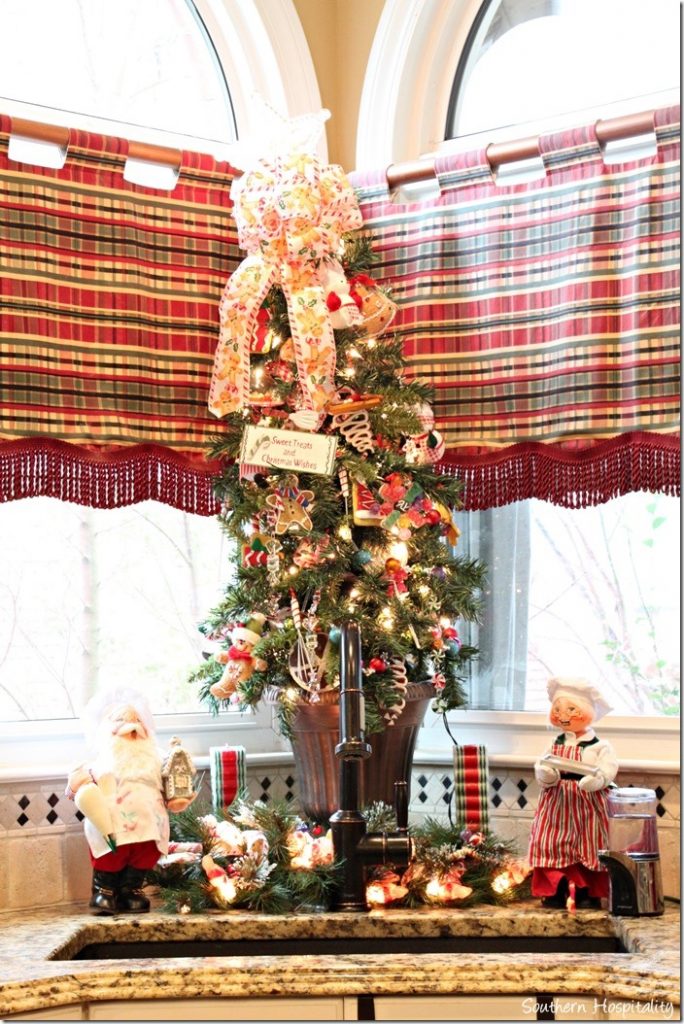 A cute candy/baking tree in the window of the kitchen.
She's collected so many nostalgic Christmas things and adds them to the bakers rack.  Buster says Merry Christmas too!
On that same floor is Lauren's old room that she still uses when she is home.  It was redone a couple of years ago in blues and browns and I don't think I ever showed you this room.
It's a pretty room and we really loved this rug in here that we found shopping.
It has a cute little tree in here too.
Just a little touch of Christmas in the bedroom.
Outside the greatroom is their covered back porch and of course, she decorates out here too.  A wildlife theme tree  is featured on the porch.
The backyard garden is in Winter mode now, but they add a lighted snowman and tree out here for fun.
Lots of cute snowmen out here too.
A cute urn tree in the upstairs hallway has greens and whites, these are the things we got for the Michaels dream tree this year.
The upstairs hallway has a group of carolers added.
In the master bedroom is a beautiful blue and brown tree. I love this one!  If you missed my sister's master suite makeover that we did 2 years ago, go and check it out. It's a gorgeous space!
Bronze tones and blues are so beautiful.
With a pretty brown sequined skirt.
From upstairs, looking down to the greatroom tree.
All the way down in the basement is their media room and she added a tree in there.
It's a sports theme tree. Go Dawgs!
They added a fireplace in here a few years ago and it's a very cozy room for watching movies.
As far as where she stores it all, they have a complete finished basement and she has a really big storage area that holds most of her Christmas decorations. The rest of it goes up into the attic, where there's lots of room up there too.
That's my sister's house this year! I hope you enjoyed the tour. She does way more than I do. I don't have the energy to do that much, nor do I want to put it all away, so I keep my Christmas decorations a little more simple.  But I know everyone is different and she LOVES it, so more power to her. It's great to be over there and enjoying on Christmas morning, so I do appreciate the effort she puts forth.
Merry Christmas, y'all!
Don't Miss a Post, join my list!