Happy Mother's Day to all of you out there!  I'm spending some time with my mom today and we celebrate every single Mother's Day with grateful hearts at this stage of life.
We finally got one room (mostly) finished now in Andrea and David's 1950's ranch home.  Things are moving along over there and after getting chairs recovered, furniture painted and sofas changed out, accessories added, we can finally call this one almost done.
There are still pillows to be made for the chairs and a couple more tweaks, but it's finished enough I wanted to go ahead and share it with y'all.
Let's go back and look at the BEFORE shots and then you can really appreciate the AFTERS!
Before:   The sunroom was the catch all and had a cluttered feel.  Not very cozy at all and they really wanted to use this room for sitting and relaxing.
Most of the old furniture was moved out, as well as the rugs and accessories.
Mr. Deerhead came off the walls (yay!) and the desk was painted and moved to the other side of the room. Love the plants so they will stay.
AFTER:  A brighter and lighter sunroom makes for a much more pleasing room, don't you think?!   We painted the brick and walls Benjamin Moore Revere Pewter and the lighter shade is very appealing in here. It's a great color!
The large rug in the middle of the floor was taken out and since that is a direct pathway in and out of the garage to the family room. I opted for rugs on either side in the seating areas and nothing in the middle.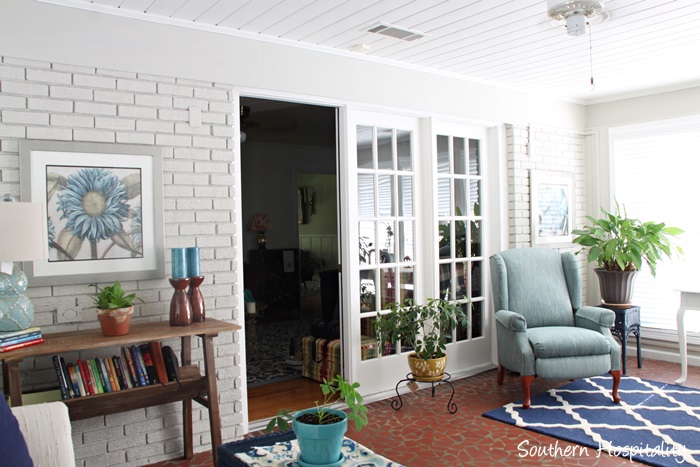 It's so much prettier and appealing now and they actually want to use this room again!
BEFORE:  The dark burgundy chairs needed an update and the fresh turquoise fabric makes a huge change.  Andrea likes blues and greens so we are using those throughout the house.  The old floral sofa went away and a white loveseat from the living room was brought in on the other side of the room.  You can see she spray painted the white wicker coffee table in navy to freshen it up.
Newly recovered chairs look great in here.  We found this rug at Rugs USA and ordered during one of their big online sales.  It's a wool rug and very soft and cozy.
This room has so many windows and now looks SO much better with the refresh. We kept some of her brass pieces, like the big brass deer.  Note the painted desk in the middle with the newly recovered chair seat.  I'll be sharing that in another post. Lamps and accessories were updated too.  Don't you love the newly recovered chairs?  I think they look fantastic!
A closer look at this corner, with the brass animals and plant in the corner.
And the other side, with a pretty framed print.
We found these prints at Homegoods, one of my favorite shopping spots.  We found several things there for this room.
Love the chair fabric and how great these turned out.  It's nice to find a good upholsterer and I think they found one.
The entire room has a different feel now!
The desk got a new lamp from Homegoods. This is an Alexa Hampton collection lamp and is very elegant and pretty.  I loved the gold accents on it.
Back to the other side of the room.  We added a pretty striped rug (Ralph Lauren indoor/oudoor) from Homegoods and this is the loveseat that was in their living room. Perfect out here.  Now the doorway is completely open that goes outside.  The other doorway coming in from the garage is to the left.
New pillows will be made with this fabric, but that hasn't happened yet.  Soon!
On the brick wall, we went shopping for a side table and found this pretty rustic console table at Nadeau, one of my fave shops for occasional tables in solid wood.  They have so many shapes and sizes and their prices are reasonable.  I think this was around $180 and we loved the look of it, plus the shelf that holds books underneath.  I worked with Nadeau last year on freshening up my foyer with a new console table, but this project isn't sponsored. I just like their store, so check them out if you have one in your city.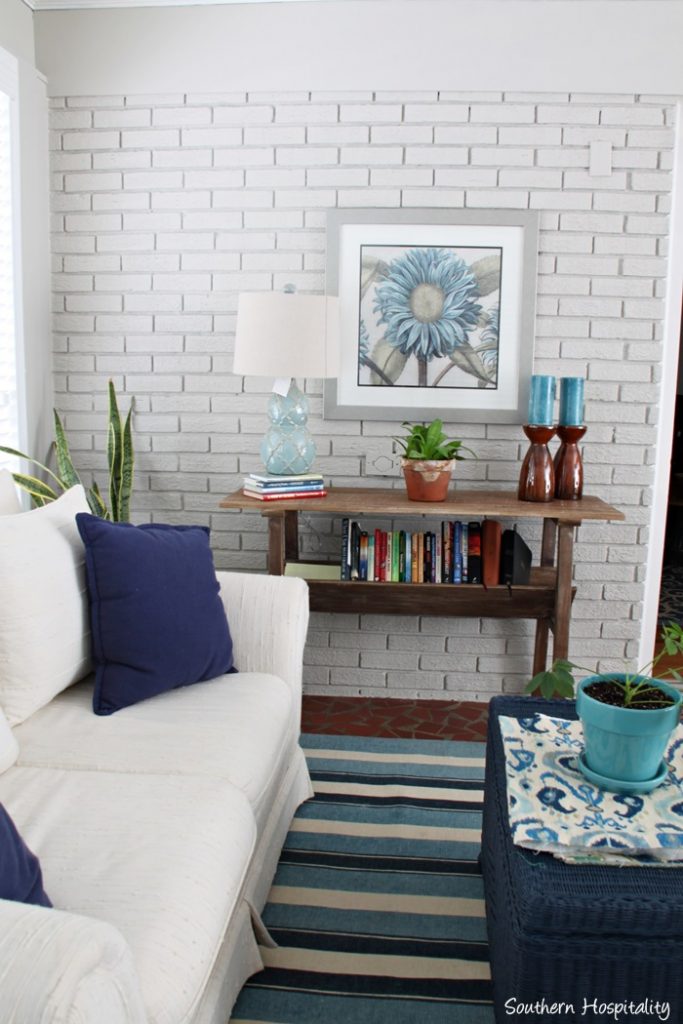 Another new lamp from Homegoods went on the console table.  Excuse the price tags I forgot to take off.   She already had the candle holders and candles and these go great out here.
Again, the prints are from Homegoods and add a garden feel.  The rustic table adds texture and wood tones to the room, bringing in warmth.
All the plants give this space life too.  You know how much I love plants.
And that's a look at Andrea's sunroom space!  I just love how it turned out. We have lots more to do in the house and I'll be back along the way with more updates.
We are working on the kitchen now and just had the kitchen cabinets painted white with new knobs and other updates.  Can't wait to get that one done and keep on moving!  Andrea is loving all the changes.
If you missed the beginning of this project, these are friends of mine from church and I'm helping them update their 1950's brick ranch house, one room at a time.  It will probably take this whole year to get through most everything, but we are happy with the progress so far!
Updating a 1950's Brick Ranch – All the Before pics of the house are here!
Painting their Red Brick Fireplace
One more note:  Our sweet Aunt Mary passed away and our family is heading down to Florida for the funeral for the next couple of days. Thank you for your prayers! We know that Aunt Mary is with Jesus right now and is healed and whole.  We will miss her greatly!
Don't Miss a Post, join my list!