Before I get into the Christmas decorating, which I'm scrambling trying to finish, I wanted to go ahead and share before and after shots of my kitchen.  Oh, how that space has changed.  If you weren't here at the beginning, you might not know how BAD  it really was.  Well, it was extremely dated, dirty and ugly and nothing short of a gut job would do.  How happy I am that we did gut the space and start over.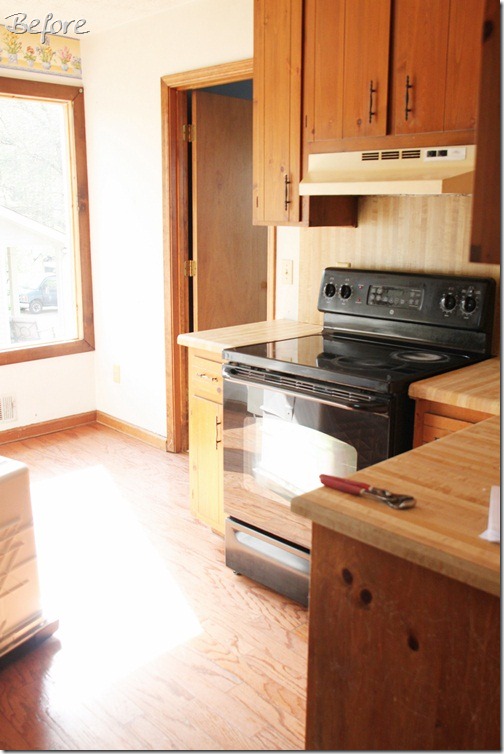 If you've been with me through all of this process, you'll remember this pic.  Dated pine 70's cabinets and this kitchen was filthy disgusting.  I couldn't wait to get them out of here.  We closed up that door above that went into the living room and that was the best decision we made too.  That gave me room for my open shelves and to extend the lower cabinets and countertop all the way to the windows.
AFTER:  It's a whole new space and I could NOT be happier with my kitchen.  It truly is a dream kitchen to me. It has everything that I need and it's all handy and just the right size.
Sink side before.  Dated laminate butcher block, nothing in this kitchen could be saved (except for that old fridge, it's now in my storage room downstairs).
AFTER:  Lighter and brighter and my Ikea cabinets are the bomb.  Love, love them!
Another disgusting Before shot, those lower cabinets were falling apart, they were so bad.
Here's a shot from the same angle as the Before pic.  Amazing the difference!
And now, it's a whole brand new kitchen with Kashmir White granite countertops and a Metallic Gray Blanco granite sink. You'll notice that I finally got that window painted.
And another view of the dishwasher and fridge.  My cabinet installer did a great job building in the fridge and I love how it turned out.
Looking back to the dining room, this is the only door coming in here now and it works just fine.  I adore my new kitchen!  In fact, I adore my whole house.  I added my cute little chalkboard by the door.  That was a yardsale find, actually a mirror that I painted with chalkboard paint.  It will come in handy for grocery items.
Those open shelves made from salvaged wood that I got from Southern Accents in Cullman, AL are such great statement pieces in here. I'm so glad I saved them from 2 years ago and finally got to use them in my new home.   That subway tile is exactly what I wanted too and I'm really happy with all my choices.  Planning a kitchen from scratch can be quite intimidating and I really tried to make classic long-lasting choices and I sure hope I did.
My coffee station is to the left of the sink.
Did you notice I painted my island?  I thought bringing in the gray in the rug and countertops would be a nice balance and I really like the color (which is Timbermine by Dutch Boy, in case you are wondering).  And I finally figured out the best way to place it in here, all the way against the windows.  I like it a lot and can still get into my large bank of drawers and the fridge to the left.
The chevron runner is from Ballard Designs.
That green pottery piece on top of the island is a bean pot and was a gift from a reader and it came from Celebrating Home.  She let me pick out what I wanted and it's a cooking pot.  What sweet readers I have!  Thank you, Leah!  I have barely had time to start cooking again, I've just been grabbing what I can from the grocery store, but soon I'll be back to cooking meals again.
My bunny chef will be on guard on the island.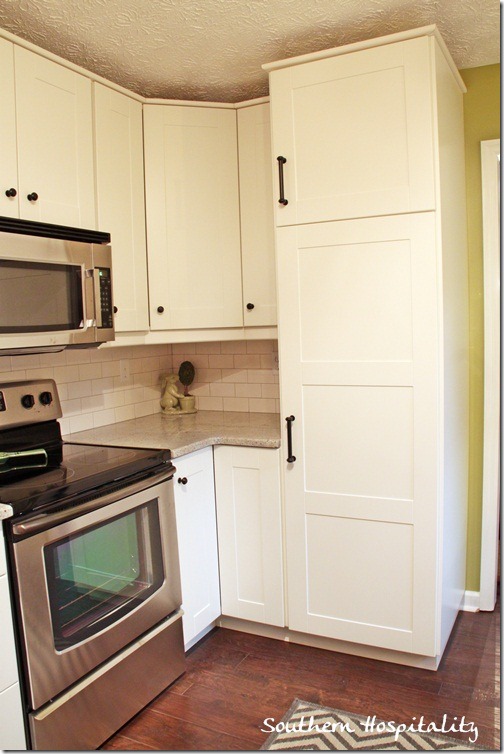 And looking back towards the pantry (which I love, love), this kitchen is all I could ever dream of.  Truly, it's very functional, has plenty of storage space and I adore it.  It's the nicest kitchen I've ever had.
Here's the post on the breakdown of all the kitchen costs, so check it out for all the details. It was a very affordable kitchen renovation!
Thanks for sharing in this renovation journey with me, it's been so much fun having all of you along for the ride! I can hardly believe I'm actually in here now, but it sure feels good.  
Don't forget our Holiday link parties start on Tuesday and Layla's up first with mantels! Since I don't have a mantel, I'll be showing you my dining room sideboard all decked out!
Monday at 3 pm EST, I'll be doing a Google hangout with these fun bloggers and we'll all be sharing ways to use cloches from Wayfair.  It's all about the Holidays and how to make them fun and festive!
Don't Miss a Post, join my list!