You people sure have been busy!
With over 400 link-ups on the Top Projects of 2011 party last week, I could hardly get through them all.  But, wow oh wow, at the fun projects and pretty pics I saw.  I did go through and pick out a few of my faves to share with everyone, so here are my observations about 2011 and all the projects that were done in the blogosphere. Please don't get your feelings hurt if I don't feature your project. It was so hard to pick and choose a few, but I mostly wanted to highlight trends that I observed, as well as giving some newer bloggers the spotlight.
Ya'll have been busy painting, recovering, repurposing furniture, upholstering, shopping thrifty, and overall doing super projects out there!   All for the love of your homes and I so love that.
Let's also take a look at trends that we all saw in 2011 as well.  You will see some patterns on popular things and many of you were jumping on the trends with gusto!
Gallery walls are still all over blogland and Melissa at 320 Sycamore did one of my faves with her balance of frames and interesting items.
Pop of Pretty shared her own version of a gallery wall in her daughter's room.  Gallery walls are a great way to personalize your space and there are so many ways to put them together.  I did my own gallery wall in my old house in 2010 and loved it.
Reclaimed wood continued to be a HOT trend and really exploded in 2011, and Being Brook made a headboard for her child's room.
My friend, Chris at Just a Girl took that idea and did a whole pallet wall in her son's room that turned out fantastic!  Great way to get that rustic look on one wall and she used discarded old pallets for free.
Board and batten is still all the rage and Diane at In My Own Style did her own version of board and batten and freshened up a bathroom. You can put it at chairrail height or higher and it works in so many settings.
Blue Clear Sky did an area in her house as well.  There were plenty of board and batten tutorials all over blogland last year.  I would love to try this myself and maybe I'll get to do it in my fixer-upper house one day. Another trend in blogland was rustic painted signs and she also has one of those too.
Pallet art and reclaimed wood signs were big, big trends in 2011 and Creatively Living made this pretty one one, with a wonderful scripture too.
Love of Family and Home also did a rustic sign and I love the thoughts on this one.
Young and Crafty's wood sign is unique artwork too.
Ripping off carpet on stairs continues to be a big trend (hey, I was right in the middle of that in 2010 when I redid my stairs!) and there is no better way to get a new look on stairs, than ripping up the carpet and painting them.  This trend I love!  Cleverly Inspired did just that and her stairs look fabulous now.
June and Bear did the same thing on her stairs and took it a bit further with numbers.  Numbers and typography have continued to trend in 2011 in a big way.
Take the Side Street did her version of painted stairs with a fresh new twist.  I love this too!   So, if you have some ugly carpet that you are really hating, rip it up and paint those stairs. You will not regret it!
One of the biggest trends in blogland were all the starburst mirrors!  Wow, did we see a LOT of DIY starburst mirrors out there and everyone got creative with them.  Decor Adventures had her own version too.
And Markum Street Designs did a pretty version too.  So many starburst mirrors.  Did YOU do a starburst mirror last year?  Is this still trending for 2012?
Ruffles and slipcovers were all over the place in 2011 and Domesticate did a cute version for her bench.  Wonder if the slipcover and ruffle trend will start waning in 2012?
Thrifty Parsonage Living did her own upholstered chair redo, also with a cute ruffle.
You're Talking Too  Much gave an old outdated sofa a new life with covered cushions and a paint job.  There is nothing that can't be changed with fabric and paint, I'm convinced!
Possibly the HOTTEST trend in blogland this year was the use of chevron patterns.  It is everywhere.  On furniture… as House to Your Home did here.
To curtains, as All in a Day shared.
Chevron was everywhere.  Kitchen Table for Two did a lazy susan in a chevron pattern.
And another furniture reinvention by Michaela Noelle in a chevron pattern.  Did you fall for chevron in 2011?
Felt wreaths and flowers were ALL the rage too in blogland and Nest of Posies did this adorable one.
There were some fabulous room makeovers, like this kitchen from Creatively Living.  Notice the open shelves!  Big, big trend!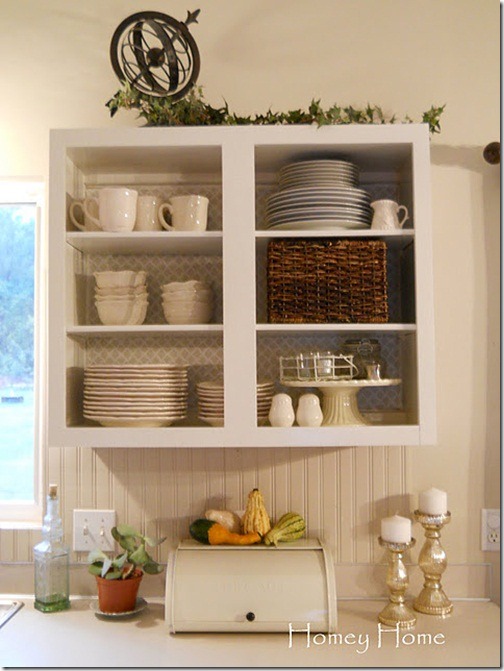 This kitchen redo from Homey Home shows the continued trend for open shelves in the kitchen.  Lots of open kitchen shelves happening in blogland too last year.
There are some gutsy projects going on at Imperfectly Polished, with this DIY concrete countertop.  They show exactly how they did it!
Jessica at Four Generations One Roof, built a fabulous barn door wall unit.  Many of you are honing those power tool skills and I love that trend!
This trend of painting old furniture is going to stick around, I think, as our economy continues to plummet.  We all love rescuing those old worn-out and dated pieces of furniture and giving them new life with paint as Less than Perfect Life shows.  Paint, my friends is the best thing you can have in your home arsenal for updating and reinventing the old!
Wildwood Creek did her version of painted furniture and this pretty peacock blue makes this campaign chest come alive.  Paint will continue to rule in 2012!
Rescuing the old and forgotten will continue to be a popular way to redo, as Meredith and Gwyneth shows a headboard made from a discarded picture frame.  Now that is thinking outside the box.
Evolution of Style shared a pretty stenciled wall and that trend is one of my personal faves.  I will be using stencils more and more to freshen up spaces.  This trend I love and I got into stencils in 2011 myself and plan to do more.  Great way to update for little money and get the look of pretty wallpaper.
Chalkboard paint is still very popular and Sweet Something Design shared her lovely version.  I've done my own chalkboard paint project too and it's fun!  Will this one stick around in 2012?
There were plenty of room redos going on last year too and Jane from Borrowed Abode freshened up her outdoor patio space.
Sharing our Path did just that when they built their own winding stone walkway.  Outdoor projects are so inspiring!
Designing Domesticity updated her daughter's bedroom into a fresh new girly space.
Love of Family and Home turned a closet into an office.  We will all continue to be resourceful when it comes to rethinking spaces in our homes.
There were outdoor spruce ups going on and The 2 Seasons went from a white cottage (which was really cute) to a gray one and wow, does this show the power of curb appeal.
Window boxes and a red front door have never looked so good!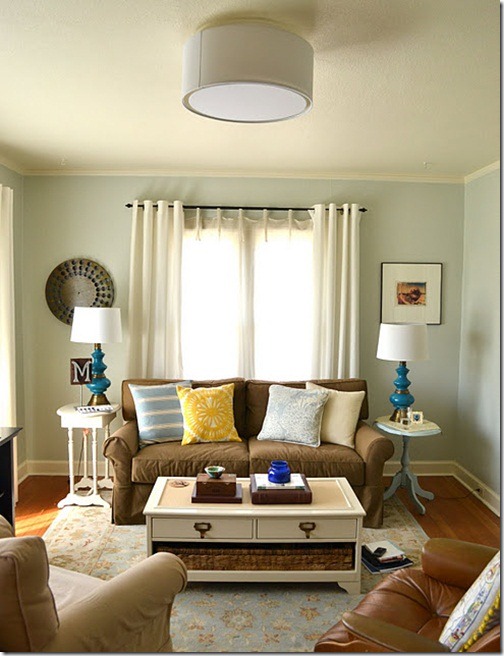 Home in the Making shared a room redo too and I love the cozy factor.
More board and batten in My Cottage Charm's laundryroom redo gives it plenty of charm.
Stacy at Not Just a Housewife redid her office into a stylin' and beautiful space.  Love that pop of blue.
Another smaller trend in blogland was using stumps as coffee tables, either natural or painted.  Thrifty and Chic's version is so pretty in white!
Kitchens and bathrooms are probably the top rooms to overhaul and Tellerallaboutit's masterbath redo turned out beautifully.  Don't we all want a pretty bathroom?
Richella again shows us the power of paint when she transformed her dining room from red to a vivid blue. Totally gave her space a shot in the arm!
I couldn't resist this adorable pic of new puppy at House Talkn's place!  What a way to end the year!
So, what do you think of all these trends in blogland?  I couldn't help but take notice of them all as I went through the project party.  Y'all have been so busy being creative and making your homes beautiful and for that, I commend you.  Most of us as women, love feathering our nests and doing projects with paint and fabric are ways that we can make a difference in our homes.
From painting walls, to giving life to old furniture, recovering pillows or chair seats, the DIY world is bursting with creativity and I'm so happy to be a part of it in a brand new year of 2012.
So, which trends will stick around and which ones will leave?
Which ones of these that I highlighted did YOU do?

Do you see any new trends on the horizon for the New Year? I'd love to hear your thoughts!
- Rhoda