I know! Wallpaper can be a touchy subject! Who of us hasn't spent countless hours and tedious minutes pulling and tugging old wallpaper off the walls of our homes? I know I've done my fair share of that. I've been using wallpaper in my homes since the very first one and then skipped the wallpaper in the two houses I've lived in before our current house, except for using beadboard wallpaper as wainscot.
I've lived in a total of 4 houses since I've been an adult on my own, so I haven't moved that much. My previous house that my dad and I fixed up had some wallpaper in there that I had to remove. That wasn't fun but thank goodness it wasn't all four walls, just accent walls and a bathroom. In our house now, I'm embracing wallpaper all over again. It was very in vogue back in the 80's when I moved in my first house as a single girl. And it's made a huge comeback in the last few years. l adore so many of them and think it does so much to elevate a space, there are so many ways to use it.
Today, I'm sharing 30 inspiring spaces using current wallpaper and just look at the punch of these rooms. You'll have to let me know how you're feeling about wallpaper these days. It's a conversation we've had before on the blog and many of you were naysayers back then, but have you changed your mind on this topic?
Paint is wonderful for changing a space, but nothing pulls a punch like wallpaper! Please visit the links below for more information on each project. These ladies knocked it out of the park.
Use Wallpaper as a Room Accent
Either on one feature wall or all over like a small powder room. This seems to be a popular spot for wallpaper and I totally love a powder room wrapped up in beautiful wallpaper.
Modern Farmhouse Powder Room / A Blissful Nest
Powder Room Refresh / A Life Unfolding
Colorful Nursery Wallpaper / Charleston Crafted
Girly Craft Room / Jennifer Allwood
Green, Blue & White Master Bathroom / Dimples and Tangles
Laundry Room Pantry Wallpaper / Design Dazzle
Bedroom Focal Wall / Dukes and Duchesses
Animal Print Closet Accent / Erin Spain
Floral Foyer Fun / Farmhouse 1820
Black and White Tile Powder Room / Hymns and Verses
Pink and Gray Bathroom / Jennifer Allwood
Tropical Accent Wall / Lovely Indeed
Colorful Powder Room / PMQ for Two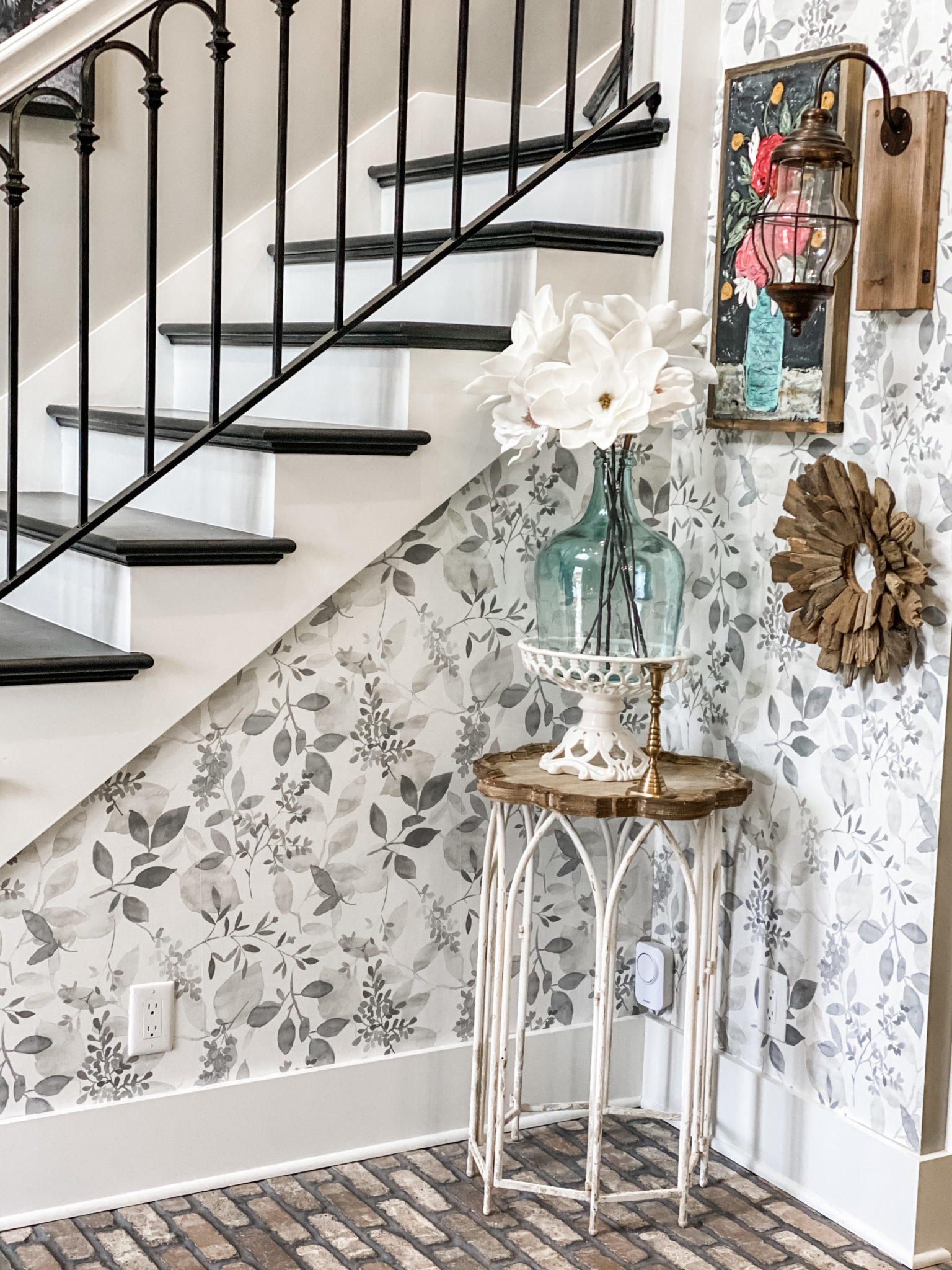 Entry Wallpaper Accent / Re-Fabbed
Home Office Map Wallpaper / Robb Restyle
Soft Floral Dining Room / Simple Nature Decor
Entry Way Accent Wall / Stampin Fool
Floral Toddler Bedroom / The Lived in Look
Bedroom Refresh / This is Our Bliss
Neutral Guest Bath / Tidbits & Twine
Blue Floral Bathroom / 2 Bees in a Pod
Office with No Windows Accent / Up to Date Interiors
Stairwell Wallpaper Accent / Virginia Sweetpea
Girls Attic Bedroom / Heathered Nest 
Wallpaper as Stair Risers
Wallpaper on Cabinet Backs or Bookcases
Decorated Dog Crate / Bloom in the Black
Retro Kitchen Open Shelves / Grillo Designs
Organized Closet from Inspiration for Moms
Wallpaper as a Kitchen Backsplash
Wallpaper Subway Tile / Our Crafty Mom
Wallpaper on the Ceiling
Master Bathroom Ceiling / Heathered Nest
So, did you see anything that piqued your interest? There are so many styles, colors and types of wallpaper out there from traditional pasted to peel and stick. I've done 3 wallpapers in my house so far and have my eye on two more spots for a wallpaper accent. I can't wait to find the right ones and get those areas done. It's such a fun way to add accent, color and style to a space.
Here are the 4 spaces I have done with wallpaper in our current home. Two rooms are grasscloth, which Mark loves and has no problem doing. The more bolder wallpapers, he's not a fan of them all so I have to find something that we both like. We have one more bathroom to do and I'm going to add an accent wall in our guest bedroom, maybe this year.
I added blue grasscloth wallpaper in our dining room and love it. This one is by Schumacher.
This black and white grasscloth is in our guest bath. We saw it in a showhouse and had to have it. It's very tweedy.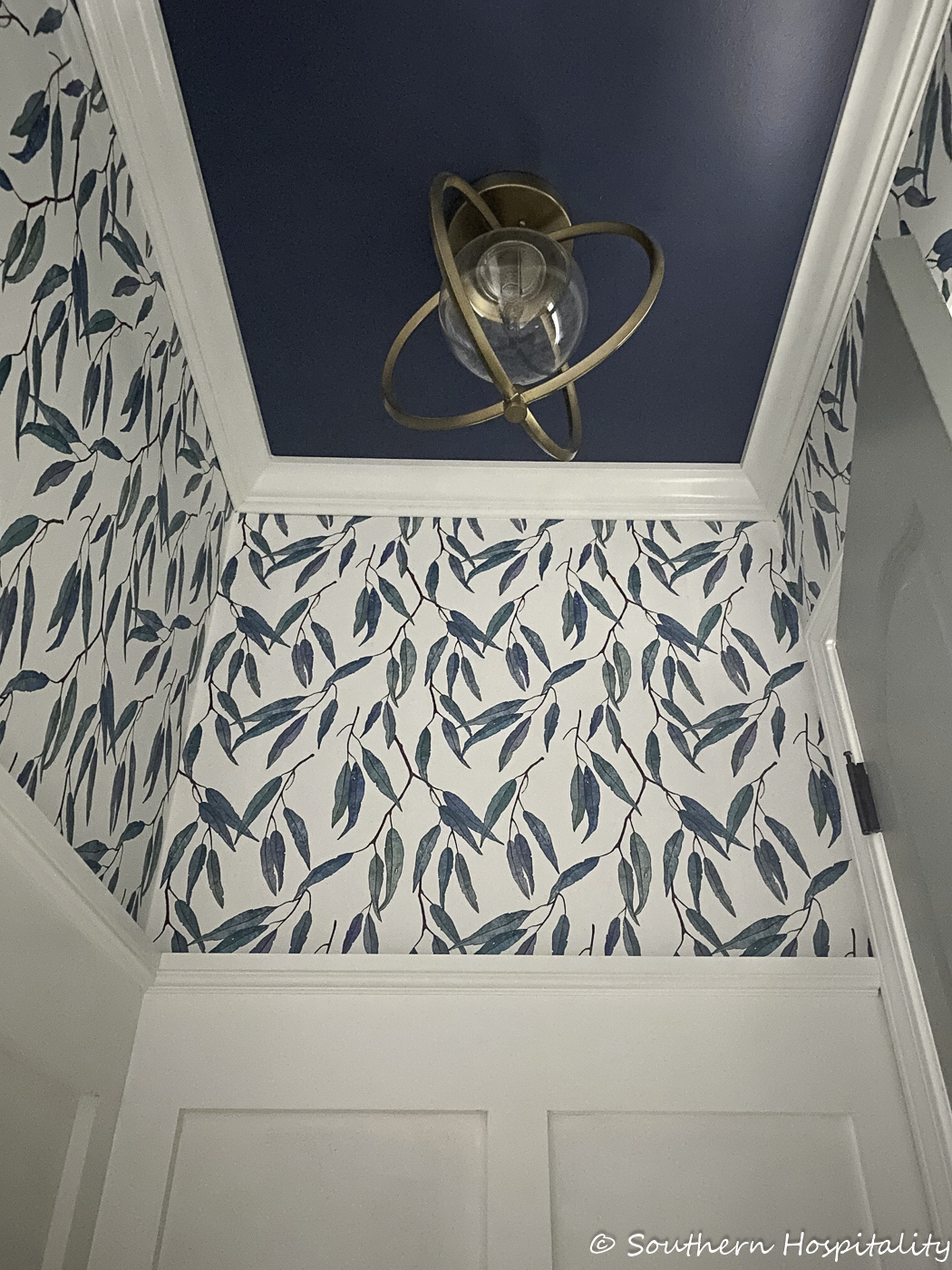 This pretty eucalyptus wallpaper adds so much to our small water closet above the wainscot. Perfect spot for a punch of color!
My laundry room paper is so colorful and pretty and just the perfect accent in the laundry room. It's my space, so I did what I wanted.
Hope you enjoyed this post and all things wallpaper! It takes searching for just the right one and I can't wait to add more to our house. I might try the peel and stick kind next.
Don't Miss a Post, join my list!