My sister and brother-in-law live in a very nice community in East Cobb and have lived there from almost the beginning.  It was built almost 20 years ago and the clubhouse that started out as an office for the newly built neighborhood, later turned into the clubhouse and is a pretty "little house" right next to the pool. They rent out the clubhouse for homeowners who need a space for entertaining and parties.  I've long admired this clubhouse from the exterior and the interior, as it's a traditional and lovely space to look at.  Of course, it was decorated almost 20 years ago, so you know that that meant?  Tuscan golds and deep reds, which were all the rage back then. It was definitely time for an update.
I can't believe that none of us took before pics because I was in there looking before all the updates were done and I didn't take any and neither did my sister. She and her neighbor, Marc, who I've featured during Christmas on my blog a couple of times, got together with a budget of just over $5K and completely remade this clubhouse recently, so I thought y'all would enjoy seeing it.  Marc is a very talented designer and you all loved his house decked out for Christmas when I featured him, so check out his house in Part 1, Part 2 and Part 3,  and in 2013 Christmas here.
They worked hard, coming up with ideas and shopping for the house, painting furniture, and getting this space spruced up with a newer and fresher look.  Some of the things that were there originally were able to be used again, so I'll point those out to you as we look at the After pics.  It's so fun to see a newly refreshed space!
I'll list Marc's contact information and paint colors at the end of the post!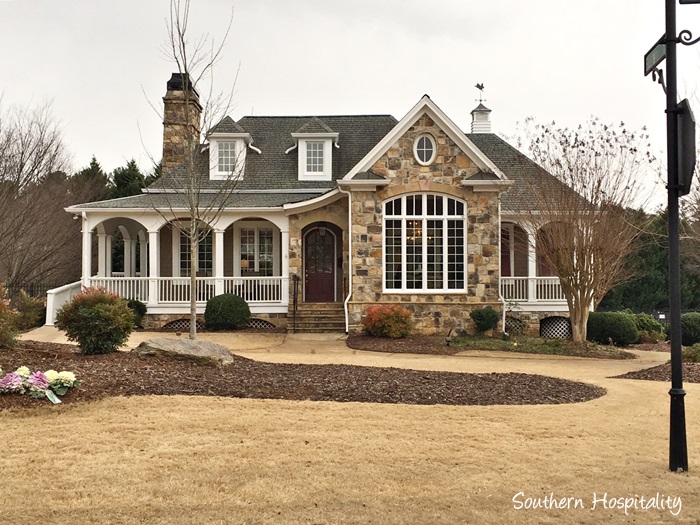 If this little clubhouse had a second floor with bedrooms, I could move right in!  It's so pretty and just my style. Notice that big window in the front right…that's the beautiful sunny dining room space. After with the new exterior paint.
Stone front steps go up to a small porch.
New blue door, nice accent with the rock.
Front porch that wraps all the way to the back of the house overlooking the pool.
Hurricane shutters to the right.
Inside, the soaring ceiling great room has a completely different feel now. If I had the before pics to show you, they would have deep mustard yellow walls (which are grass cloth) and floral sofas which were tattered and had seen better days.  The 2 chairs that you'll see on the left had red and gold fabrics and they were looking dated too. One of the only things kept from the original design was this glass and brass coffee table, which is fresh all over again and is a nice quality piece.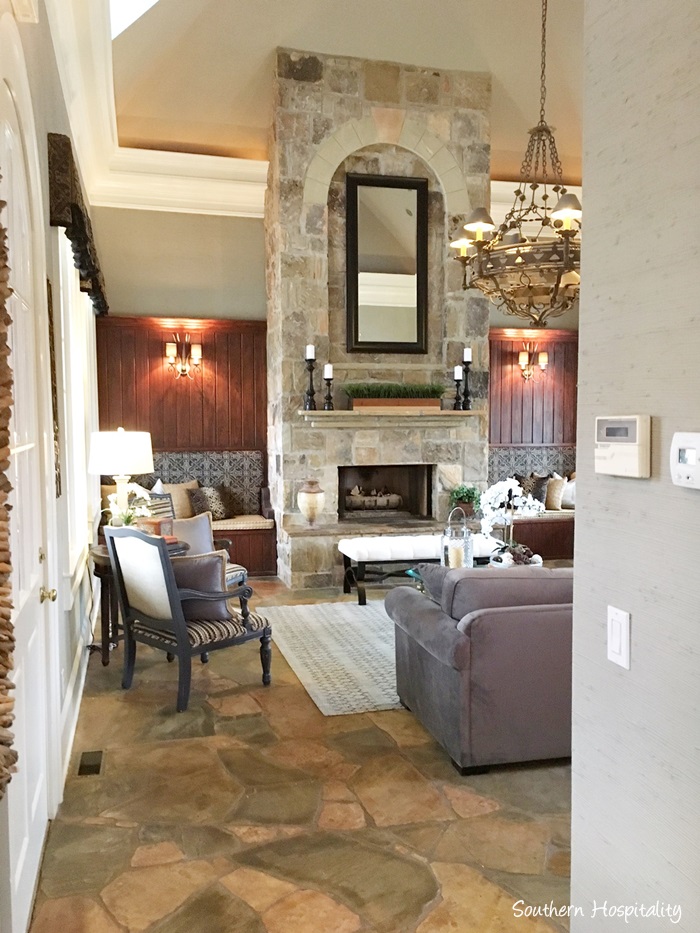 I took pics from all angles to you can see how the space looks. The soaring ceiling is such a nice focal point in the room with the stone fireplace going all the way to the ceiling. The original stone floor looks really good with the new colors.  Since there was already some gold in here, they went with a gold and gray color scheme and it looks really good!
The original iron chandlier stayed, since it still looks good and fits the space. They shopped all over the place for items for the clubhouse, including Craigslist, At Home, Macy's, Homegoods, antiques stores, and other spots.  Marc found the gray sofas on sale at Macy's.
The Before version had heavy swags on the windows and under that were these little valances in gold and deep gray which also went over to the back of the bench seats on those built ins by the fireplace, so they kept that fabric and worked off it for the new choices.
The benches on either side were already there with the stained wood, which breaks up the space and adds some natural elements.  Those cushions on the bench and back were original and now they fit right in with the new look.
`
They added new accessories, like this large mirror over the fireplace and some natural elements.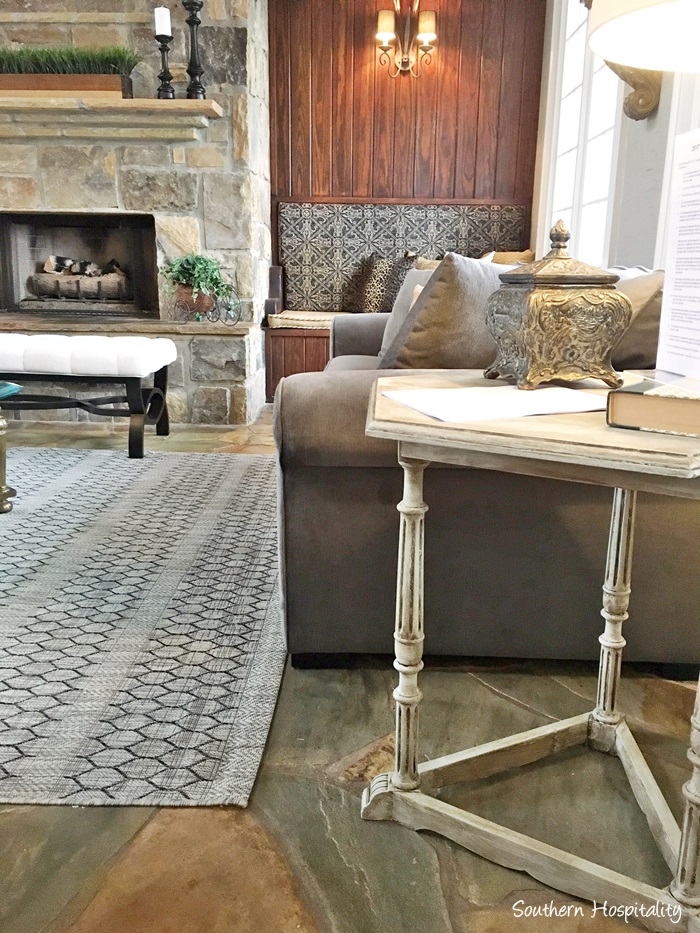 The 2 side tables were found antiquing and on Craigslist and this one was given a paint makeover.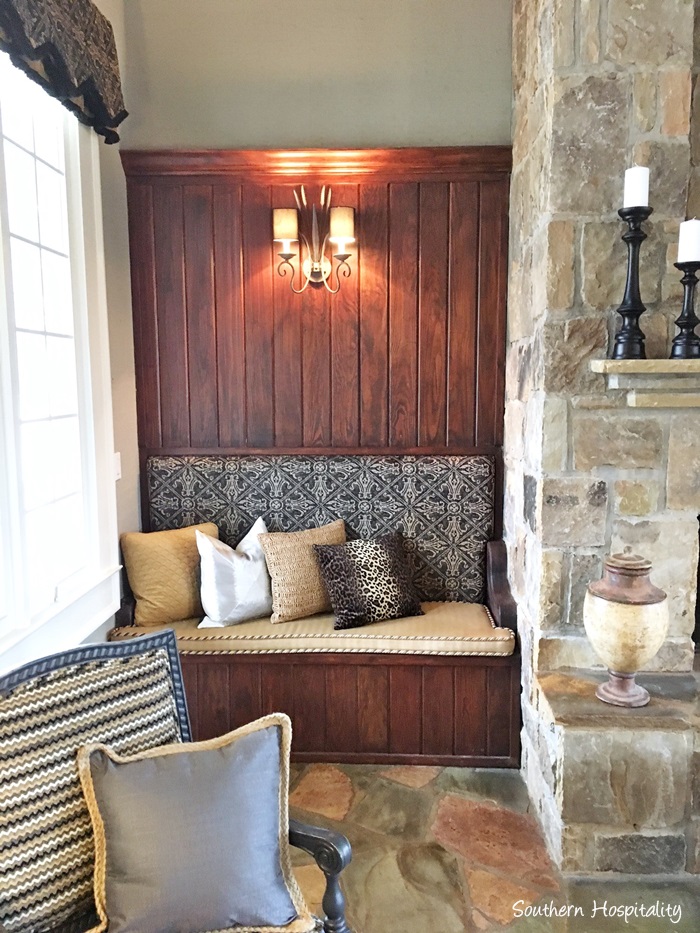 A closer look at those built in benches. Original fabric was classic.
Marc recovered the original chairs and painted the frames a dark gray.
The backs were done in a nubby burlap fabric.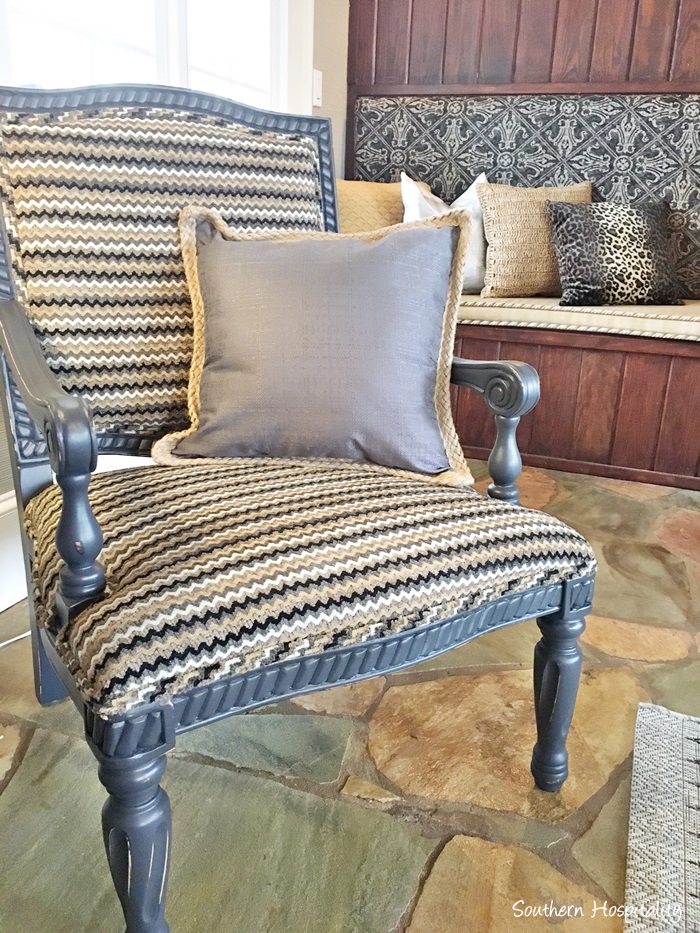 They look so much better.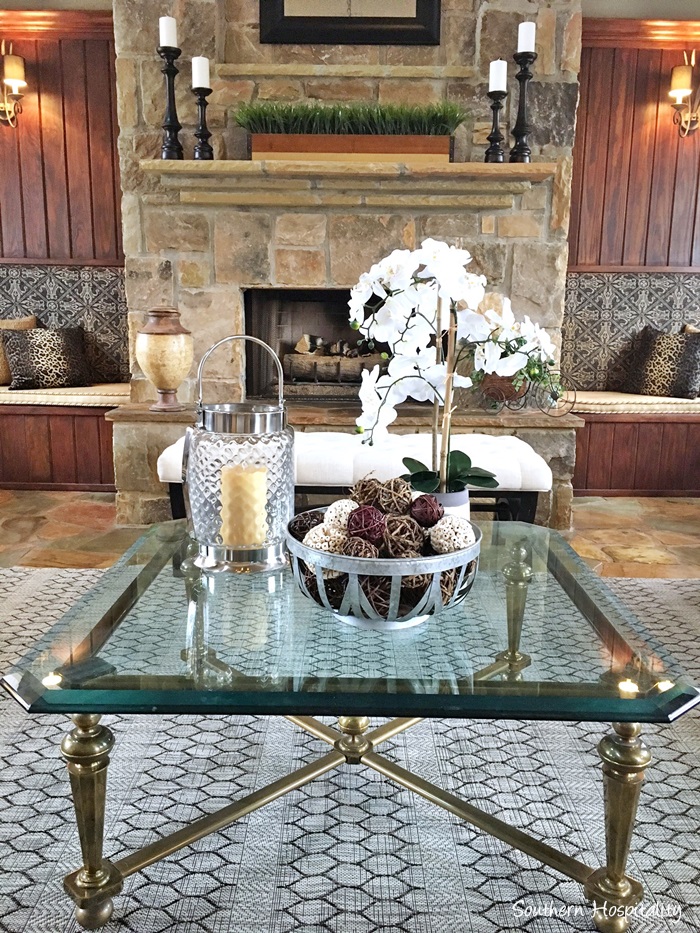 Closer look at the brass and glass coffee table. I really like this piece.  A faux orchid, glass and metal candle holder and a basket of natural grapevine balls  add a lot of texture and pretties to the table.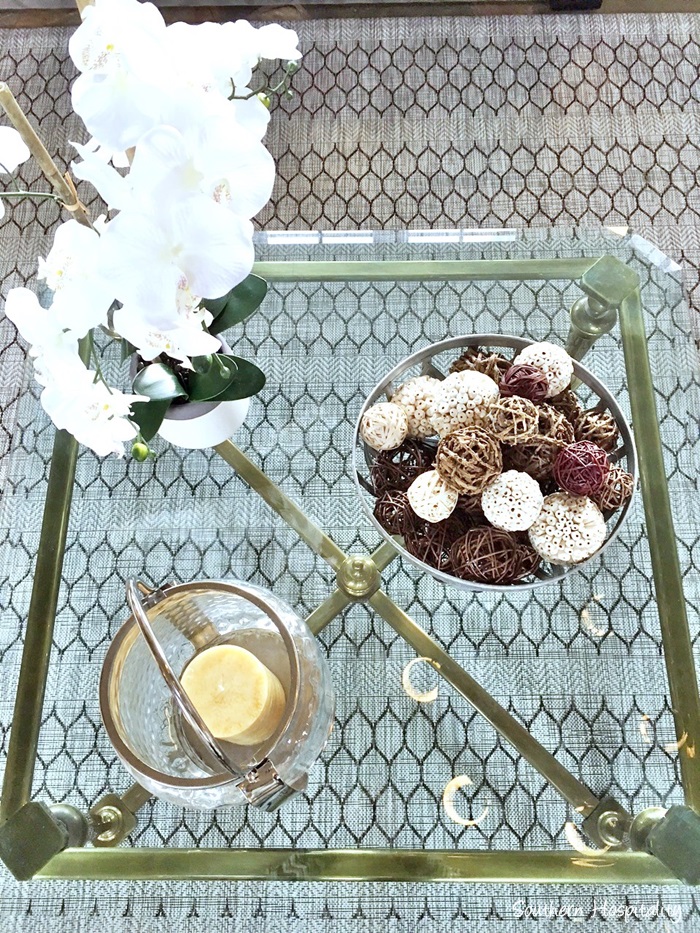 The rug is very neutral and an indoor outdoor so should hold up very well in here.
Back door leading out to the pool.  They were holding an open house to show off the new space on this day and my sister and Marc were getting food and beverages ready.  That's my sis's beverage holder.
The other side of the built in benches.
It was great that they didn't have to start over with fabric here and just let it lead the way for the new fabrics.
Another look at the valances over the windows.  Adds just enough touch of fabric.  The old mustard gold grass cloth was painted a deep gray and looks so good.  I'll get the paint colors added at the bottom.
My sister had some accessories she was getting rid of and they used some of them in here too.
Marc had the bench and the table in the middle of the chairs came from Craigslist. They found some really good things for the space.
Looking back towards the kitchen and dining room.  I don't remember where everything came from, so if you have a question just ask and I'll find out.
They did say that this artwork came from Craigslist too and looks great in here.
And driftwood mirror from Craigslist.
Professional painters came in and painted the whole space before they got started and the hardwood floors were sanded down and refinished too.
My sister's donations were used in the bathroom too, since there was nothing in here previously.
The dining room is my favorite space in the house!  Just look at those windows on 3 walls. This traditional glass dining table was original and they replaced all the chairs and added other pieces in here.
Marc found this buffet and added it in the space. Upholstered chairs came from At Home.  Lamps from Old Time Pottery.  Tall topiaries in corners of room are from At Home.
They were making everything pretty for the open house.
The original metallic gold ceiling stayed and this deep gray, Sherwin Williams Porpoise was added in here.  Love how rich it is.
Chairs for the dining table were found on Craigslist and recovered with new fabric. That oval is a window and not a mirror.  Love it!
This fabric is so pretty!
Another look at the buffet side.
Those windows and architecture…big sigh!
A look at the centerpiece they put together for the party.  Mirror down the middle with glass and mercury glass.  Glass vases filled with faux lemons and hydrangeas.
Ready for a party!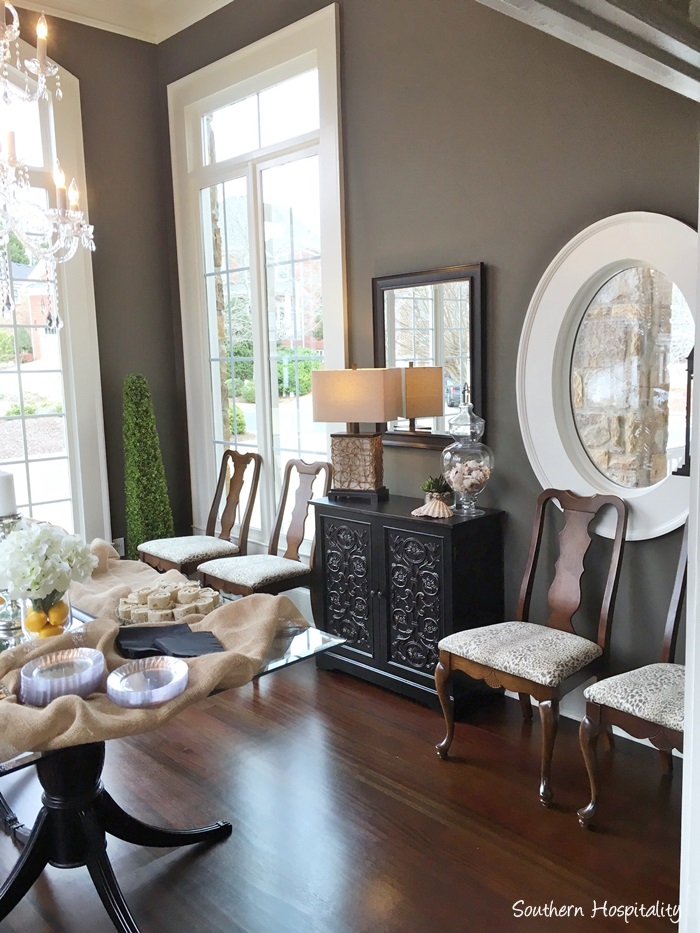 Such a pretty room, don't you think?
Side table with accessories.
Hanging lanterns add a nice touch.
And that beautiful crystal chandelier found at Queen of Hearts Marietta adds a crowning touch to the room.
Mark captured a picture of me taking pics.  It was fun to see this space be transformed with some thrifty finds and a lots of work to get it all to fit the space.  I thought you might enjoy a peek at this clubhouse transformation. Always fun to see a space get updated with new looks and colors!
If you'd like to get in touch with Marc Jones (Interior Designer & Wedding & Event Planner), you can reach him at his Facebook page.
Paint Colors:
Greatroom:  Sherwin Williams Intellectual Gray (painted grasscloth)
Dining Room:  Sherwin Williams Porpoise
Trim:  Sherwin Williams Dover White
Don't Miss a Post, join my list!