I have a good friend named Debbie here in Atlanta and she and I have been friends for over 20 years. We met in church back then. We both love decorating and when we first met we were both decorating our homes and bonded over finding bargains and making over things to meet our needs, so we were DIYing before it was cool, back in the 90's. We even did a few little decorating on a budget sessions for some women's church groups and it was so much fun. We are both still decorating to this day and today I'm sharing Debbie's home. I shared her home at Christmas one year, years ago and also her screened porch and blue and white powder room. Anytime I share Debbie's house on Instagram stories, everyone wants to see more, so today I'm sharing her whole first floor.
Debbie's mom was an interior designer and Debbie loves it too. She found her style years ago when she first moved in their home and started decorating it and she hasn't let that go and sticks to what she loves. I admire that about Debbie. She knows what she loves and doesn't get swayed by all the trends. She loves color in a big way and reds/pinks/yellows and blues are all in her color world. If you like color, you'll love Debbie's house. She's not a minimalist either, she has more stuff than I do but it feels cozy and they love their home. They also have a nice pool in the backyard and I go over there pretty often in the summer to hang out by the pool during the week. Debbie has an at-home business called Miss Lucy's Monograms (named after their last adorable pup) and that keeps them busy too. She does beautiful monograms, so if you're in the market, check out Miss Lucy's.
They live in a beautiful traditional home in a West Cobb neighborhood that's well established with lots of different style homes.
Inside the foyer
Dining room with a French Country feel. As you can see, Debbie loves blue and white too. She's my fellow blue and white lover and we've both embraced it for years.
She's a big bargain shopper too.
Her parents have both passed away, but you'll see lots of her mother's collectibles that Debbie still loves.
Lots of those things are in the living room, many European collectibles.
Foyer looking to kitchen and breakfast area.
Breakfast nook.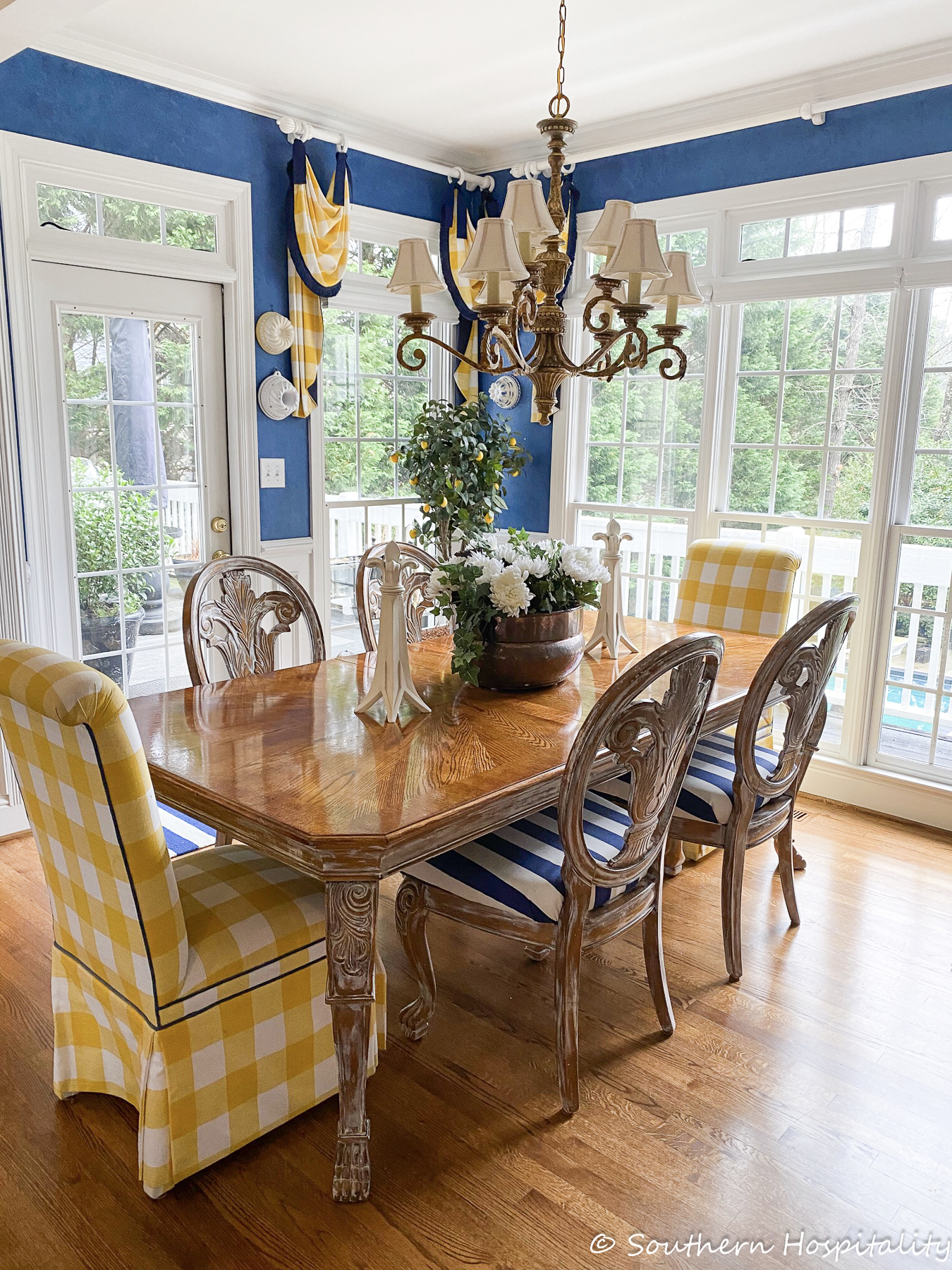 White kitchen with blue countertops.
Debbie's husband, Bruce, is very handy and has done a lot of projects around their house. Debbie had this French blue tile installed when they moved in over 20 years ago and she loved it and wanted to keep it so when it began to show age, they epoxied over it with a thick clear coating to preserve the tile forever.
She has quite the copper collection too.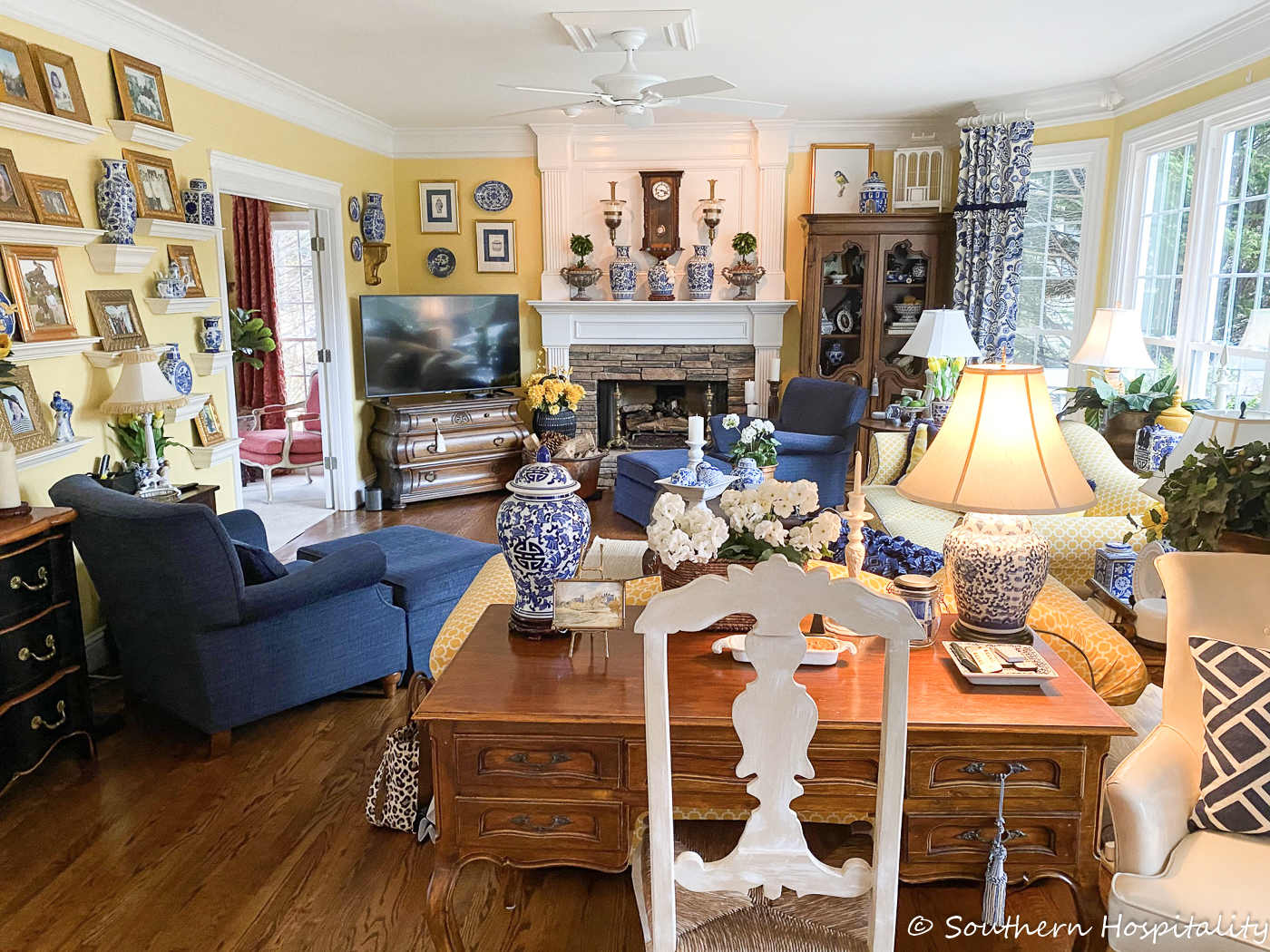 Family room
This leather wing chair was a family members and dates back to the 1940's I think she said and she cherishes it.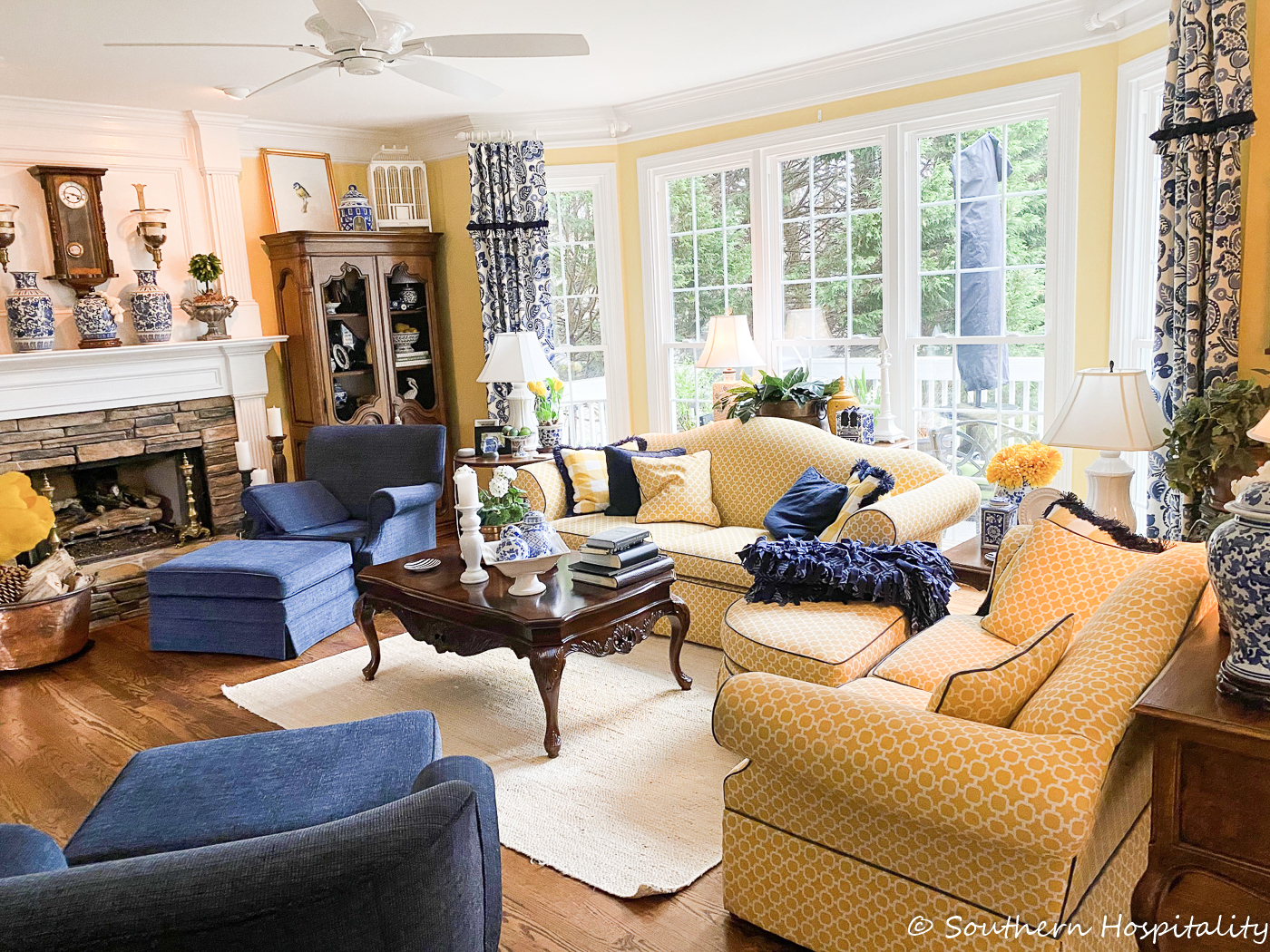 Blue and yellow have been Debbie's favorite colors for a long time.
Yellow definitely brightens up a space.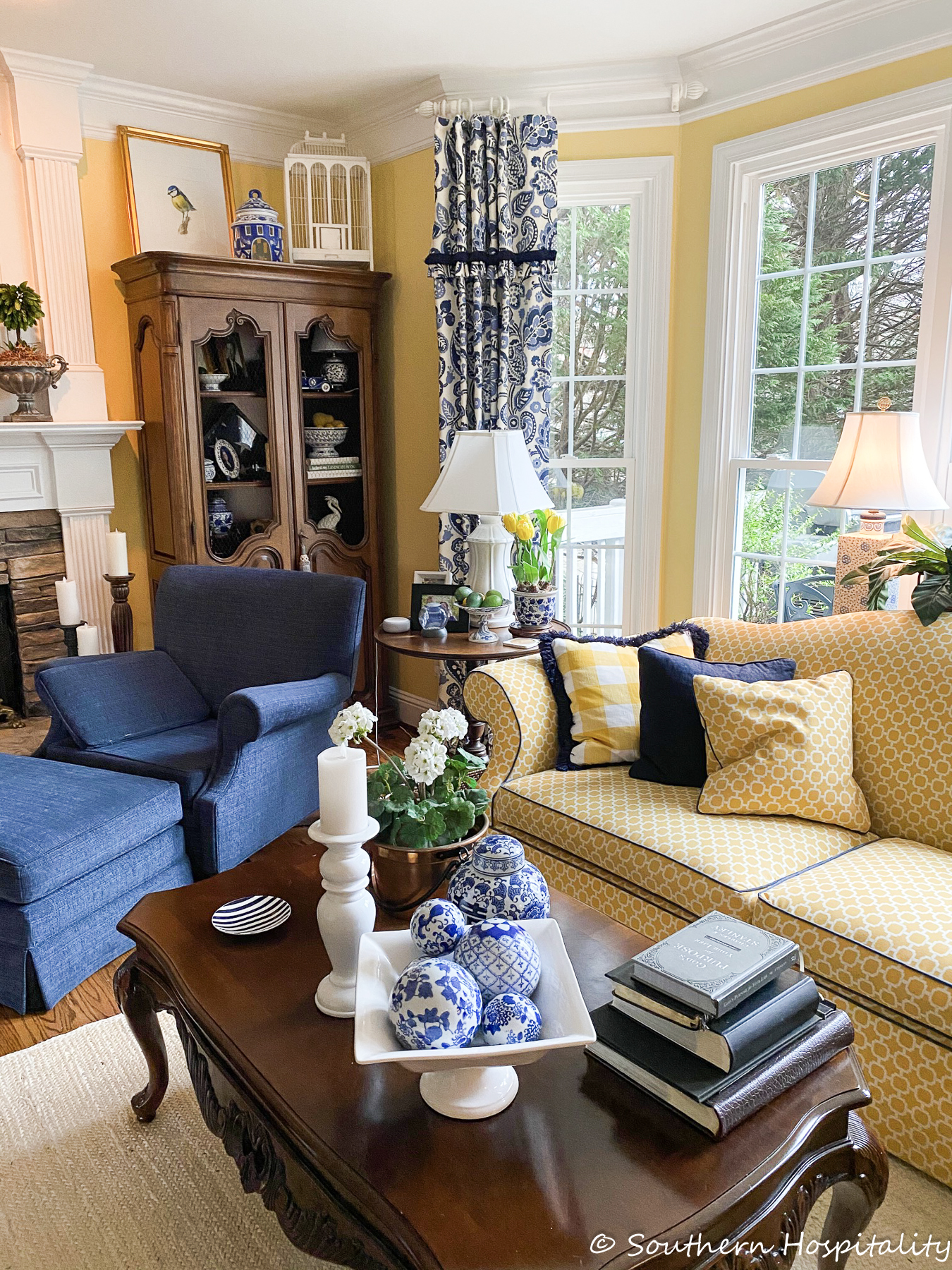 She's had her furniture recovered over the years with fresh fabrics.
Love this bank of windows.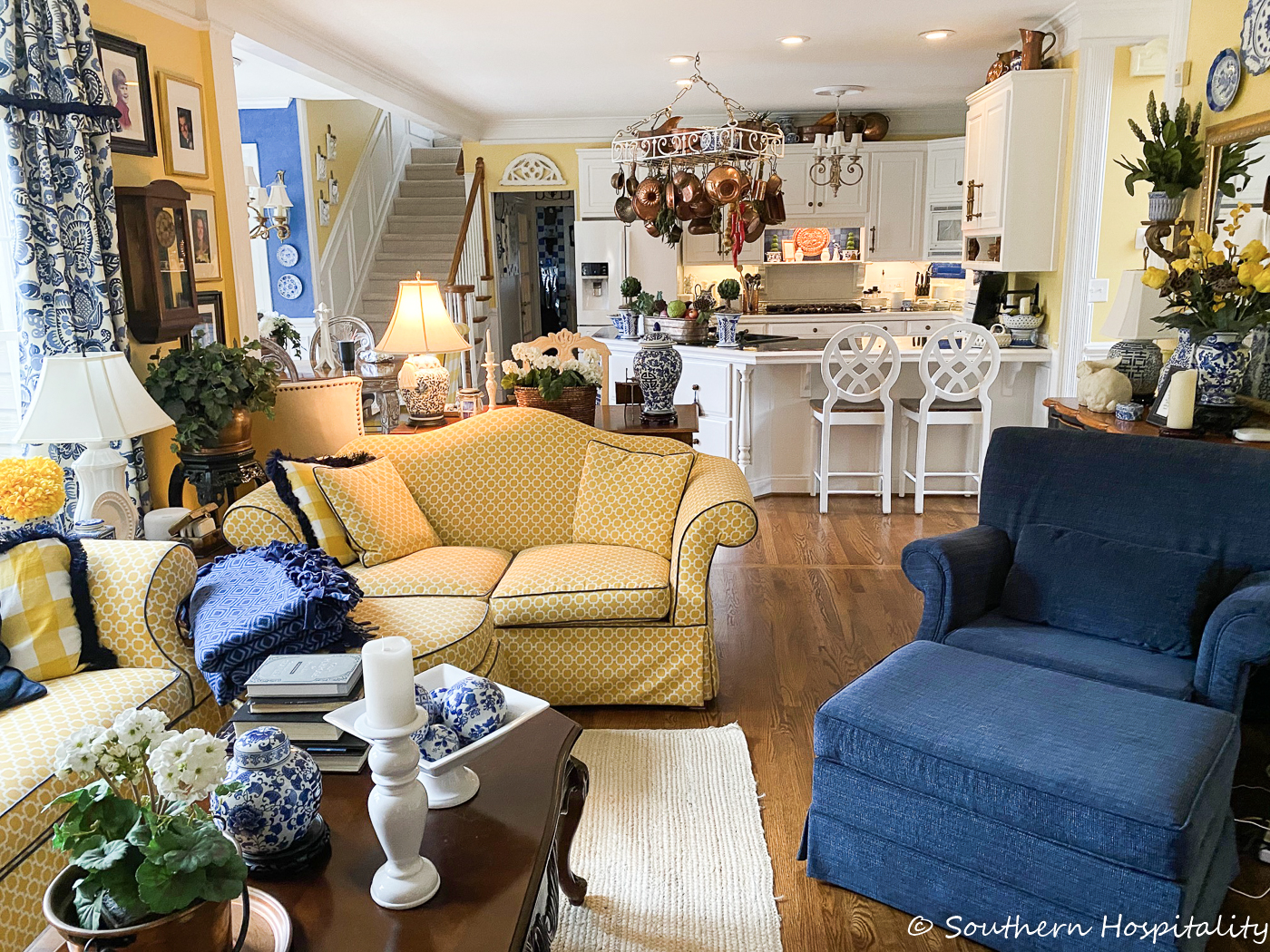 Lots more of Debbie's blue and white collection.
I love this black dresser that belonged to her mom.
Family is super important to Debbie too. They have two grown children who have left the nest and are doing well in the area.
I shared Debbie's powder room a couple years ago but here are a few more shots. It's such a little jewel box of a room.
For the blue and white lover.
Foyer from upstairs.
A little nook off one of the upstairs bedrooms. The upstairs wasn't ready to photograph.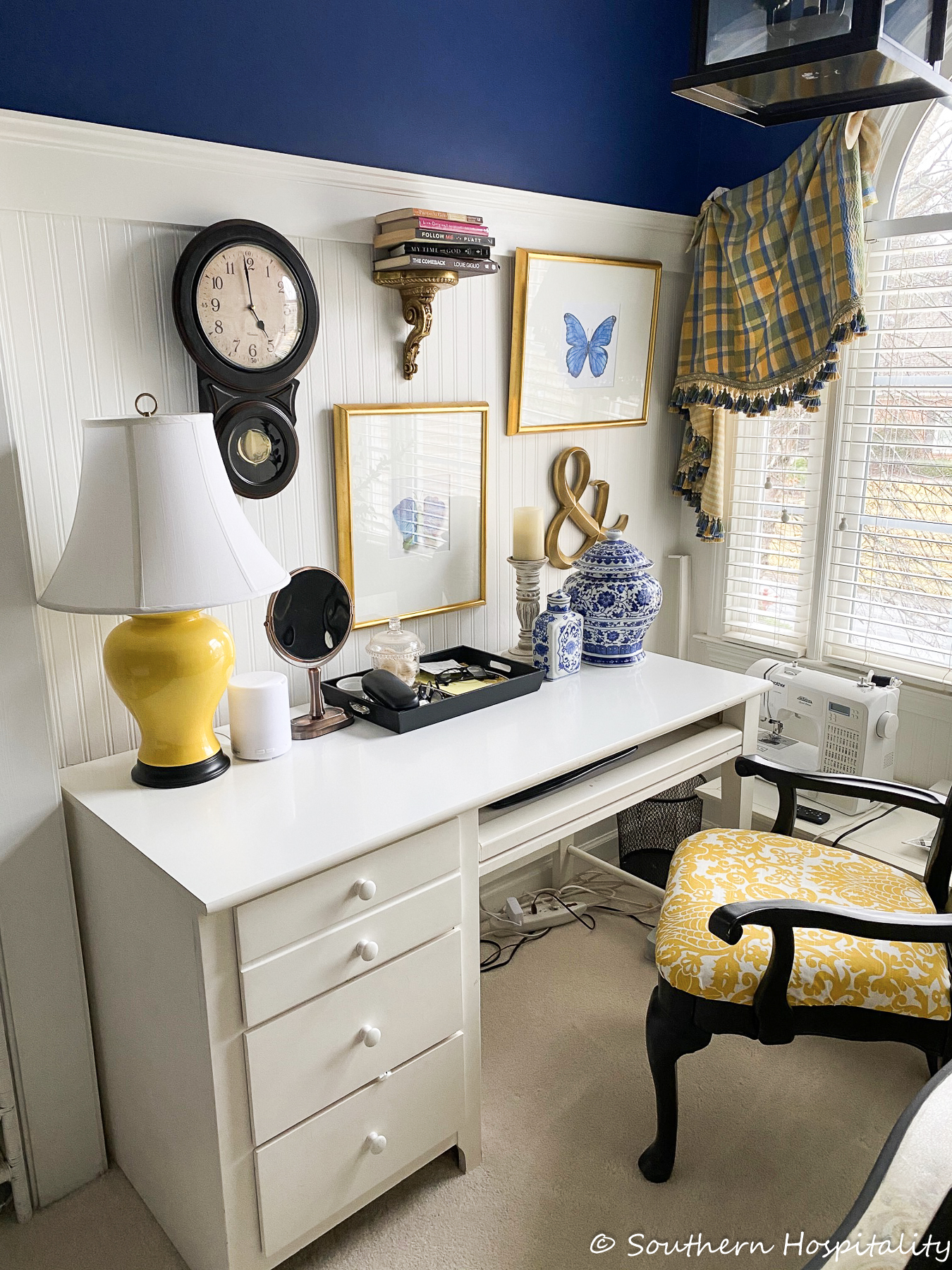 Debbie's black and white porch is so fresh and Southern feeling. With those touches of pink it's quite the porch.
Debbie painted those diamonds years ago on her porch and I copied her back then on my old house and then when I moved in my fixer upper house, I did gray and white diamonds on my porch. It's so fun to do a paint treatment like this on a porch.
It's a cozy place to hang out and Debbie spends lots of time out here in the summer. They eat lots of family meals on the porch too.
We will all be getting our porches and outdoor spaces ready for summer again soon. I can't wait!
I've spent many days in this backyard pool of Debbie's and love having a friend with a pool that lets me come over whenever I want.
We should all have a friend like Debbie. She's a dear heart and I cherish our friendship! I hope you enjoyed this tour of Debbie's house. It's been fun to share with you another new house for Feature Friday.
Don't Miss a Post, join my list!