Last weekend, I got a chance to drop by Serenbe and tour the latest showhouse they had open, the Atlanta Homes and Lifestyles Designer showhouse in a new area of Serenbe called Swann Ridge. With English inspired cottages on a winding road in the woods, it's quite a beautiful sight.  There's a pedestrian footbridge that will link to shops and restaurants later on.  Serenbe just keeps expanding and gets prettier every time I visit.  The showhouse was so pretty and was a benefit for the new Art Farm of Serenbe, a place for artists to live and work.
I've visited Serenbe a few times and shared them on the blog, so check out this post  and this one for more on Serenbe, a thriving community set in the woods south of the Atlanta airport.  A neighborhood known for green living, celebrating nature and the arts, Serenbe is set among acres of preserved forests and meadows.  Combining homes and restaurants with arts and businesses, it's a place all its own.  They celebrate many cultural events during the year and this was one of them.
A pretty foot bridge meanders through the woods to the decorated Atlanta Homes and Lifestyles design house.  It's always fun to see how designers decorate a space and they always make them look gorgeous.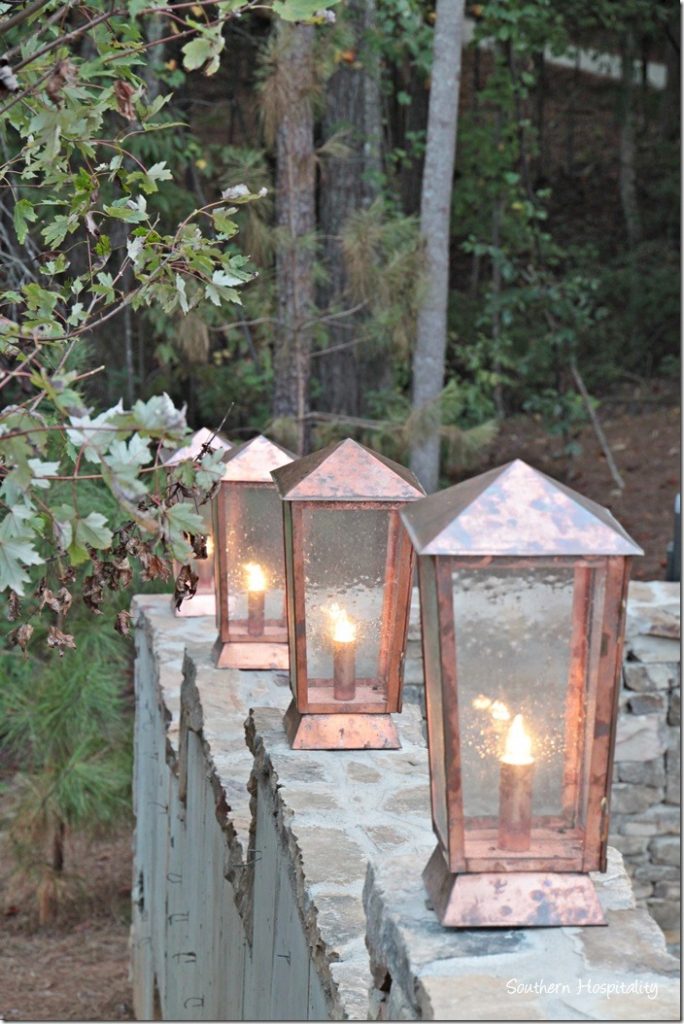 Loved these copper lanterns lining the rock walls.
English inspired cottages are in this area of Serenbe. I'm not going to try to talk about all the photos, so enjoy the tour!  I'll recap with all the designers at the bottom of the post.
This home was a mix of rustic and modern and the collaboration of several designers.  I love just looking at all the new trends out there and seeing things put together, even though I wouldn't want to live with everything myself.  Of course, the architecture of the house is magnificent too.
My friend, Kerry Howard, designed the foyer and stair hall areas and I got to see him for a bit at the event.  He's very talented, as always.
Loved this little porch outside the kitchen.
I will chime in to say that these little circles were mirrors inside the tiled shower.  Pretty cool! This was all marble in the shower area.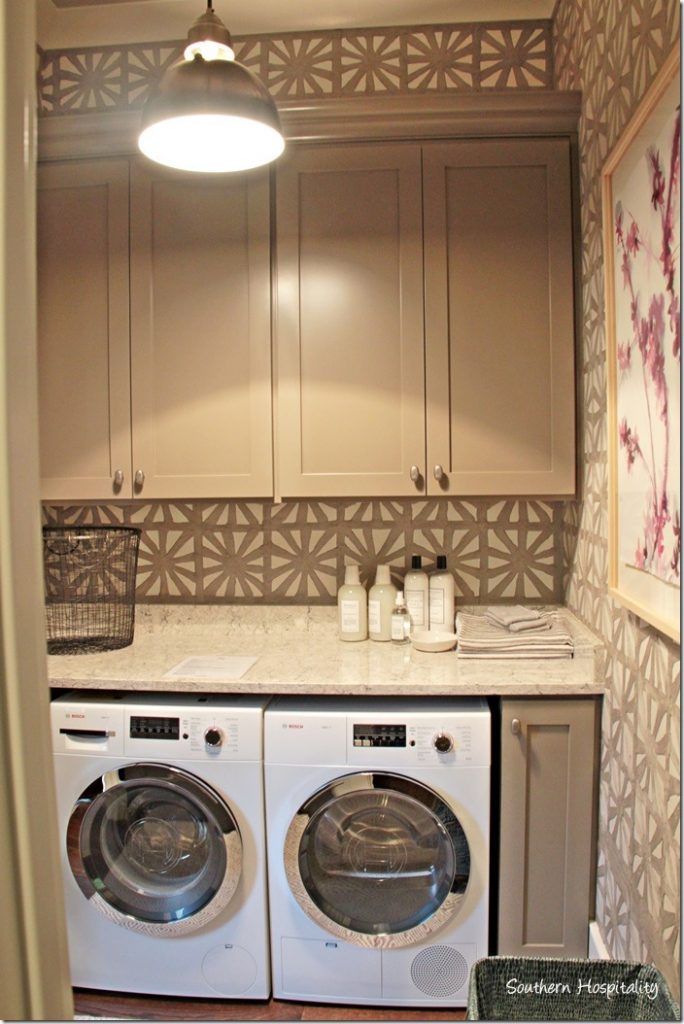 Oh, and this was probably a hand stenciled wall. It was very textured and I didn't see any seams, so I'm guessing it was applied with a stencil. It was very charming.
Looking out the master bedroom window to this beautiful terrace.
Loved the idea of this built in cabinetry in the hallway outside the master bedroom on the way to the outdoors.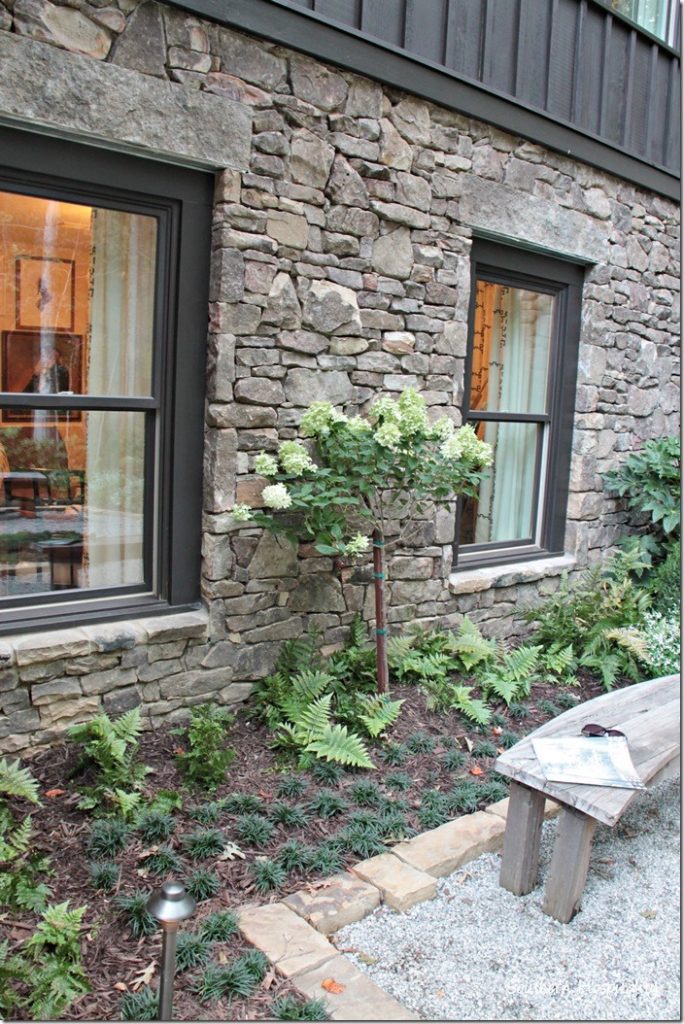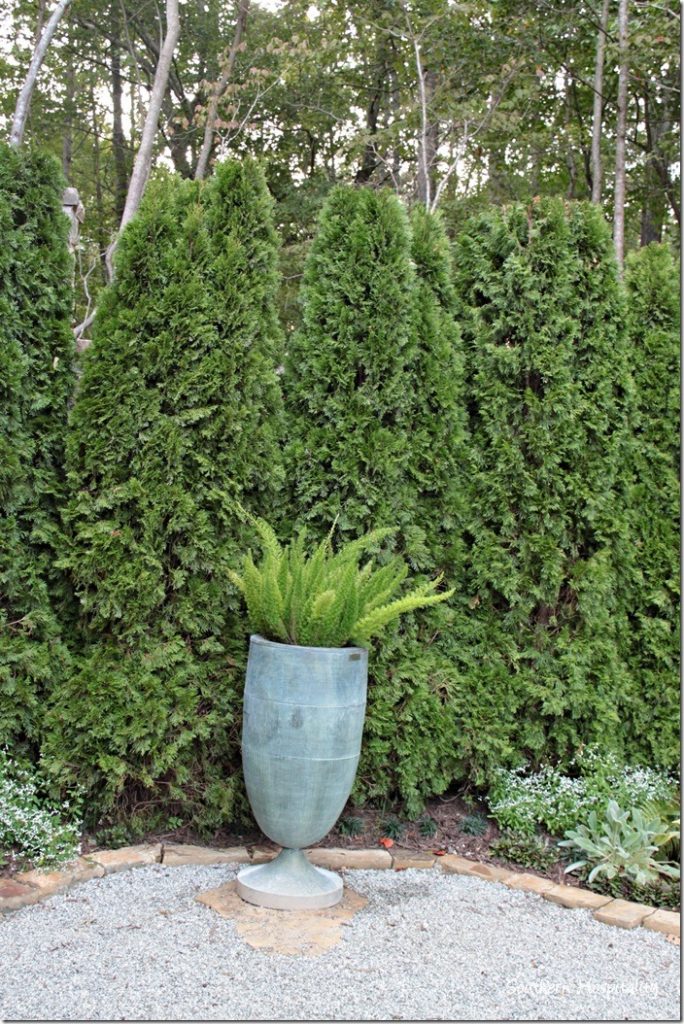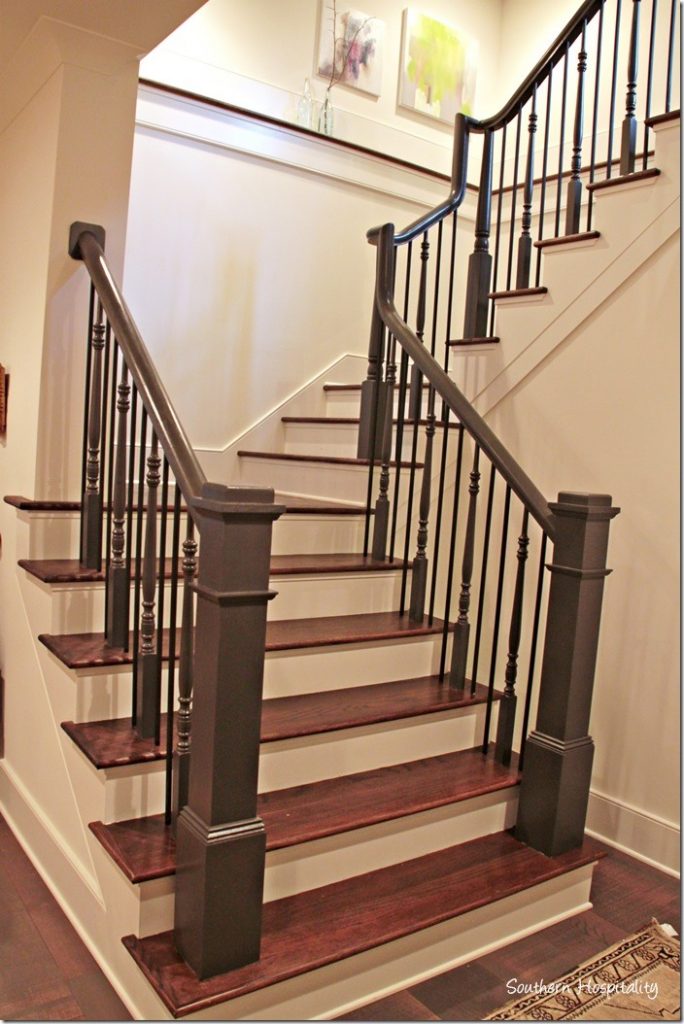 Loved this ledge in the stairway. Great way to break up a big expansive wall, don't you think?
That was one beautiful chandelier!
Notice the black doors.  I still love my deep brown doors in my house too, adds a lot of interest.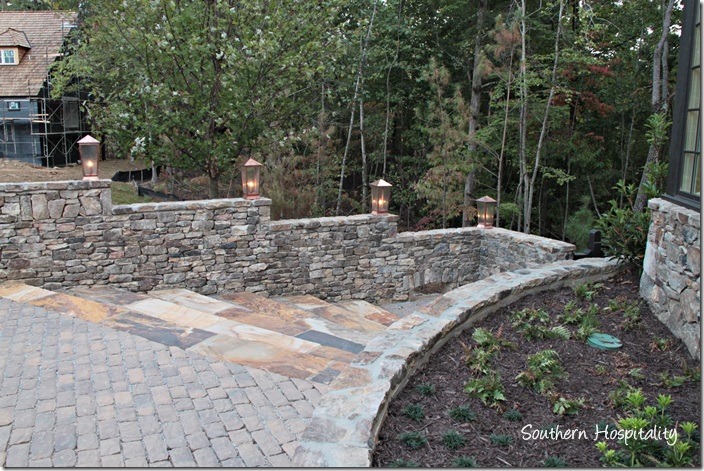 This is a beautiful community in Serenbe. I absolutely loved all the rock work and hardscaping surrounding the house.  So pretty and natural!  I hope you enjoyed the tour as much as I did.
Here are the designers who contributed to this house design:
Kerry Howard – Entry Foyer & Stair Hall
Janie K. Hirsch – Kitchen
Lanah Jackson – Dining Room
Melanie Millner – Living Room
Yvonne McFadden – Master Suite
James Wheeler – Powder Room, Laundry and Mudroom
Hope Vanzant – Rear Porch
Julie Witzel – Gentleman's Office and Hall
Karen Ferguson – Guest Retreat and Bath
Melanie Davis Bracey – Terrace Family Room
Niki Papadopoulos – Terrace Bed and Bath
Missy Madden & H. Todd Yeager – Terrace Garden
Don't Miss a Post, join my list!