This is somewhat of a milestone for me!  How long have I been yearning for a screened porch?  Oh, a few years for sure.  I did have a tiny screened porch at my first Georgia house and have wanted another one since then. It's hard to survive in the South without an outdoor room.  I was such a tomboy growing up and being outside was a huge part of my childhood and I still love the outdoors.  Fresh air, breezes, blue skies, sunshine, green grass and trees.  Nature calls me outside and it's something that I have loved my entire life.  Having an outdoor room to beat the heat in is priceless to me!   This screened porch remodel is one of my fave things we've done to date.
So, it's with a proud and grateful heart that I share my screened porch.  Yay, it's finished and we are now enjoying it every single day.  Even though it's hot outside, I don't mind sweating a bit to be outside under cover.  Life in the South!  It doesn't get much better than this. It took us over 3 months to finish this porch, which is amazing because we did the whole house last year in 6 months. But, with traveling and the crazy rain we've had this spring, it was slow going.
Let me remind you what we started with when we bought the house last year in April.
Here's the old stairs that we ripped out, they were uncomfortable to walk on, the steps were too close together.  I'll show you the completed new stairs when we finish all that trim-out too.  Inside the porch was just a shell, nothing was finished.  The old screens were barely hanging on. No ceiling, nothing pretty about it.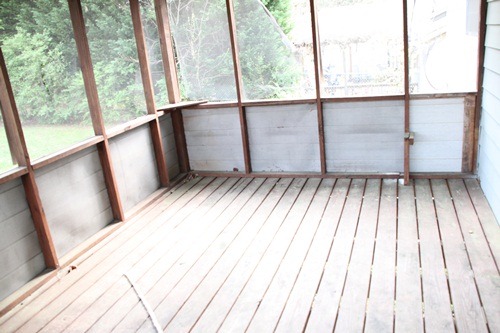 When I spied this shell of a porch on the back of the house, I somehow knew this house was meant to be mine.  What I would do with that porch!  It didn't look like much then, but boy oh boy, does it look great now.  With my sweet daddy's expertise carpentry skills and my painting and decorating, this porch is alive now!   Happy, that's me about now.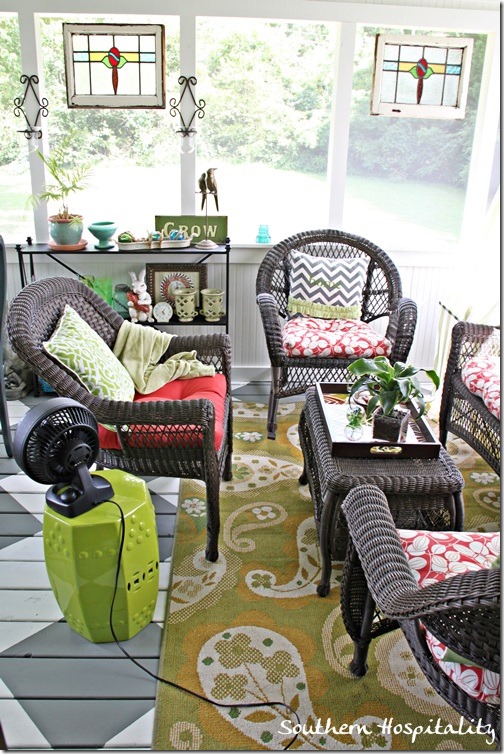 Here's the view from  my dining room slider doors.  I kept it real with my fan cord showing.  I don't have an overhead fan out here (ceiling is too low), so I'll be looking for a cute vintage style fan on a stand.  In the meantime this little one will help keep us cool out there.
Now, I had all this furniture previously, so I'm repurposing it all.  If you've been with me for awhile, you'll remember that I bought the all weather brown wicker at Big Lots a few years ago in Birmingham.  It was on my previous deck that I fixed up over there. I'm so happy to still have it as a base for my porch and it all fits perfectly out there.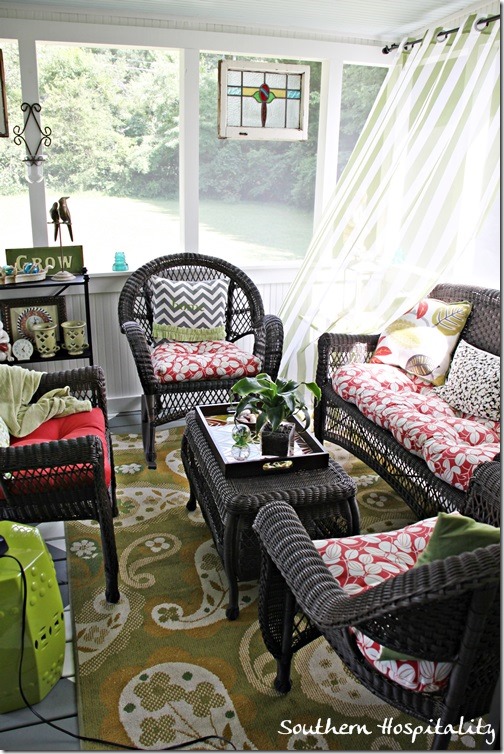 I bought the cushions on the sofa and chairs at Homegoods a few years ago and love the coral shade on the porch.  Green, Coral, yellow, gray, and some blue. I'm using lots of happy colors out here and I love them all.  I got the rocking chair in front of the window at Pier One last year on a shopping spree I got to do.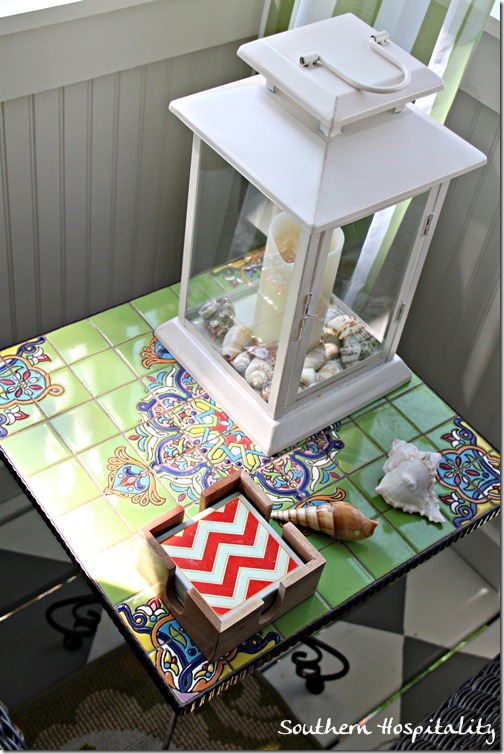 Side table in this corner came from Pier One last year too, chevron coasters from my recent trip to World Market.  The white lantern is from Lowes.  I loved all the colors in this tile table and it sets the tone for my porch.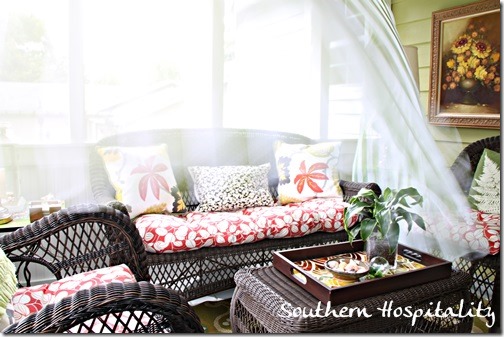 I just loved those striped curtain panels I got from a Joss and Main sale. They are available on Wayfair too if you like them.  They are sheer green and white striped and totally make the porch feel like a room.  They serve great in the afternoon for diffusing the sun coming in on that side of the porch.  I'm going to add another pair to the left side of the porch by the table and chairs.  Love them! This is what they do a lot during the day….blow out from the breeze on the porch.  Lovely!  I'm going to sew some weights on the bottom to help hold them down.
You can see the stripes from here. I hung them on a rod from Ikea mounted on the window trim and they are have grommets which move easily along the rod. The rug was purchased last year from Joss and Main (a Wayfair site).  I love the paisley design with all of my things and it is an outdoor rug so will be fine out here.  That green garden stool was also a Joss and Main find.  I was able to purchase all of these from credits earned through referring folks to Joss and Main, so that's been fun.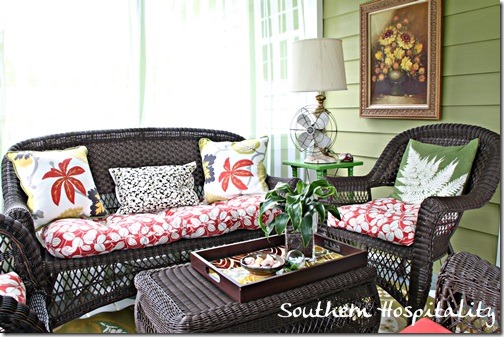 The seating area is nice and cozy and has such a room feel now.  When it rains, I'll move my cushions away from the walls and even if things get a little wet at times, it shouldn't be too bad. Since the wicker is all weather (vinyl), rain won't hurt it a bit.  I love that.
The right side of the room holds the seating area and the left side, the table and chairs.
Home pillow I got last year at the Bella Rustica market in TN.  Love it out here too and glad to finally have a place to use it.
This pretty tray came from my Pier One shopping spree last year and has some great colors.  I made that pottery bowl in pottery class so I filled it with shells.  I love having real live plants on the porch too.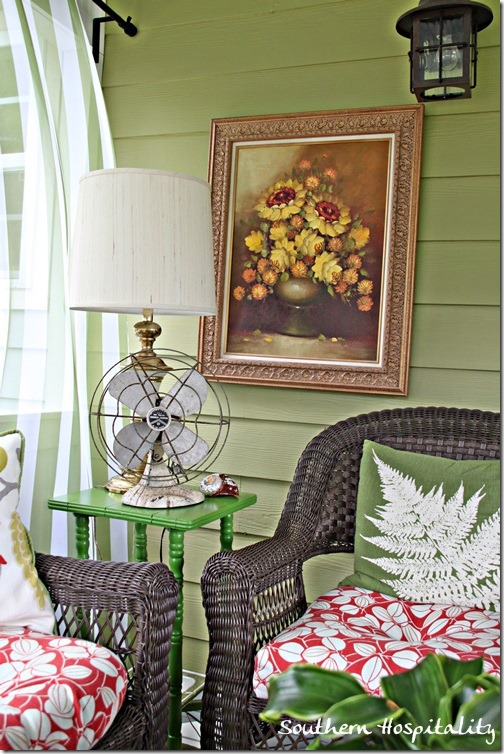 In this corner, I added a vintage painted green side table I found at Scotts a few months ago for $20. I knew it would be perfect out here.  The vintage fan came from a yardsale in Birmingham and I'm glad I hung onto it too.  The brass lamp I just found at Goodwill for $7.  Already had the shade.  That oil painting hanging on the wall is one I've had for years and I just love it out here.  I don't worry about it getting  a little damp, it should be fine overall on the porch. The fern pillow I got from my friend, Layla, and I think it came from Target.
I still love the pillows I made for my old porch with fabric found at Old Time Pottery. I still have lots of this fabric left and it's such a pretty piece.  I love all these colors together and this fabric is really the reason I chose coral and white for my cushions.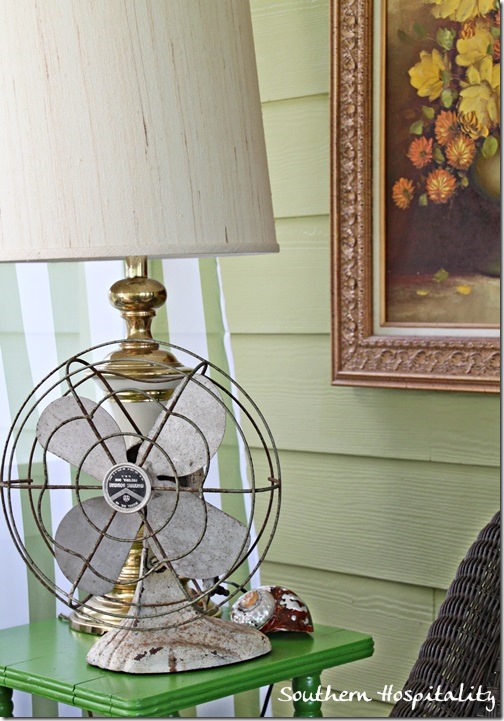 The vintage fan.  I'm going to paint the white part of the brass lamp in a pretty blue shade soon. Spray paint, yes!
See those pretty old stained glass windows?  I have hung onto those since my old porch in GA days and just love them. They have great colors for this porch and I treasure them.  These 3 are all alike and a great vintage find from years ago.
Beautiful colors and perfect for out here.
You can see how the gray and white diamonds add so much to the porch, even with the rug on top.  I love this cozy seating area!
The metal console table is a Ballard Designs find and my friend, Jill, passed it onto me.  I had always loved this piece and actually saw it in the Ballard Designs outlet a couple of years ago for a great price, but didn't need it at the time.  I was so excited that Jill gave me this and it will be a wonderful storage piece on the porch.  I think I'm going to paint it a pretty blue shade too with some Rustoleum spray paint called Lagoon, same color as that basket on the bottom.
This is not completely set up yet, but I just brought out things that I wanted to use out here for now. I'll be tweaking this all along the way.
Plastic glasses, bunnies, bowls and dishes, so many cute things to use out here.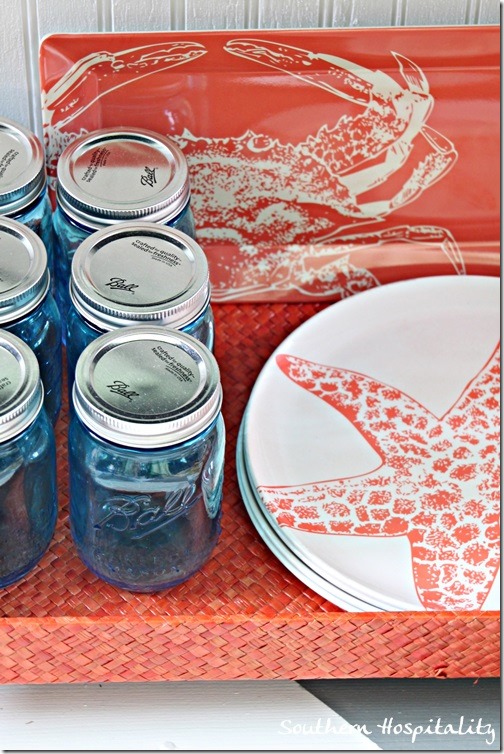 These are the blue Ball jars I blogged about and the tray and melamine dishes came from my recent World Market spree.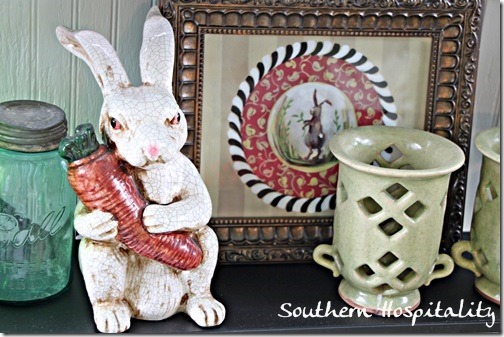 The bunny I've had forever and the bunny print came from a long ago shop online.  Those pretty green pottery candle holders came from a local nursery here years ago, Pikes.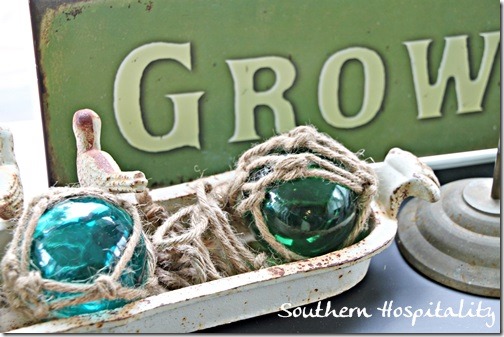 Found these glass floats at Scotts.
Brass lovebirds came from a thriftstore in Birmingham.  I have so many great pieces that I just can't get rid of, so it was easy to have enough to decorate this porch with.
Now, for the table and chairs.  You will remember that I had this set in my old breakfast area in Birmingham.  I've had these chairs for years, bought them unfinished at a warehouse store here in Atlanta and originally stained them, then spray painted them black back in 2002 when I redid my kitchen in GA.  Now, they've been reinvented again with glossy gray spray paint and I love the update out here.  I won't worry about them getting a little damp either.  I changed out the seats on these chairs while I was still in Birmingham too and the yellow works great out here.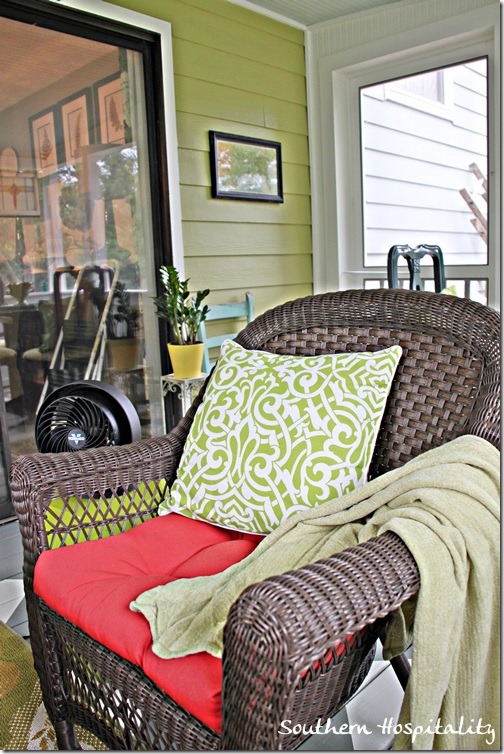 Coral and green pillow.
On this little wall, I added this sweet family heirloom.  It doesn't look like much, but this chair belonged to my Grandpa, my daddy's dad.  It's going on 100 years old and my dad remembers his dad adding the cowhide seat to these chairs when he was young.  So that means this chair has been around for a long, long time.  The cowhide was added because the original seat wore out.
I love having a bit of my family history on this porch, a sweet reminder of where I came from, a hard working family heritage.
The Southern states map is a gift from my friend, Barb and I think she might carry this in her online shop. I love this!  I'm such a Southern girl to the bone.  If you are interested in the Southern States map, you can find more info at Barb's Facebook page, by Liking it and asking her about it.  She told me she is getting more in.
This porch is full, but very cozy.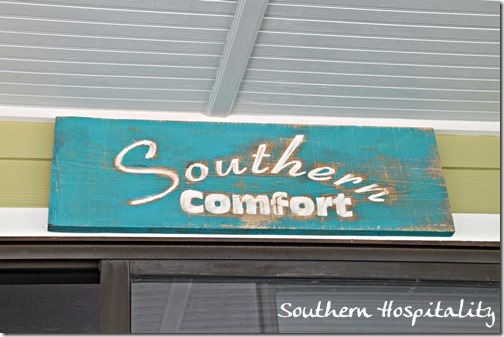 I found this sign at Kudzu Antiques in Sandy Springs earlier this year and knew that this had to go on my porch.  Southern Comfort!  Yes, that describes this porch perfectly.  I want it to be a place of Southern comfort, peace and tranquility and it's going to be fully enjoyed many days during the year.  I'm so excited to finally be out here enjoying this space.
Thanks to all of you for hanging in there and going on this ride with me and my dad.  He's got a few more days of working on the outside, finishing up the stairs and trimming out the screens from outside, but after that, he'll be relaxing too and working on his garden.  We are so glad to have this all behind us this year after going through that 6 month renovation last year.  The Lord has been so gracious to me, giving me a porch of my own again and I couldn't have done it without my sweet daddy's help!
I went on a fast trip last week to Nashville to visit the brand new Southern Living Idea house, so I can't wait to share all of that with you. We couldn't take pics of all the inside of the house, but we got plenty of great pics from a few spaces and the outdoors, which is to die for!  I loved being invited to the preview party, what fun that was!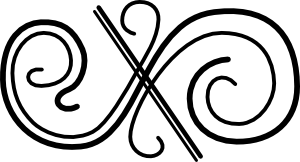 The lucky winner of the Country Living Small book of Decorating Ideas is:  #94, Lisa Appell. Congrats, Lisa, I've emailed you!
Don't Miss a Post, join my list!