I think I can finally say the den is completely finished now!  Three years after getting my house, that space has certainly come a long, long way and I couldn't be more thrilled with how it turned out.  Getting new windows made such a difference in that room and now when people walk in they say WOW, at the difference the light coming in makes in there.
Light is such a great thing to have in a house and lack of windows means lack of light, so getting those additional windows on the front of my house has truly brought the outside in for that room.
Just for fun, let's go back to the beginning…..yes, to this dark and dreary space!
It was so cave-like in here with only one small window.  And that ugly brown paneling didn't help either.  I immediately painted the paneling since I knew that would help this room more than anything and then we changed out the ceiling tiles to fresh white and non-saggy.
Wall color in here is Sherwin Williams Comfort Gray in a Satin finish.
Yes, indeed, it is the same room!
Here's a look at the painted paneling progress looking back towards the living room stairs.  You can see we had a long ways to go still, but progress was made and here we are today.  New windows and all!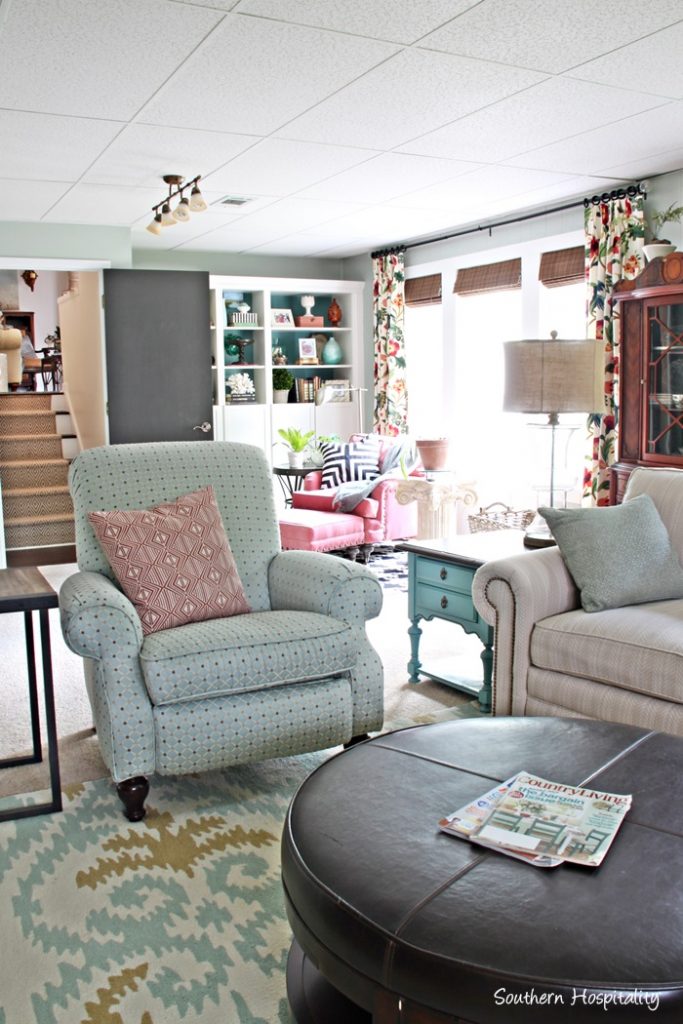 It doesn't even feel like the same room, believe me!  I'm so happy with how this area turned out and it's such a nice place now.
All of my bamboo blinds are from Payless Decor and they have sponsored all the blinds in my house.  Love their products and have so enjoyed them in my home.  They are right here in Atlanta, but you can order online.
Looking back towards the stairs to the living room. Door straight ahead goes down to the garage and the door on the left is the laundry room/mudroom.
Look closely and you can see Mr. Cody up there on the sofa.
This room is so bright and fresh now and look,  did you see the drapes?!  Aren't they so pretty?  I'm in love with this fabric.  It's by Richloom and called Lucy Eden and I love how it adds such a pop of color to the room.  It really needed a bold floral like this to pull all the mostly neutrals together. I'll get a couple of pillows made in the floral fabric too.
You may have noticed that I opted to do only 2 panels on those 2 skinny windows.  With the console table in the middle, it would have crowded the fabric to try to cram 2 more panels in there, so I just framed the windows with 2.  I think it looks good like this, so keep that in mind when you are planning window treatments.  You can break the rules.
Glass lamp on blue table from Kirklands.
This room has been an evolution in progress and I'm super happy with it.  From the rug, to the drapes, sofas and chairs, it all flows together now.
The drapes have so many vibrant colors in the fabric and it's so fresh and fun.  From deep pinks to coral reds, several shades of greens and blues and even yellow and khaki on a creamy white background, this is one gorgeous fabric. I had seen the fabric online and ended up ordering mine from a seller on Ebay and got it for $14 a yard.  They had almost enough and I then ordered 3 more yards from another online shop to make it work for 6 panels.
Richloom Lucy Eden, found it here at Online Fabrics.
I had my panels sewed locally by a fabric store called Fringe Benefits and they have sewed all my panels for my house. These are deep pinch pleats and I love them. These are put on with rings and pins and I'll show you how I did those later.  It's easy to hang them this way.  They charge $55 per panel for labor (plus lining material), when you bring your own fabric.  I think that is very reasonable. I told them the length I wanted and that's what I got.  I ordered 88″ in length for my windows.
They make such a statement in here and I couldn't be happier with my fabric choice.
The gallery wall didn't change, it is still the same.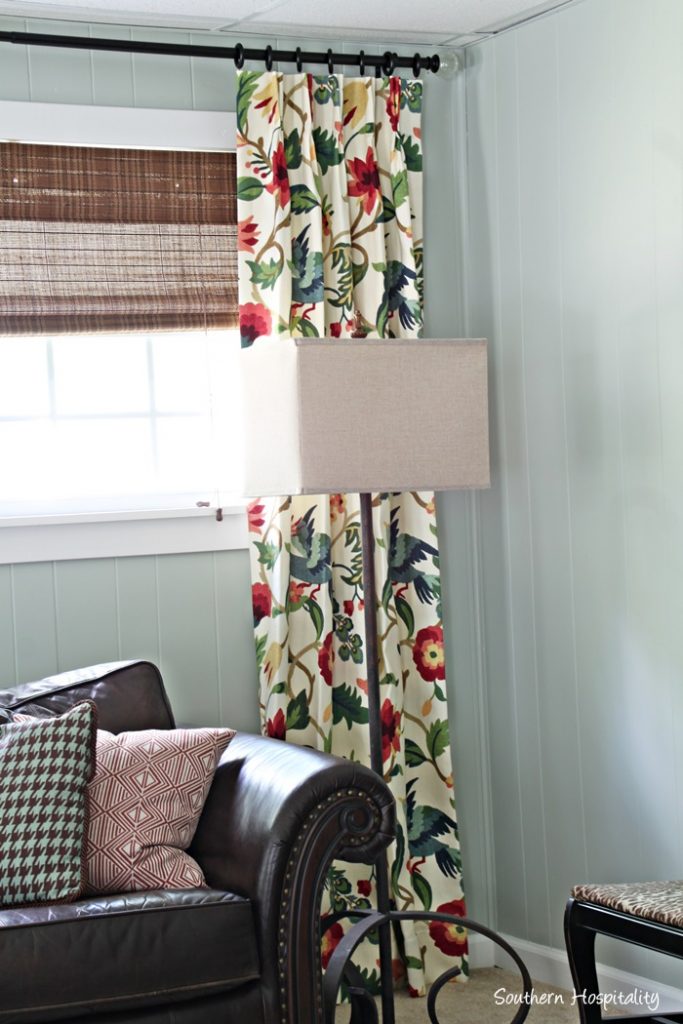 Another look at the fabric panels in the corner.  I got these rods from Homegoods and they are inexpensive and pretty.  Home goods is a great place to find rods. These have a crackled glass ball as finials on the ends.
A look at the painted console table behind the sofa and that wall and corner.  I bought that pretty brass planter out thrifting and will get a tree to go in there.
This map print I've had for a few years and it picks up all the colors in here too.  It came from Homegoods ages ago.  Lamp is from Kirklands. Ampersand is from Birch Lane.
I did move my china cabinet down here (switched this china cabinet with the French buffet that is now in the living room) between the windows and it's a nice little addition in here too. This is an old piece and has been with me for many years.
It anchors the wall behind the sofa nicely.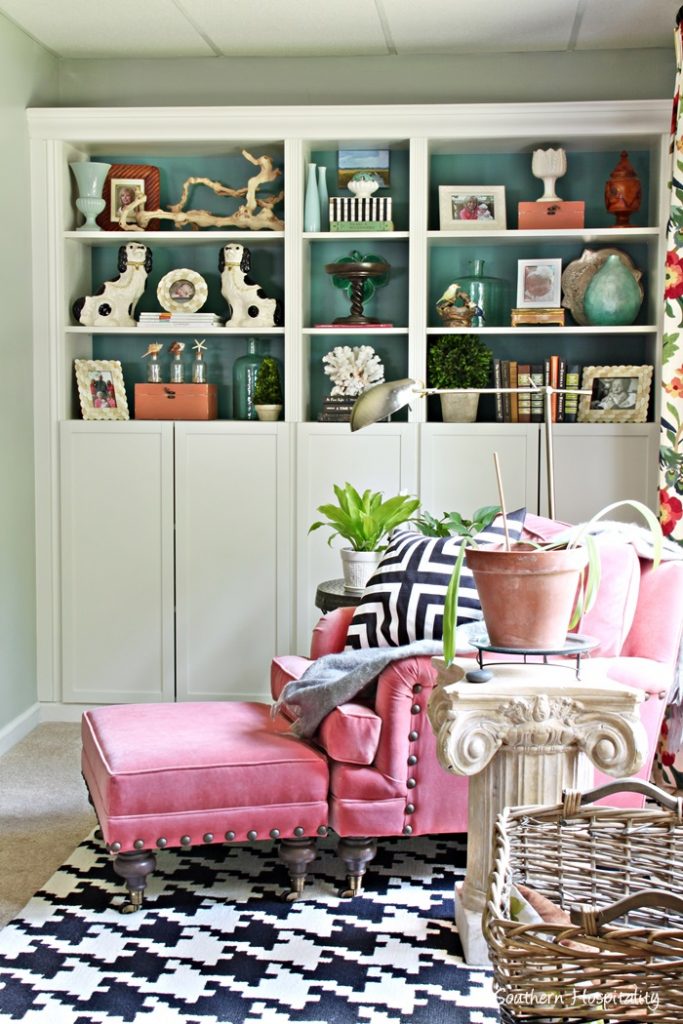 My Ikea Billy bookshelves are still looking great and I'm so glad my dad and I did that project. It adds such a focal point to this corner.  To see that entire project of building in the Billy bookcases, you can go to that post for all 3 parts on how we did it all. This is something that many bloggers have done and we followed their lead.
The Ballard Designs coral velvet chair is such a great piece too, along with the ottoman.  Makes a cozy little reading nook, especially with light coming in the window now.
Cozy and comfy!
I love having a space to display some collectibles and family pics.
Separating this space into 2 areas was perfect since it's a long room.
My grandma's old Singer sewing machine is a great side table in here.  Lamp from Homegoods, as well as the chair.
My favorite thing?  This view coming in now!  You can't beat that!
I hope you enjoyed seeing the new drapes.  I think they add so much to the room and I think adding real custom drapes is one of those things that can really make a difference.  I like choosing my own fabric and having them made and you'd be surprised how reasonable they can be.
Here's a breakdown of my room.  Many of my pieces, I've had for several years. 
Beige Sofa – LazBoy (I was fortunate enough to get this sofa sponsored by the company a couple of years ago).
Brown Leather Loveseat – Bernhardt
Brown Leather Ottoman – Bernhardt
Blue Recliner – LazBoy (recovered in fabric from Online Fabricstore).  This is a chair I bought years ago.
Painted End table – Thriftstore piece (Ethan Allen) that I painted
Floor Lamp – Yardsale
TV console – Homegoods
Gallery Wall – All thrifted pieces
Coral Chair – Ballard Designs (big thanks to Ballards, sponsored by them last year)
Black and White Rug – Rugs USA
Ikat Rug – Rugs USA
Bamboo Blinds – Sponsored by Payless Decor (these are Tibet in the Premium shade line)
Don't Miss a Post, join my list!