I visited Woodstock Market when they were still in the old location in Woodstock, but one year ago they relocated to a new building located at Hwy. 92 and Bells Ferry Rd. in Acworth, the old Hobby Lobby building.  It's new and improved and I got a chance to stop by and see it all last weekend with their anniversary sale going on.
You might all remember that I introduced you to Marc Jones, my sister's neighbor, a year ago Christmas when I photographed his house all decked out for the Holidays in 2011 and took so many pics I had to feature it in 3 parts.  You may want to go check out those posts too, to really enjoy Marc's style and what a great decorator he is.  Part 1, Part 2, Part 3.   We have a love of interior design in common and you all went ga-ga over his house!  Marc's Facebook page is The Consignor's Designer, so check him out.
Marc has long worked with Woodstock Market in doing their displays and now he is fulltime working there with a storefront of his own, as well as the designer for the Market.  I had so much fun seeing it all, as Marc took me around showing me all the different storefronts with so many unique ideas and creations.  We've all seen antique mall spaces before, but Woodstock Market takes it way further than that with so many special storefronts and vendors, each offering special and unique things.
Marc's space was easy to spot, with his signature style of neutrals with pops of color.
I love the effort they have gone too in really building out these spaces like real little shops and Marc's was so pretty in white moldings.
He did board and batten with grasscloth above, a fresh look for sure.
Blue sofa and lots of punches of color.
I loved this striped piece.  With a mix of new, consignment pieces and antiques and collectibles, there's something for all house lovers at Woodstock Market.
I think these were paint by numbers, a personal fave of mine.  I wish I had kept the many I did as a child.  They look extra fun on the grasscloth wallpaper.
Pretty vintage table painted in blue.
Marc has a great eye with putting things together.
Outside his space, a patio set up with lots of color too.  I can't wait for Spring!
We met Justin Cave, who is on HGTV's Ground Breakers and he runs this neat shop, Mercantile on Main.
I loved how he had it all displayed, such a manly type space. He said the back wall is all pallet wood.
I told him bloggers have been doing this trick too, but working with pallet wood is a lot more tricky since the nails have to be removed. It sure is a cool look though!
Justin did a wonderful job with his space.  So appealing!
There's rustic stone fireplace built in the middle of the antiques market.  Instead of me trying to narrate all the rest of the pics, I'm going to let you enjoy them all. There are many different vendors in place and you can see some of the names above the store fronts.  It was fun to meet many of the shop owners and I'd definitely recommend you all checking this one out, it's got a great mix of fun things that we all love.
I do have to stop on this pic, above.  See that beautiful landscape original oil painting propped above?  When I spotted it, I fell in love.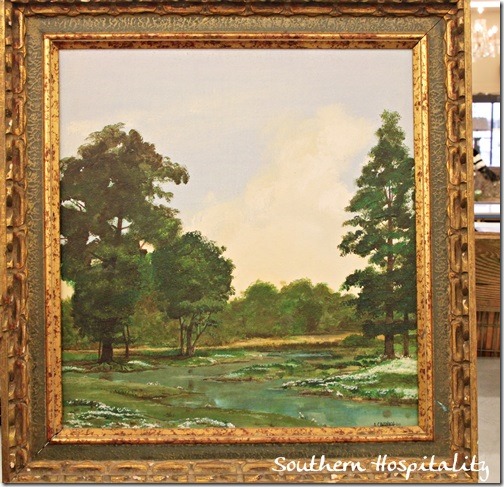 They were having a 20% off sale on everything in the market, so I got it for $72, not bad for original art.   I'm not sure exactly where I'll put it, but I'm about to get a rustic mantel installed on my fireplace, so it might go up on the rock.  It's such a pretty piece and I love vintage paintings like this.
Loved this leather ottoman, what an unusal look it has!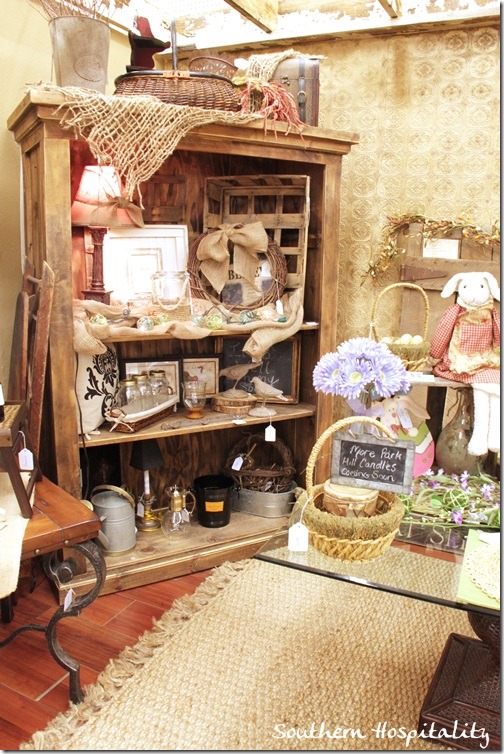 Again, if you go to Woodstock Market, head to the back and look for the white storefront and see if Marc is there and introduce yourself. He'd love to meet you, as would all the other vendors at the Woodstock Market.  It's a great place to browse and I was thoroughly impressed with their new space.
I took so many pics, that I'll be breaking this into 2 parts, so come back tomorrow for Part 2!
Don't Miss a Post, join my list!