What are the steps we need to take to modernize and update your home without changing everything?
We've all been through this. What was in 20 years ago is definitely not in today. To keep our homes feeling current and modern, there are a few things we can do every 7 to 10 years to freshen them up. Today, I'm sharing a few tips that I've learned along the way to update and freshen my spaces by changing some key things in my home. I get asked often to share how I update spaces and keep thing flowing without changing everything in my home so I want to share a bit of my thought process and how I update my home without starting over. I'm not a pro or a design expert, but this has come through experience and having a home of my own for over 35 years.
None of us can afford to start completely over when we move or create a new space in our home when we are ready for a new look. I've lived in 4 houses total since I became an adult and moved out on my own. Not that many really, but I've learned a lot along the way on ways to update and freshen my home without falling for all the trends and without buying all new everything.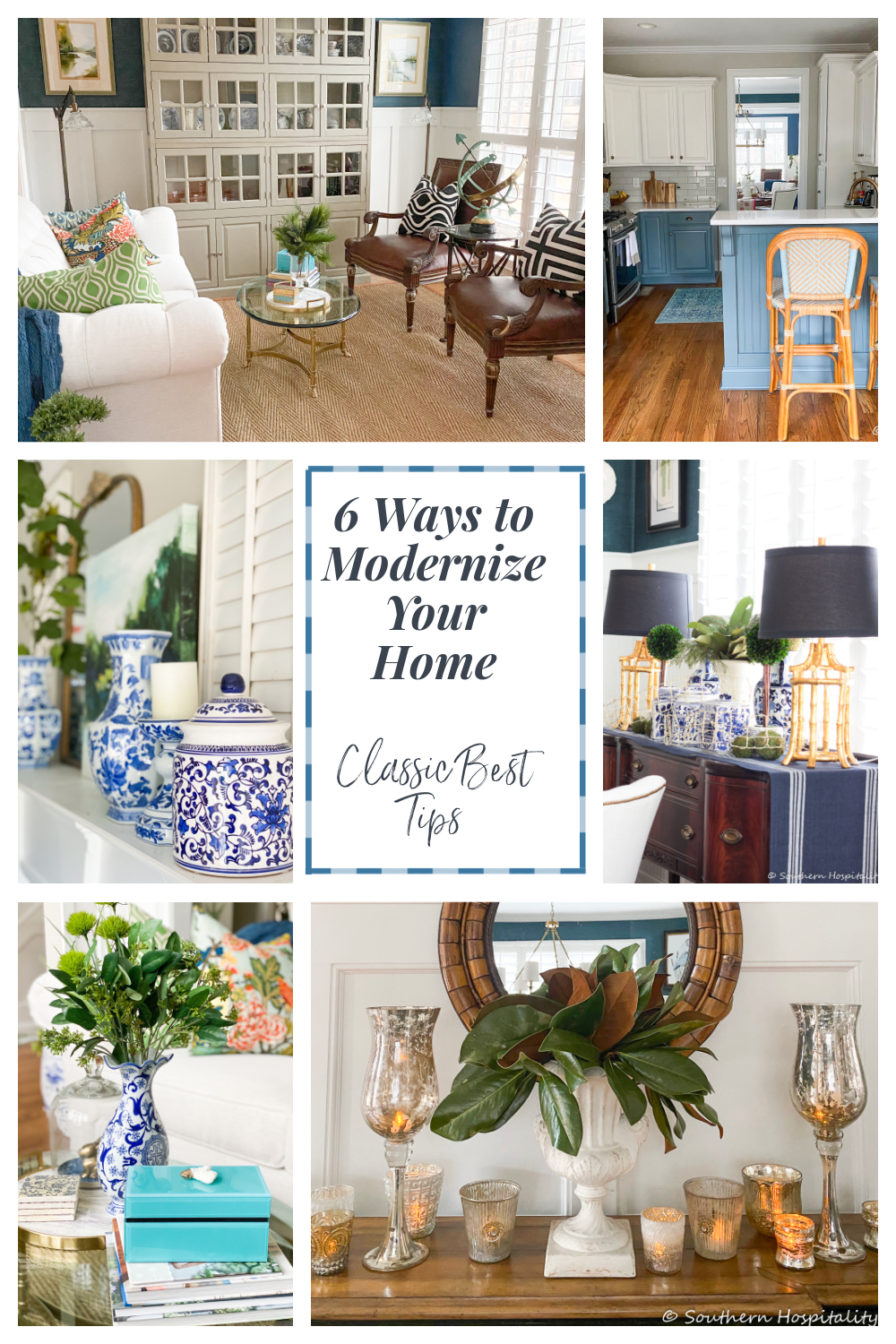 Here are my top 6 ways to update and freshen your space without starting over! I dug deep into my archives here on the blog and pulled out lots of example pictures from both houses (my photos sure have improved!) I've had since blogging as well as our current home. As you will see, my style has changed a LOT over the last 15 years and I bet yours has too. It's only natural to want to change with the times and trends and update our homes, but we can't just toss everything out and start over.
We have so much inspiration at our fingertips now with the internet and everyone sharing their homes online. I've really tried not to fall for every trend that comes along and the last big one I embraced fully was Tuscan style about 20 years ago. Since I started blogging, I've really tried to keep my style  classic and traditional (a mix of traditional, modern, and vintage) and not super trendy. Even though I have enjoyed seeing the farmhouse trend, it's just not one that I could embrace for myself and I knew it would not last forever. It seems to be fading now I've noticed and more streamlined modern versions have taken over.
Ready, let's get started! Affiliate links used in this post. 
Paint
Paint is my number one tip for changing a space without spending a lot of money. I think back to all of my houses and when I was in my first house, I opted for darker moodier colors back then. After all, it was the 80's and 90's when more "stuff" was popular, darker colors were the thing and oh how I've changed since then. I still love a moody room, but now only in moderation and smaller areas. Not the whole house! I lived in my first house for 20 years before I moved.
My next house in Birmingham was painted in a shade of gold with green and other colors in bedrooms. That was a big trend about 20 years ago, those gold shades, which went great with the jewel tones of the day. Many of you were following me back in the Birmingham days and even though I thought that house looked pretty good and was a reflection of my style back then, I sure have come a long ways since then! I had color all over that house, but now I pick and choose which areas get more color. I don't need all my color on the walls anymore.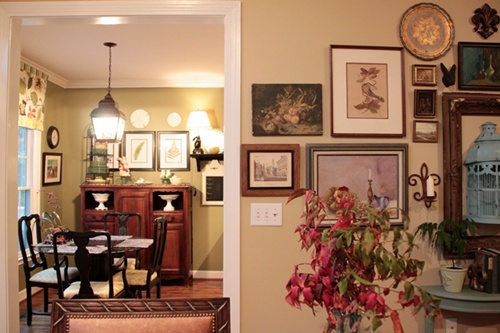 Here's a very bad picture in that house looking at the living room walls to the kitchen walls, gold and green.I also used way more stuff on the walls and accessories around the house than I do now. I like the more pared down look, even though I'm still far from a minimalist. Notice the antique French cupboard. The same one in my current kitchen nook. That table and chair set I used on my previous house's screened porch.
I started with red in that Birmingham dining room and then grew tired of it, so went with an antique white and liked that much better. I was definitely decorating in a more formal manner than I do now. Now my style is more casual and relaxed with a classic look.
Notice I still have the same sideboard and dining table, so that's something to be aware of that we'll talk about too. I don't get rid of my main pieces of furniture, I just freshen up the room around them. I was so proud of those shelves back then and all those white dishes. I still have an updated version of open shelves and dishes in my kitchen nook now and I still have many of these pieces.
In my previous fixer upper house I went with a slight off white for my main house color and used color more sparingly, although I did have plenty of color on the walls in this house too in the kitchen and my office. White is always a great choice for a wall color as it really lets the furnishings shine through.This color was Sherwin Williams Moderate White.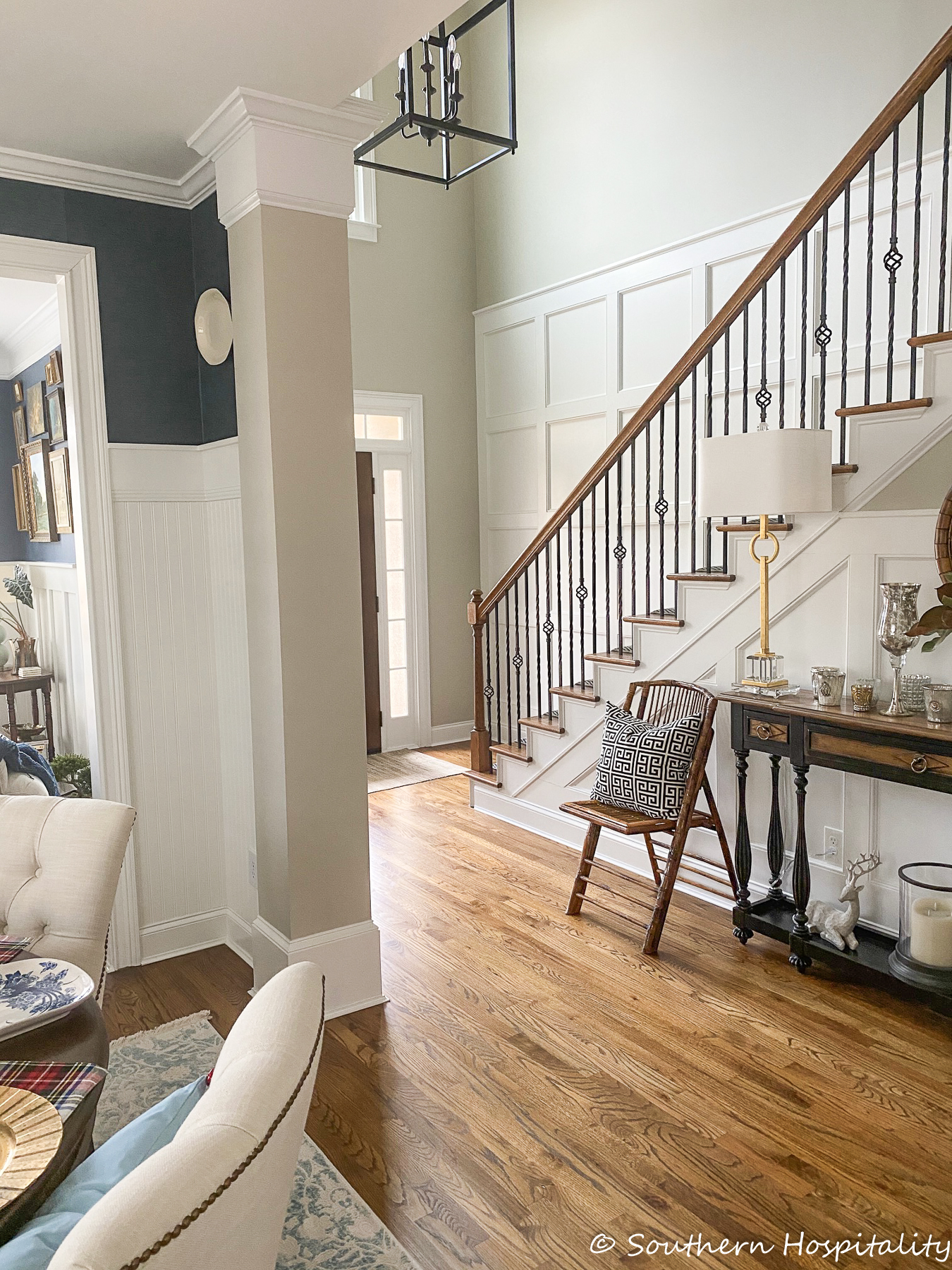 Our current house has a very soft greige color throughout and it's been a nice backdrop for everything in this house. It continues into the kitchen, familyroom, downstairs hall and guest room as well as the upstairs hallway and master bedroom. Gatherings by Magnolia Home is a great color and has been a very nice choice for us. I might have opted for one of the popular white paint colors like Simply White or White Dove on our walls, but Mark wanted a little more color. I'm so glad we have a lot of white wainscot to break up the walls and add a lot of white to our spaces. It changes colors from dark to light depending on how much light comes in.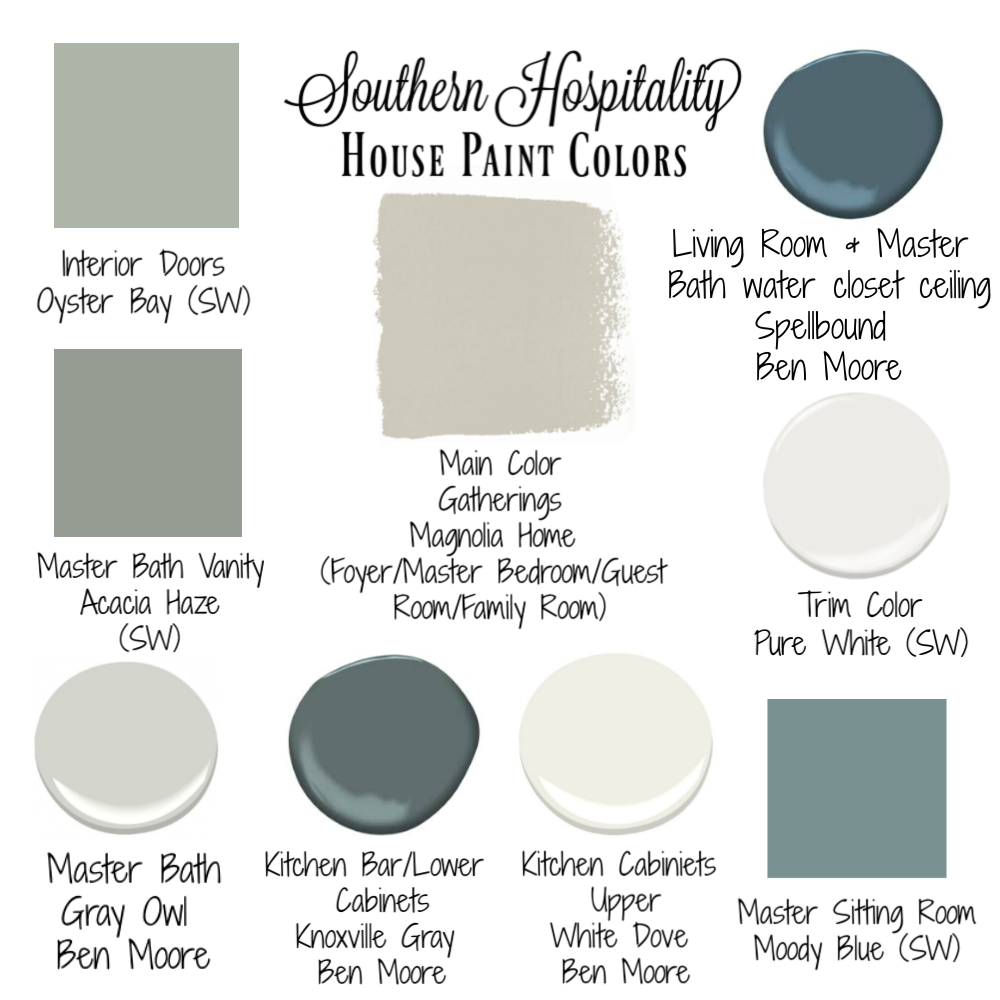 I've shared all our paint colors in this post, if you want to see them all. I use more muted tones on the walls now.
I do think white paint is a really great way to give a space a clean and fresh look, like this space.
From Lily Pad Cottage Feature Friday
White is a wonderful backdrop for so many colors. See how the textures and wood floors make the white pop even more? I love this look. You can't go wrong with a beautiful shade of white and there are so many gorgeous whites to choose from. If I was building a house now, I'd probably go with all white walls in the main area of the house.
Rugs
Rugs are another great way to update your spaces without starting over. I have changed my rugs many times over the years. I used to spend more much money on rugs and only wanted wool rugs, but now there are so many rug sources online for shopping good quality man made rugs that most of my rugs are not wool anymore, even though I still love a beautiful wool blend rug. I remember back many years ago when women used to spend thousands of dollars on Karastan Persian rugs that were way out of my budget. Those traditional rugs are not nearly as trendy now and I'm glad I didn't try to spend my way into that trend. My rugs now are man made and fairly inexpensive and when I tire of them I won't feel bad about getting rid of them. I like transitional rugs now that span styles.
Flashback to my house in Birmingham. I had to really dig through the archives to find these old pics, but I'm sure many of you remember this look. I went through a French Country/Tuscan phase and bought this floral needlepoint rug which I loved at the time. All of this looks so frou-frou to me now, but I still have those 2 leather chairs and that sofa from Ethan Allen, which I had recovered in a fresher white fabric. I dyed those leather chairs a darker brown and they suit my living room better now. I had way more formal things in this house, but I wanted you to note the things I've kept and still have. Notice the formal lamps as well. We'll get to lamps in a minute. I also had a thing for lots of fake greenery. I have added back some fake greenery and flowers, but not nearly to this extent.
I've gone through so many rugs over the years and now my rugs have a lot of blues for this house.
I recently changed out my living room rug to this seagrass rug that I've had for several years. Seagrass is a great natural fiber that wears really well.
You can find this seagrass rug here (affiliate link), it's still available. This size is 8×8′ square and fits a lot of smaller spaces. It's very affordable too.
You can see the same rug here in my previous dining room and I had it in my current dining room until I changed it out for a more colorful rug. That's the fun thing with rugs. Keep them, move them around and then get rid of them when you tire of them.
New floral rug in dining room. Rugs are such a great way to freshen up a space! Tip: 8×8′ square rugs work great with a round dining table!
You can find this blue and white rug here (affiliate link).
Rugs add color and personality to a space. This Shaw Floors rug is no longer available. I still love it in here.
I added more color in the master bedroom with this vintage patterned rug (affiliate link).
None of these rugs break the bank, so later on when I tire of the colors or patterns, I can easily change them out for something else. But I think they will last a good long while.
Here are some of my favorite rugs that I've used in my house, inside and out. All of my rugs are not available to link, but I will link what I can.
Classic Wood Furniture
Classic well made furniture will always be in style. I did get rid of the chair of many fabrics in this picture from Birmingham, I passed it onto a friend before moved from my previous house, but still have the 2 leather chairs and sofa in my current living room. I pared down a lot in this later picture from what I had done previously and at the time I really liked this room.I had gone to a seagrass rug here in this picture and gotten rid of the floral needlepoint. This look is still more formal than I am now.
But good furniture lasts forever, so I've kept many pieces over the years. I may change some of them out with time. I'm thinking about getting a queen bed in our guest room because the king size takes up the whole room and I found a bed I love.
I still have all this furniture in our current guest room, but the armoire is still at my old house. If I get a smaller bed in our guest room, I may be able to fit this piece in there too. It's a classic French antique and still pretty. I love mixing vintage and new and this look is still pretty to me.
I bought my round dining table in Birmingham and it's 15 years old now. I found it at a great closeout price at a local furniture store and the brand is Richardson Bros. which has since gone out of business. I still love this table, it has an Empire base, very classic lines and it's solid oak stained in a dark finish. It was one of the best finds at $400. I'm so glad that this table has fit nicely into 3 dining rooms and each of these 3 dining rooms looks different, don't they? But the furniture is all the same.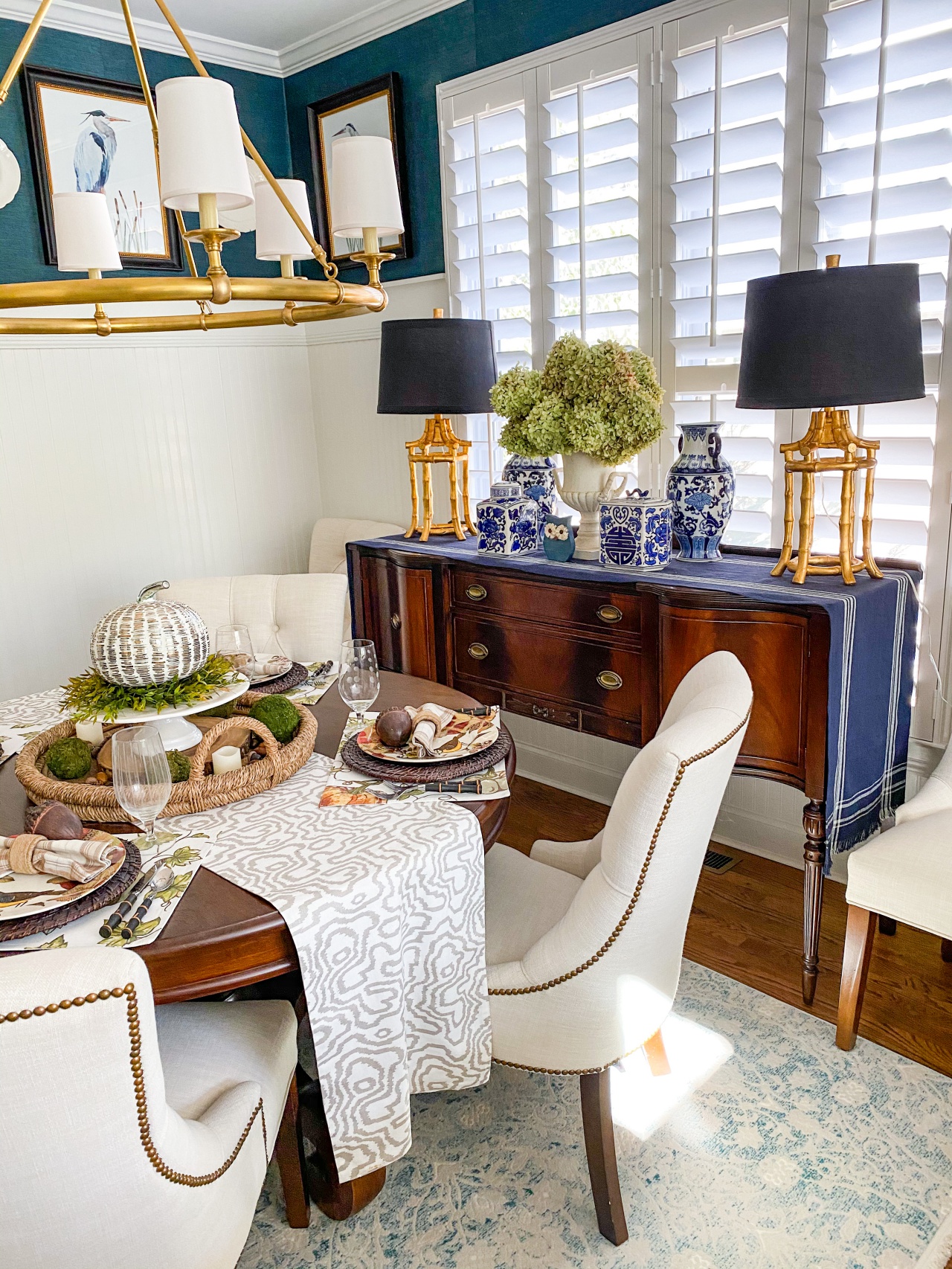 I think our current dining room is my favorite and the addition of beadboard wainscot and the grasscloth wallpaper really makes it an elegant room. Plantation shutters help too, but I've added current fabrics and white dining chairs to make this space very classic. The mahogany sideboard was an antique store find here in my area over 20 years ago. Those chairs are from Carrington Court online. I worked with them a few years ago on these chairs and they are gorgeous and heirloom quality pieces. Those gold chairs in the previous dining room pictures were also Carrington Court. I had bought those when I lived in Birmingham and I totally recommend this company for dining room chairs. I'm not kidding about the heirloom part, they are such well made chairs.
I could easily get rid of all my dark stained furniture that is not the current trend, but why would I do that? It's still beautiful to me and useful and so I have no intention of starting over with all new furniture. I've found ways to keep it fresh.
When Mark and I got married, we did buy new furniture for our new bedroom. We wanted to pick out something together and so my old sleigh bed went to the guest room and we chose this together. The bed is by Kincaid and the nightstands and chest are from Universal Furniture. This is the more current trend in case goods now, this more gray toned brown. It's a lighter brown than the older furniture we all grew up with. We love it and I'm glad we got this for our new house. I do see this tone of wood in a lot of homes these days, with the farmhouse trend that has been going strong. It's pretty, but I don't see a need to start over in my own house just to get all this same color wood throughout. Nothing wrong with doing that if you want to, but I don't think it's necessary to throw out the old and start completely over.
So this is to show that even if you keep traditional dark stained furniture throughout your home you can update it with fresh fabrics, colors and rugs to take it out of the stuffy old fashioned camp to a more modern approach.
Lamps & Lighting
Lighting and lamps have changed a lot too in the last 20 years. I embraced the Tuscan era just as much as most of you probably did as well and I had more ornate lamps and lighting back then. I started changing out all of the more fancy and formal lamps in my last house and went with more modern shapes and drum lamp shades which are more current.
Old dining room in Birmingham. You can see the lighting is traditional brass chandelier. I later replaced it with a more French Country light, but my taste now is even more classic traditional. Notice the candlestick lamps on the sideboard. Those were very popular back then too, we all had them.
Another frou-frou light fixture from the Birmingham house. I was definitely into more formal fancy back then.
I replaced every light fixture in my previous fixer upper house to more classic pieces and Mark and I have done the same in this house. Lighting makes a world of difference. Even though lighting changes over the years, there are classic shapes that stay current for a long time. There are more lighting choices now than ever before, so that's a good thing too.
In my last house I had an oversized lantern in the dining room. I liked it for drama, but it was probably a little too big for the space. The lamps that were in the dining room are now in our master bedroom. These are modern shaped lamps and not as formal as old style lamps were.
The current lamps I have in the dining room were one of my best bargains ever. These are by Couture Lamps which is a designer lamp company and I found my pair at Homegoods for $60 each. They sell online for over $300 each. I was overjoyed the day I walked into Homegoods and found them!
The old light fixture in the dining room. Definitely Tuscan in feel.
We absolutely love this brushed brass light fixture we bought from Williams Sonoma (affiliate link) after we moved in here. I found it online and we couldn't find anything we liked better so we splurged and bought it for our Christmas present to each other the first year we lived here. It really sets the tone of the dining room, don't you think?
This lamp that I made over in my old house is definitely more formal than I use now. I thought it was a really cool makeover back then, but I've moved on to more modern shapes now. I recovered that lampshade myself but the lamp was a yardsale find. I was pretty proud of this foyer table back then.
My current foyer table lamp is very modern and sleek. I love it! So you can see my style has definitely evolved, but there are a lot of things I keep as well. I love the mix of traditional and more modern styles together and that's what my style has evolved to.
Lamps and lighting can really make a house special and set the tone for your style. Updating from more traditional or dated lighting can really modernize a home. Lighting doesn't have to be really expensive either and you can take it one space at a time, updating one light fixture at a time (or lamp) to get the look you want. Mark and I have changed almost every light fixture in our house since we moved in. As you can see from my pictures, I've really changed my lighting styles over the last 15 years since I started this blog. I'm loving the changes!
Pillows
My taste in pillows has changed over the years too. I look back at the needlepoint pillows I had that I used to love and the more formal fabrics I had in previous houses and my pillow style has definitely changed. I see a lot of neutral loving girls who use all neutral pillows with lots of textures, but I still have colorful fabrics at my house. I'm just not an all neutral decorating girl.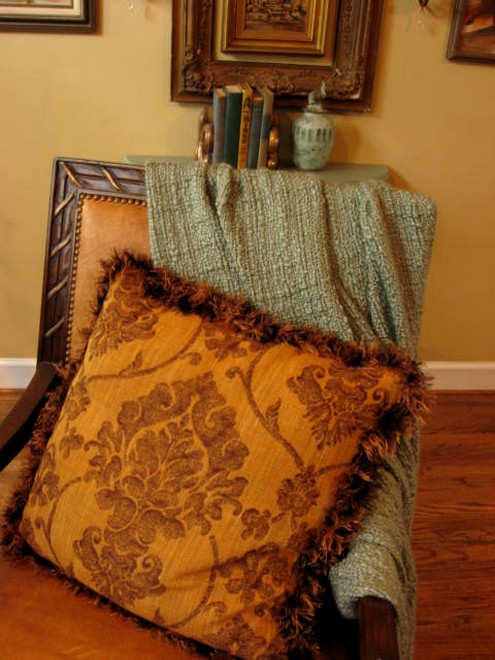 Here's an example of the pillows I used to have. More fancy with trims and tassels. I think we all went through a tassel phase back then, I remember when I first started blogging there were tassels all over the place. But now things are not that formal and the tassels and trims have made way for more modern pillows
Same chairs, dyed darker brown, different pillows. Amazing what pillows will do!
Old Birmingham house, I had a thing with tassels and needlepoint pillows back then. I got my mom to make pillows out of needlepoints I found at yardsales and thriftstores. I thought they were beautiful back then!
In my previous house, I was still using some of the more formal fabrics and matchy matchy pillows. But I did start updating this space before I moved and added more colorful fabrics, which still suit me now.
Colorful pillows added in my previous house. You can see I still have this rug and many of the pieces in here. I did sell some of my lamps since I didn't have room for all of them in our current house. My style has evolved in the new house even more than this one.
These colorful pillows I still love and they look great on the white sofa. This is the old Ethan Allen sofa I've had over 15 years that I had recovered a couple of years ago. It's still going strong. Furniture with good bones is worth keeping and recovering. The old original fabric had yellowed and was looking very dingy and the new fabric makes this sofa look brand new. Old fabric above in the pic.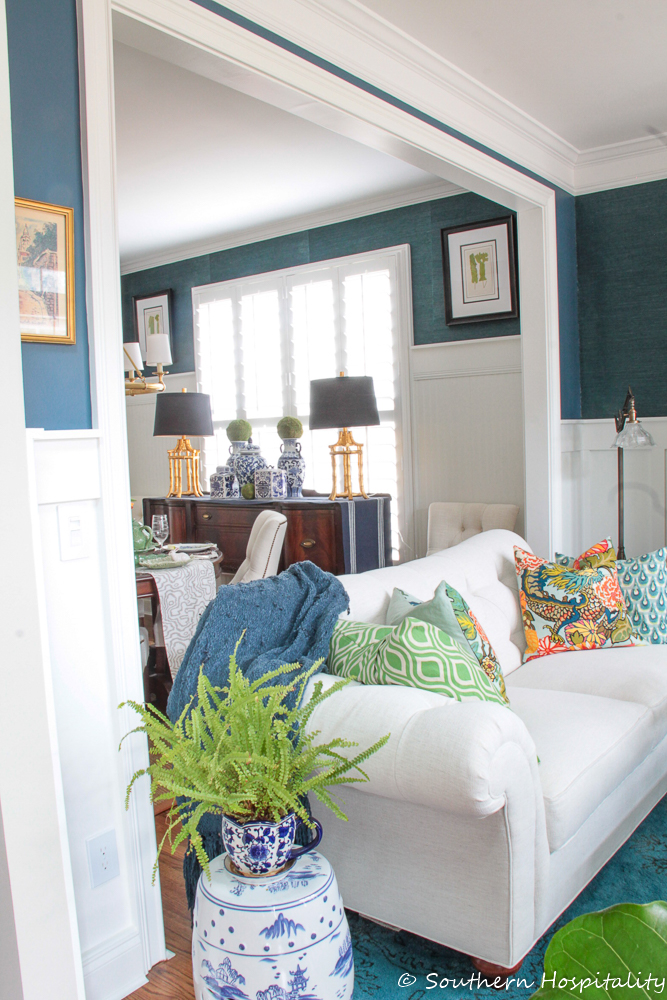 New fabric here. It looks so nice and crisp in the living room against the wainscot and blue rug.
Many bloggers change out their pillows all the time, but I'm not one to do much of that. I do have a few extra pillow covers, but I don't go crazy changing them out. But if that's what you enjoy doing, buying new pillow covers is a great way to freshen up your spaces for seasonal changes without spending a fortune.
Here are a few of my favorite Etsy shops, that's where I've bought a lot of my pillow covers. The designer fabrics are more expensive but I love them, like the Chaing Mai dragon I finally splurged and bought on my living room sofa.