Welcome friends!
I've been doing this project recap party for a few years now and it is always fun to look back and see what I've accomplished for the year.  I actually thought I might not have much to share this year, given the fact that 2011 was a train-wreck of a year for me in so many ways.  But, I did a few things around my parent's house and my sis's as well.  It was fun to be productive and get some things accomplished. If you want to check out what I accomplished in 2010, you can check out last year's post.  I am bummed that all the links are gone from last year's party, not sure what happened, except that Inlinkz was making some changes around that time and I can't find the party code anymore.  Oh well….
With the upside down period of moving from Birmingham back to Atlanta, I settled in at my parents in April and in May we got the opportunity to make over their back porch, which had never been touched in a decorative way.  It was fun to see this space transform into a useful and peaceful place to be.  Now, it's my new office and I love sitting out here.
Here's the really ugly before state.  I wanted to be sure to capture it as it was. And this pic says it all.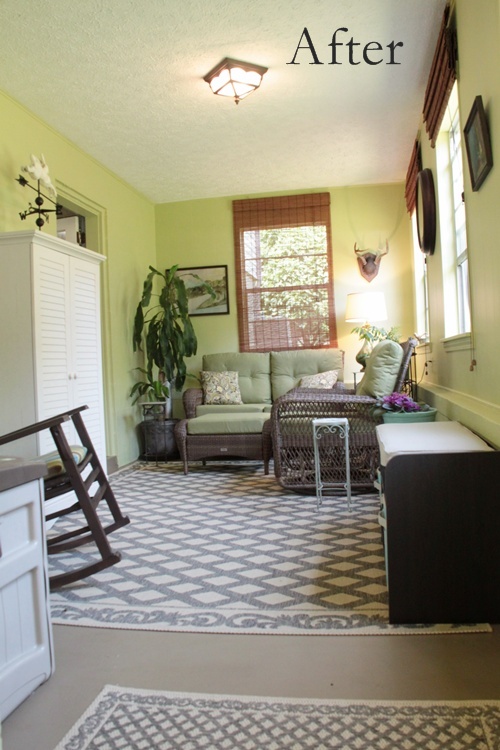 Here's the After!  I know, you're breathing a sigh of relief with me now.  We have enjoyed this space SO much and it has added a new room onto the house.  Porches rock!!
Also, in May, I helped my friend, Vicki, make over a thriftstore table that we scored in Port St. Joe.  It went from blah and dated….
To pretty and cottagey in a beautiful creamy white paint.
We then moved into my bathroom at my parents' house and did a complete overhaul on the 1970's bathroom that was in dire need of an update.   First thing that came up was the old mauve carpet and down went these pretty Allure vinyl plank flooring
On the walls, I added my famous beadboard wallpaper which I am still in love with.   I have it in my own online shop now!
So, we went from this….. to this…..
And we we completely transformed that 70's bathroom into a nice new space, with a few key changes.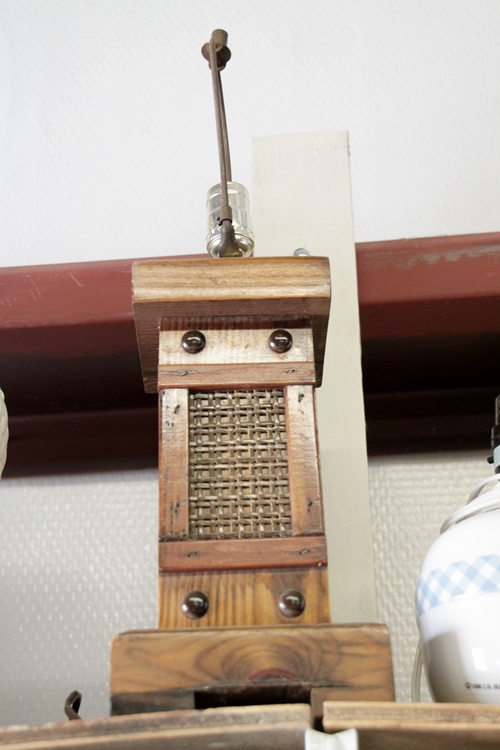 Another thriftstore find in Port St. Joe with  my friend, Vicki, we made this ho-hum lamp over too.
And it turned into a cute coastal inspired lamp for its new life.
And the biggest project of the year was my sister's bedroom makeover.
We stenciled the feature wall in this really cool Moorish stencil. And the room went from the 1990's…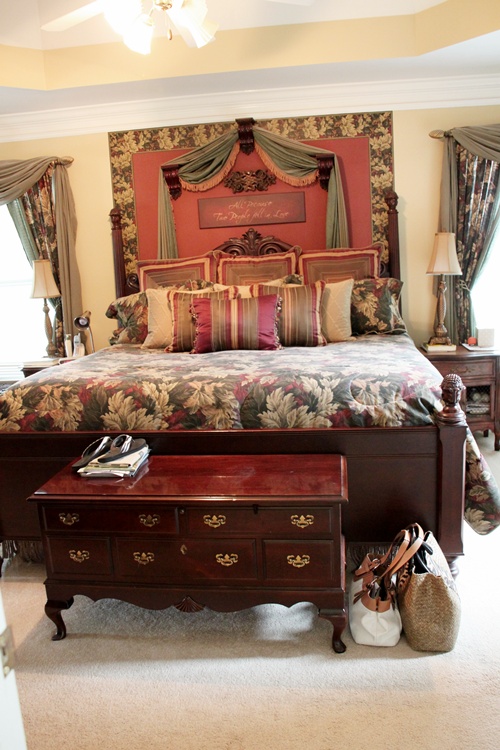 Definitely needing an update.
To a beautiful modern glam master bedroom suite. That was a fun one!
So, that was my year!  How was yours?  🙂
I'm truly trusting and praying that 2012 is a much better year for me.  I'm in such a better state of mind than I was a year ago at this time and I'm so glad to be through the worst of all the life changers this year. In fact, I'm downright optimistic.  There are a lot of foreclosure houses on the market in our area right now and I expect that 2012 will still have many available.  We've already taken a few drive-bys and look-sees at a few of them, just to see what is out there.
So, I fully expect that this time NEXT year, I'll be in a fixer-upper house.  I'm saving every penny I can and hopefully will find something for less than $70K that I can fix up and make my own.  My dad is completely on board with it and since he did renovations years ago on rental homes and also did a lot of work on my first house, he still has the building and fixing bug and would enjoy helping on a project like this.  So, that is what is happening with me!  I couldn't be happier in anticipating the possibility of getting a fixer-upper.  If I could find the perfect one, it would be a 60's or 70's brick ranch with 3 bedrooms and 2 baths, existing hardwood floors in a decent neighborhood.  We will see what comes along in my price range and of course, y'all will be the first to hear when it happens.  Just thinking about it makes me smile really BIG!
It's time for you to share your projects too, so feel free to link up and let everyone else know about the party as well.  You can use the button or just do a link back.
Don't Miss a Post, join my list!