This post is sponsored by Furniture of Dalton. I was thrilled to work with them on our new patio and screen porch space to completely update and finish off our backyard entertaining area. 
We created a beautiful outdoor oasis by screening in a real room under the deck in our backyard and updating the entire patio into 3 entertaining areas, perfect for summer outdoor living. I can't wait to share it all with you!
When I shared our plans back here in my earlier patio post, I shared the Before shots, but I'll share them here again as well as some other Befores, so you can see where we started almost 3 years ago. This time of year 3 years ago we were just looking at our house and we closed at the end of June 2017.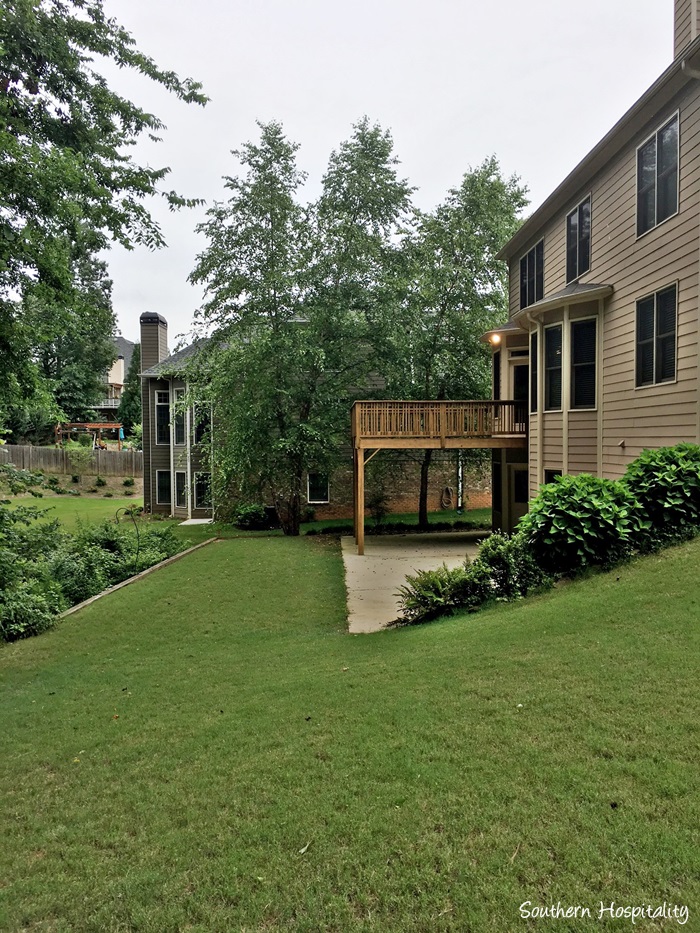 Our backyard looked like this at the time we bought it. Our grass hasn't fared well and we will need to work on that (we even have a service that comes several times a year for our Bermuda grass) to try to revive it and then figure out the rest of the landscape plans back here. But overall we had a really nice smallish backyard with lots of potential.
The patio was large and clean, a blank slate for us to dream up ideas of outdoor living and entertaining. Oh the possibilities! A lonely deck with no stairs is what we started with, but I also noticed that under the deck was concrete and it was also tall off the ground so could potentially be an outdoor room some day. We jumped pretty fast into the idea of doing a screened porch down under the deck instead of the expense of a top deck screened porch which would require a roof and be a major addition.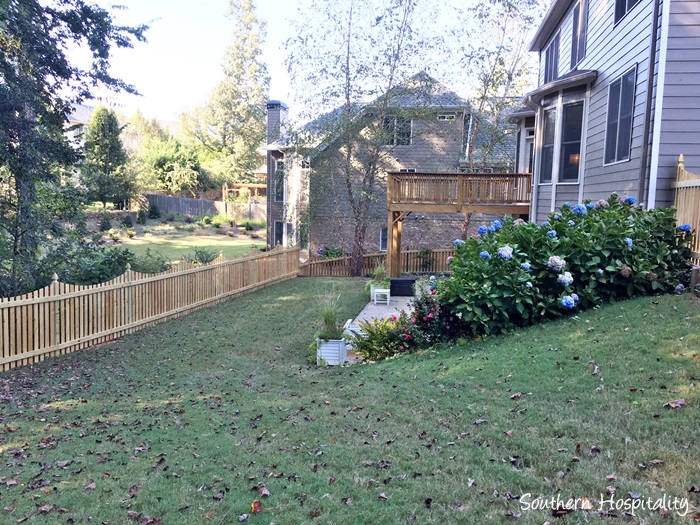 A fence went in first, then our first spring here stairs to the backyard were added.
Stairs were a must for us to be able to really use the backyard and patio. We could go down through the basement, but stairs were definitely a needed addition.
Under the deck was just raw open ceiling that was weathered and not attractive. But I knew that it could be made nice with all the right touches to complete this entire space. We saw the possibilities of what this space could be!
Patio when we bought the house.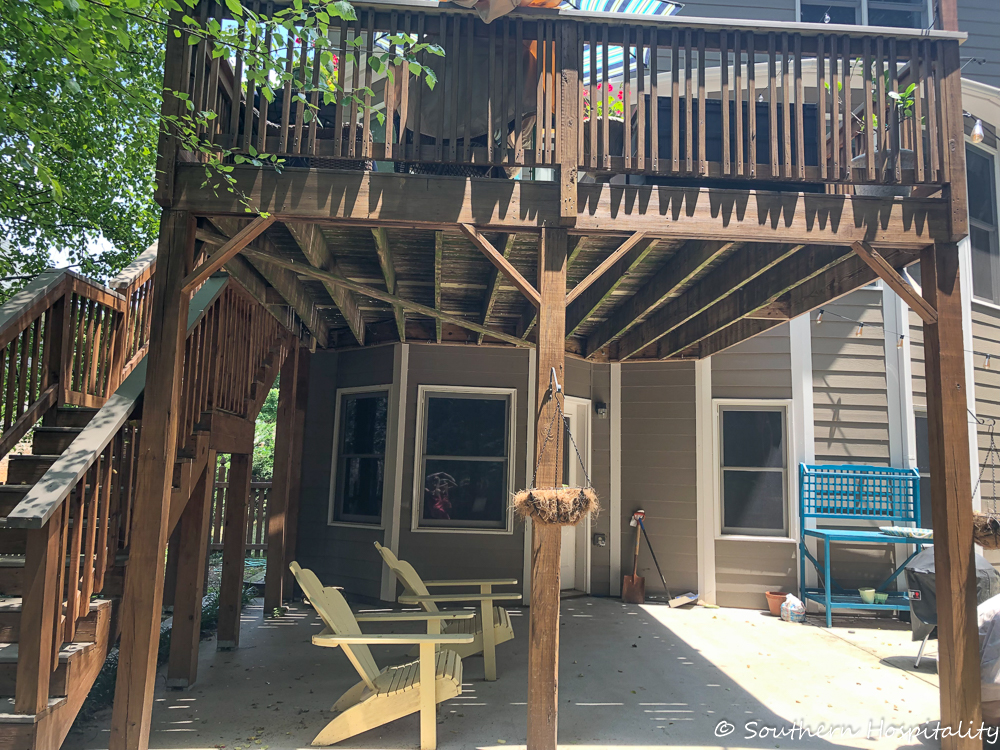 The underdeck ceiling. It was definitely not a space we wanted to hang out and spend time in. But again, we saw the possibilities. So after all those projects I shared in the first post about this space, after all the deck and stairs were stained, lots of sweat equity went into getting this patio whipped into shape and make it an oasis we wanted to spend time in. This is what it looked like our first 2 years here.
I added my existing sectional sofa, with those 2 white chairs I had from my old house and made the patio as cozy as it could be. We hosted several family outings out here, but it definitely needed much more to make it a haven in our backyard. I dreamed of what it could one day be.
Mark and I discussed the under deck room many times and we worked towards that space by getting all those projects done:  The faux stone wall, faux stone tile floor, under deck ceiling system, string lights, and the Phantom Screens addition last fall. Each and every project brought us closer to finishing that room off with a true screen porch, which meant this patio space would finally live up to its potential!
We hired some projects out, but we also worked our butts off to get this patio done!
Finishing off the shutter wall was the grand finale that we were so excited to do (well, I was more excited than Mark, he had to figure it out and do most of the work!). Mark did a fabulous job with the carpentry on this wall and I'm SO proud of him! He doubted himself when we started, but he completely knocked it out of the park.
When we added that aluminum ceiling system to the underdeck, it was a complete game changer. These ceiling systems drain the water off of the deck above and it drains out in a gutter which means this room is completely dried in and no water comes in from above. It was a year ago when this was done and at the time I had them add 4 large hooks with supporting wood for a swing bed I knew we would get one day, as well as 4 recessed lights and a fan. The making of our screen room started then and finished with this shutter wall that Mark and I dreamed up ourselves. Made from left over shutters that were in our house when we bought it (in the basement) as well as a salvaged old window, we knew we could do something spectacular with all of that stuff and we did! I'll do a whole other post just on how we (Mark) did this wall with you later on. It's a show piece for sure and a wonderful backdrop to that swing bed!
Now, at last, the screen room is done under the deck and the opportunity to work with Furniture of Dalton could not have come at a better time. the timing could not have been more perfect for this partnership and what a dream come true to get to furnish it all with my wish list of outdoor furniture. I shared in that first post about shopping at Furniture of Dalton and how much fun it was to visualize all these pieces at our home on our new patio. The dream came true and the furniture was delivered a couple of weeks ago and we have been enjoying this space SO much! I had some finishing touches and accessories that I was waiting for but most everything is in now so I can show it off.
This might be one of my most favorite spaces I've ever shared with y'all! I'm so proud of it and I hope you like it too. It truly is a dream come true patio and the nicest outdoor space I've ever had!
BEFORE
AFTER
There were so many details and views to share that I took so many pictures, so please indulge me. I couldn't help myself. This is a long post!
I still have my 5 year old sectional from my old house which is still going strong as well as the old wicker loveseat that I've had over 10 years. We passed on the two white chairs that were out here to Mark's youngest daughter and that made room for these fabulous swivel/glider chairs from Furniture of Dalton.There is another chair on order which will go to the right of the green garden stool, it just didn't make it in time for the pics.
Our hose has a spot behind the sofa.
My color scheme was set from this patio set years ago and so I've continued with the blues and greens upstairs on the deck as well as under our new screen porch. I love these colors anyway as you can see from inside our home and the neutral cushions make it easy to use any accent colors I want to in the future.
I'm using plenty of pieces I already had including that metal side table above and this green garden stool. It adds a nice pop of color out here. This sectional and the additional comfy chairs from Furniture of Dalton make this such a nice and cozy seating area for when we have more people over. Believe me, we plan to have lots more parties back here now with friends and family.
We can now seat a lot of people with all of these areas on our patio. There are 3 distinct areas now: the screen porch relaxing space, a dining space, and this larger entertainment seating area.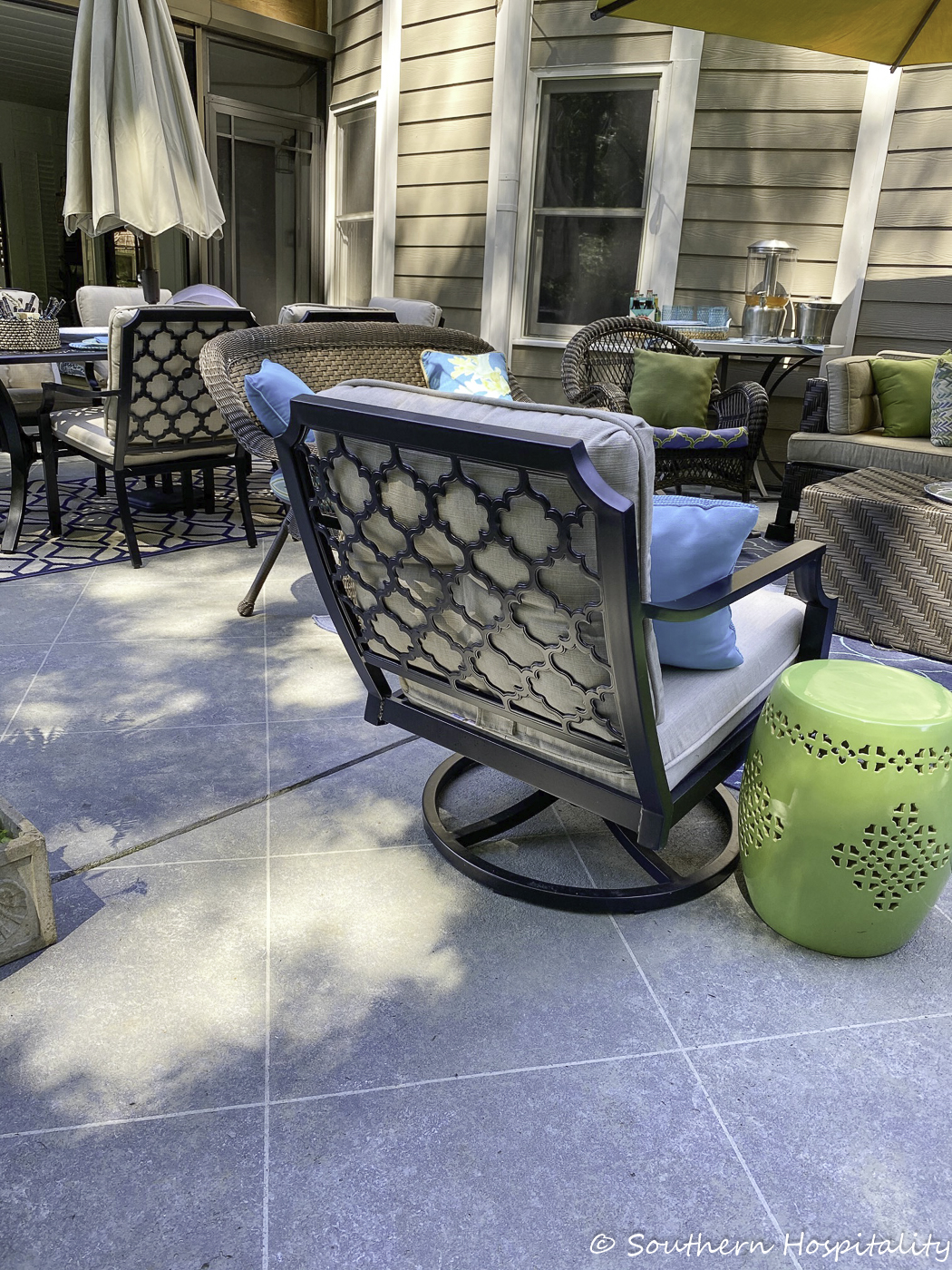 These chairs from Furniture of Dalton, Portica by Sunvilla are just beautiful and we opted for their low maintenance aluminium frames as well as Sunbrella cushions. The cushions are a very close match to my sectional cushions and flow right together with what I already had. I had to keep all that in mind as I was shopping for these additional pieces and we couldn't be happier with how it all looks together.
You all know I love plants and I couldn't resist adding these 3 shepherd hooks with ferns this year. So Southern!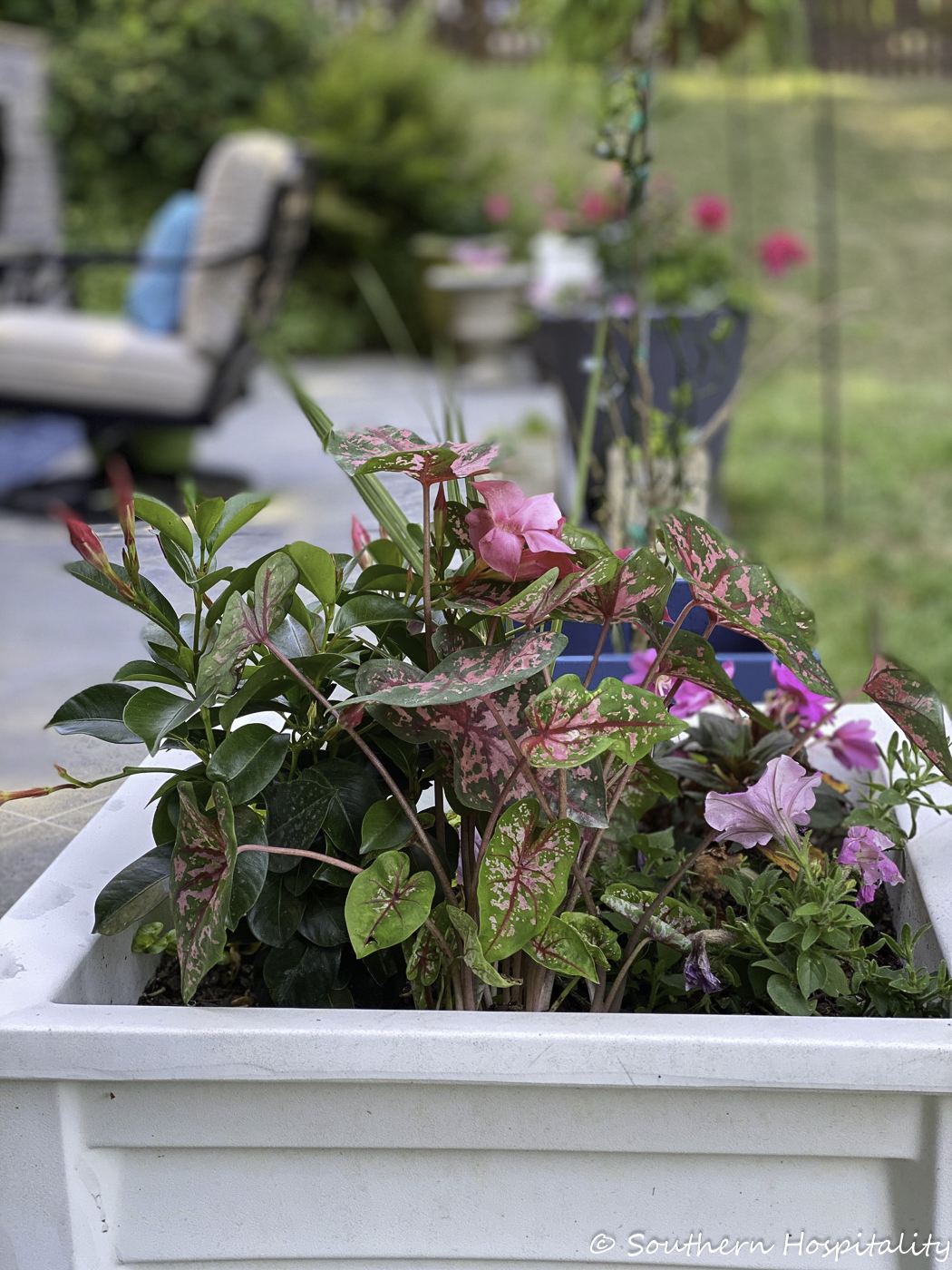 I love to fill up my planters with blooming summer annuals. They add so much to an outdoor space.
Another addition from our partnership is this beautiful side table made out of metal by Lane Venture and is called Calistoga. This demilune table will be great for hosting beverages for our gatherings and of course, it's weather resistant.
This is a beautiful addition to our entertaining area and tucks out of the way against the house.
You can see how each area relates to the other.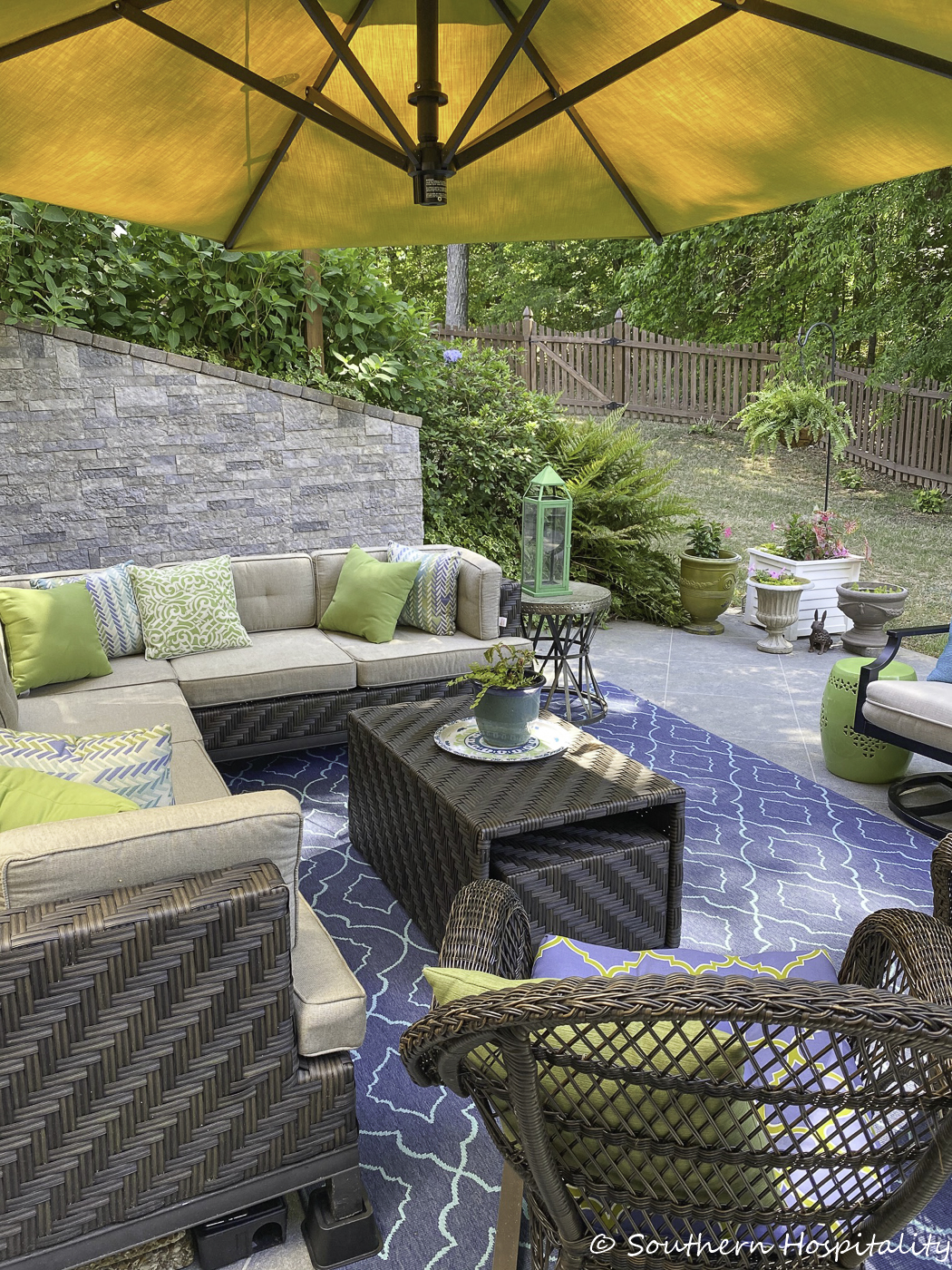 Looking back to the faux stone wall and the cozy relaxing sofa.
Those swivel rockers are Mark's favorite, he loves how comfy they are. And they flow so well with our entire patio style. I added my potting bench against the fence for now and it's a fun pop of color.
The bank of hydrangeas behind the wall are just about to burst open with blooms. I can't wait for that!
Now we have the dining area, the middle section. I love that this patio is large enough to have 3 distinct areas and the dining table will be so nice down here for dining al fresco.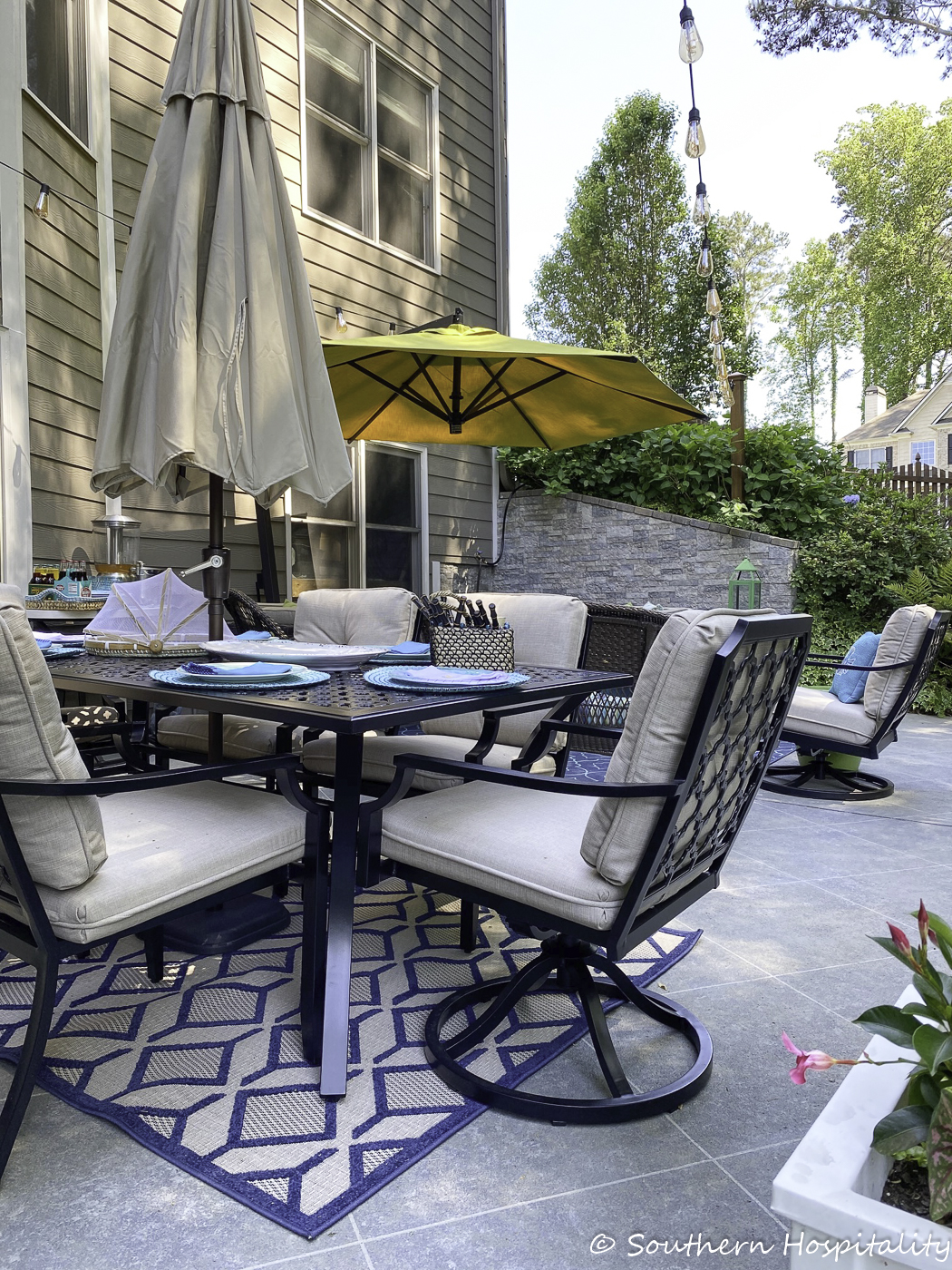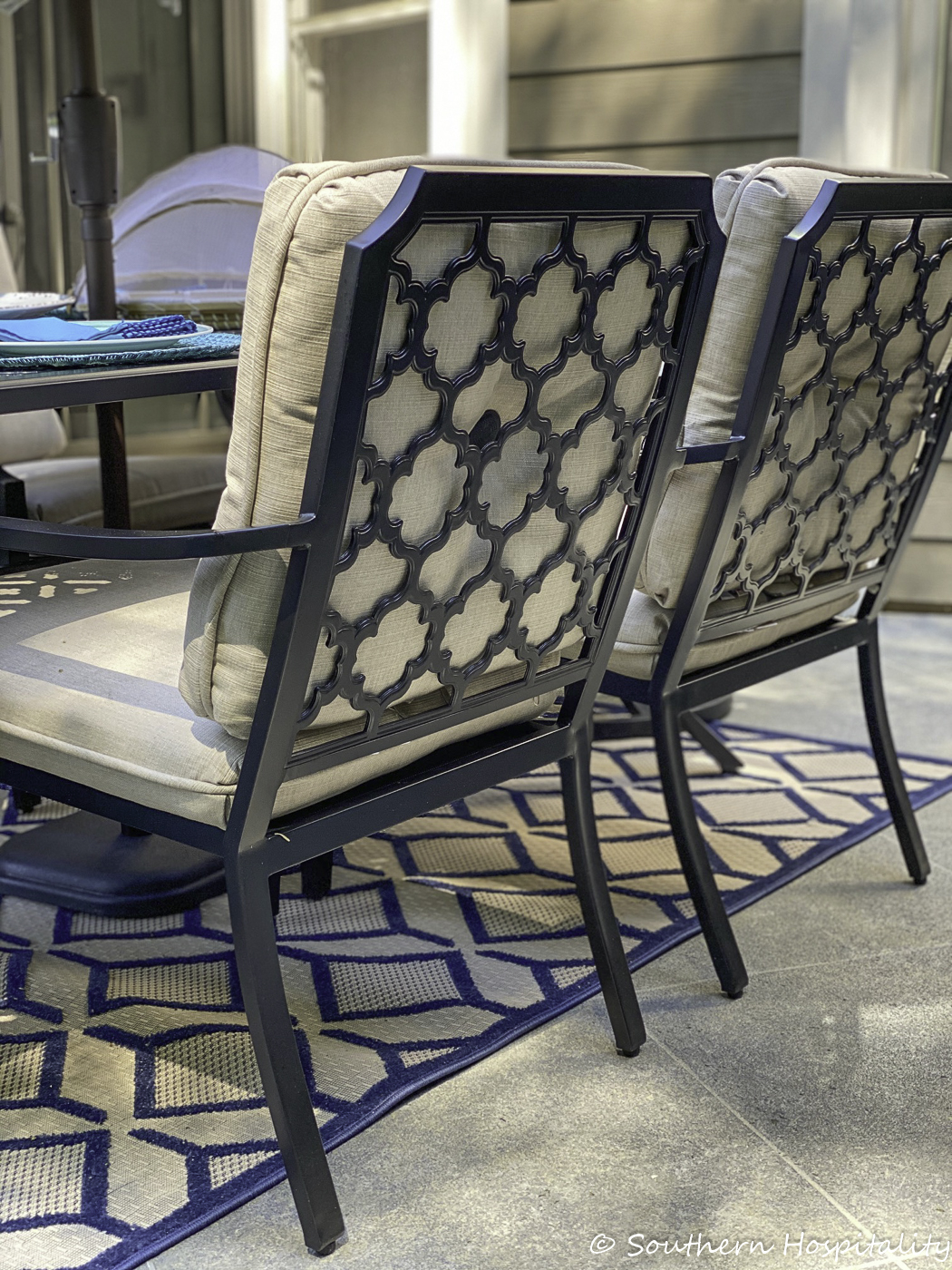 These chairs are a companion to the Sunvilla Portica rocker recliner chairs. I love the shape of the back on these and again this set is rain resistant with Sunbrella cushions.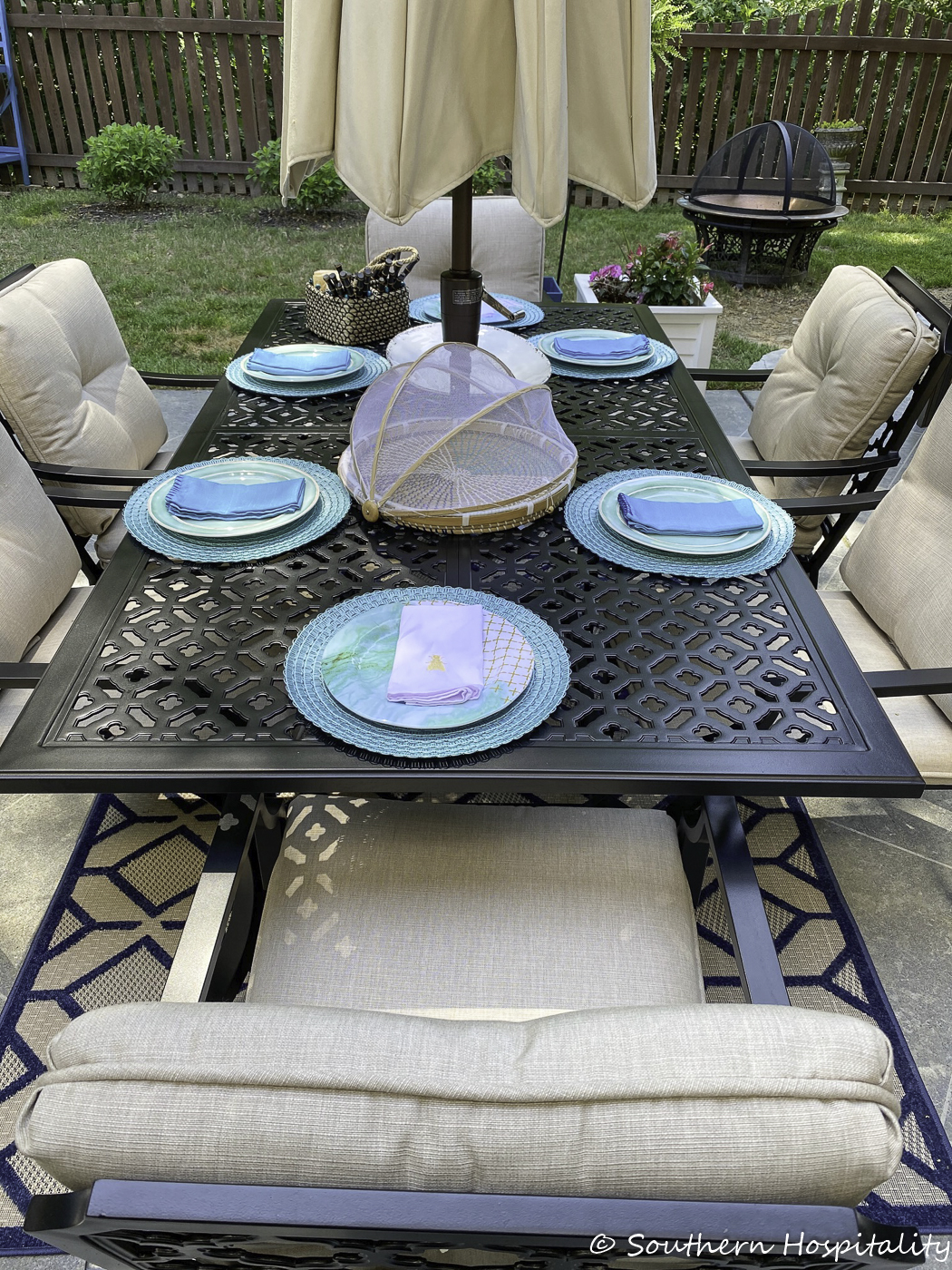 I look forward to our first dinner party around the table. We also got the Ashley rug and the Treasure Garden tilt umbrella from Furniture of Dalton. We are fortunate to back up to the woods behind us which casts a lot of shade in the afternoon, so we don't get sun all day, but nice dappled sun and shade, like you see in these pics.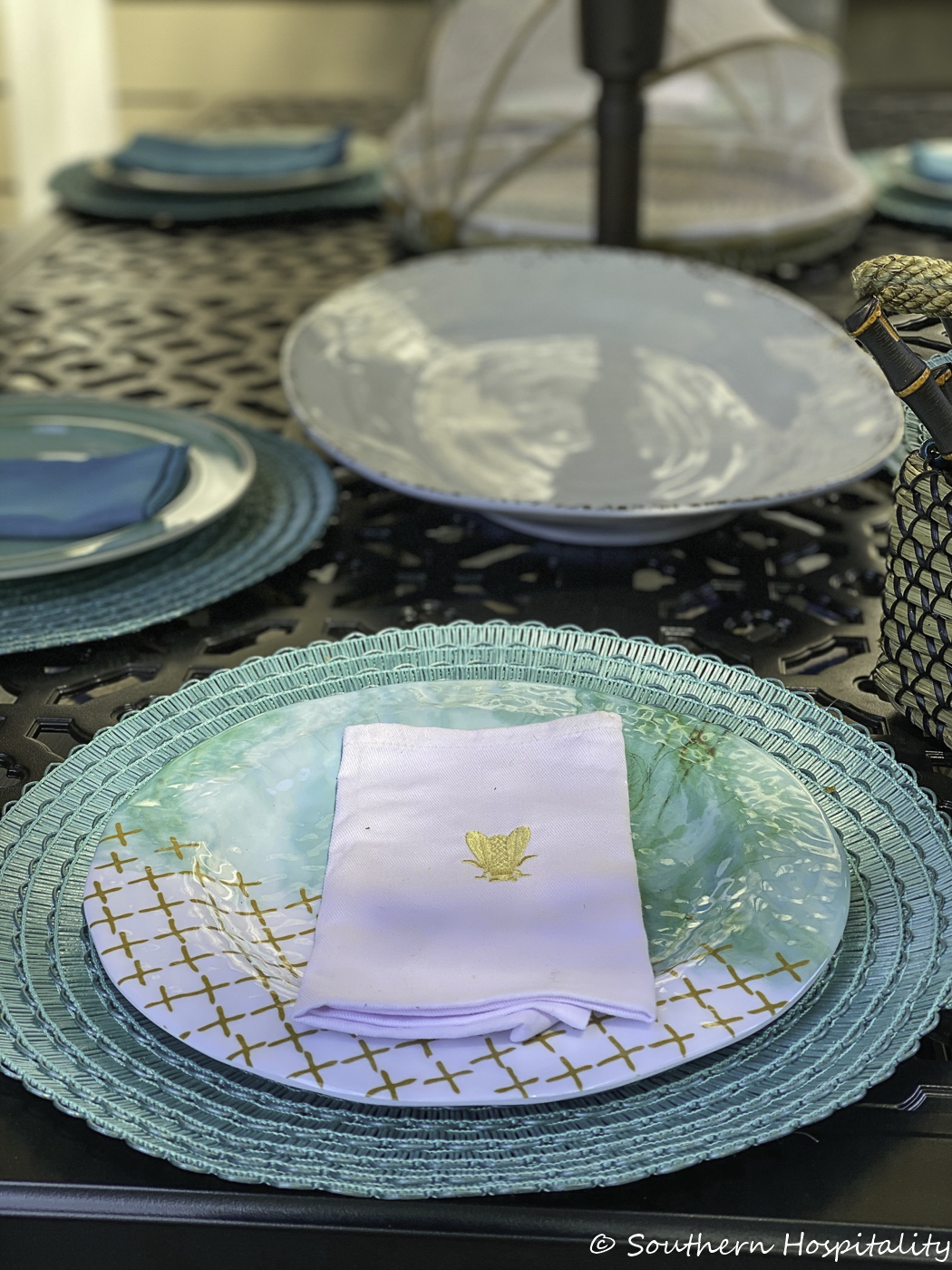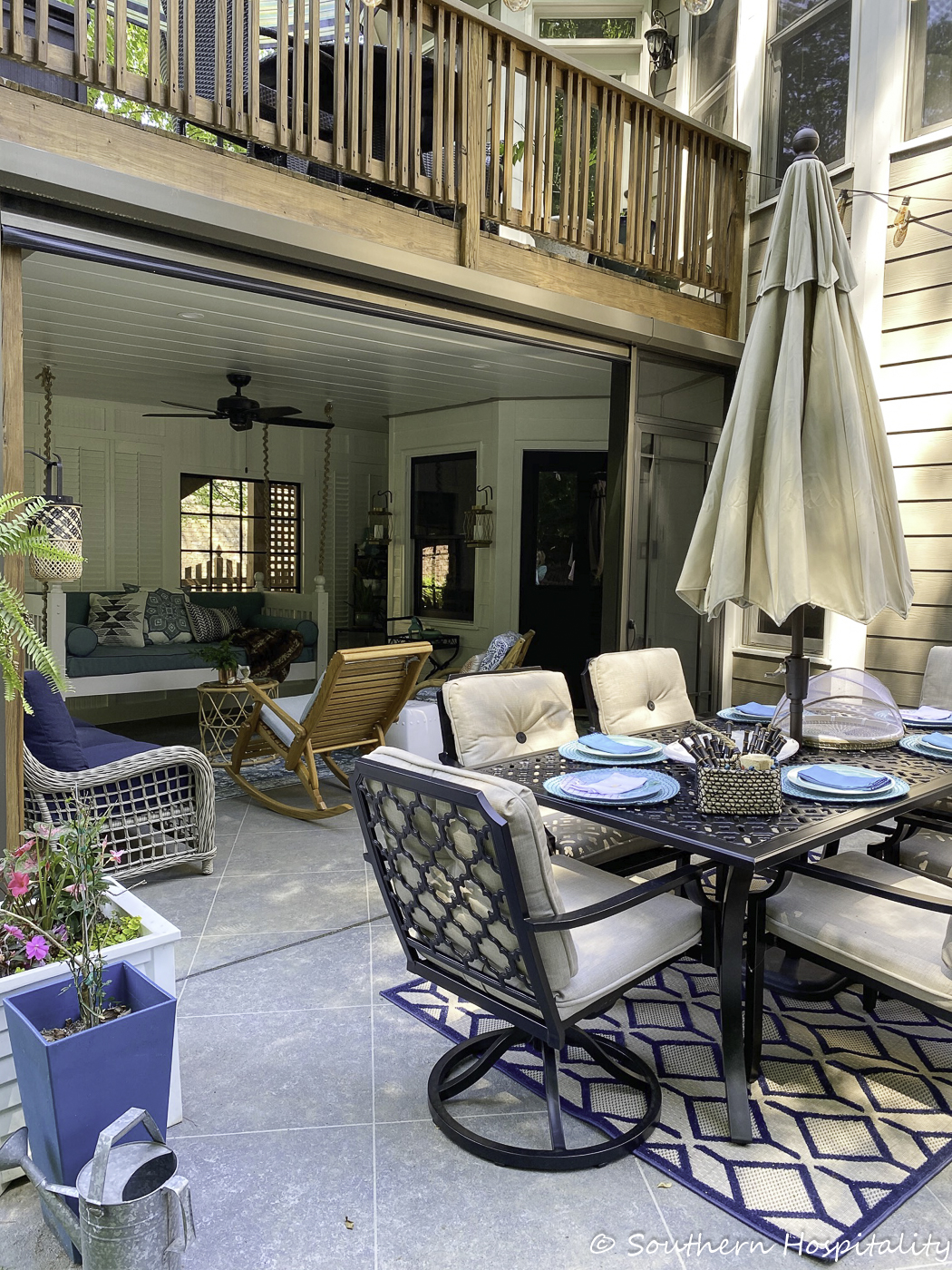 Dining table is in close proximity to the new screen porch and all we have to do is open the screens for easy access when we have company. I love that part!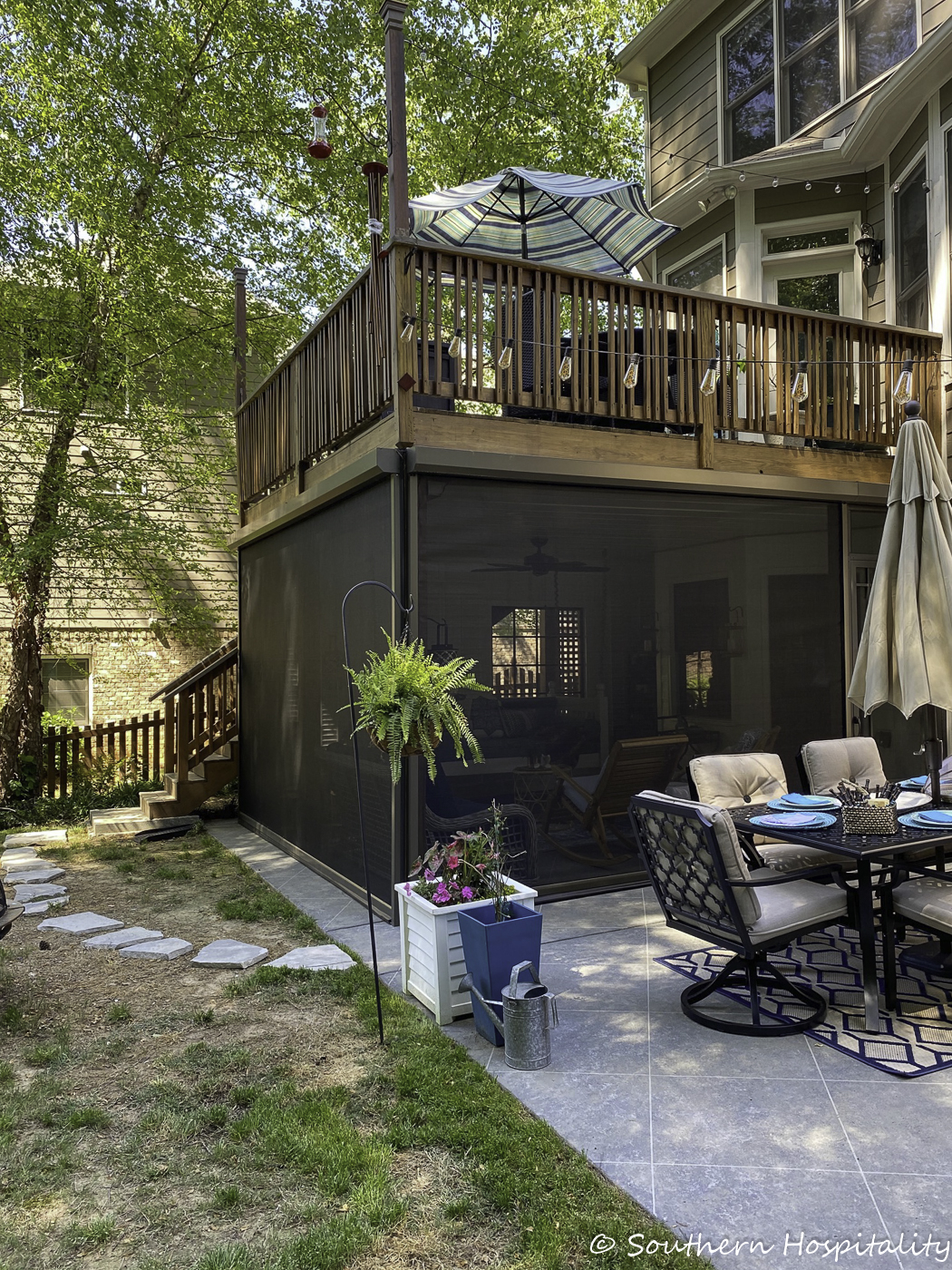 Screens down, we just love having motorized screens on this porch. It's so easy to blow out the porch when debris gets in and then close the screens again.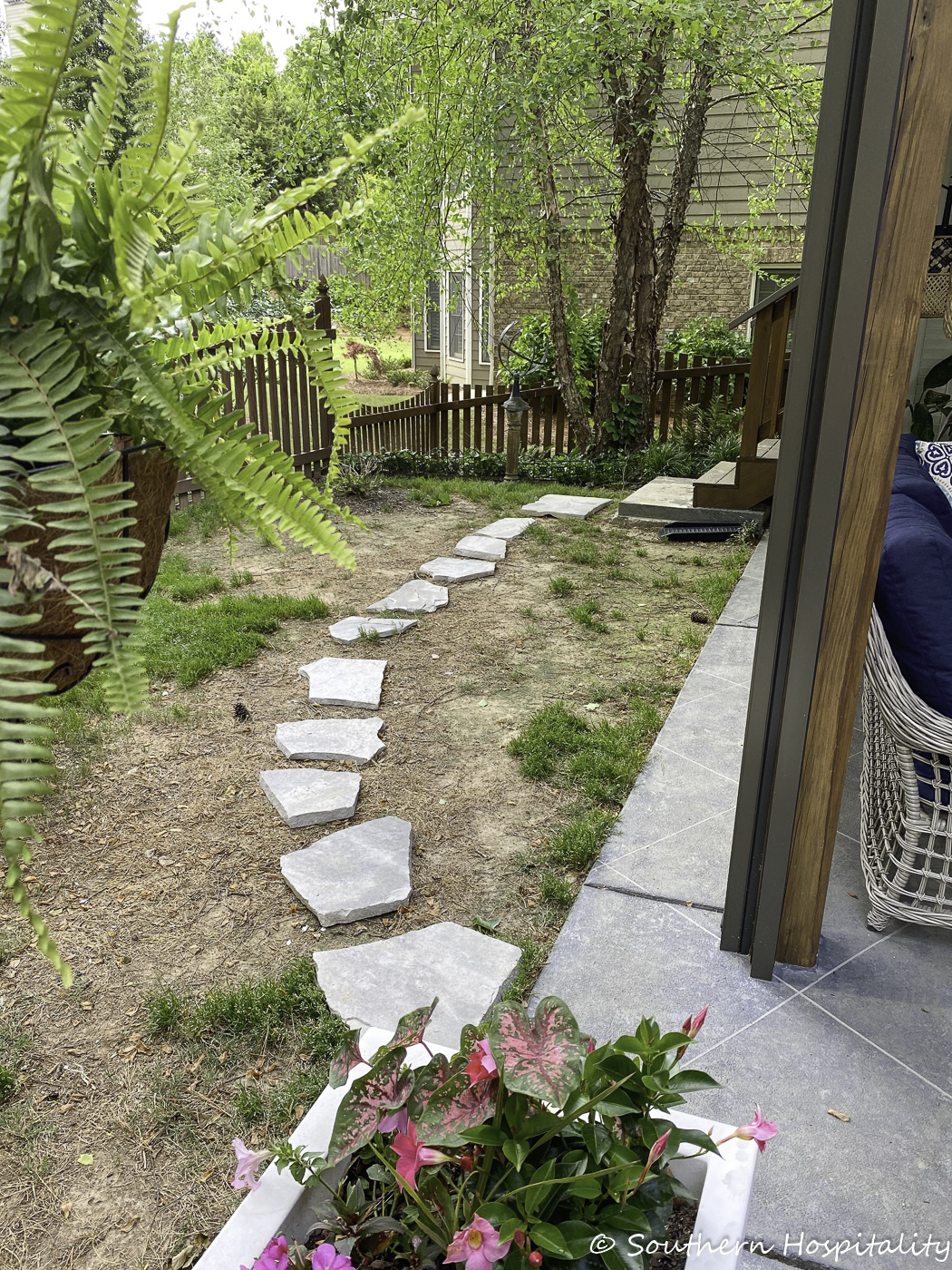 We also went to a local stone yard and got these flagstone pavers for easier access from the stairs to the patio. We still have lots more to figure out in this yard, but this is a start. We may end up taking out most of the grass next to the patio and leaving the rest on the hill. We have more ideas on hardscaping too, so maybe next year on that. I definitely want to add more perennials and shrubs back here, to go with all the hydrangeas we have planted. When those all bloom, it will be spectacular. Shade makes it hard to grow grass back here anyway.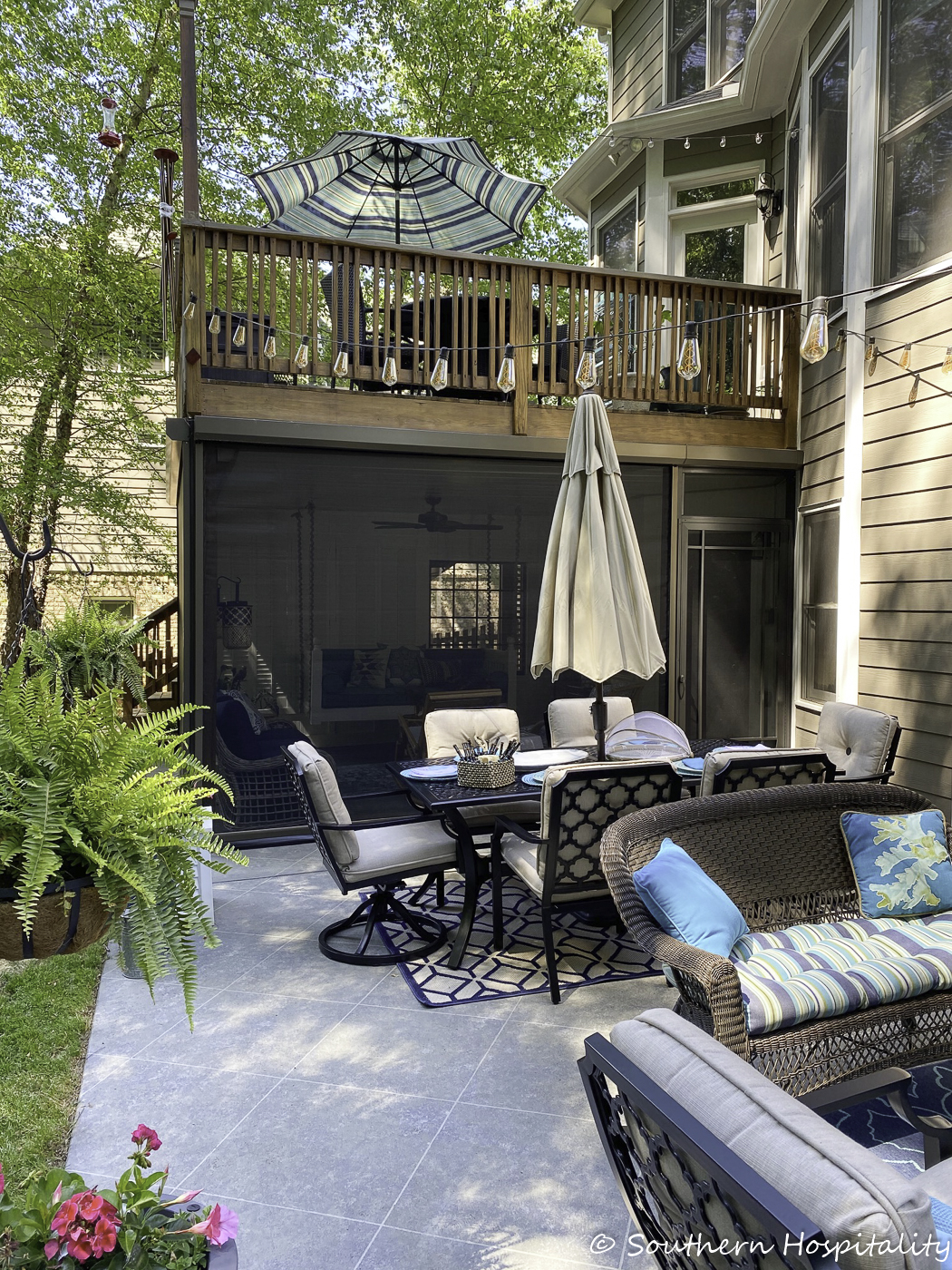 The dining chairs are so comfy which is nice when you're spending time outdoors.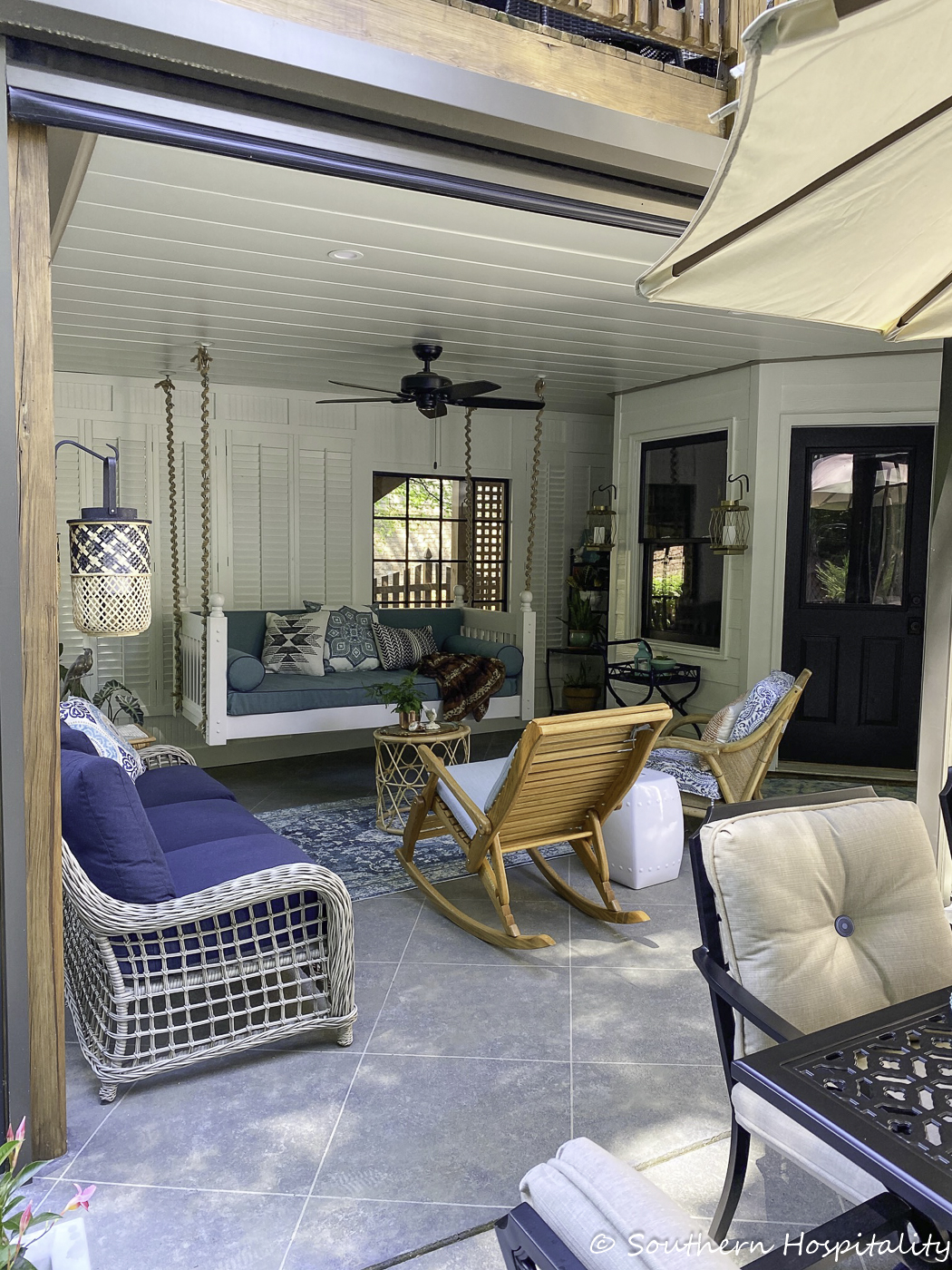 Now for the grand finale, the screen porch room which I've been dying to share with you all! We also have some new additions in there too, which include this beautiful Lane Venture Moraya Bay Wicker sofa.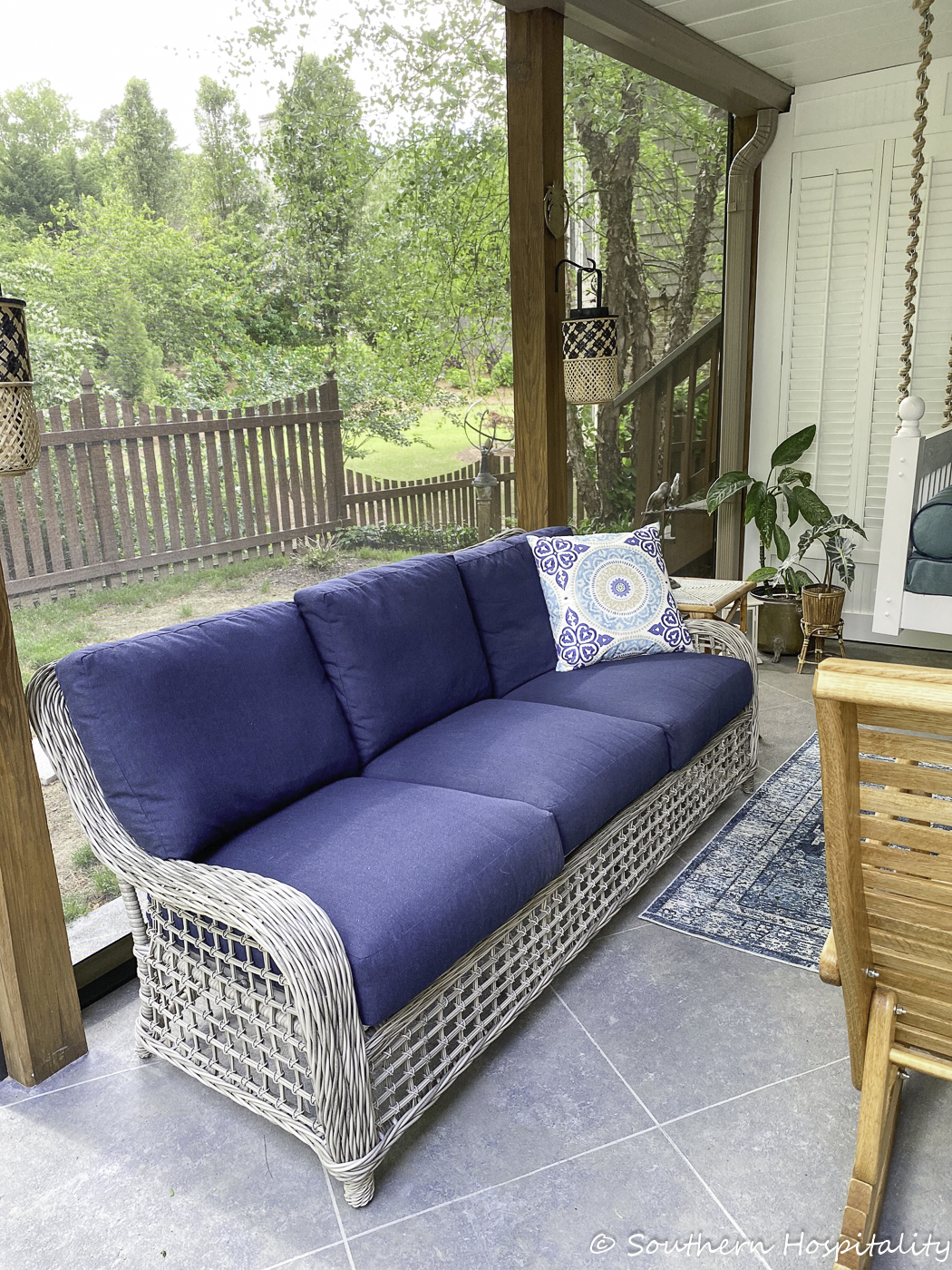 It's a beauty and I was so glad a full size sofa would fit.
I wasn't quite sure I could get all the pieces I wanted to in here, but I was so happy that they all fit just fine.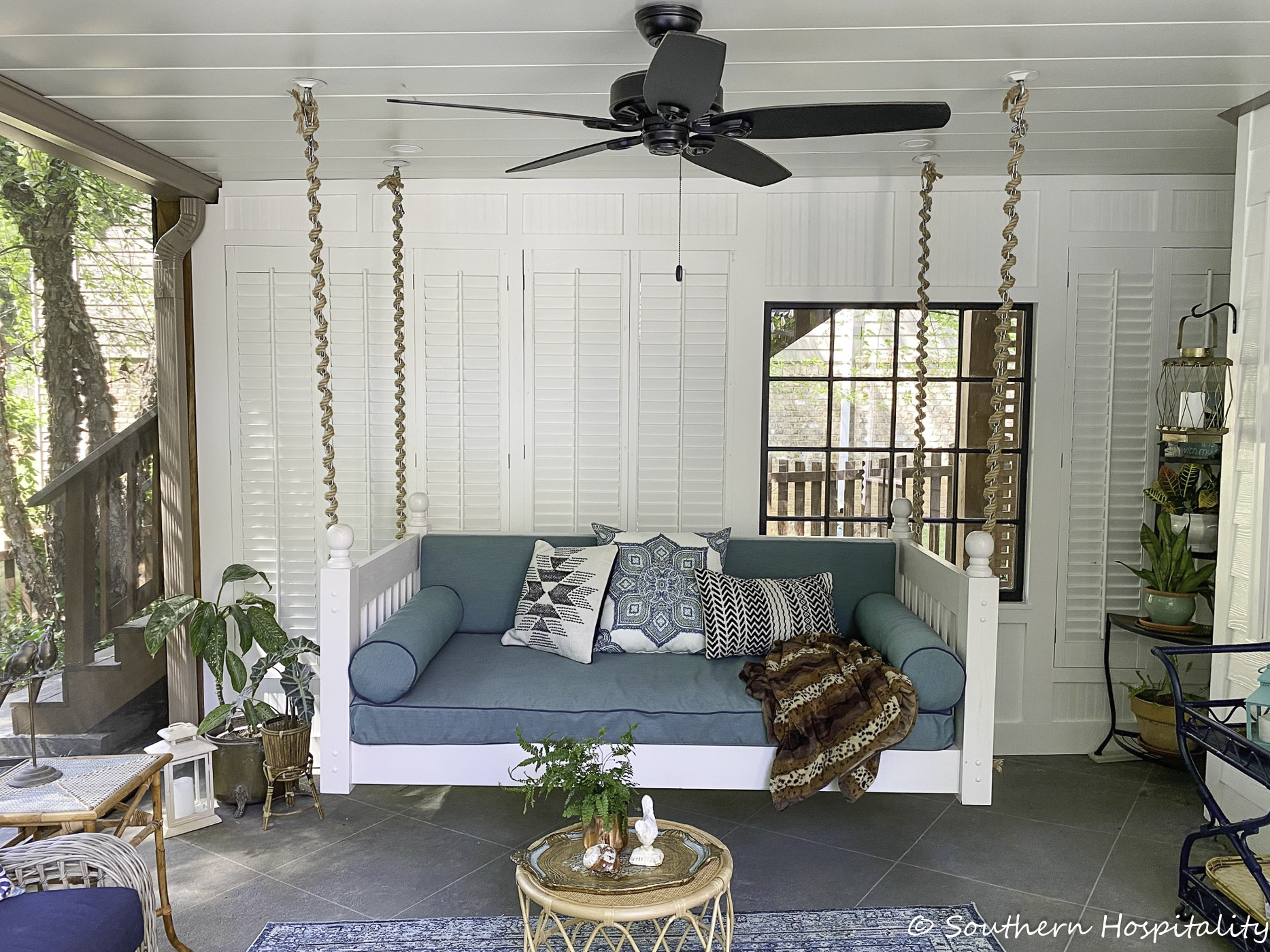 The swing Mark gave me for Christmas hangs front and center in front of the shutter wall. We love having that window behind.
The screens are down, but you can see straight through them when you're inside looking out. The wicker sofa was a perfect fit in here and I thought at first only a loveseat would fit. It's so nice and comfy too. I can see lots of naps in our future with these pieces. Mark and I can both fit on the swing together which is nice. We've already sat out here in a rain shower and it was so peaceful hearing the rain fall.
Mark really wanted a rocking chair in here so he got to choose whatever he wanted from Furniture of Dalton and he chose this Sittin' Easy all wood Rocker/Recliner. He ordered the cushions online and we found a really pretty Sunbrella fabric (Cast Mist) that goes with all our things. The rocker leans back as well.
I opted to paint the entire inside of the porch white and I'll share all that process with you later, but I love how it's such a great backdrop to the colors and textures of the porch. I have been collecting these rattan pieces for over a year dreaming of putting them on the porch.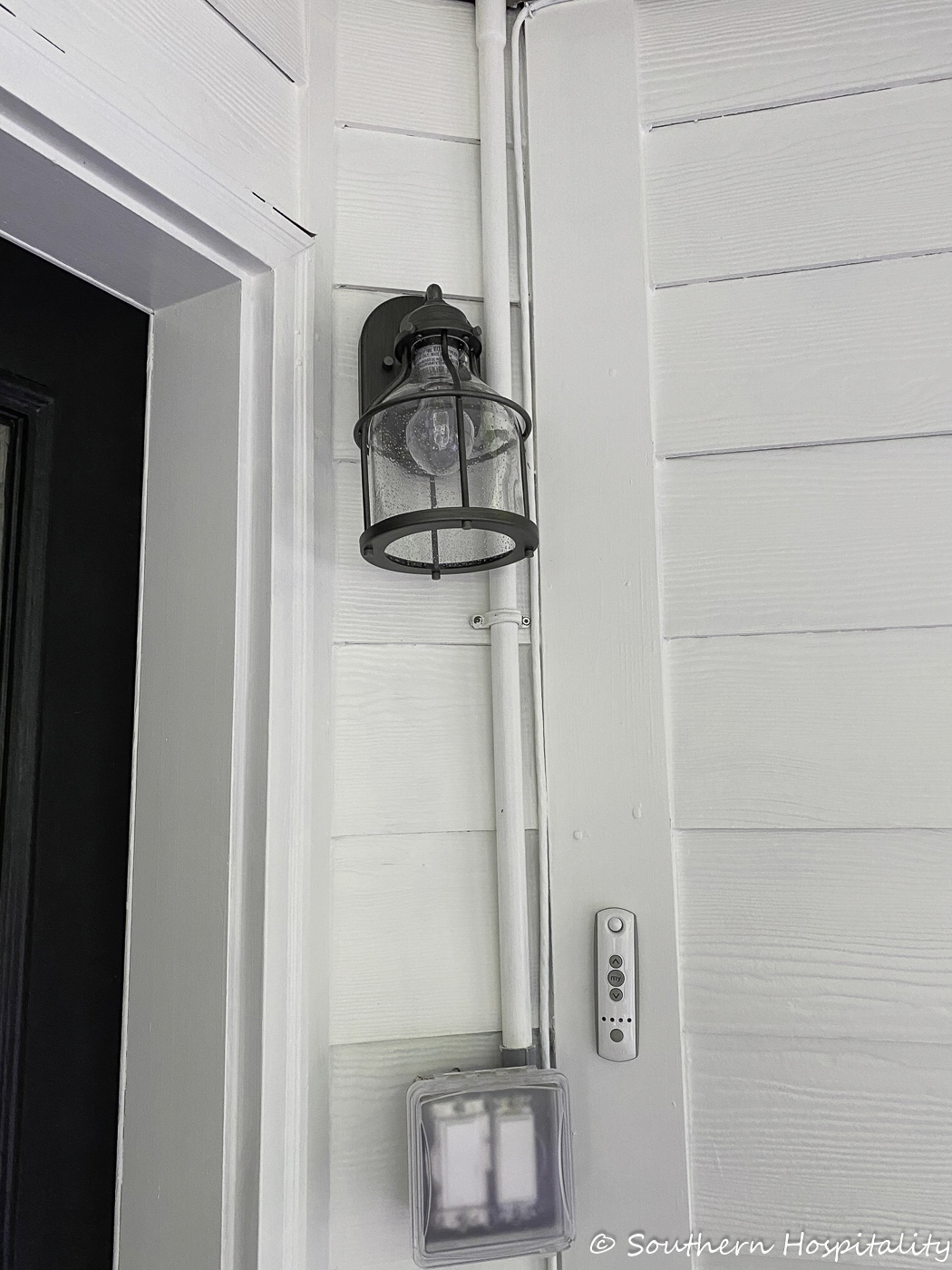 We added a new light fixture and said goodbye to the jar light that was here. That's the remote control for the Phantom Screens hanging on the wall.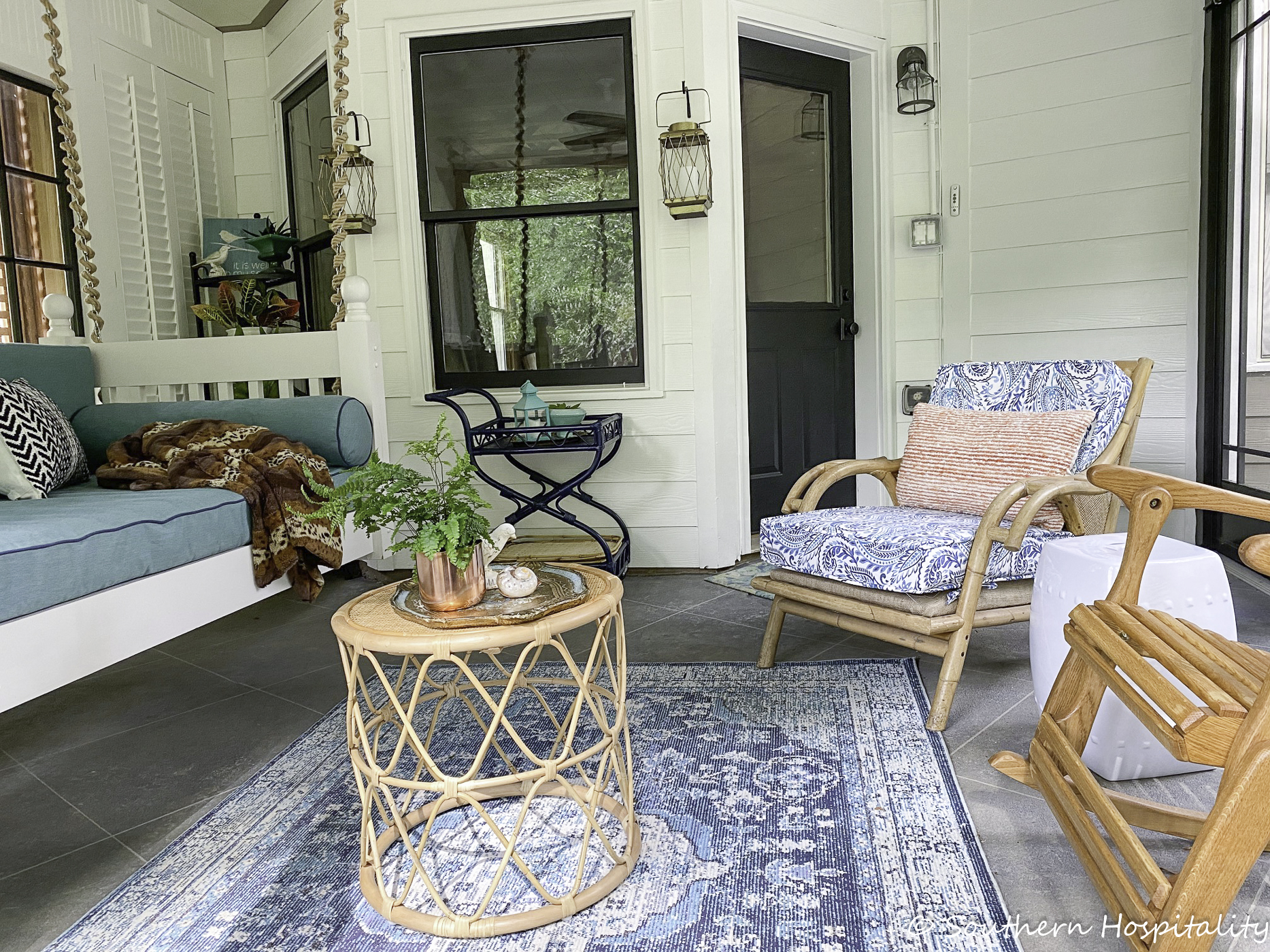 I found that vintage rattan chair at Goodwill going on 2 years ago and it's been waiting in the basement for its debut. You all know I love a good mix of vintage and new, so this porch is definitely eclectic and not all designer matchy. It's just my style and suits us well.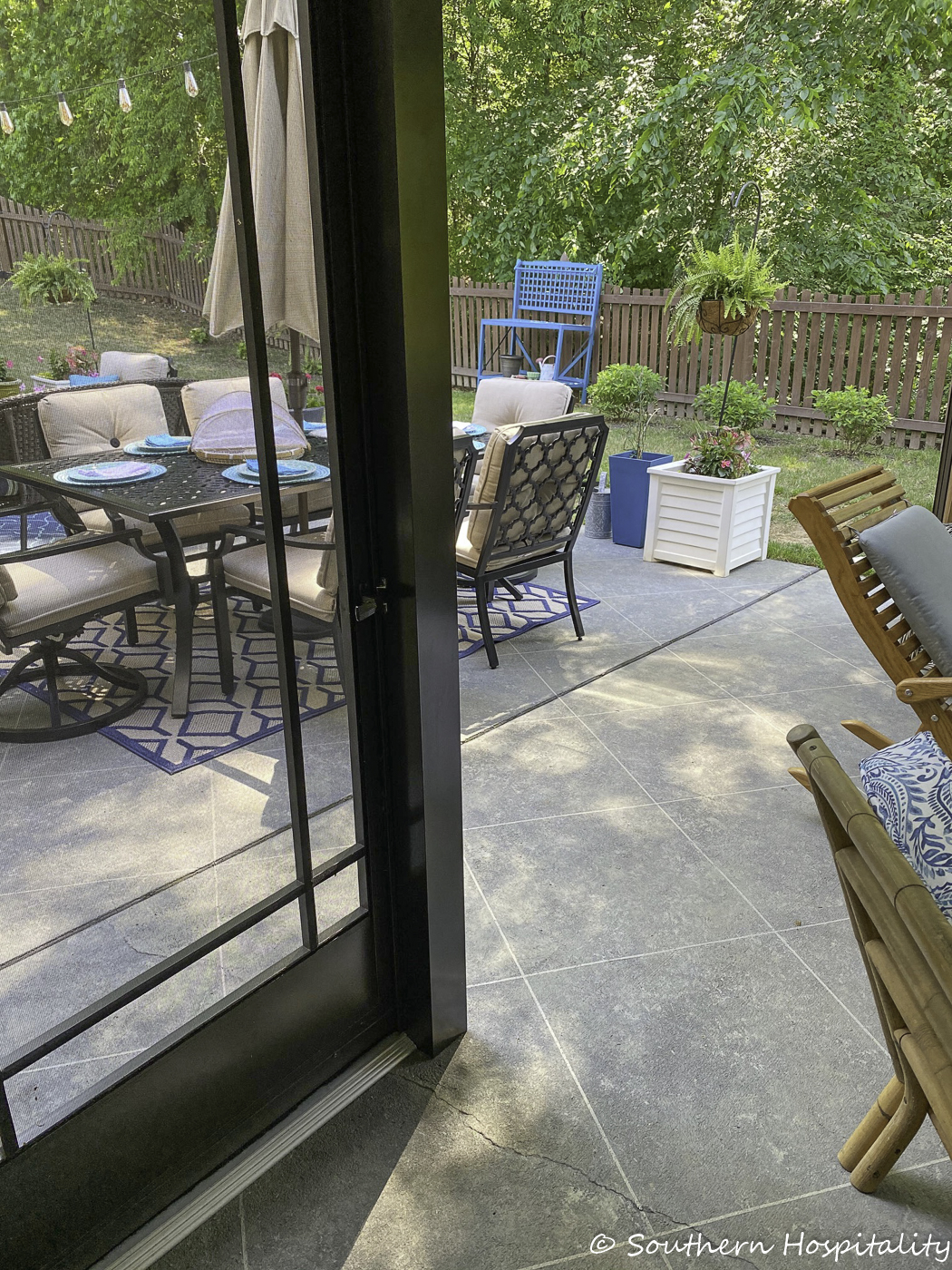 A look at the screen door.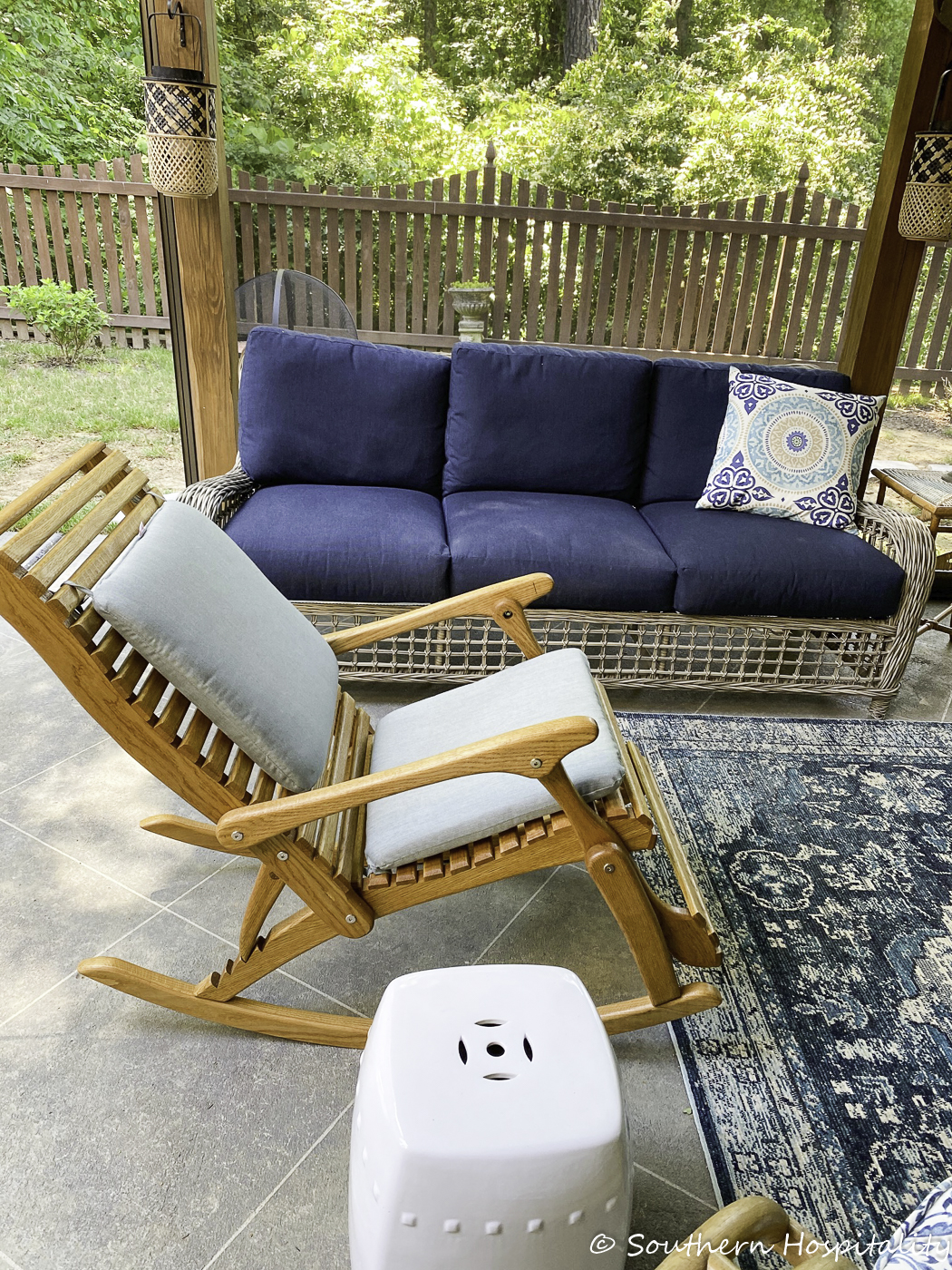 Both the sofa and Mark's rocking chair have Sunbrella cushions as well. I've found that's key to outdoor fabric, it's the best. My swing has it too.
It's cozy and sweet on the porch! I just love it and Mark does too.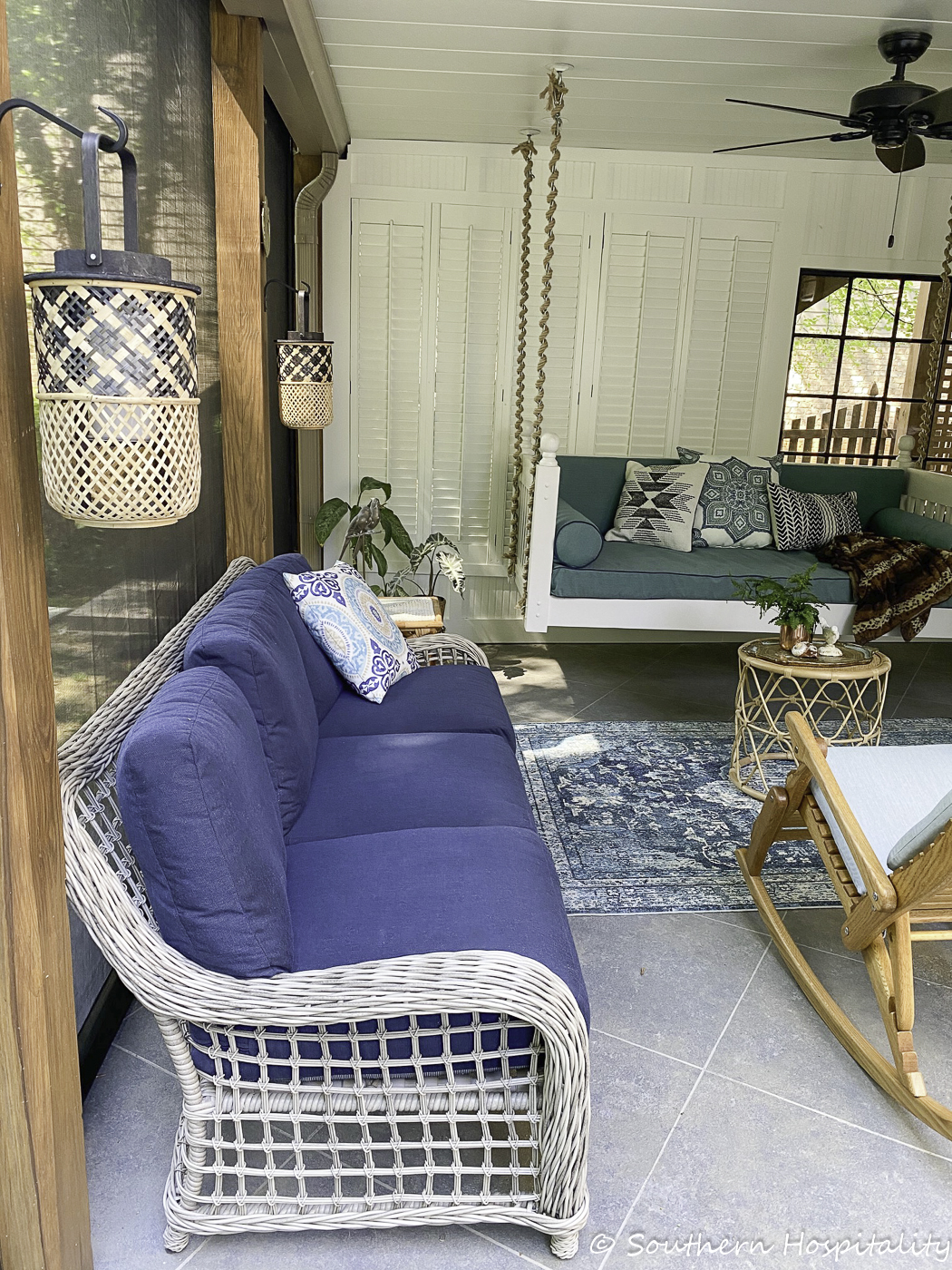 I hung lanterns I got last year up on the posts and love the ambience the remote control candles have at night. I got outdoor ones that won't melt.
I love all my wicker pieces in here too, it definitely gives it a collected look which is my favorite. You know I like nice spaces, but nothing too perfect or formal. I love the vibe of this porch.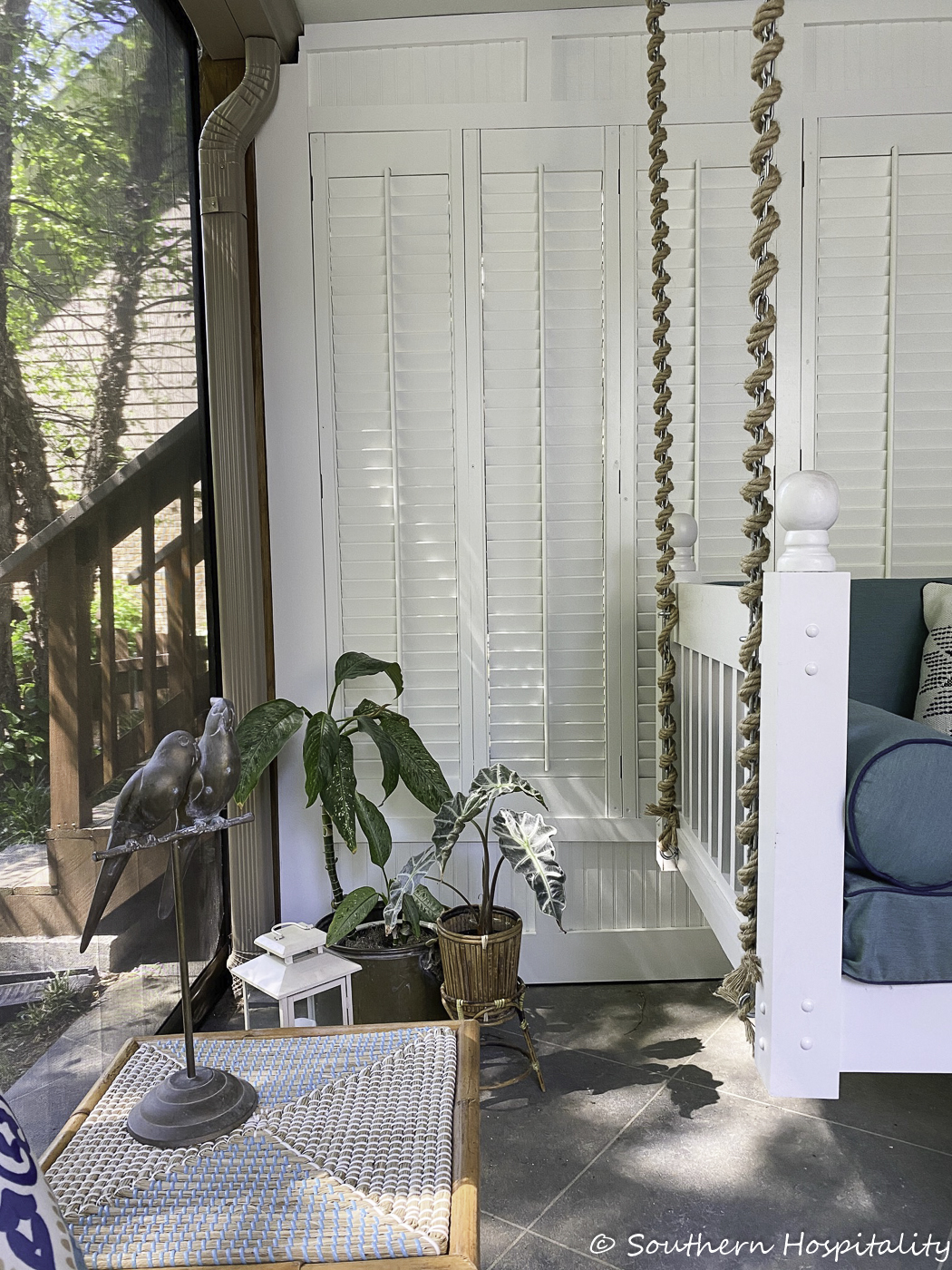 Those little brass lovebirds I found years ago at an antique store. I say they are me and Mark. I brought several of my houseplants down here for summer and I think plants make a space so cozy. If you watched my Instagram stories you saw me wrap the chain with rope, so I'll probably do a post about that too to show how I did it. It was so easy and really finishes off the swing.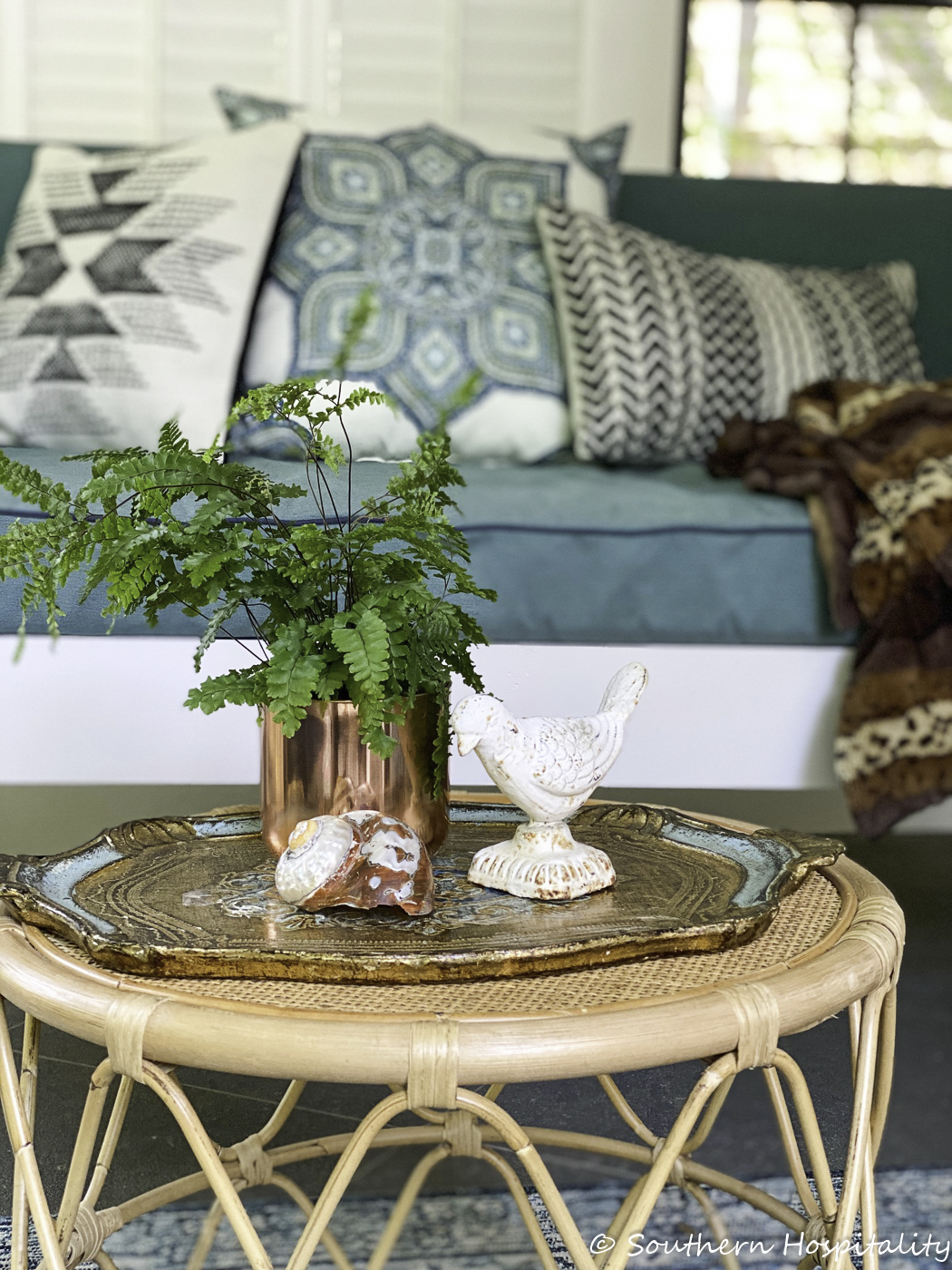 It was so nice to just bring out a few accessories I had to complete this space, including this vintage Italian gilt tray. The colors are perfect on the rattan table from Target.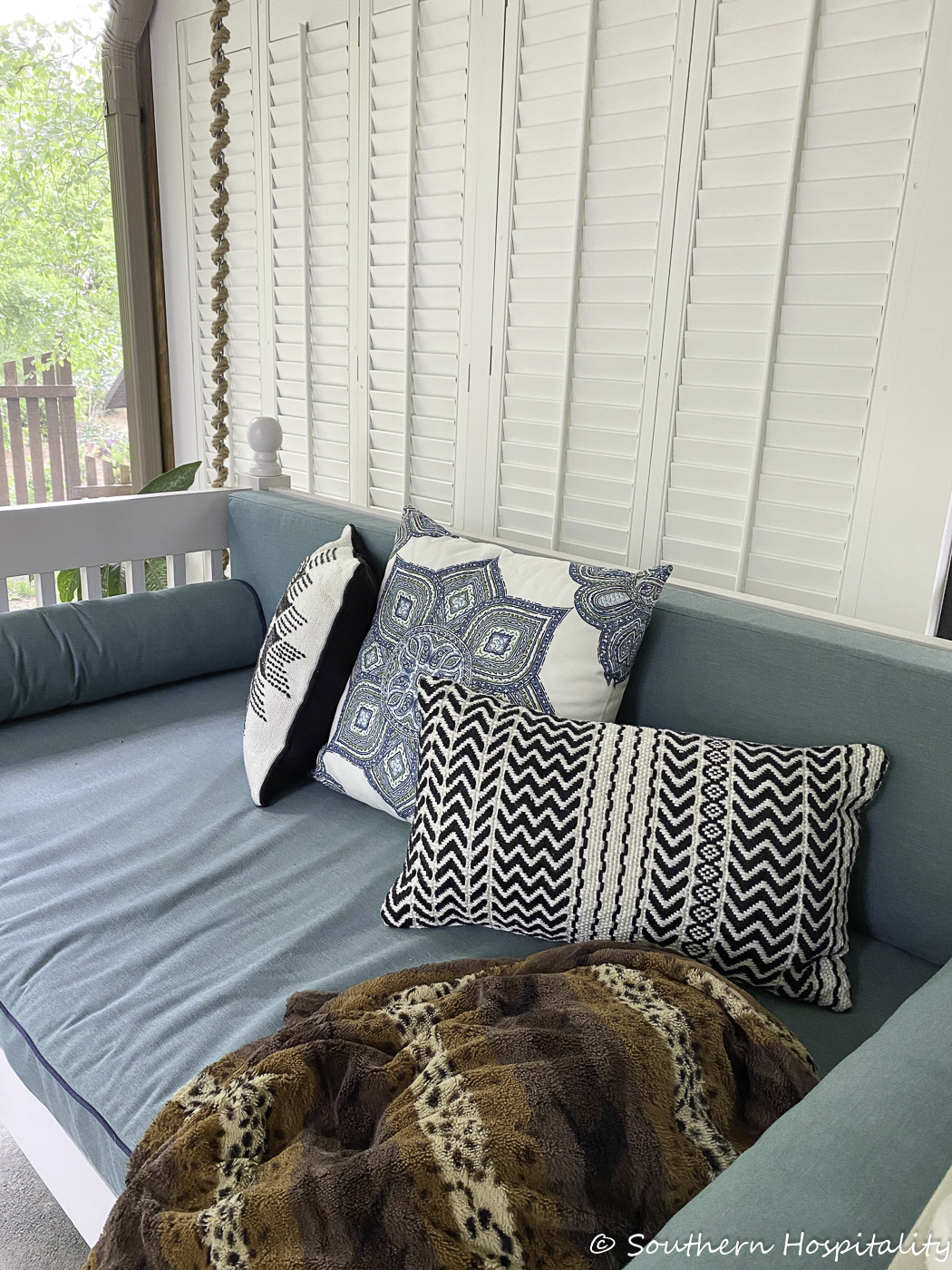 These pillows are all new additions too that I found online and I already had this leopard throw. We've had some cool nights and it's been nice having a throw. If you want more information on the swing bed and cushions, you can go to this post to read that.
This salvaged window makes the space, I think! Mark and I were so happy with the way it turned out. It lets light in and we have a pretty view out the window.
Mark just added this pretty square lattice to the stairs outside which you can see from our street, so this makes it pretty from both sides. We stained it the same color as our fence and deck.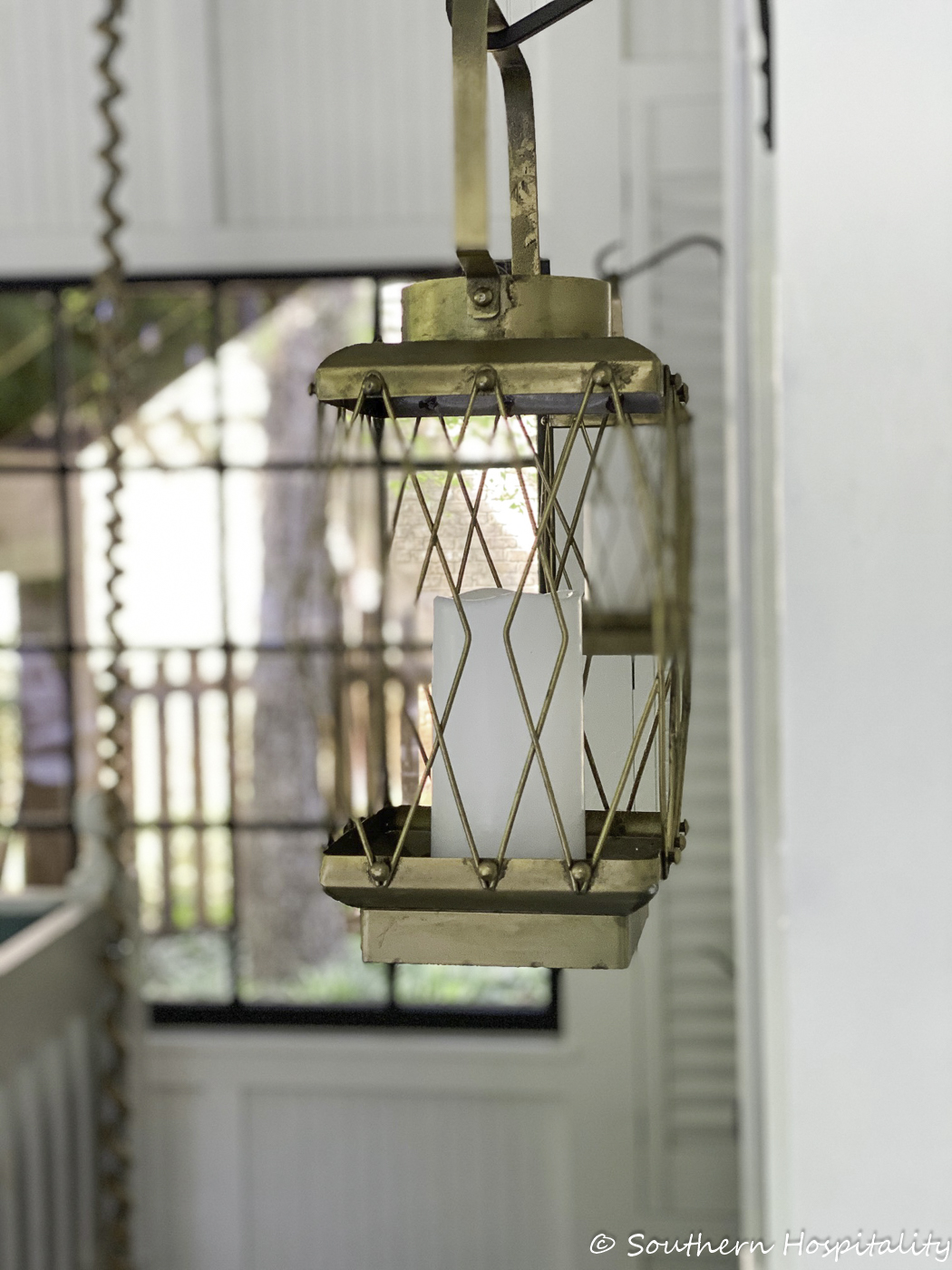 More hanging lanterns with remote outdoor candles.
You can see I opted to paint the windows and door black which I really like. I think it's a nice pop with the white siding. That bar cart was a find last year and I spray painted it deep navy.
I hated to waste this corner so I found a bakers rack online to use here and I love it as a plant stand. More plants from my collection were added. It was a little lop sided on our sloping floor so I added tile underneath, but we'll come up with a permanent solution.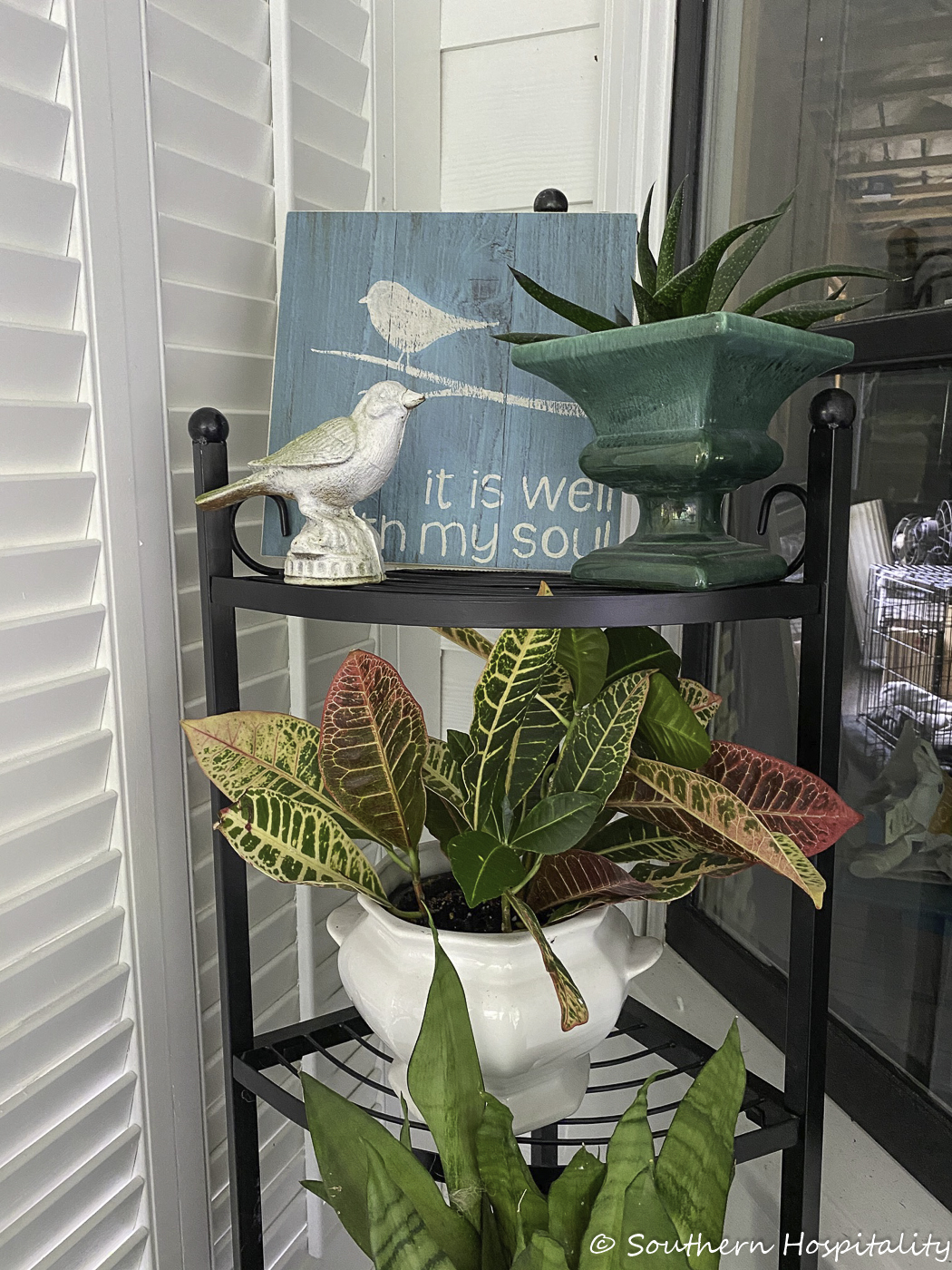 Just a few accessories and plants make this space cozy too.
To shop accessories on the porch, go to Shop My Home page and scroll to bottom for the things I could link! 
View from the deck above. Now let's look at everything at night. That's when the magic happens. The lights come on and it's like a fairyland.
I click on the remote control candles for extra ambience under the porch.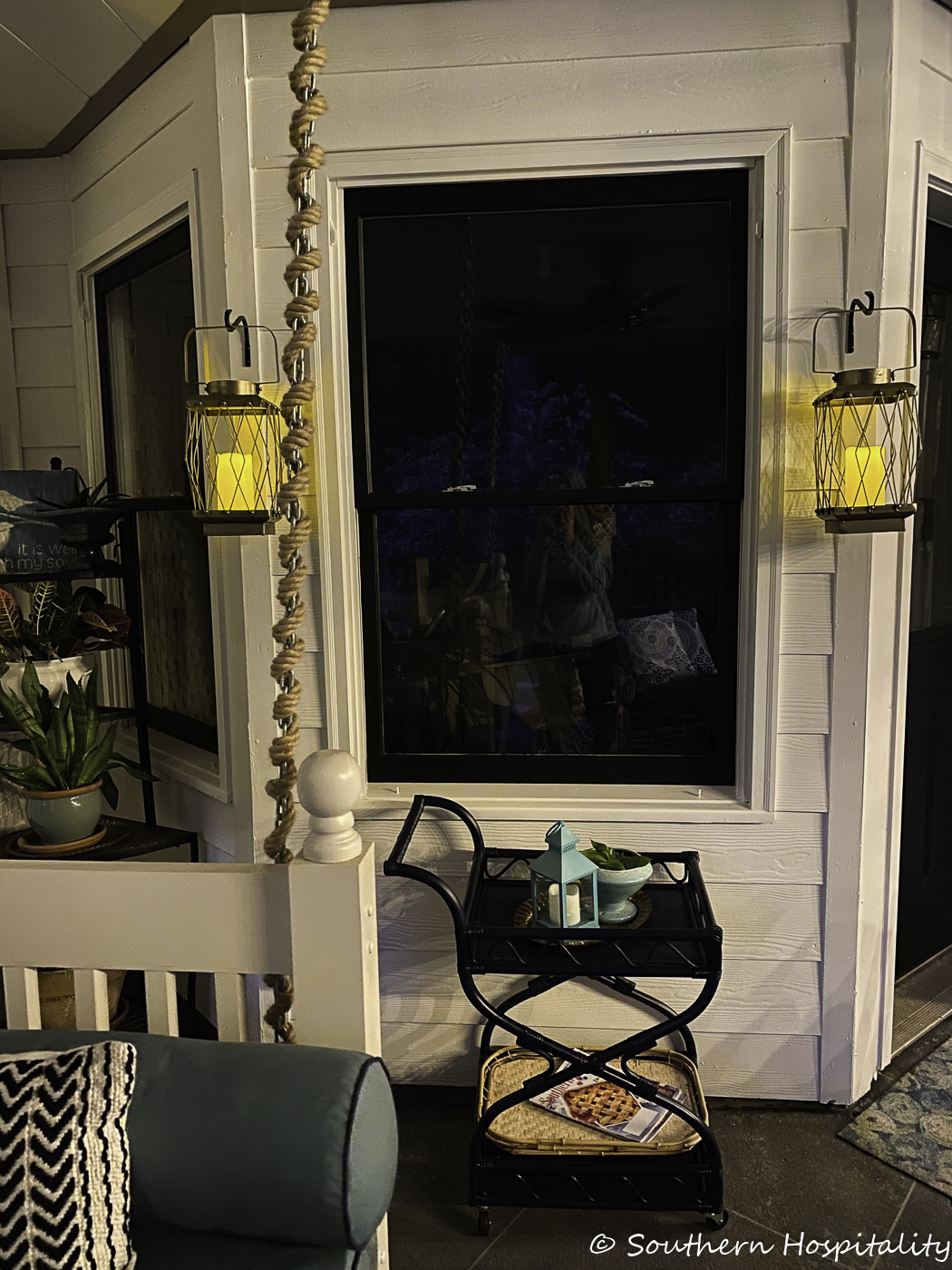 And we turn on the string lights up above and across the patio.
It all casts a magical glow into our entire backyard.
I can see lots of outdoor time for us this year. This patio space has truly come together exactly as I had envisioned it to be and I am so glad that I got the opportunity to partner with Furniture of Dalton on this to really finish off this space.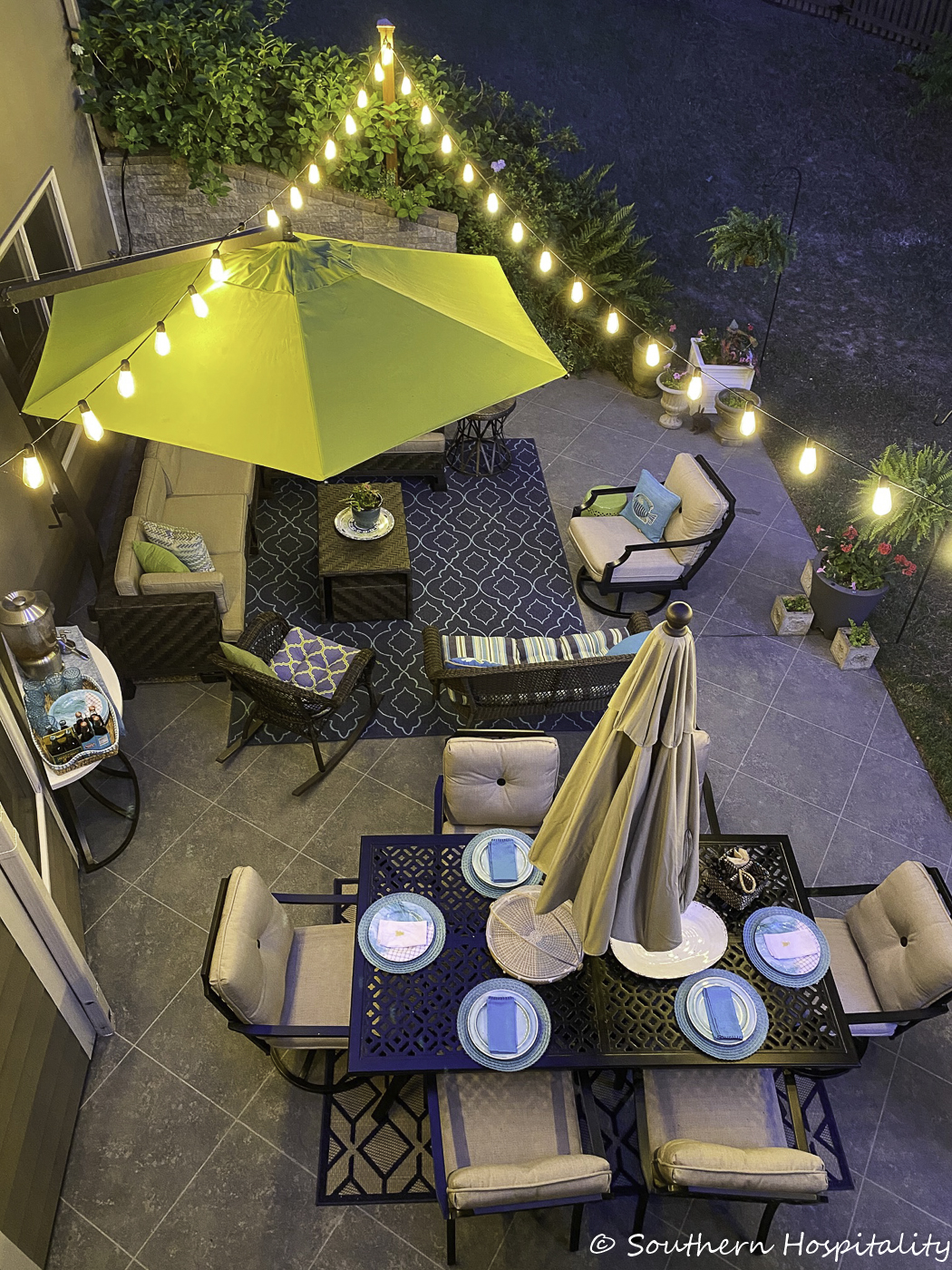 Outdoor spaces are meant to be enjoyed and you can bet we will be enjoying this one!
With three distinct spaces, it's a wonderful haven for us. I'm so proud of how it all came together.
And I hope you all enjoyed the tour!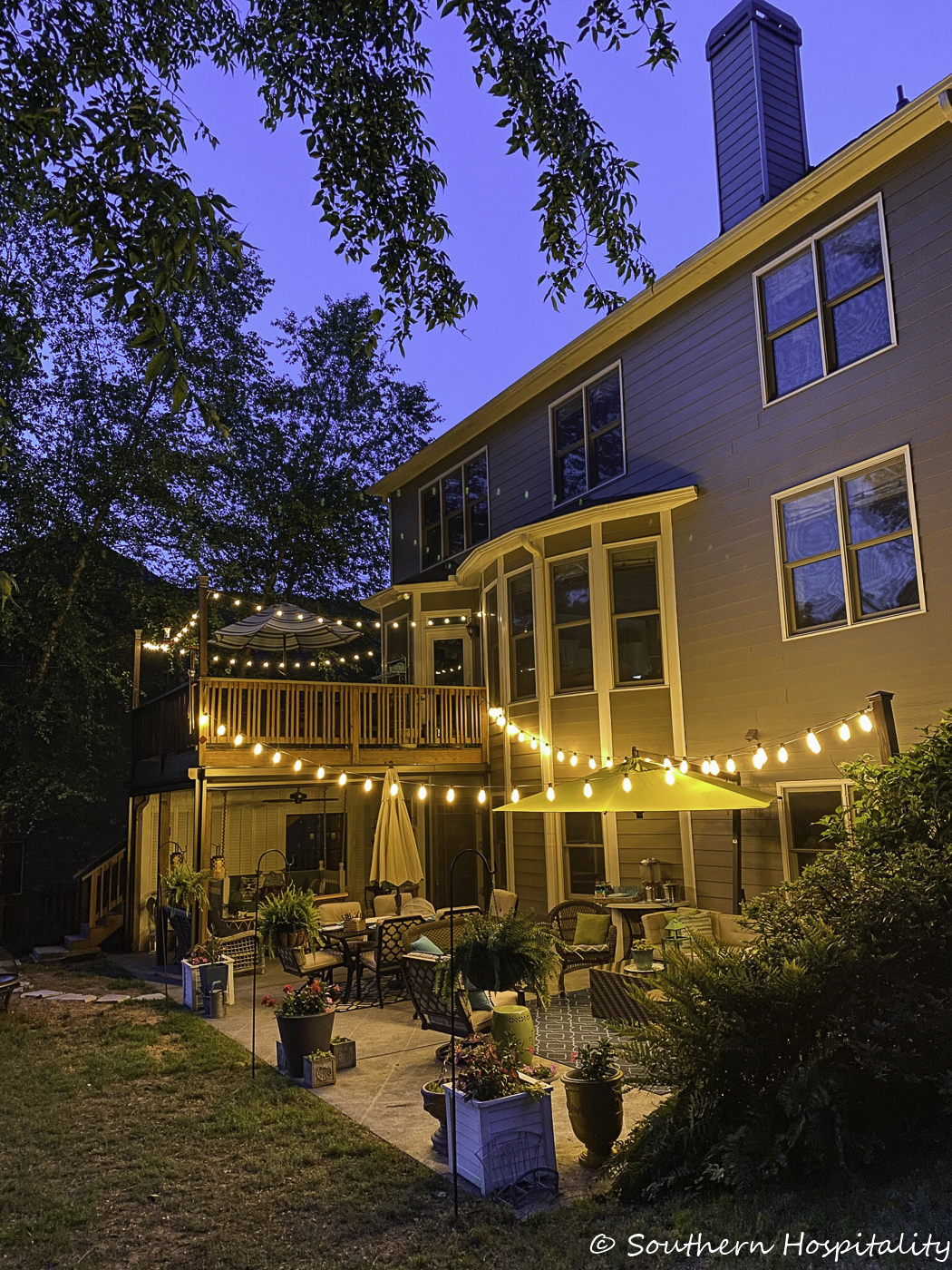 The blue hour is my favorite when the sky is so vivid blue and magic happens in the backyard.
Thank you all for stopping by the patio and porch reveal today. I know I've kept you waiting long enough and I hope it was worth the wait. We truly love it so much and I'm so thrilled to have this space.
I hope if you're in the surrounding areas that you'll make a trip to Dalton, GA to see Furniture of Dalton for yourself. They have so much to choose from and you can see if in person and try it out for yourself and they also have catalogs to look at too for additional pieces. I didn't get to see the demi lune table before we got it, but I love it! Do yourself a favor and go and visit them in person!
And remember, if you go into Furniture of Dalton mention me and my blog and you'll get a special discount. They will take care of you! 
Thanks again and Happy Summer entertaining to all of you. We all need an outdoor space to relax in now more than ever and our backyard has been such a retreat for us this year and will continue to be as long as we live in this house. We love it so much!
Shop the accessories here:

Here's a video I put together showing the space, so hope you enjoy!
Don't Miss a Post, join my list!