When Mark and I found our house almost 3 years ago, the backyard was a blank slate. We knew we could make something out of it and create a beautiful retreat for us to enjoy with family and  friends and it's been a process all this time making it over and making it better. I love outdoor living and knew that I wanted to make this space functional and liveable for us to use as well as having people over. I'm an outdoor girl to the core and outdoor living makes me so happy.
This post is sponsored in collaboration with Furniture of Dalton in Dalton, GA and I'm excited to work with them and show you the plans for our backyard now. This will be the finale in getting the backyard of our dreams put together on the patio.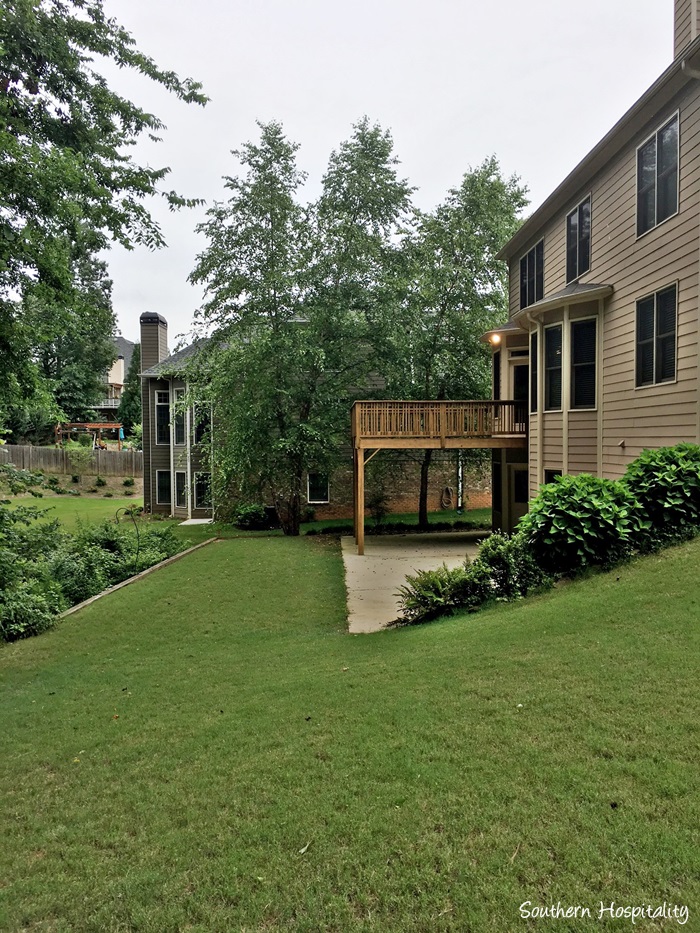 Here's what our house looked like when we bought it and moved in. The backyard grass sure looked better then, we've got work to do on that even though we've had a service fertilizing for us. I have a feeling Holly hasn't helped the backyard grass situation either.
Note the lack of stairs coming down from the deck. That was an instant sore spot for me, as I knew that we couldn't enjoy the backyard without having stairs built, so that was first on the list. Holly was sure happy about that as she loves coming up to the deck each day. We also got the house exterior painted when we moved in too, so these shots are before painting.
Here's our huge patio space, which is about 16′ wide by 35′ long, a giant of a patio space with so much potential. It was nice and clean here, but it sure didn't stay that way. With all the rain we get, the concrete in the back was so ugly and green every spring when I got ready to put things out to use.
I'm not starting from scratch out here and already had a big sectional and a couple of chairs that I could use on the patio that I had at my previous house. I'll show you more of those later too. But the big picture is, we have a great little backyard that has such potential and project by project we've made it better. I'm so excited to show you the final plans for the patio and how things are coming together.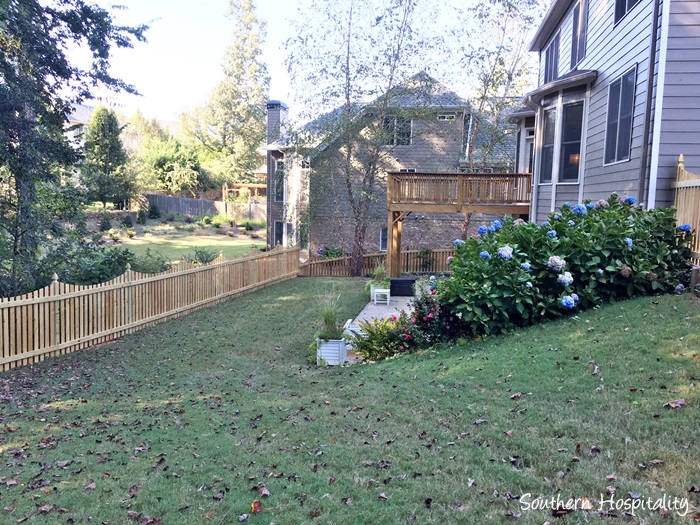 A new fence was added first for Holly, Mark's German Shepherd. We were lucky the previous owners planted that bank of hydrangeas, azaleas and ferns above the wall, which is great for privacy.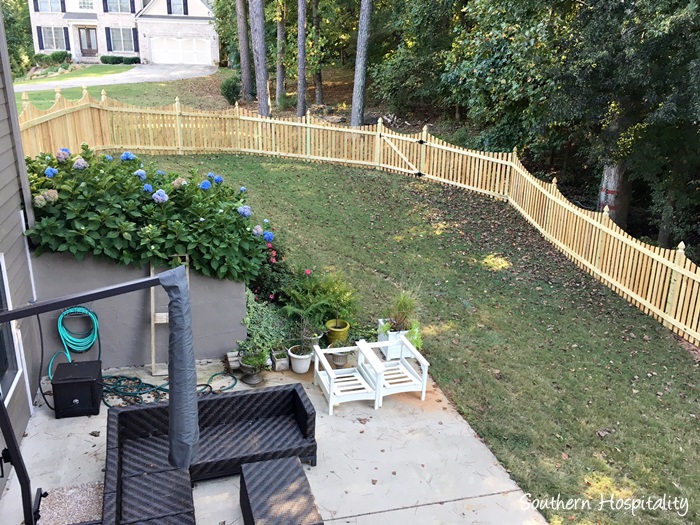 Here you can see a bit of the patio space and the sectional and chairs I brought with me. The new stairs went in right after this.
After adding patio lights, that really made it special out here, but as you can see the concrete floor was not easy to maintain. This is before pressure washing, not a pretty sight.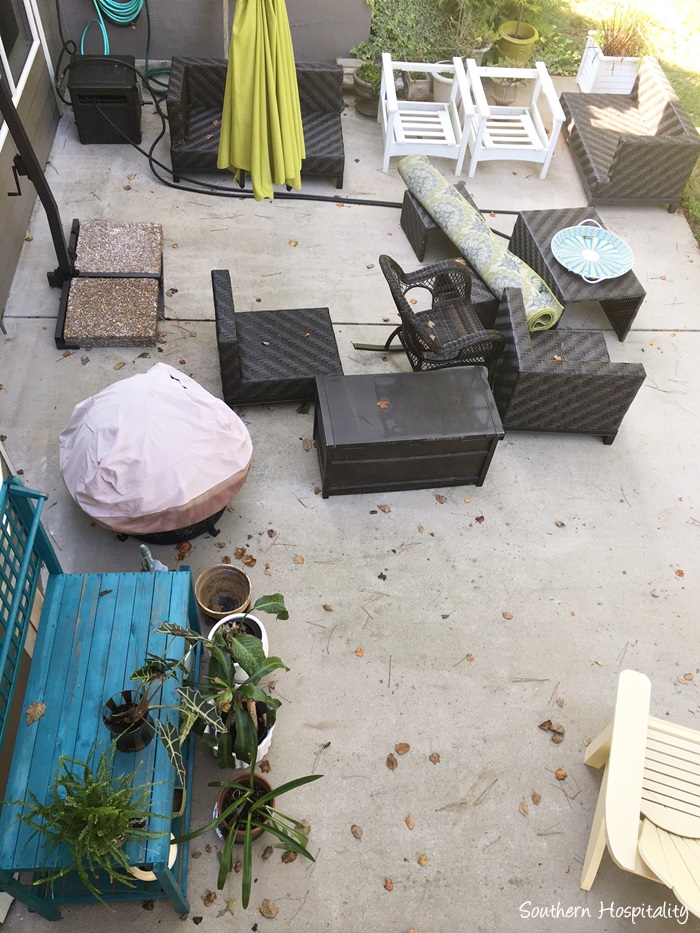 And this is after another round of pressure washing to remove all the green grime that accumulated every spring.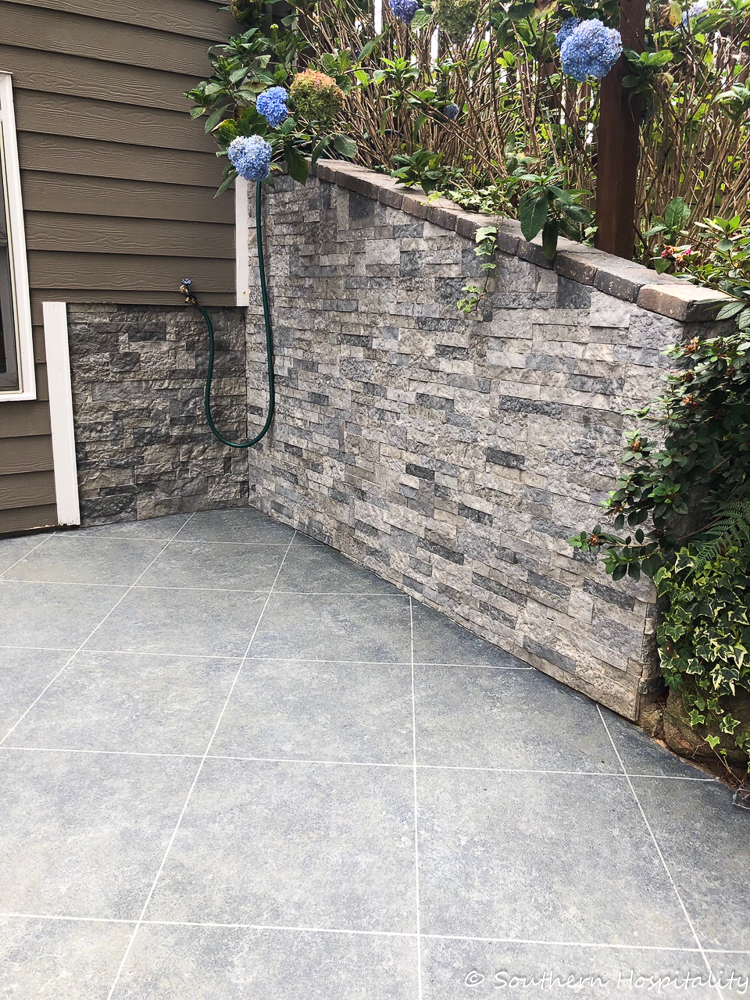 Three more projects were completed in the last year or so and we added faux stones to the wall as well as a faux stone tile look to the concrete floor. This was a game changer and I'm happy to say that the patio is not green at all after applying this stone treatment. It looks just as good as new!
I was also fortunate to get Phantom Screens installed last fall and that is going to make the biggest difference as well for this space. We also installed an underdeck white aluminum ceiling to keep the water from coming through above on the deck.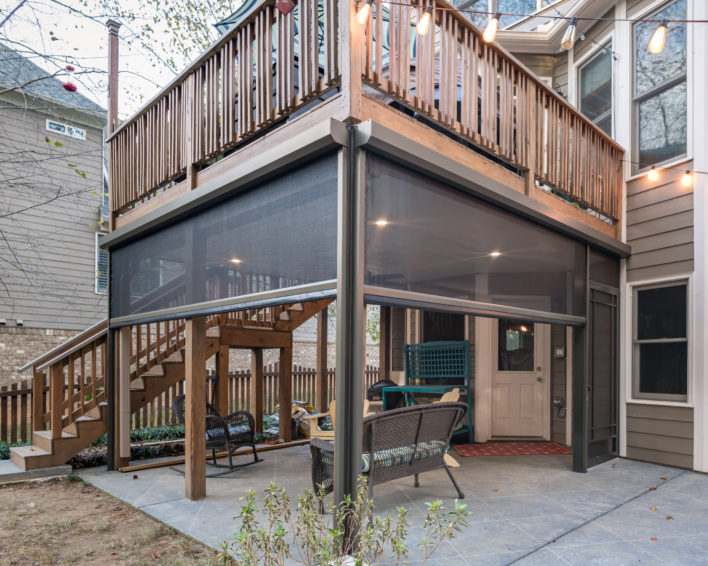 Here are the remote screens in place and now that screened room will be finished. I can't tell you how excited this makes me!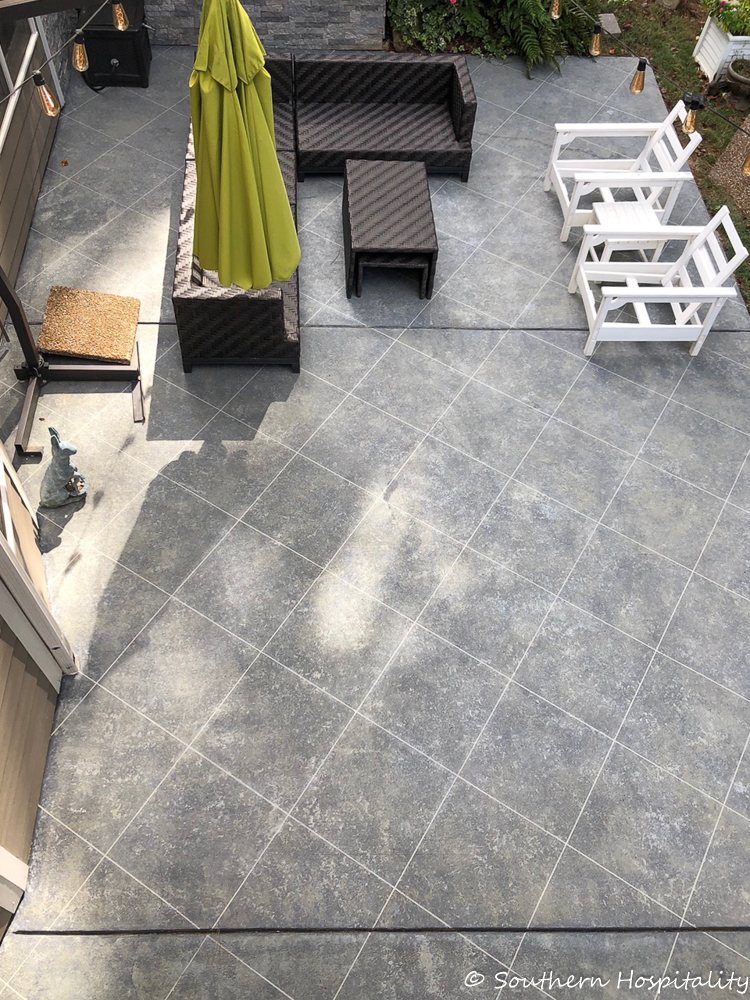 There's the beautiful faux tile floor I did last year. I'm very proud of this DIY project. We also had string lights put up over a year ago and that adds such an ambience to our backyard space, top deck and bottom patio.
The upper deck is the space that I finished first so we would have a place to relax upstairs on the deck. It's been a wonderful place for the last couple of years. I started with brown wicker furniture here and so that has sort of dictated the direction I would go below as well and I chose a brown wicker for my sectional down there. Brown is a good base for the outdoors and I use lots of color to punch it up.
Even though we thought about having a screened porch built above on the deck, it just wasn't in the budget and so an underdeck screen porch idea was planned. Getting all of these projects completed made the screen porch attainable and one more project would complete it.
Mark also surprised me with this gorgeous twin swing bed for Christmas last year, one more thing to add to the plans of a relaxing screened in porch down here. See that stair wall behind the swing? That is the latest project we've been working on and I'll be sharing the whole room with you soon, but here's a sneak peek of the stairwall now.
Here's that wall now! Mark worked so hard on making this wall a gorgeous backdrop for our new screened porch and I could not be happier with it! I'll show more in the reveal post and I'll also do a post about how we did this wall. The shutters and window are recycled materials so this project was very cost effective and I painted everything.
With all of this in mind, setting the stage for the possibilities of what a backyard space and outdoor living can look like, I got an email from Furniture of Dalton and they wanted to work with me on my outdoor project! Was I excited? You bet I was! At last, my dreamy outdoor space was coming to life and it was going to be a dream project for me.
Since I already have brown wicker, I knew when I visited the store that I would keep that in mind when choosing more things to finish off our patio space.
Here's my wish list that I was looking for:
Sofa or loveseat to go in the new screened porch area with the swing bed.
Mark wanted a new rocking chair.
2 Swivel rocking chairs to replace the white chairs that I currently have that get so dingy every year, they are so hard to keep clean and looking nice. They will go with the sectional I have.
Table and chairs for 6 on the patio, with a rug and umbrella.
Serving table for entertaining on the patio.
With my wish list in hand, Mark and I headed to Furniture of Dalton which is just 45 minutes north on I-75 from us. I've been to Furniture of Dalton several times in the past, but it was so fun to be reminded of this giant space of furniture that is so easy to get to. They've also changed ownership in the last few years with so many great updates and it's a treasure trove of shopping fun that you won't soon forget. Mark loved shopping there as much as I did! He was like a kid in a candy store looking at everything we could.
We made a beeline to the outdoor section and let me tell you, they have so much to see and look at in the store, plus lots more in catalogs if you don't see what you need in person.
We passed by huge sections of furniture with so much to look at and see. We did browse a little bit in furniture before we left just to get an idea of what all they carry. It's a lot folks and If you're anywhere near Dalton, GA you will want to go in person to see it for yourself.
There's even a real fully furnished Dream Home installed under the huge ceiling at the back of the store in the Outdoor area. I had seen the house a few years ago, but it's been updated and walking through it was so  much fun.
Their interior designer has done a fabulous job with updating this house and making it gorgeous with furniture and accessories from the store. it really is a full size house with all the rooms decorated so well. The orange hues were so pretty and fresh.
The dining room was stunning with chandeliers and all the accessories to go with it.
The master bedroom was gorgeous as was the master bath. I didn't get pics of all the rooms, but it was something to see.
Now back to the Outdoor area at Furniture of Dalton. It was massive with so many beautiful possibilities to look at. I had to focus in on my wish list and what I already have to work with so made sure I made choices that will work with what we have. These items are going to complete our backyard space and make it fully finished and I'm so excited to share it with you all! No, I didn't get this big sectional, but it was quite impressive.
You can see how vast and huge the outdoor shopping area is.
Here's a look at my choices from Furniture of Dalton. Since my pieces are in the brown family, I went with an aluminum table and chairs with neutral cushions for my eating area. The table in the store was round but we will get the rectangle shape. The sturdy aluminum chairs are so comfortable with 2 swivel chairs and 4 stationary. This aluminum furniture will hold up to outdoor living for many years to come. I also chose 2 larger swivel rocking chairs, which will replace the white chairs I currently have to go with our sectional sofa. These chairs are so dreamy and SO comfortable. The backs are even decorative. I can't wait to get this all in place. All the cushions are Sunbrella, so will stand up to the elements and weather well. I always bring in my cushions in stormy weather to keep them looking nice for a long time. These cushions also blend in just great with my current cushions on the sectional. Adding color in rugs and accessories will be easy!
The navy sofa will go under the deck on the screen porch part of our patio for extra seating with our swing bed. It's a gorgeous sofa and I chose that beautiful navy cushion which also flows with the colors I have out there. Mark chose this pretty wood rocking chair and there's also a gorgeous half moon serving table that I ordered from the catalog.
All of these pieces are going to make our space come alive and the patio will truly be finished now! I am so excited I can't even tell you how excited this makes me. We will be living on the patio this summer, I can tell you that! The new screened porch will be my favorite hang out space and we get so much shade back there that it should be comfortable even in the heat of the summer.
I'll be sharing the finale with you soon and can't wait to show you all the beautiful furniture I'm getting from Furniture of Dalton. You will definitely need to check them out if you are in the Atlanta area or nearby surrounding states. It truly is a treasure trove of furniture to see and try out in person. We don't have anything quite like Furniture of Dalton in the Atlanta area that I know of and if you're like me, you like to see lots of options and touch and feel things before you buy. You can also check out their website for more information and photos.
A special bonus for my readers! If you visit Furniture of Dalton in person and mention my blog, you'll get a special incentive/discount on any purchase you make, so be sure and mention me and the blog if you go in for a visit in the next month or so. I can't wait to share the final patio reveal with you in a week! Stay tuned for more! 
Don't Miss a Post, join my list!