Hello and welcome to It's a Colorful Life Summer home tour! I'm so glad you stopped by. I'm joining a group of other colorful decor lovers this week and we are all sharing our homes. If you love color, you're in the right place. Amongst all the neutral decor that is so prevalent these days, color lovers stand out. We all love to use color in our homes, some more bright and bold than others, but all love color.
If your stopping by from J'Adore le Decor welcome! Color lovers are abundant in this blog hop.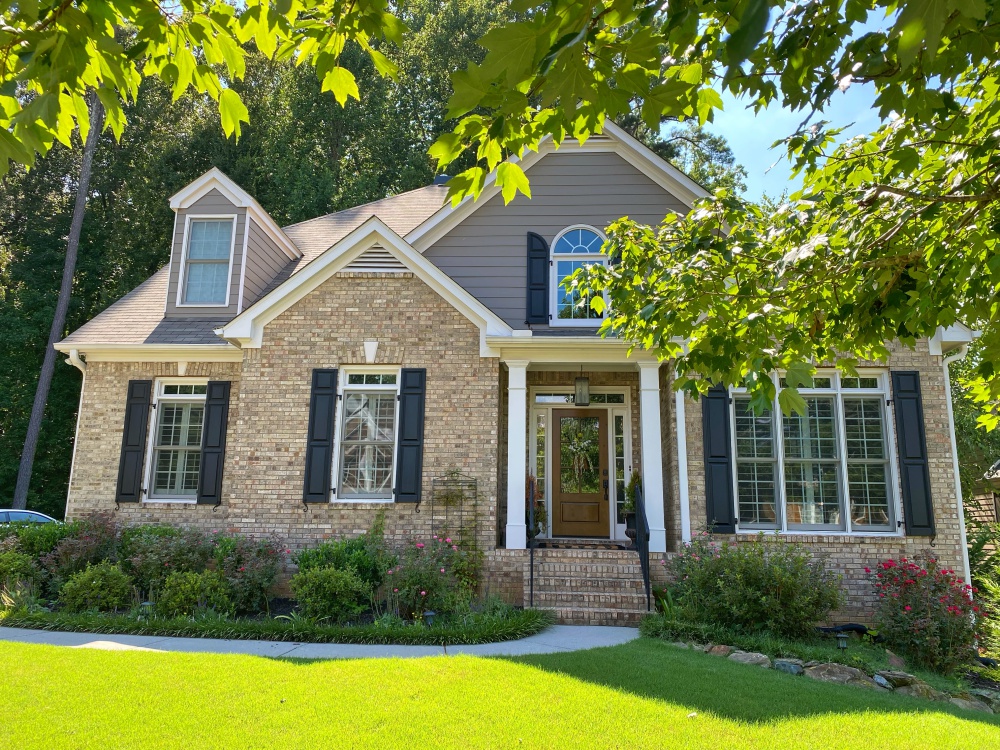 Here's a little about me. I've been blogging over 13 years here at Southern Hospitality. In all those years, I'm in my 3rd house since blogging and my husband, Mark and I got married 3 years ago and bought this house in Acworth, GA. We love where we live and have had so much fun fixing up this 15 year old home. It's traditional in style, had great bones, in a nice neighborhood and great area, so we feel like we hit the jackpot finding this one. We have done so many projects over the last 3 years and you can see those under My Home tour with all the rooms listed with before and after pics.
I had to stop and show you these hydrangeas that I planted spring of 2019. Just look at them this year! These are dwarf limelight hydrangeas and they are going crazy.
I'd highly recommend these if you're looking for a hardy hydrangea that loves sun.
Come on inside and enjoy the tour.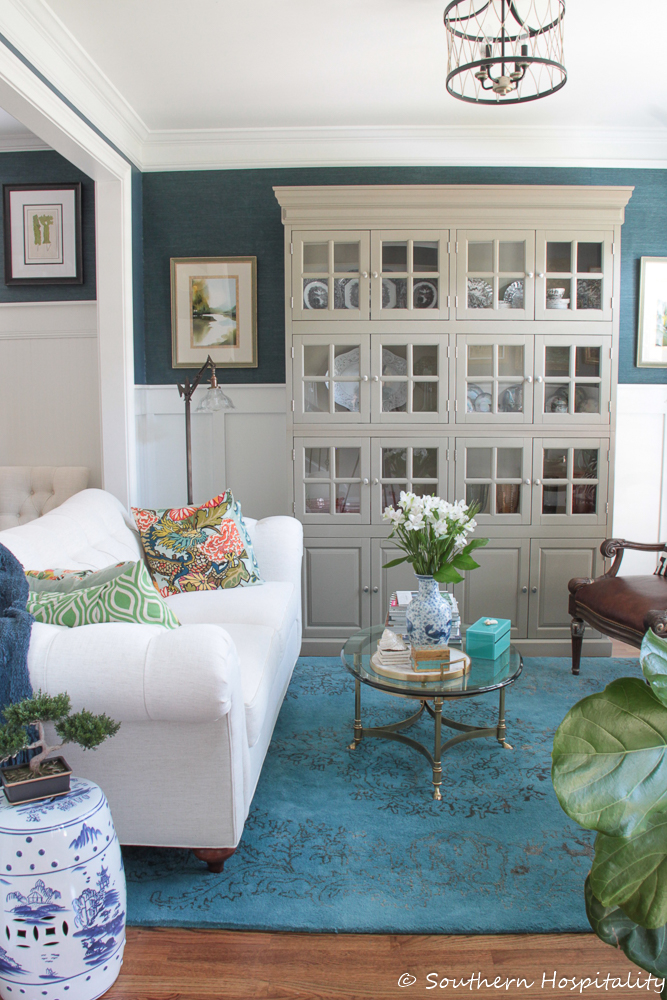 I pulled together a compilation of pictures from several summer home tours over the last 3 years in this house, so you'll see changes along the way in decor, but I hope you enjoy our colorful home. Our smallish living room is the first room on the right when you enter our house. I love all these pieces together and this little space has been fun to decorate. It's a mix of both mine and my husbands furniture when we got married. I get asked about that big cabinet a lot and Mark found that piece at Haverty's years ago. It came painted that color and I love it in here.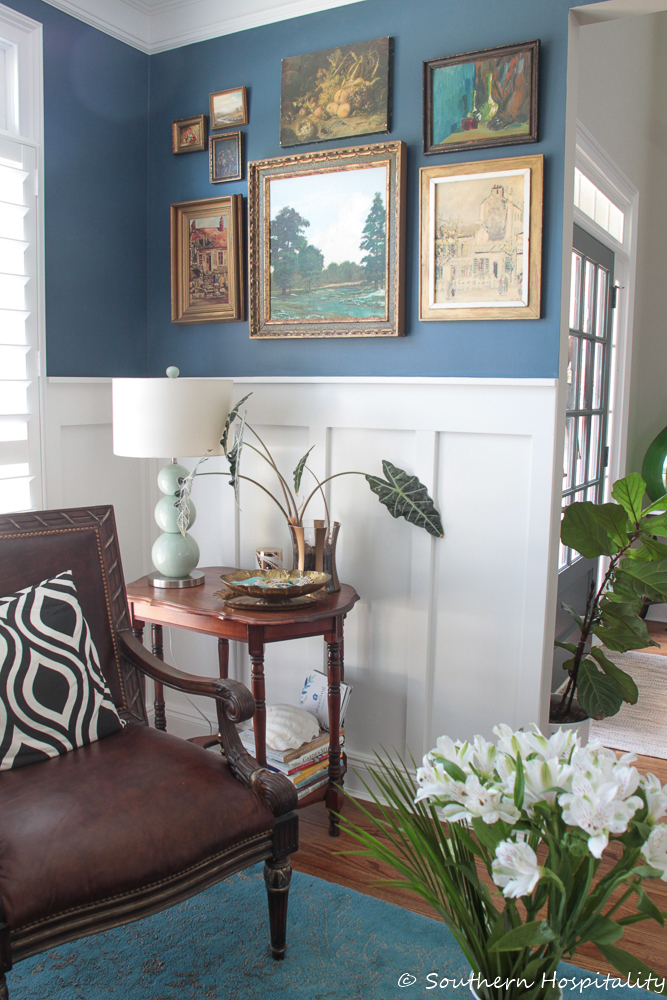 My gallery wall is the perfect place to display my love of vintage art collected from all over.
Seashells are one of the things I collect too!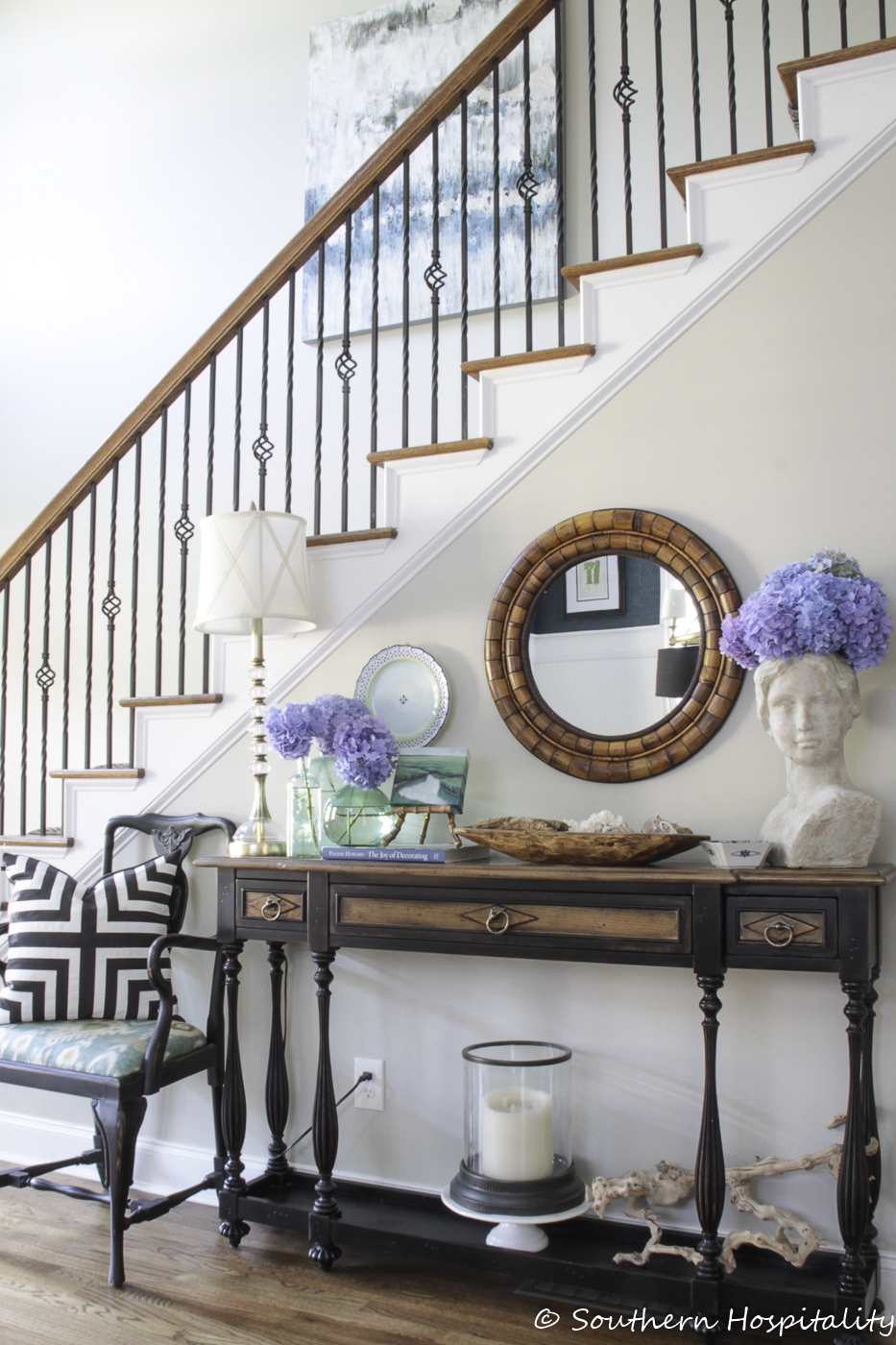 Our foyer table is one area that gets changed out for the season and this look is my latest summer look with fresh blue hydrangeas from my own garden.
You can see all our house paint colors in this post if you're interested.
Nothing better than having your own hydrangeas to cut from. If you like Evelyn, the lady head vase you can find her here!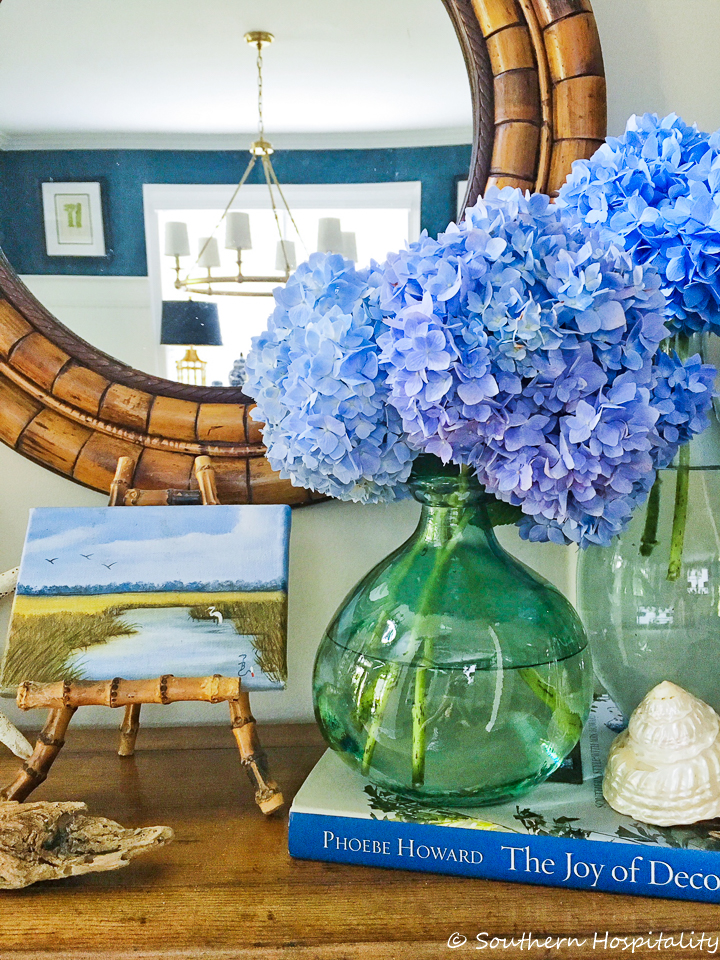 This is another home tour look also using hydrangeas. They are so fresh and pretty!
Dining room in blues.
Another dining room centerpiece from a couple years ago.
And more seashells
Hydrangeas on the mantel keep things light and airy for summer, also layered with more shells.
I don't really change out much in this room for seasons, but we enjoy our family room which is where we watch TV most of the time.
Peeking into the sitting room off the kitchen. I enjoy adding decor to these shelves and I've kept them mostly white and wood for this year.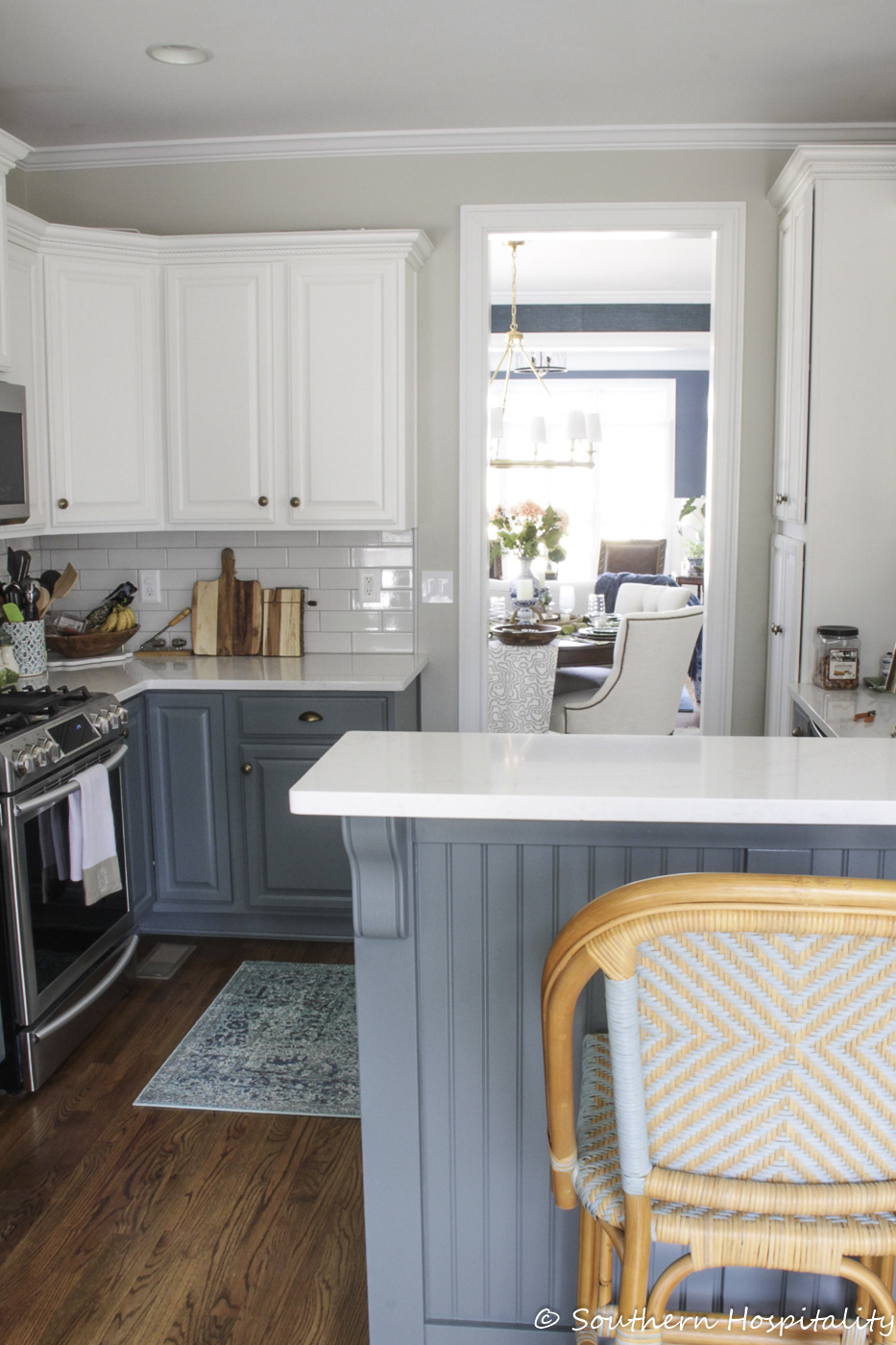 Our kitchen is smallish and in the center of the main level. We had the cabinets painted when we moved in and it really brightened up that space.
Our master bedroom in shades of teal and navy. I'm still not finished with this space, we have more plans in here and the sitting room.
One of the most recent projects we completed was our master bathroom. It was almost completely gutted (except for the vanity) and it looks like a whole different room now. We love it so much!
The soaking tub is so pretty and I've really enjoyed it. We took out the old humongous jetted tub for this one.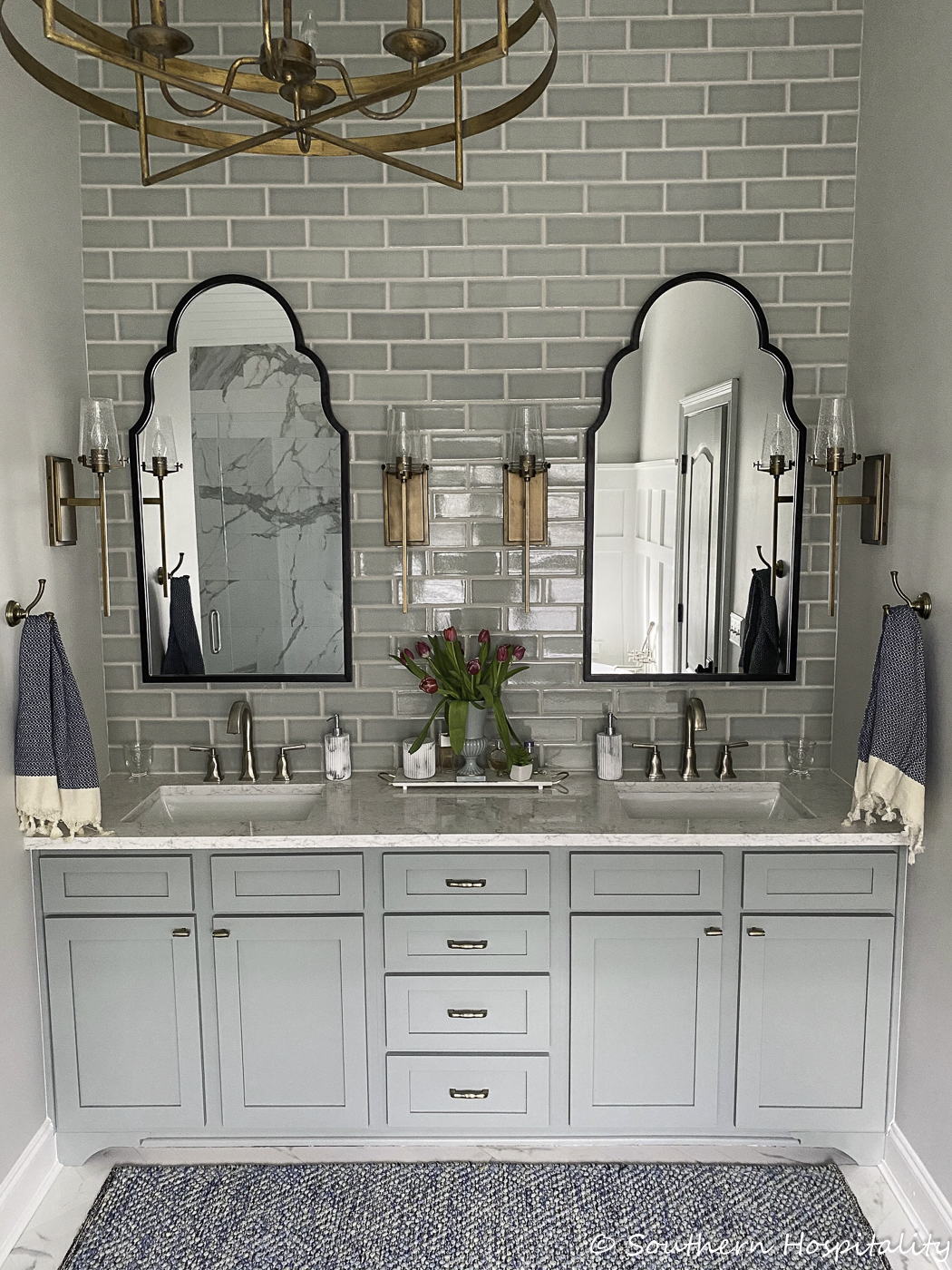 We kept the old wood vanity, added feet, new hardware along with new quartz countertops and I painted the vanity with Sherwin Williams Emerald paint. It came out so great! That wall tile is my fave from Walker Zanger!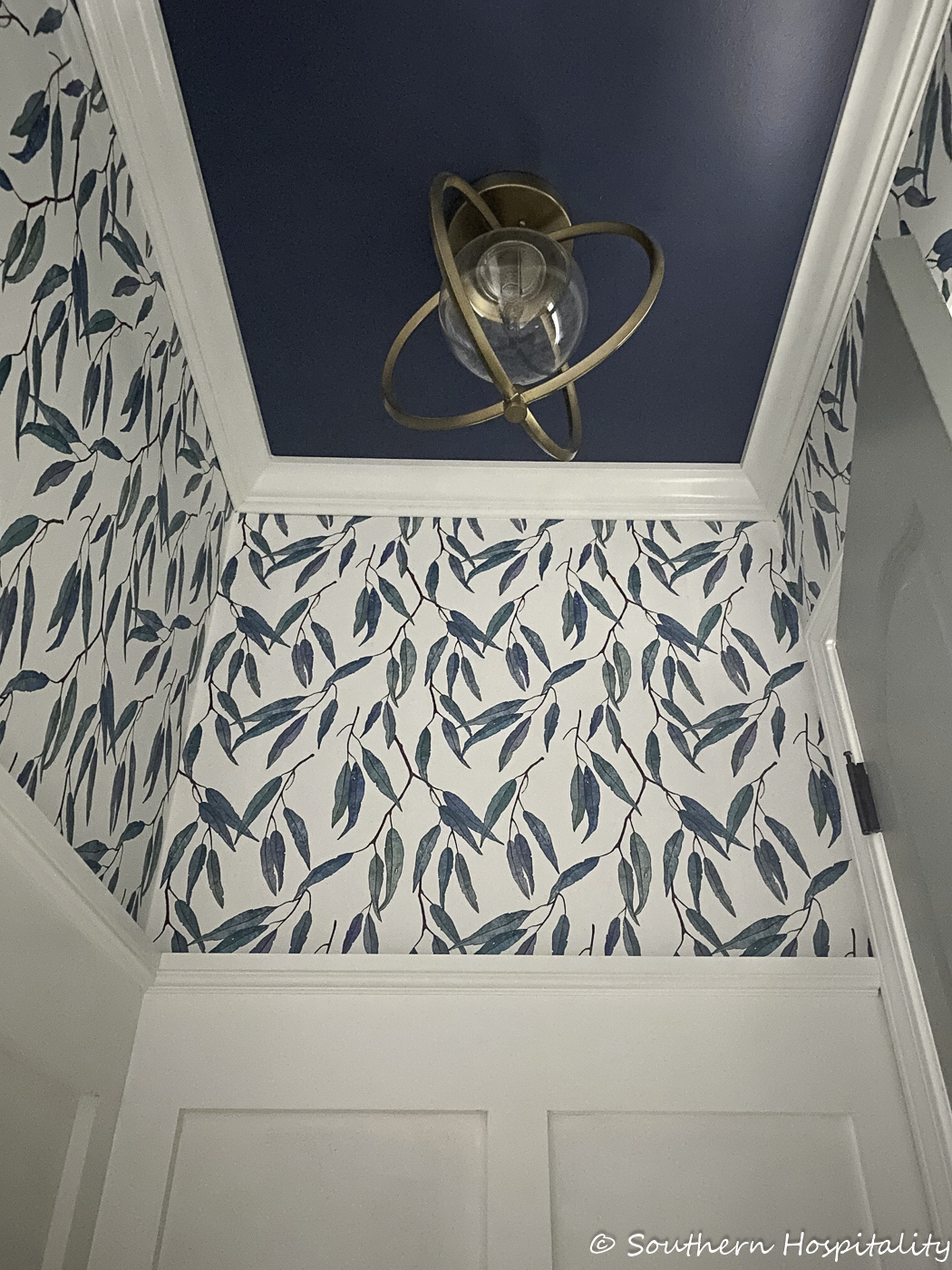 We added board and batten and wallpaper above in the little water closet. I love the painted ceiling and that cute gold light fixture.
One more colorful space in the house is my laundry room. I made it over last year and it's such a fun space now.
Outdoors, I also use plenty of color and have continued with the blues out here too.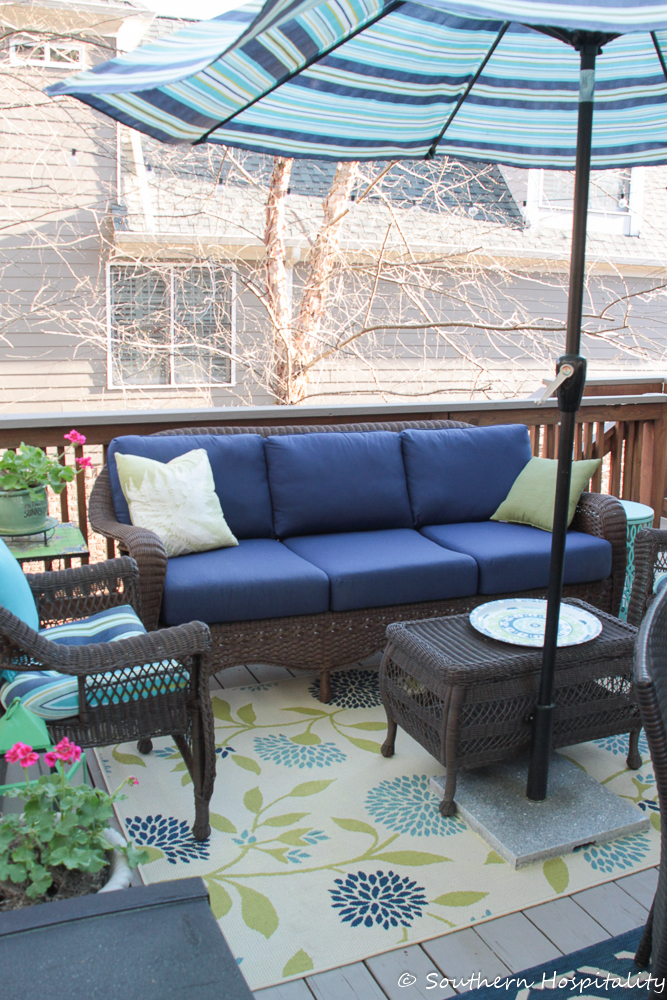 Our upper deck isn't all put together like this right now, but I it looks great when it is. We enjoyed the deck space for a couple of years until we finished the below deck screen porch this spring. It has now become our go to outdoor spot!
Now we spend most of our outdoor time in the backyard. Here are those beautiful hydrangeas growing back here.
We made over our backyard space with lots of DIY projects and it came out so great.
We are thrilled with our backyard and this is where we spend most of our time now. You can see here the DIY faux stone wall we did ourselves as well as this Spreadstone faux stone tile concrete patio DIY I did last fall. These both transformed our backyard patio so much!
We love to eat outside when the weather cooperates and enjoy our backyard space.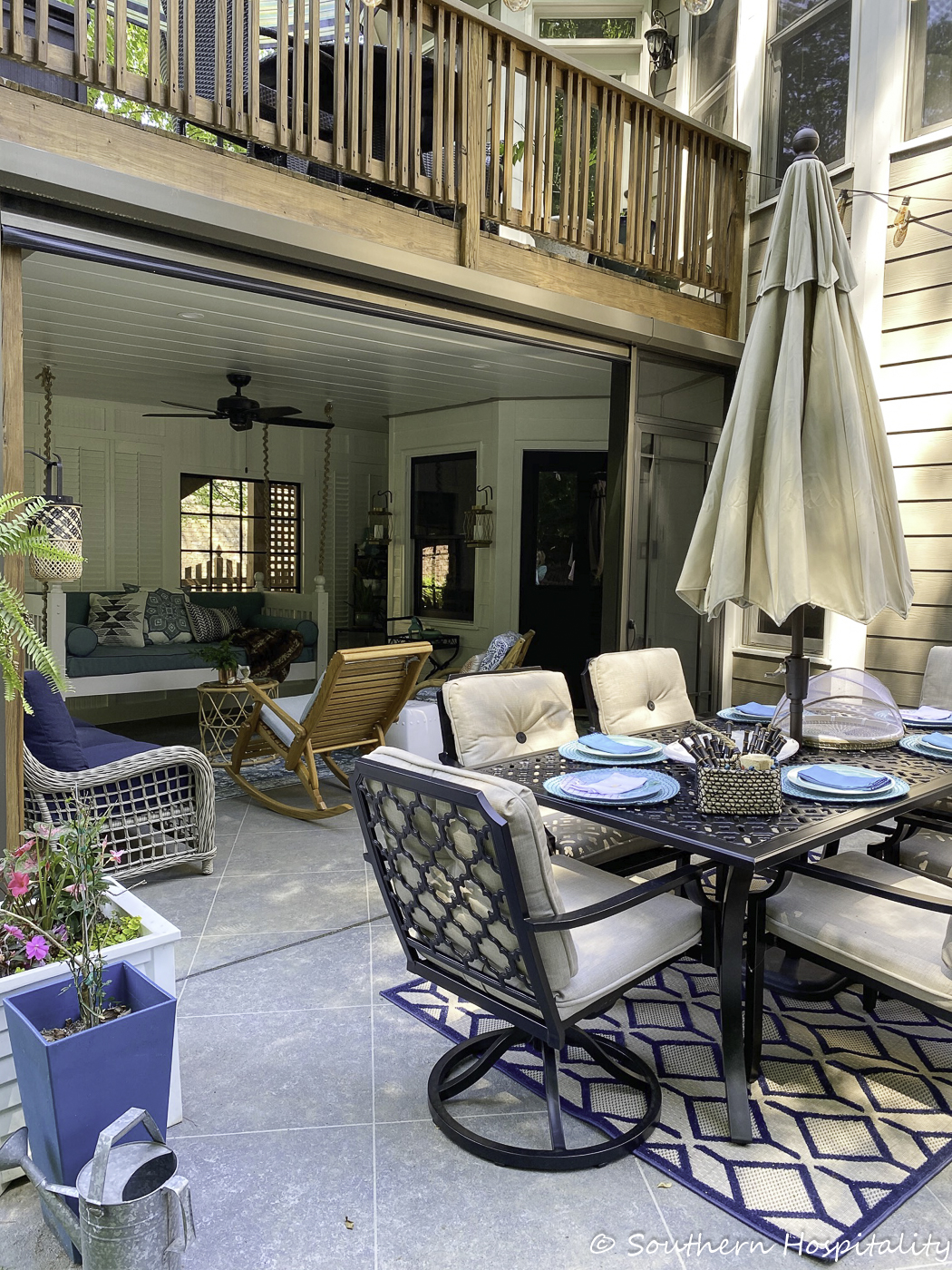 It's great having retractable Phantom Screens down here under the deck to completely screen in this room. For the whole backyard patio reveal check out that post.
This is our fave place to be, in the under deck screen porch!
Mark surprised me with this swing bed for Christmas last year and our dreams of having a real screen porch was realized. Mark also built that shutter wall you see and it was such a neat project. We used salvaged shutters and a salvaged window to make it.
I hope you enjoyed this tour of our colorful home. We sure do love where we live and since we are all staying home more than ever this year, it's been a wonderful place to get away from it all.
Next on the tour is Kate from Kate Decorates, so be sure and stop by her place for lots more colorful inspiration!
IT'S A COLORFUL LIFE- "Snapshots of Summer" Tour 2020
MONDAY
TUESDAY
WEDNESDAY
THURSDAY
Don't Miss a Post, join my list!