Paint colors can be so daunting to choose and picking the right paint is so crucial to a home's interior. We are all looking for just the right color and color can be hard sometimes. I've had my share of trial and errors when it comes to choosing paint colors, but we have been very happy with our choices in this house. You definitely have to look at undertones in paint colors and the more you paint the more you can see them. My recommendation in choosing paint is to always get a sample quart first and paint it on the wall or a foam board to see how it reacts in your house and your light situation. Light can change paint color so much, so sample first to get the right shade for you!
I've been meaning to put together a post of our paint colors (and wallpapers) to save here on the blog so today that's what I'm sharing. I get asked often what our main paint color is and you can see it below, Gatherings by Magnolia Home. It's been a great color for us. It's a greige shade and light and airy enough for our house which gets plenty of natural light. We carried this shade from the foyer to the family room and kitchen and all the way into the guest room, as well as upstairs in the hallway and master bedroom. It turned out to be the perfect color for us and is a great neutral that flows well with so many other colors.
As you can see below, we enjoy these shades of gray/green/blue and have them throughout our home, with the exception of Mark's man cave which is various shades of brown. I'll include his below too along with the paint can since it was a custom mix.
A note about paint finishes:
Someone asked me to share the finish of the paint we use as well. So here's my rule of thumb when choosing finishes, but everyone has preferences too so do what you are comfortable with and like.
I normally use an Eggshell on the walls (sometimes Satin) and semi-gloss on all the trim for more sheen. More and more I use Satin for woodwork that I paint, like our recent master bath vanity. I love a little sheen on cabinets but not too shiny and some trim like the bar that Mark trimmed out, I didn't want super shiny, so Satin looks great on painted cabinets. We used Satin Advance Ben Moore on the bar and kitchen cabinets. But I think it's more a matter of preference.  If you like shinier cabinets, then go for Semi-gloss.
On our beadboard trim in the dining room and board and batten in the living room, we used our Semi-gloss white trim paint for that. I'm pretty sure I used Satin on the dark Peppercorn in the guest bath though.
I like Satin or Eggshell on walls especially and never do flat. Always semi-gloss on our white trim. Flat or matte for ceilings usually unless I'm painting the whole room same color and I use the Satin or eggshell for ceiling. So basically the only time I use Semi-gloss is on white trim.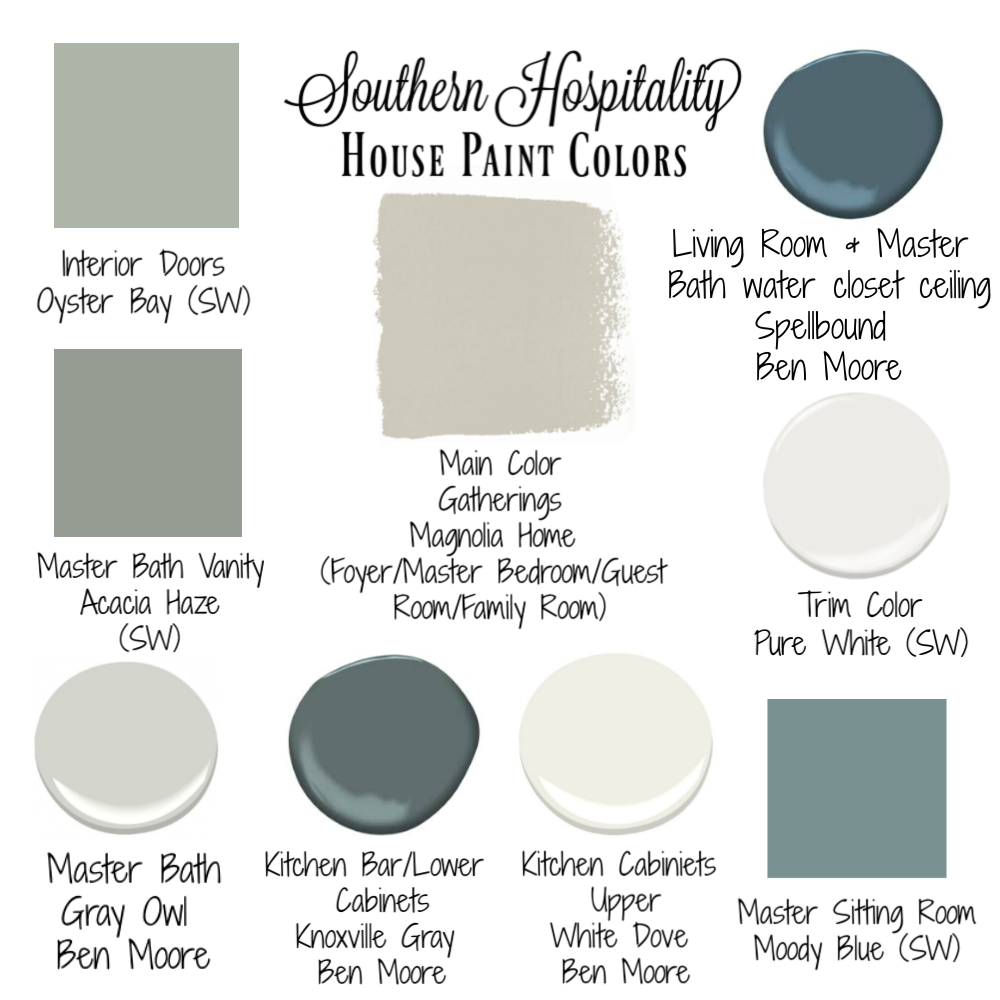 I'll share pictures from our home that shows these colors in a room setting so you can see them all in action. Colors change from home to home depending on the light so as I mentioned, I always tell people to sample paints in your own home to determine if it's the right color for you or not.
Our trim color was already here when we moved in and is a bright-ish white, so I am comparing it to Pure White by Sherwin Williams on the above graphic. We had a piece of trim color matched at Sherwin Williams for a custom match to our existing trim but that's a pretty close match to Pure White.
Magnolia Home Gatherings
Most of our walls are painted with Magnolia Home Gatherings, with pics of all the rooms below that are painted Gatherings.
FOYER
It changes with the light and some rooms are more well lit than others, but it's a soft greige color that is really pretty.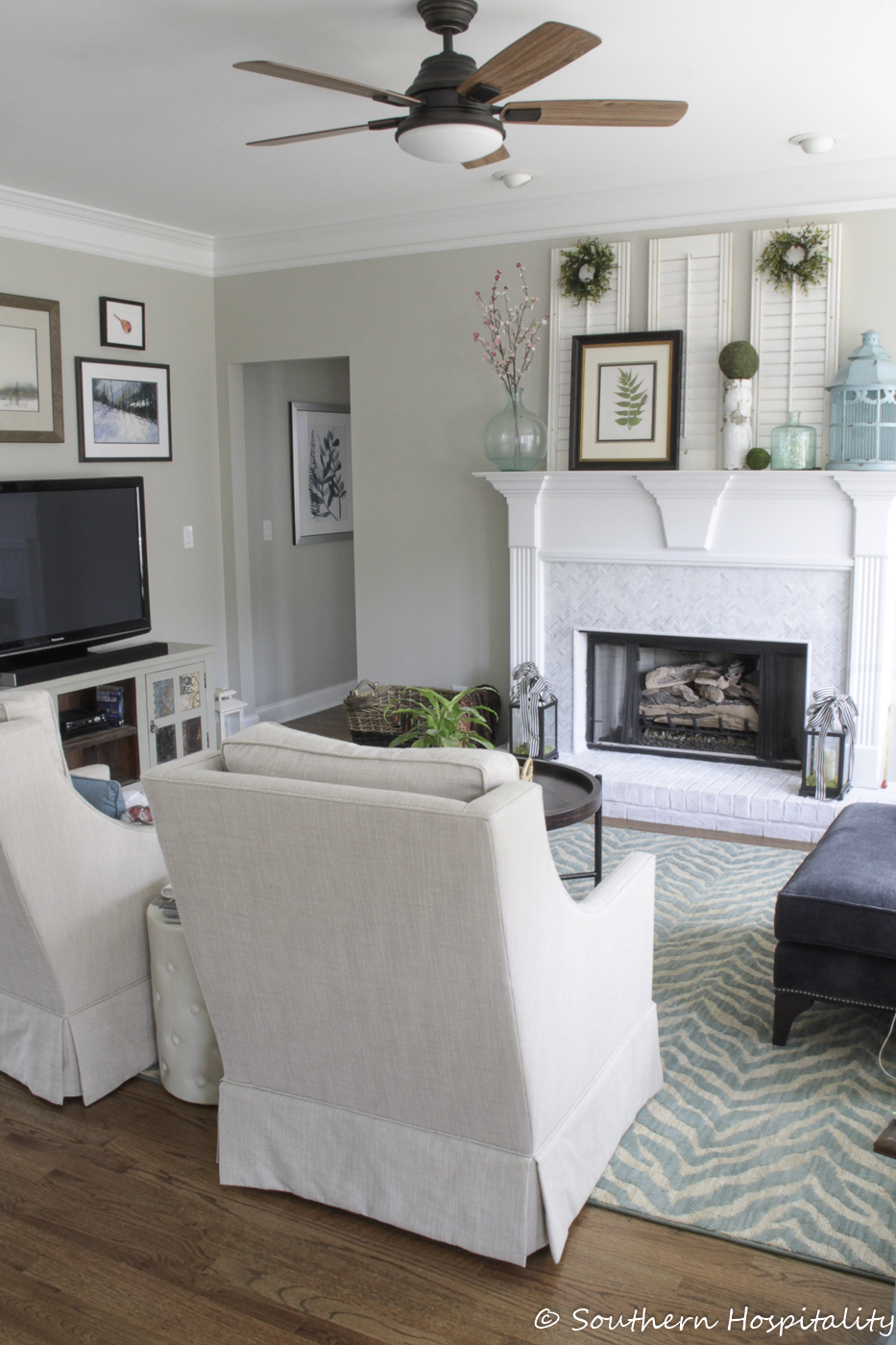 MASTER SITTING ROOM – Moody Blue (Sherwin Williams)
DINING ROOM – Thibaut Grasscloth wallpaper in Peacock
LIVING ROOM -This wall is also Tibaut Grasscloth wallpaper
LIVING ROOM – Other 3 walls are painted & colormatched to Spellbound (Benjamin Moore mixed at Sherwin Williams)
KITCHEN – Upper Cabinets: White Dove (Ben Moore)
Lower Cabinets: Knoxville Gray (Ben Moore)
I used Ben Moore Advance paint in Satin finish for both cabinets and bar area.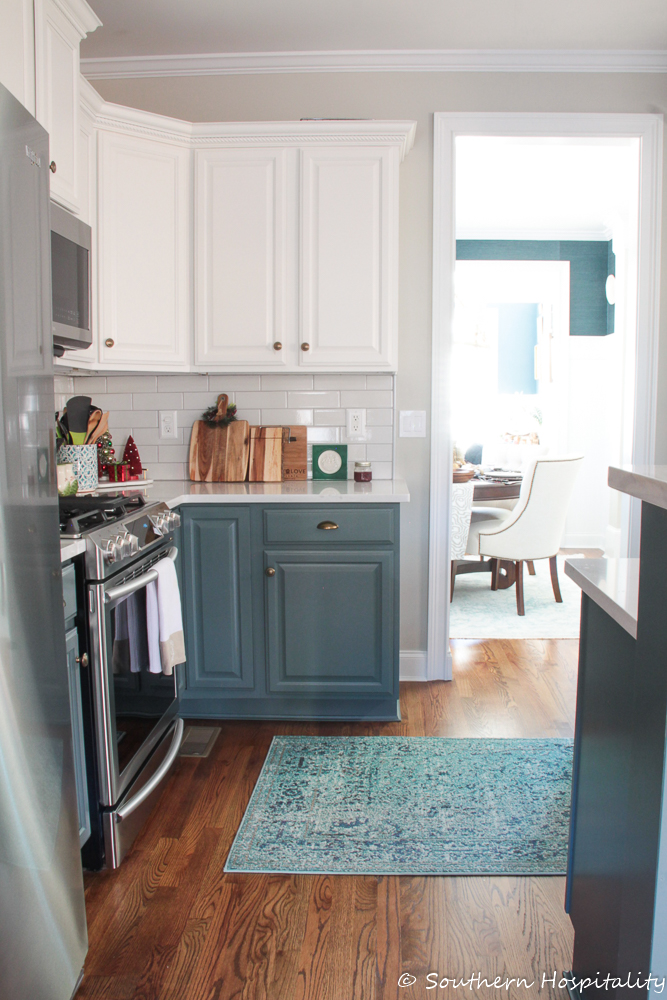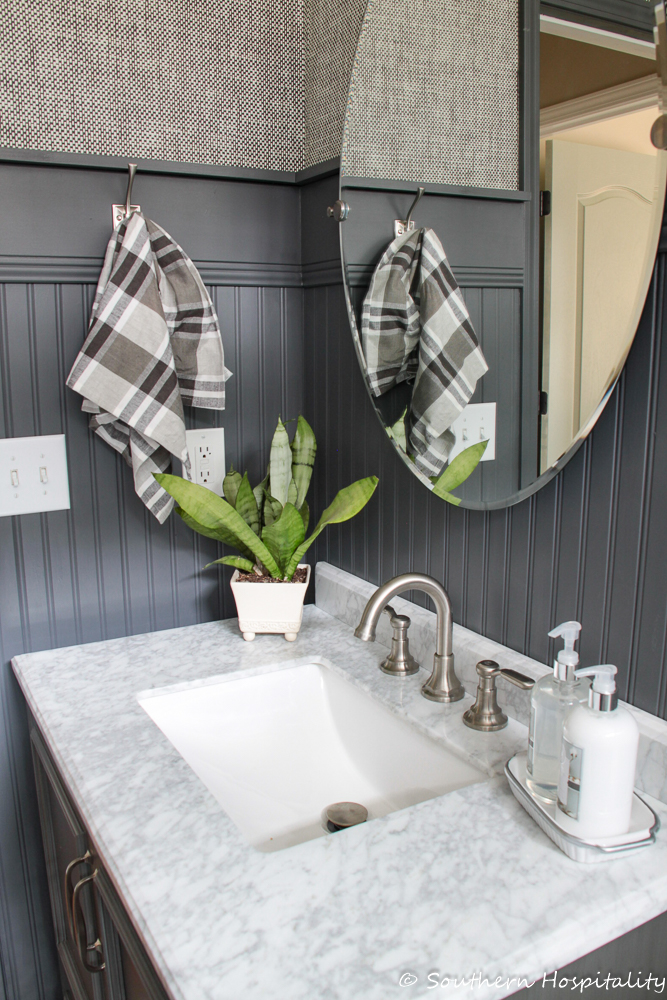 Walls: Peppercorn (Sherwin Williams) in Satin finish
Wallpaper: Wicker Weave by Thibaut
MASTER BATHROOM – Gray Owl (Benjamin Moore) in Eggshell finish
Doors: Oyster Bay (Sherwin Williams)
MASTER BATHROOM VANITY – Acacia Haze (Sherwin Williams) in Satin finish Emerald paint.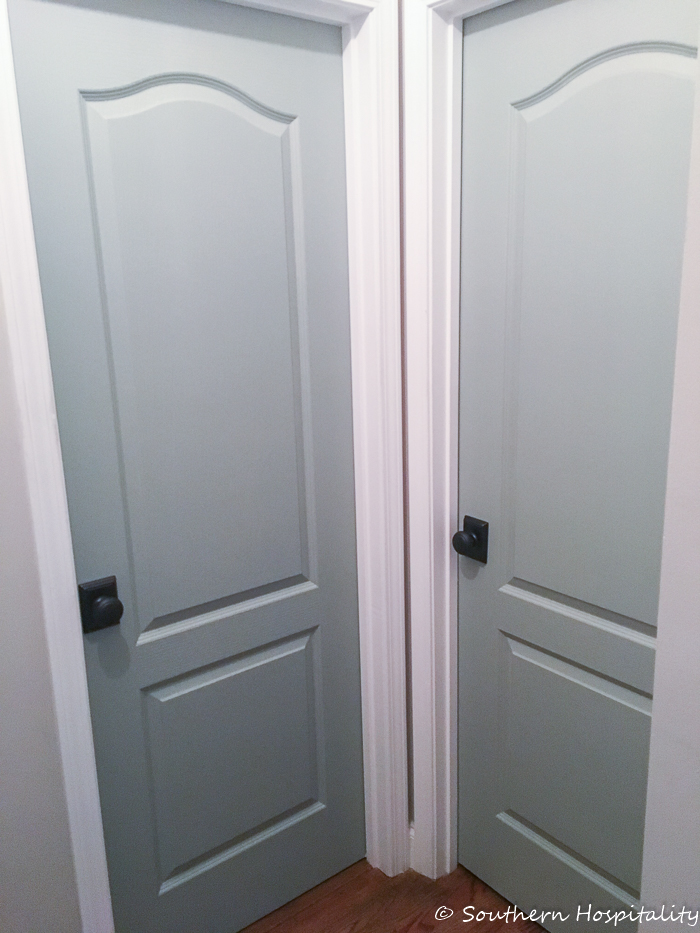 INTERIOR DOORS – Oyster Bay (Sherwin Williams) in Satin finish for doors.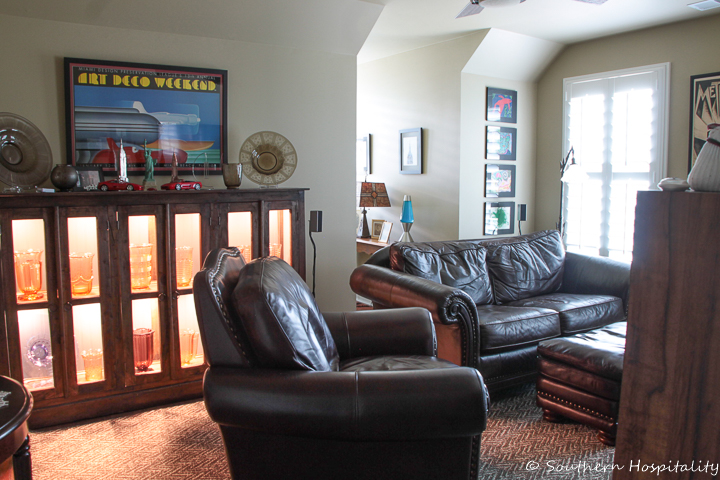 MAN CAVE – Custom mix Khaki shade below
Walls: Downpour (Sherwin Williams)
Ceiling: Rosy Outlook (Sherwin Williams)
Wallpaper: Citron Vert from Caitlin Wilson Designs
MY OFFICE – Magnolia Home in Emmie's Room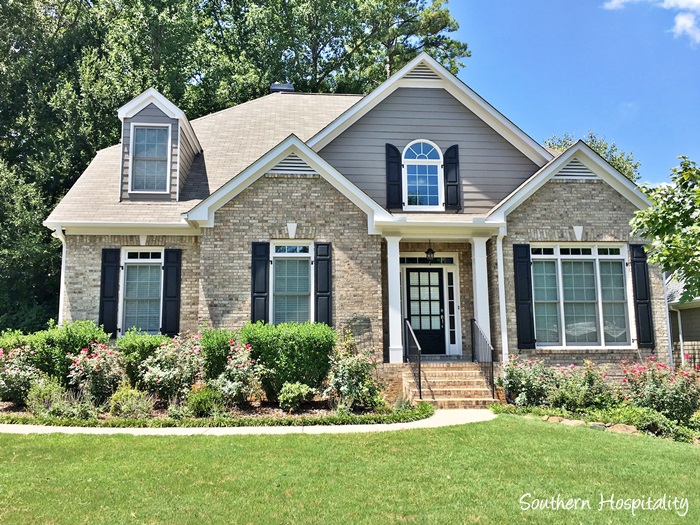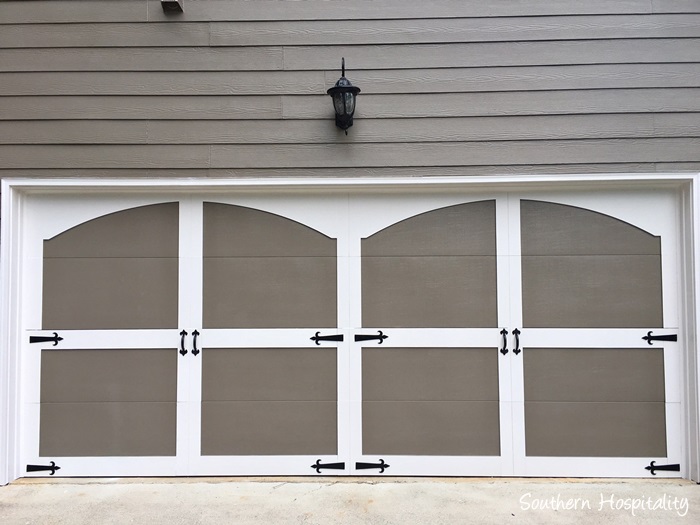 EXTERIOR
Siding: Backdrop (Sherwin Williams)
Trim: Simple White (Sherwin Williams)
Shutters:  Black (already here and we didn't repaint)
Don't Miss a Post, join my list!