If you're online very much, you're probably already seeing bloggers and those on Instagram sharing ideas for Fall decor. It's definitely in the stores already. I walked into Homegoods last week and Halloween hit me in the face! I definitely am not ready for all that yet, but as we know retail and bloggers move the seasons up a bit from where they really are.
So, today as a precursor to Fall and getting ready for a cooler season, let's talk about simple and easy ways to decorating your home for Fall. I'm all about simple and easy and don't do a lot around my house for the Fall season. Before the leaves even start turning, so many decorators start thinking about Autumn and bringing those cozy feels into our homes.
Don't get me wrong, I love the cooler temps that September bring. I'm all about sweater weather, football and hot apple cider. In my home, I just don't go all out for the seasons and prefer a more simple and natural way to welcome Fall into our home.
1. Fall Plants and Stems
I've done a lot of tablescapes since I've been blogging and on this one I used a real plant that looks Fallish. I loved the pop of color on this centerpiece for last year's Fall tour. Adding a few pinecones is always in my arsenal too for a Fall feel.
Even cotton stems are a great Fall look. These were bought at the store. I love bringing out my pottery that has a Fall feel too. These pieces have been in my stash for a long time and I don't tend to buy a lot of new for the seasons.
Sunflowers in a blue and white vase are a nice fall accent.
2. Dried Hydrangeas
Hydrangeas at my previous house. Great for drying!
This table centerpiece I did a couple of Falls ago was made with my hydrangeas and dried hydrangeas are great decor for Fall. So if you have hydrangeas, save them at the end of the season and dry them for Fall. It's the right time right now to cut hydrangeas for drying. I just got a few from my mom's crop to dry for Fall decor.
They look beautiful in white pottery in this Fall table.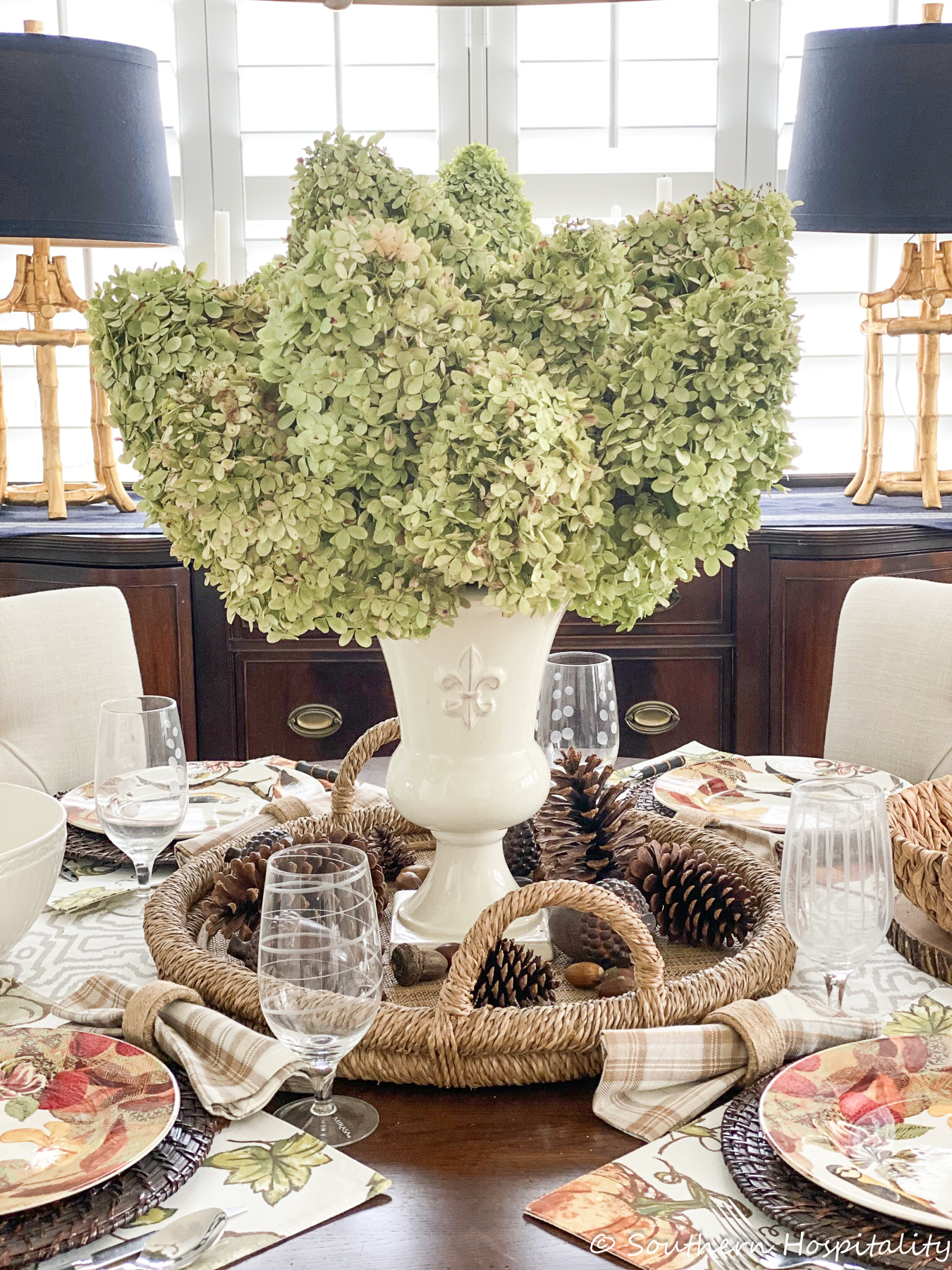 Limelight hydrangeas are perfect for all decorating too.
3. Pinecones, Acorns Etc.
I have a nice collection of pinecones and acorns that I drag out every Fall season. Some are exotic, like these rose pinecones that someone sent me years ago from the West coast. They are so unique and pretty. Regular small pinecones are textural and pretty too. I've always loved faux artichokes and pears to accessorize Fall as well. I found those faux pears years ago at a yardsale along the way and have kept them a long time.
This simple mantel I did a couple of years ago right after we moved in was mainly pinecones and faux pears I've had awhile. I love faux fruit for Fall. I got that cute rusty leaf basket at a yardsale years ago and love to bring it out for Fall.
Here it is again in a Fall entry vignette, along with faux oversized acorns that are no longer available.
This table was for Thanksgiving, but it goes hand in hand with Fall colors and feel. Notice the mini pinecones and acorns. My staples for Fall!
This Fall tablescape is all about Fall color. With the plaid tablecloth and the Fall feel placemats, napkins, and the bowls, it really says Autumn is here.
Spray painting acorns is an easy project to do. I shared a bit about spraying them on that link if you're interested. Gold and Silver are nice accents for the Holidays. I tend to bring these out more at Christmas rather than Fall and use the natural acorns for Fall.
I scouted some similar items below (affiliate links used):

4. Fall Feeling Dishes and Table Linens
Fall colors in dishes and linens go a long ways toward creating that cozy vibe that we all want during this season to come. Soft greens, eggplant, golds, and harvest orange are great Fall colors. I personally like the muted tones for Fall.
These brown and white transferware dishes I have also have a Fall feel. With simple plaid napkins in brown tones and this pretty bamboo flatware, it's simple and pretty.
I picked up these bird dishes several years ago at TJ Maxx, I think. I fell in love with the Fall colors and they are perfect for a Fall table setting.
Brown and white transferware.
This Thanksgiving table was another opportunity to use the bird plates in the dining room, again mixed with the brown and white transferware.
Similar items below, (affiliate links used)

5. Fall Leaves and Magnolia Wreaths
Fall leaves might be my favorite thing to decorate with. They're FREE! All you have to do is wait for the turning leaves in your backyard, so outside and clip them to add to a pretty vase. I've used this golden vase for so many tablescapes and love it the most with Fall leaves.
Similar items below: 

It's just such a great look!
This is one of my favorite vases and it mixes so well with Fall colors on the table.
Green, red, and gold leaves are a gorgeous color combo.
This pic goes way back to my early days of blogging and this might have been the first time I used turning leaves for Fall. I still have this container!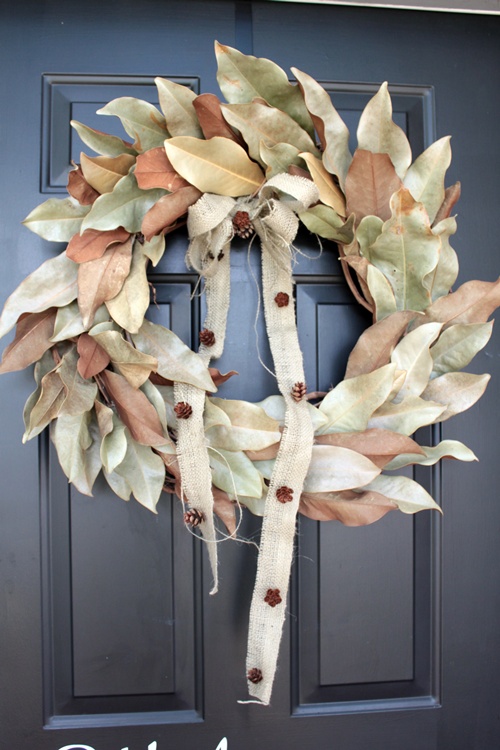 Dried magnolia leaves are also fun to decorate and twice I've made wreaths with them. They are easy to make. I love the ones with brown on the backside. You can alternate the soft green with brown for a gorgeous Fall effect.
Magnolia wreaths are very easy to make and if you have magnolia leaves handy, grab them and make a wreath. I've shared tutorials twice, so take a look at this one too. They don't last forever, but you might get a couple years out of it if you store it properly They do become brittle over time.

That's my simple and easy way to get ready for Fall. It really doesn't take a lot of effort to add a few Fall touches to your home.
Even if you're not exactly ready for Fall yet (and I'm right there with ya!) these ideas will get you in the mood when September gets here and you might want to do a little something around your house too.
I've shared a few things in this post I pulled together that are similar to things I have that I decorate with year after year for Fall. Affiliate links used throughout the post. 
Don't Miss a Post, join my list!